London Fashion Week: the Liberty Lookbook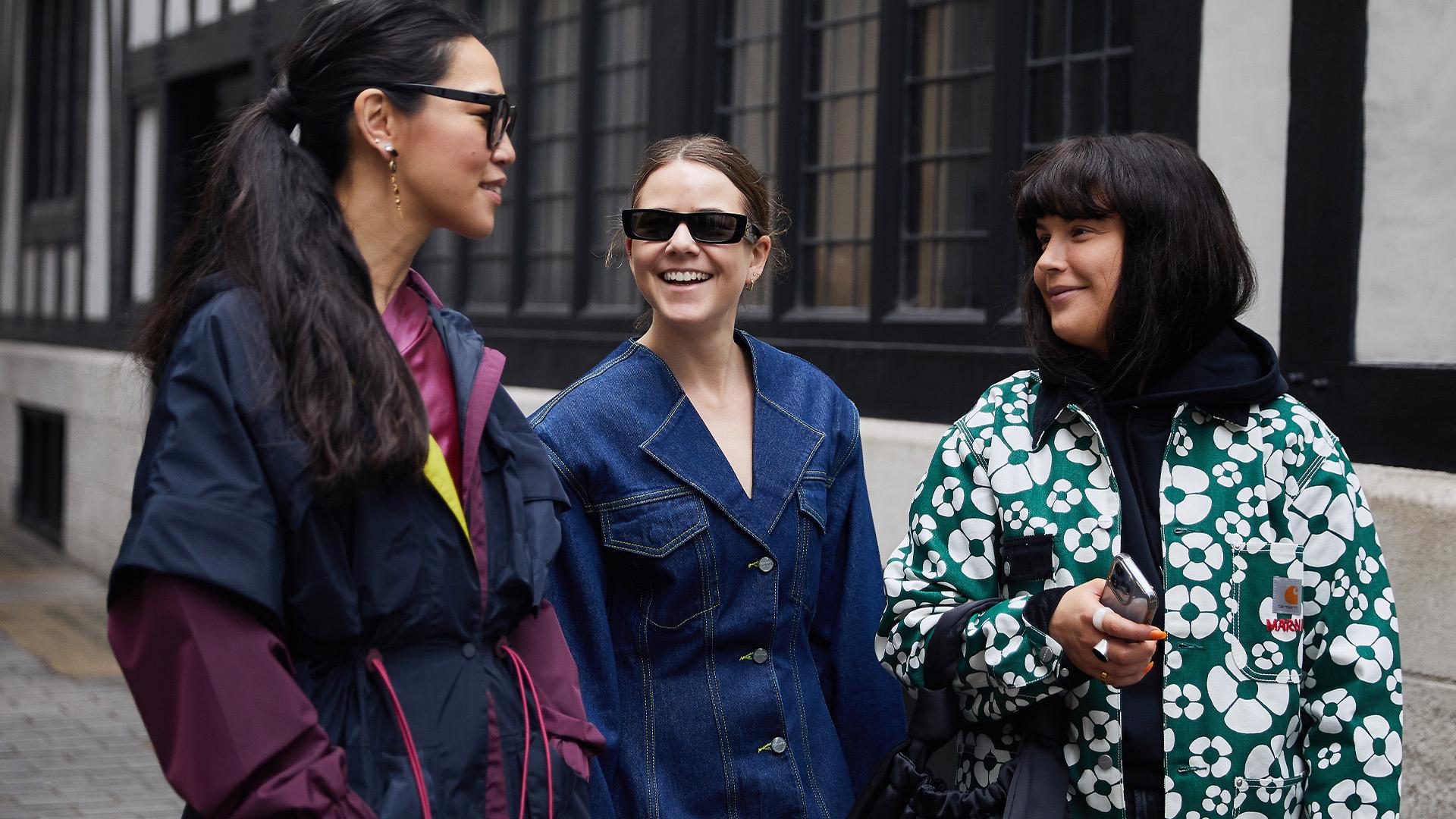 New season style inspiration is on the horizon as Liberty's buyers share what they're wearing this London Fashion Week
By: George Elliot
London Fashion Week is officially underway, and with everyone from magazine editors to TikTok's tastemakers now zipping through the city in search of the latest collections, there's probably something that's got you curious: what outfits are Team Liberty wearing to the shows? After all, when we're not looking towards the capital's runways for the best of British design, it's London's vibrant street style scene and snapshots of the best dressed that provide us with a welcome dose of inspiration. Well dear style seeker, wonder no more as we managed to track down our fashion buyers for a few precious moments to ask them about their looks, womenswear trends on the rise and what they love most about London's eclectic, unparalleled fashion scene...
How would you describe your dress sense?
"I'd say my taste is quite classic; I much prefer monochromes, minimalism and slick shapes to bold colour palettes, frills and masses of ruching. That's why I'm a huge fan of simple yet well-cut dresses; with them, the designer has done all of the work for you, so all you have to do is put them on and you'll look great, instantly. Think of them as all-in-one-outfits."

Why is London Fashion Week so special to you?
"London is already such a unique place; for me, it's the epicentre of expressive, dynamic style so when London Fashion Week comes around, and there are so many creatives from the industry all in one area, you get to see an array of incredible styles. Everyone is out there to impress and really show-off their individuality, so it's a real spectacle to enjoy."

What are the hallmarks of a standout fashion week outfit?
"It's all about the individual, because what's comfortable for one person might be completely uncomfortable for the next, so as long as the person looks and feels like they're having the best time, that's all that really counts. After all, fashion should feel empowering, transformational and life-enhancing, so wear clothes that feel like you."

Looking at your Fashion Week outfits, is there a brand that you're particularly excited about wearing?
"There's a black Rick Owens slip dress that really stands out to me. It has his signature approach to shaping all over it, so while it might seem pared-back, it's architectural silhouette makes it a favourite piece of mine. As a designer, Rick Owens is new to us this season and I think he does an incredible job of being all things to all people. For example, his shows are fantastic, stunning and otherworldly but when you see his clothes in real life, they are just really wearable."
Shop LinLi Teh's London Fashion Week Wardrobe
Buying Manager for Liberty Womenswear and Accessories
What inspires your sense of style?
"I definitely like to experiment with my style on a daily basis so I don't have a specific direction as such. Instead, I'd say that my job determines what I wear quite a lot; it's my responsibility to be in the know with new trends, what designers are doing and what's coming in next, so I like to think that my style looks of-the-moment."

Why is London Fashion Week so important to the industry?
"London Fashion Week has a culture of fostering and championing new talent which is so important. Over the past few seasons in particular we have seen some incredible young designers make a name for themselves on London's runways. If you compare London to other fashion capitals too - especially Paris and Milan - it has its own character: it's experimental, often a little crazy and usually avant-garde which makes it one-of-a-kind."

Where does Liberty sit within this creative fashion scene?
"We always describe Liberty as a tastemaker, the kind of store you visit to discover the unique, beautifully made and wonderfully eccentric, so it fits in perfectly within London's stylish - but always slightly rebellious - fashion landscape. I think that's why those attending the shows often come into Liberty beforehand to find standout pieces, whether that's a sequin dress or a maximalist knit."

Are there any specific influences behind your London Fashion Week looks?
"While the weather is often terrible and you're on the move most of the time, you always want to look your best as part of the street style scene, so for me, a London Fashion Week outfit should look cool and a little edgy while striking a balance between comfort and practicality. Because I like to look at trends too, I've incorporated quite a lot of layered denim into my looks this season around. I'm also really loving the rise of 90s minimalism we're seeing right now."
Shop Larissa Stange's London Fashion Week Wardrobe
Assistant Buyer for Liberty Womenswear
How would you summarise your style?
"My aesthetic is quite casual and because I'm not super girly, I find that I'm drawn towards masculine, androgynous and relaxed-fitting clothes rather than anything super dressy or feminine. If I'm in a dress for example, you'll probably see me wearing it with trainers and layered underneath a boxy knit; I really like that idea of dressing clothes down."

What elements would you say go into making a good London Fashion Week outfit?
"For me, the perfect London Fashion Week outfit should bring you confidence and comfort; it might not look it, but behind its glossy image, London Fashion Week is usually pretty hectic, with everyone nearly always on the move, so it's important to feel as good as you look. Always have a chic pair of sunglasses to hand too; come rain or shine, they're pretty much essential."

Looking at your Fashion Week outfits, which brands are you particularly excited about wearing?
"I was so excited when I first saw the bold and graphic Marni x Carhartt WIP collection, so I just knew that something from it had to feature in at least one of my London Fashion Week looks. A pair of Low Rise Baggy Jeans by AGOLDE - one of my favourite designer denim brands - are also making an appearance and really nail the 90s fashion trend that's big news right now."

Are there any Fashion Week styling tips you can share?
"From a practical standpoint, I'd say always start with a good, strong and reliable capsule wardrobe; that will always provide you with a base upon which to build. Then begin to layer in at least one statement piece into the mix, but aside from that, the main thing is to just have fun and not be too serious; if it feels right, your outfit probably looks fantastic too."
Shop Georgina Bell's London Fashion Week Wardrobe