mute/unmute
The Art of Craft: William Morris Gallery and Liberty
Delve into the story behind the collection, inspired the first daughter of print, May Morris, and in collaboration with the William Morris Gallery
By: Charlotte Olby
Famed for designing some of Liberty's best-known prints, artist William Morris defined an era of British style. Now, in a partnership with the William Morris Gallery, Liberty celebrates both the iconic artist and his talented daughter May Morris, create a capsule fabric collection, jewellery designs and four new iconic silk scarves. Featuring classic Arts and Crafts motifs, intricate detail and rich hues, the collection was conceptualised and designed at our Liberty Fabrics' studio, revisiting William Morris originals held in our vast archive.

Read More: In the Heart of Soho: Inside the Liberty Design Studio

Both original tastemakers and celebrated influencers of the Arts and Crafts movement, the hero design, May's Orchard, carries the spirit of Liberty and William Morris, and is an entirely new print created for this collection. May, a lesser known yet pioneering artist of her time, followed her mother Jane into the delicate craft of embroidery. Here, in this exclusive print, we echo her exquisite craft in a contemporary interpretation, meticulously hand-painted in our London studio. Adorned with intricate botanical details, May's Orchard features blooming flowers, spring blossom intertwined with trailing foliage and a variety of orchard fruits drenched in richly saturated colour though a quintessential Liberty lens.

Read More: Step into Christmas: Liberty Festive Fabrics 2023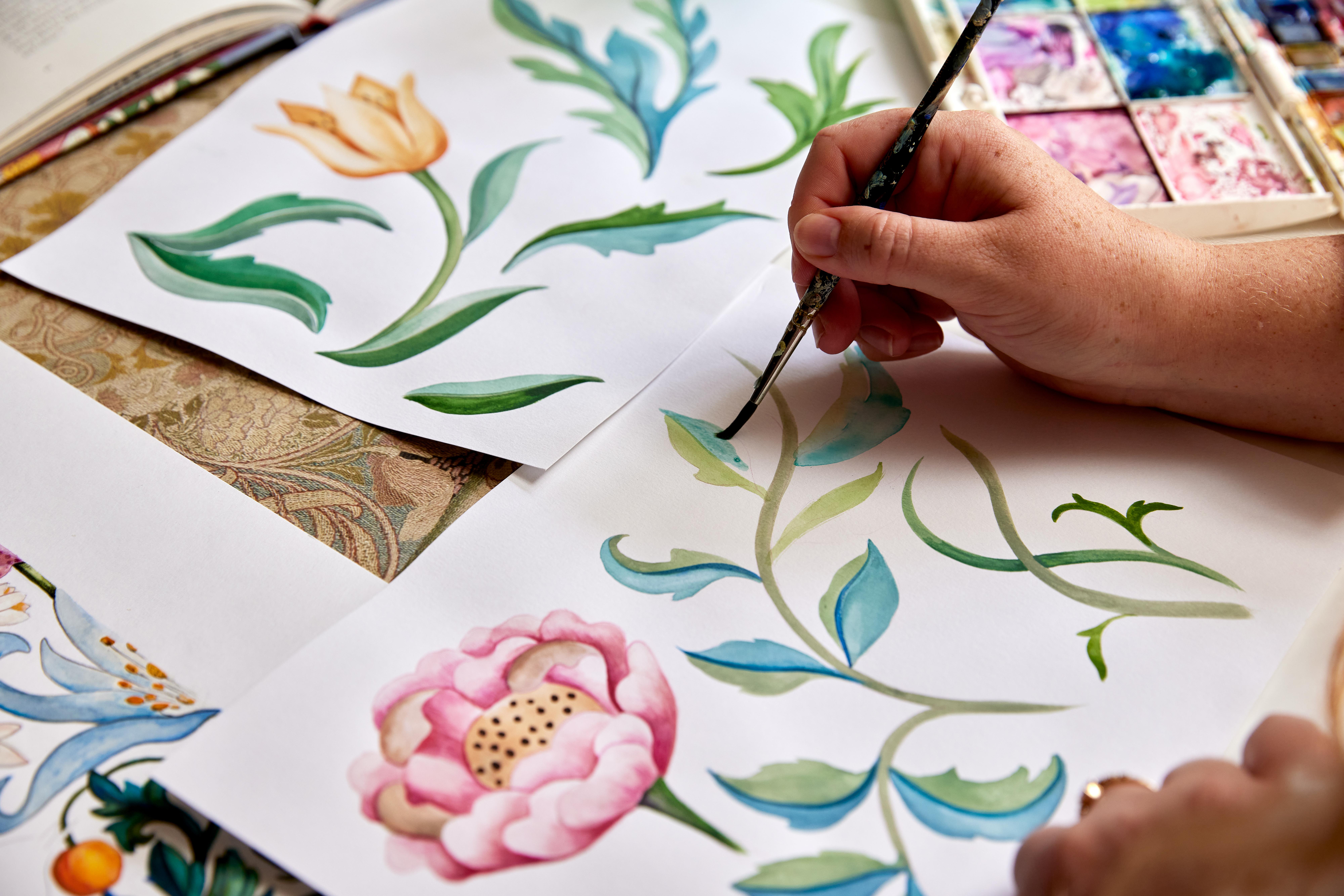 Celebrating the iconography of William Morris, nature and motifs created by hand, our designers delved into the Arts and Crafts style by way of our 50,000-strong print archive to create this collection. Referencing original Liberty designs, like the 1993 hand-painted scarf design that inspired Tulip Flourish or the 1880's furnishing print taken to create Devonshire, the studio also unearthed much-loved Liberty classics designed by William Morris himself. Willow Wood, for example, is an archival icon closely inspired by William Morris's recognisable 1877 'Willow' design and is updated with intense jewel tones for 2023. While Lodden, with its scrolling foliage and refined flowers, is one of the great historical designs originally created by William Morris in 1884 and Strawberry Meadow – which was taken from William Morris' iconic 1883 pattern 'Strawberry Thief ' – is a refreshing, monochrome rendition of the original, adapted by the Liberty studio.

Interest piqued? Delve into the full capsule below.

Read More: What Kind of Liberty Print Are You?
Introducing the Art of Craft Fabric Collection…
Shop The Art of Craft Collection