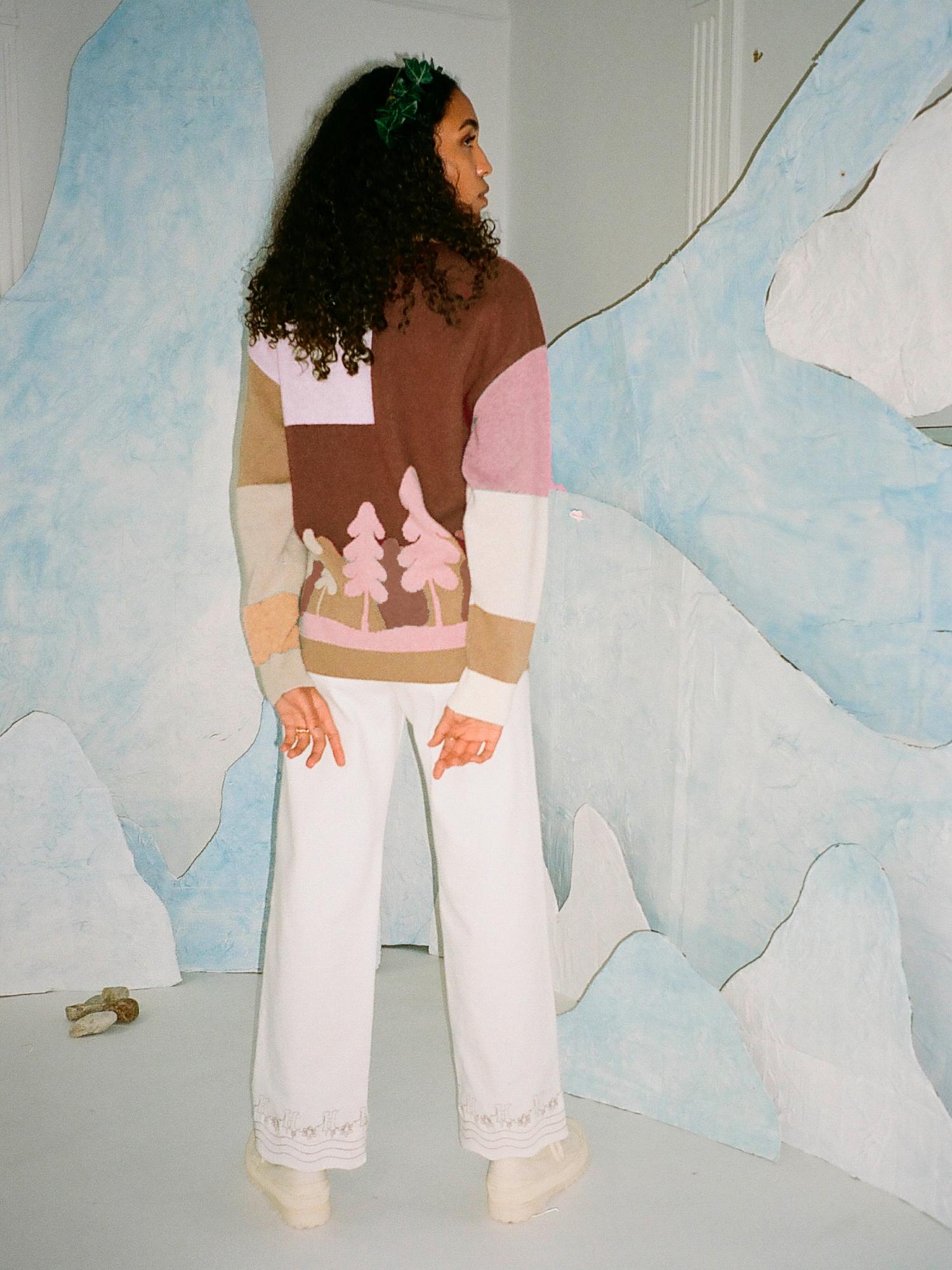 Fairy-Tale Spirit
Emilie Helmstedt
New to Liberty, HELMSTEDT's lustworthy, childlike womenswear arrives from mecca of cool, Copenhagen.
Shop now
Keep one eye on Scandinavia – Northern Europe remains the area to watch for emerging fashion talent. Sitting at a cross-section of art and fashion, founder Emilie Helmstedt draws on fine art training and razor-sharp intuition to translate her colour-drenched dreams into highly desirable prints.
Every cloth's pattern is originally hand-drawn by the designer. Transportive patterns take the ocean and mountain ranges as their lead. Great crashing waves created in oil, zigzagging fish in watercolour pastels, candy-toned landscapes; prints that wouldn't be out of place in a toddler's summer wardrobe. HELMSTEDT's nursery-hues, Victoriana whimsy and holiday-ready silhouettes have been lauded by the fashion industry for encapsulating a unique, youthful fairy-tale spirit. Here, we chat to Emilie about the brand that has brought her into the limelight.
Can you tell us a bit about how HELMSTEDT the label came to be
Using colours and painting instead of words has always been a way of expressing myself. I have never been good with words and working with my hands has always come naturally to me. The entire HELMSTEDT universe reflects my imagination and my dreams in all aspects of designing - from the first brushstroke of each print, all the way to how the set design is built.
Based in mecca of cool, Copenhagen, how has the city informed HELMSTEDT's aesthetics?
I often find inspiration in the way colours come together in my everyday life in Copenhagen and mostly in nature. It's the little moments that inspire me, I can get carried away looking into the sky, or getting distracted by a bumblebee passing by, the things in our everyday life that we often are too busy to appreciate.
You trained at the Royal College of Fine Arts. How has this training influenced your designs?
Actually, I never finished my education at the Royal College of Fine Arts. I didn't think the system was suitable for me, so instead I decided to pursue my dreams and drop out. I needed to find my own way to establish my brand and to create my own space, where I could let my mind run free when designing.
HELMSTEDT collections have wide-ranging references such as Hans Christian Andersen's The Princess and The Pea and the North Pole – where are these inspirations drawn from?
The design is often a reflection of my dreams coming to life. I often dream about colours. The and process of a print coming to life is a very intuitive process where I let my mind run free and the motion of my hand follows my mind. Working with different concepts that are very tangible and beloved by so many gives me so much joy, as many people can see themselves reflected in these, and make their very own connection with the brand.
Using colours

and

painting instead

of

words

has

always been

a way of

expressing myself. I

have

never been good

with

words

and

working

with my

hands

has

always come naturally

to me

.
You have been hailed as 'the latest It-designer' by multiple publications, what has the journey to success looked like for the brand?
Since I started the brand in 2018, I have been so overwhelmed with the appreciation and support I have gotten. HELMSTEDT aims to erase the border between fashion and art by making unique colourful styles, in high quality materials. The hand-painted prints make each garment a piece of art in every woman's wardrobe - and I believe this way of combining fashion and art has led the brand to where it is today.
HELMSTEDT's prints are all hand-painted – what quality does this bring to the designs? How does HELMSTEDT choose its fabrics?
HELMSTEDT's care for the world is reflected in the way we choose our materials. Each fabric is carefully chosen for each garment together with the print. The way the prints are made is a delicate process that is manifested in each style.
What does authenticity mean to the label?
Being true to the brand DNA, which includes thinking about colours, prints, set-design, high quality materials and the care for each garment. HELMSTEDT embraces the small imperfections and the details of every brushstroke in each print painting. Through this, the brand honours the differences in every print, making all pieces of clothing unique.
Does sustainability play a part in the company's processes?
HELMSTEDT wants to establish a brand that contributes to a more sustainable fashion industry. Therefore HELMSTEDT does not follow trends. We care for the quality and the craftmanship. Every print is hand-painted in Copenhagen and each print is carefully chosen for each garment. HELMSTEDT believes that the emotional connection to a piece of clothing is just as important as the care of it, and our choice of quality materials means these are garments to last you a lifetime.
Furthermore, we always work with a purpose of re-use in our set-designs, which all are made from recycled materials. Sustainability plays a big part in the company and even though our awareness and care for a better world is big, we still strive to become a more sustainable fashion brand.
The design

is often a

reflection

of my

dreams coming

to

life. I

often

dream

about

colours.
Why was Liberty the perfect home for HELMSTEDT? Do you have any early memories of the store?
I absolutely adore Liberty. Every time I go to London, I have to visit the store. The colours and entire atmosphere are so inspiring for me to be in. It has been a big dream of mine to be able to showcase my designs among so many other beautiful and carefully chosen brands, and it is such a big honor for me to be able to be a part of this.
What's next for HELMSTEDT?
As a newly started brand, HELMSTEDT has had a challenging year because of the pandemic, the same as for many other brands. We are still trying to find our way and position in the fashion scene but I believe being true to our brand DNA will help us to find our place - quality design and art always comes first.