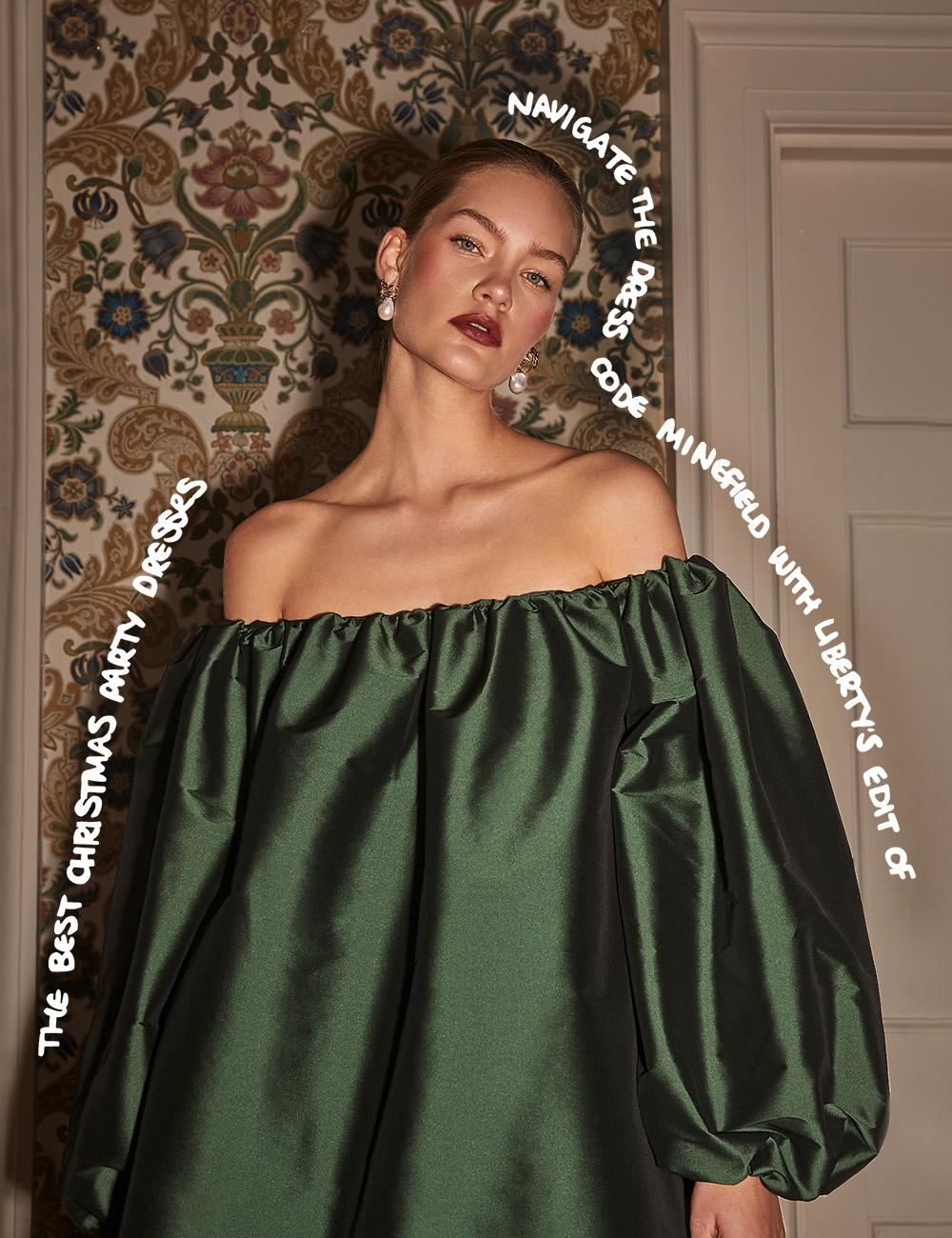 'Tis the Season: Liberty's Best Christmas Party Dresses
Call off the search. We've found the best Christmas party dresses for wherever the night takes you
By: George Elliot
The festive season is in full swing, so there's no time to waste when it comes to investing in the best Christmas party dresses. But as Liberty's legendary fashion floors are stocked to the rafters with an incredible array of minis, midis and maxis - from sequin-embellished stunners to those brimming with flounce and florals - deciding which deserve a place in your wardrobe might just have you stumped. But that's not a problem; to navigate the dress code minefield, simply consider this guide your virtual stylist. Featuring an edit of dresses for every kind of Christmas party, here's what to wear to the…
End-of-Year Office Party
The office Christmas party isn't just an opportunity to let your hair down with a glass of Buck's Fizz; it's also your time to shine…literally. Voluminous like a sculptural haute couture gown and cut from lustrous taffeta that shimmers softly in the light, Bernadette's Short Bobby Dress, £650 is a real conversation-starter. But if you don't have time to get ready at home, you'll need a desk-to-dancefloor alternative, a dress that bridges the gap between work and occassionwear. Enter the Gabriella Dress from A.P.C., £380. While it's tailored for a relaxed fit (so it's comfy enough for your 9 to 5), it comes in shocking pink, so still promises to make a sartorial splash. For a last-minute, pre-party outfit upgrade, have Kenneth Jay Lane's 20ct Gold-Plated Four Row Pearl Necklace, £160 stashed in your work bag.
Festive Family Party
It's more than likely that you'll have a few family get-togethers this season, but for these special yet low-key gatherings, the objective isn't to get dressed up to the nines. Instead, you'll want something that's comfy, not too dressy but still makes it clear that you made an effort. Horror Vacui's Jessie Poppy Forest Tana Lawn™ Cotton Dress, £680 ticks all the right boxes. Plus, it comes decorated in Liberty's charming Poppy Forest print, so there's really nothing about it to dislike. For something that edges towards sleek minimalism, Rixo's Liberty Dress, £285 is also well worth making space in your wardrobe for. Slim-fitting, falling to the ankles in length and made from a gold-toned viscose jacquard, it embraces effortless elegance.
Christmas Dinner Party
Got dinner party plans? If so, you'll want to wear a dress that lives up to the fancy occasion. With this in mind, may we suggest you add Dries Van Noten's Doni, £1,220 to your capsule of autumn/winter 2022 dresses? Dramatic in cut and print, it features a plunging V-neckline, so is perfect for pairing with some equally statement-making jewellery pieces for all-out elegance. What if you're the party-thrower, you ask? In this instance, opt for a one that ticks both the style and practicality boxes, like Ganni's Poplin Midi-Dress, £195. Crafted from a durable organic cotton with short puffed-sleeves (the kind that won't restrict you while cooking, plating-up or tending to your guests' wine glasses), it's our fail-safe pick if this year's Christmas Dinner is round at yours.
Merry Cocktail Party
Whether you're going to your friend's house for a night of Irish coffee and mojito making, or will be braving the winter weather by venturing out to the swankiest bar in town, going to a cocktail party is the best excuse you'll get to wear a cocktail dress - it's in the name, after all. Our pick? Needle & Thread Annie Sequin Tiered Mini-Dress, £450; adorned all-over in iridescent sequins and intricate floral embroidery, this tiered mini-dress has all the sartorial hallmarks of a standout dress. But if you consider yourself to be a maximalist, might we suggest La DoubleJ's Mini, £395? Also a contemporary take on an old-school classic, this thigh-skimming swing dress in technicoloured florals is among the boldest of the bold.
Xmas Pyjama Party
During these chillier and often stormier climes, staying in is considered the new going out, so expect a pyjama party invite to drop into your inbox imminently. Of course, such a night of blissful relaxation (think: face masks, mulled wine and delicious nibbles) calls for the item that's centric to the entire party theme: your finest nightdress. Liberty's French Brocade Silk Satin Chemise, £275 is proof that style and comfort are not mutually exclusive; made from a sumptuously soft silk satin that's emblazoned all-over in ornate, Jacobean style florals, it's as delightful to lounge in as it is to look at. As an alternative, look to the Stately Bouquet Silk Satin Chemise, £275 . Inspired by photorealistic Dutch paintings of extravagant blooms in ornate vases, it also promises to set your pamper night off to a tranquil start.