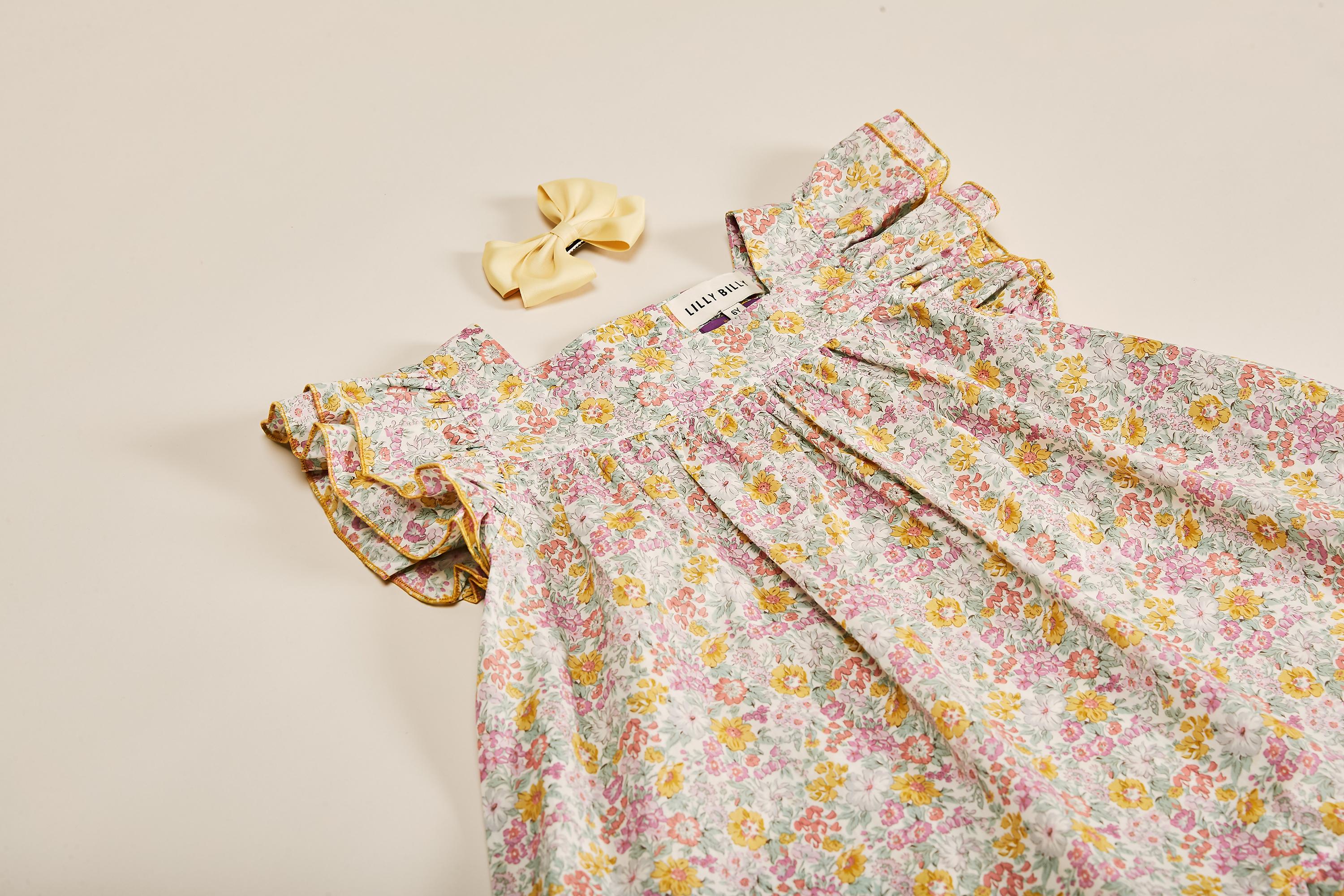 Our Liberty Fabrics Makers
A Chat With...
Lilly Billy
Meeting the designers and artists who make up the worldwide Liberty Fabrics community
Shop Liberty Fabrics
@LibertyFabrics is inspired and influenced by a worldwide network of individuals, who all bring their own unique perspective. Across the globe, thousands of talented makers draw from a vast range of Liberty prints to create a living patchwork of ever-changing projects – and here at Liberty HQ, we love to see what you've been making. In this instalment of the series we chat to Yeji Lee from the Lilly Billy design studio. Lilly Billy is a Seoul-based brand known for their dreamy childrenswear collections, all made in Korea with Liberty Fabrics.
Can you tell us a little bit about Lilly Billy?
Lilly Billy is a unique premium childrenswear brand, with collections mostly made of Liberty Fabrics. We cherish the quality of our clothes, sticking to our founding principle that everything we make needs to be produced in Korea at any cost. We launched Lilly Billy in 2019 for the Spring/Summer season, and celebrated our first anniversary in March 2020. Lilly Billy was initially set up by the three key members of our design team. We had been thinking for a long time about building a new business using Liberty Fabrics – and that idea took shape as Lilly Billy.
Where are you based?
Lilly Billy is located and designed in Seoul, South Korea, and we work with a Korean agent of Liberty Fabrics – which allows us easier and quicker access to Liberty Fabrics than other brands. We are currently selling our childrenswear at two different branches of the Hyundai Department Store, which is one of the most prestigious department stores in Seoul. We also sell Lilly Billy online, including on our own website, and we are hoping to be able to cater to overseas customers very soon.
How many people are on the Lilly Billy team?
We are a team of five – the chief designer initiates ideas for each season's concept and design direction, and then shares those ideas with other members. Through daily discussions, we develop the ideas and choose Liberty prints that are most suited for each design of our collection.
What is your professional background?
Most of our staff within the Lilly Billy design studio have overseas experience. I myself graduated from Parsons School of Design, and held many internships in New York as well as jobs within the fashion industry in Korea. The chief designer graduated from the Fashion Institute of Design & Merchandising, majoring in Fashion Design. The merchandiser studied Fashion Marketing at University in Seoul, and previously worked in London. Each member shares our experience, working collaboratively to direct the brand together.
What is the creative philosophy behind Lilly Billy?
The main textiles used for Lilly Billy clothing are Liberty Fabrics. Most Liberty prints are illustrated from nature, and we really appreciate that we can have these beautiful designs inspired by nature, in the middle of the city. Nature gives good vibes and heals people – we would like Lilly Billy to take advantage of these factors in designing the clothes, and to offer only good and positive energy to the customers through our designs.
Could you tell us about your production?
As mentioned earlier, we manufacture all our Lilly Billy collections in Korea – this is one of our uncompromisable principles. We have kept this principle strictly, even though the production cost is much higher. Our Production Manager has over 20 years of production experience – we have great confidence in the quality of our products, and our customers appreciate that.
What are your favourite Liberty Fabrics bases?
Tana Lawn™ cotton has been a synonym of Liberty Fabrics for a long time – but Liberty has many different bases with various qualities, which we'd also love to introduce to our customers. We've recently used your linen, jersey, nylon (swimwear and padded jackets for winter) and poplin cotton – as well as Tana, of course.
Do you have a favourite Liberty print?
It's not easy to choose just one print – but I would say Elysian Day is one of our favourites. Elysian Day, which is from the classic collection of Liberty Fabrics, is a well-known print and the colour combination is very lovable. We used a yellow colour palette of Elysian Day print for a girl's dress last summer, which was popular. We were so happy that what we loved was also beloved by our customers.
What inspires you?
Kids everywhere inspire us! It might be an occupational hazard, we are always inspired by the kids we see in our daily lives. On social media, we like to meet as many children as we can. Even if we go away somewhere, we usually check the outfits of the kids that we see over the weekend. Then when we are back to work, we share and develop the ideas.
@LibertyFabrics lovers – we always want to see your creations. Upload and tag us with #LibertyCraftClub, so we can see what you've been making – and maybe we'll feature your work in our next series instalment.