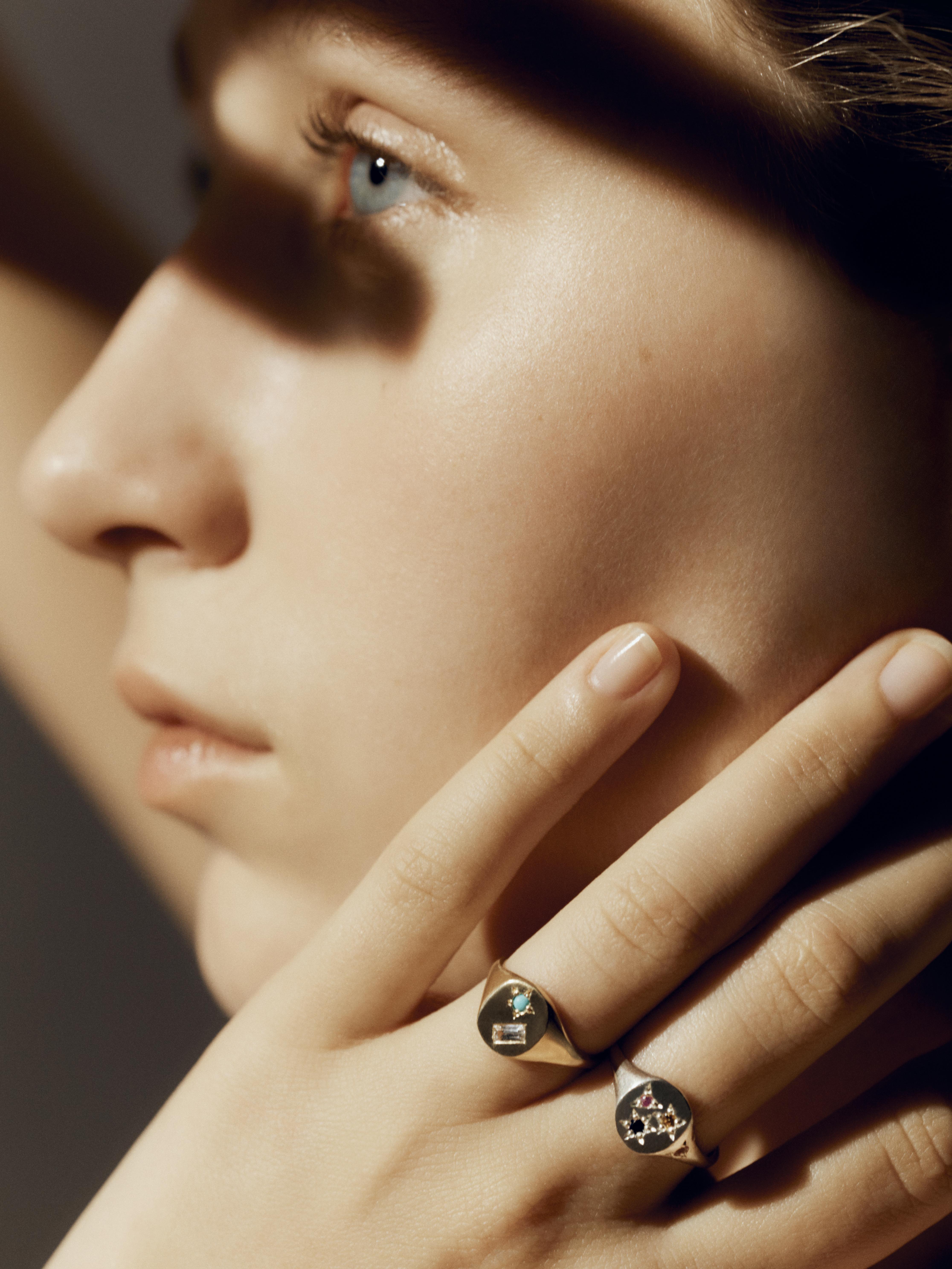 Ask a Liberty Expert
Jewellery Care Guide
Essential jewellery care basics, featuring expert tips on storing, cleaning and wearing your treasures wisely
Shop Jewellery
Steer clear of re-plating and professional cleans with our hassle-free jewellery care guide. Whether you're looking for advice on storing, cleaning or wearing, we've put together some general rules, alongside tips from our in-house jewellery expert Eirene Varnavides, to help you keep your favourite pieces sparkling. Use this guide in conjunction with any specialist care labels and say goodbye to tarnished silver, dulled gold and discoloured gems for good.
The way you choose to store your jewellery can have a surprising impact on its condition over time. Follow these simple steps to ensure your pieces stay looking their best, even when they're out of sight and out of mind.
Keep jewellery in a soft pouch or fabric-lined box for protection
Store pieces separately to avoid tangling, rubbing and scratching
Avoid storing jewellery in places with high humidity or direct sunlight
Ensure gemstones are kept away from hard surfaces to prevent chipping or shattering
"Always store jewellery in non-humid conditions, away from sunlight. Sterling silver and silver-plated pieces will tarnish naturally when not worn so if you find dark spots on your jewellery don't panic! It needs to be wiped with a silver cleaning cloth which will remove the marks. Wearing silver jewellery is the best way to keep it clean."
Chemicals, water and dirt build-up can often leave jewellery looking worse for wear. A simple wipe or polish before putting pieces away can go a long way in preserving their condition, but sometimes a deeper clean is what's needed to restore their original sparkle.
Use a soft polishing cloth on gold and gold-plated jewellery to maintain shine
Silver pieces will require a treated silver polishing cloth or silver dip
Most gemstones can be cleaned with a soft damp cloth or warm soapy water
Porous gemstones, such as turquoise, emerald and pearls, should be cleaned with a soft dry cloth only
"A soft toothbrush is an excellent way to clean between a stone and its setting. The brush can be used dry, or with warm water and a small amount of washing up liquid. Most stones can be cleaned in this manner but it's particularly good for diamonds.

"Silver pieces should always be cleaned with a silver cloth as the cloth is infused with a cleaning product, creating a nice shine across the piece. Plated silver pieces can also be cleaned with a silver cloth, however continuous use will remove the plating over time and should be carried out with caution."
Did you know that one of the best ways to preserve the condition of fine jewellery is to wear it? Moisture from the skin can even enhance the lustre of a pearl. But there are still several definitive do-nots when it comes to wearing your favourite pieces.
Do not apply lotions or perfumes over jewellery
Avoid contact with water and chemicals
Remove pieces before showering, swimming, exercising, cleaning or washing your hands
Try to put your jewellery on last when getting dressed
"Plated jewellery in particular does not like humidity, water or perfumes so if you want your pieces to stay looking their best, do not wear plated jewellery in the shower or when swimming. Spraying perfumes and hairspray directly onto plated jewellery will gradually remove the plating and reveal the metal underneath.

"Gemstones can be affected by chemicals and must be cared for in accordance to the needs of the particular stone you are wearing. For example, pearls are extremely delicate and must not come into contact with any water or chemicals."