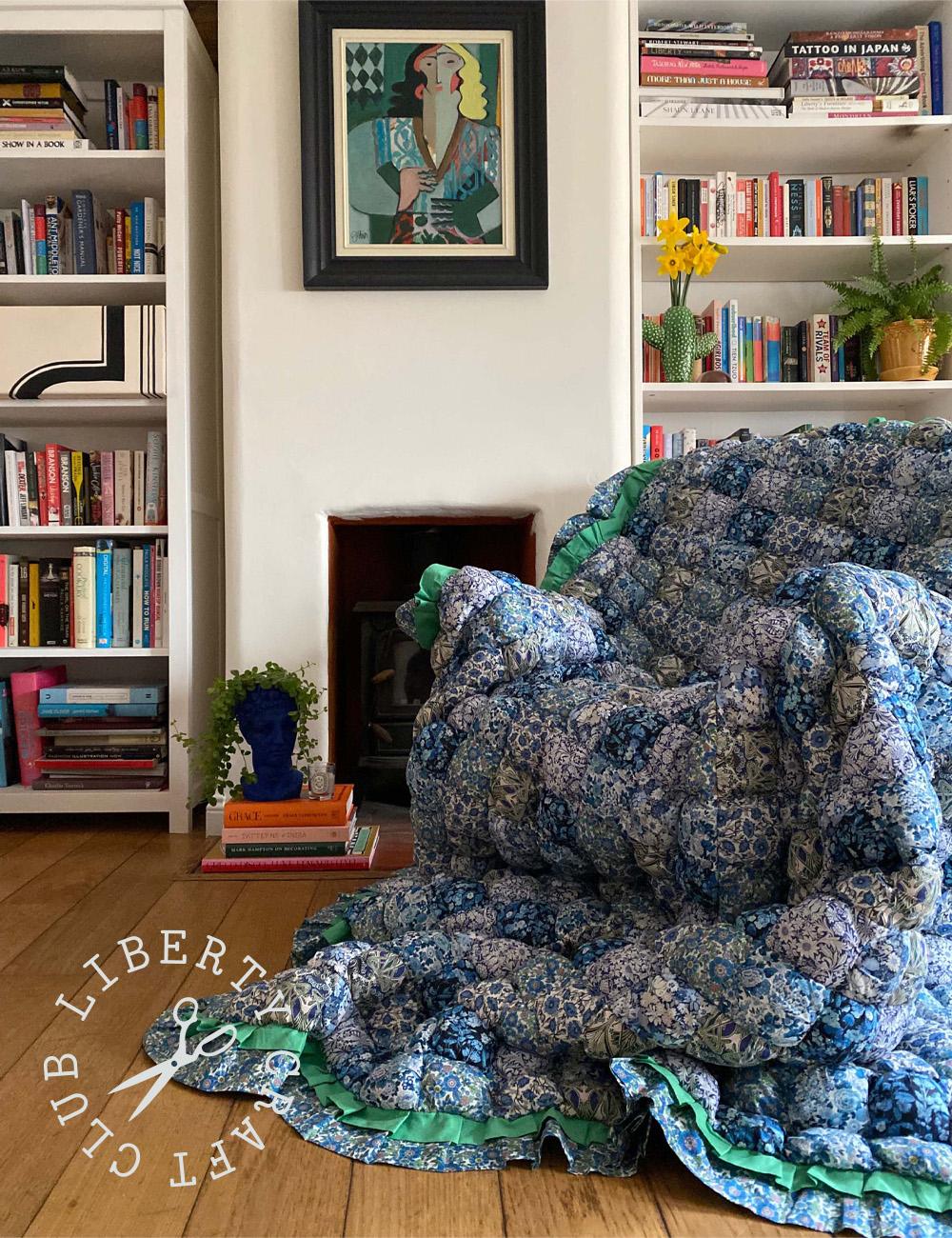 Craft Club
How To… Make a Puff Quilt
Uplift your bedscape this winter with the ultimate #LibertyCraftClub project: a puff quilt. Here's our step-by-step guide to creating your own
Creating metres of colourful patchworks to achieve a one-of-a-kind piece is about as incentivising as a #LibertyCraftClub project gets. If you're wondering 'what is a puff quilt', it's basically a quilt in which each square is filled with stuffing before the quilt is finished, giving it a cloud-like, ultra-snuggly effect. Which is rather great, considering we're heading deep into winter. Plus, quilting is a hot topic right now. Add some Liberty Tana Lawn™ magic and you've got a truly magnificent task on your hands.According to Jenni Smith, author of Quilting with Liberty Fabrics: "nobody has a casual fling with Liberty Fabrics. It is a true romance" and we have to agree. Follow our 11 easy step-by-step tutorial to create your own Liberty puff quilt that's perfect for cosy nights in.
---
A selection of Liberty Tana Lawn™ fabrics
A backing fabric for your squares
A fabric the width/length of your entire desired quilt size
2 different fabrics for your ruffles
Sewing Machine with a Gathering Foot
Thread
Pins
Hollow fibre stuffing
1.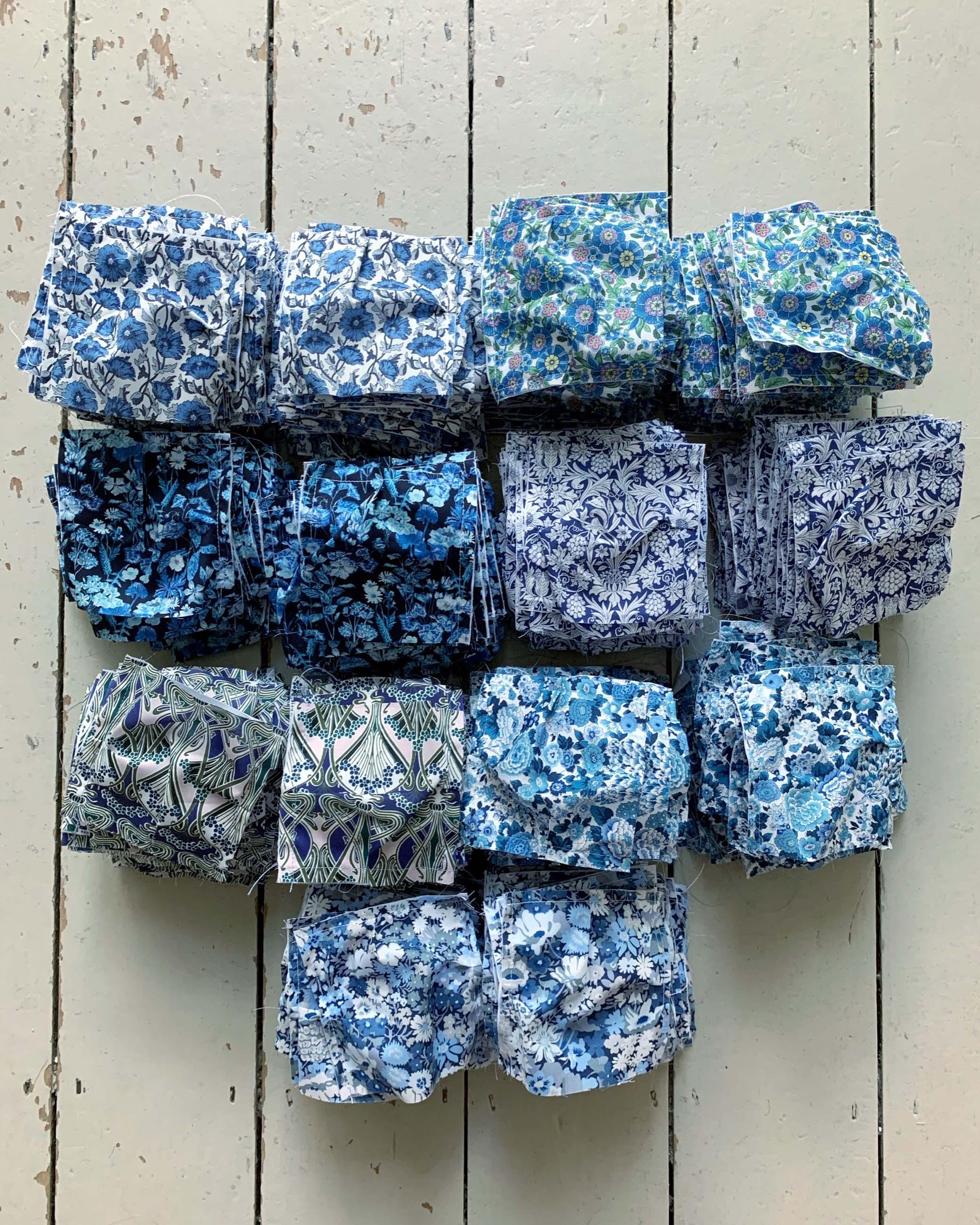 Cut Your Squares
Cut your chosen fabrics into 5x5 inch squares to form your top layer - aka the fabric you want to see! We used 700 individual squares for this project to make a Kingsize quilt. Cut another 700 4.5x4.5 inch squares in a plain fabric (you could even use an old bed sheet for this bit). This is your backing fabric.
Make Each Pouch
Now for the fiddly bit! You need to create a little pouch out of all 700 squares by sewing your larger, printed squares to an accompanying smaller plain square. Line up each square to fit with ¼ inch tucks.
2.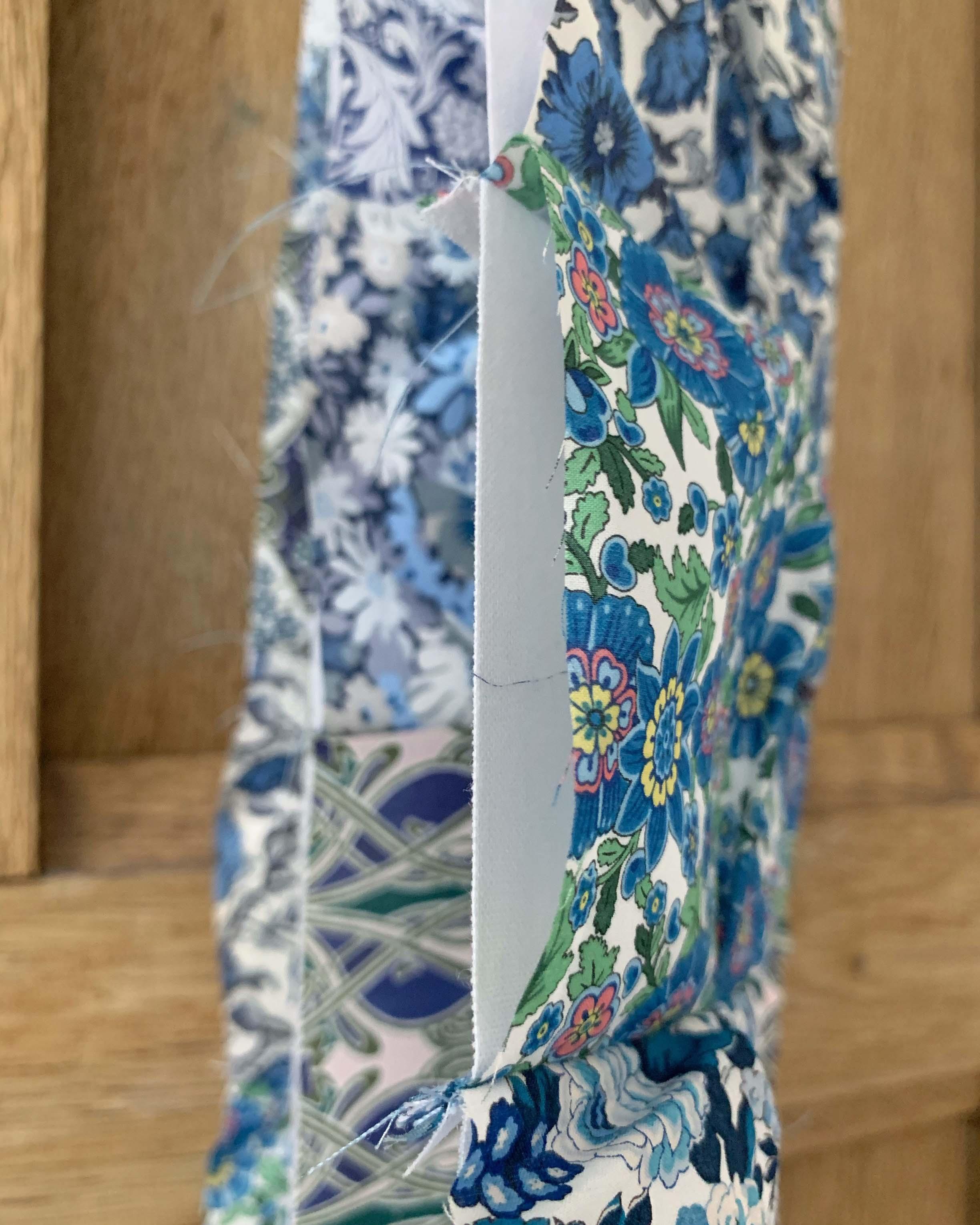 3.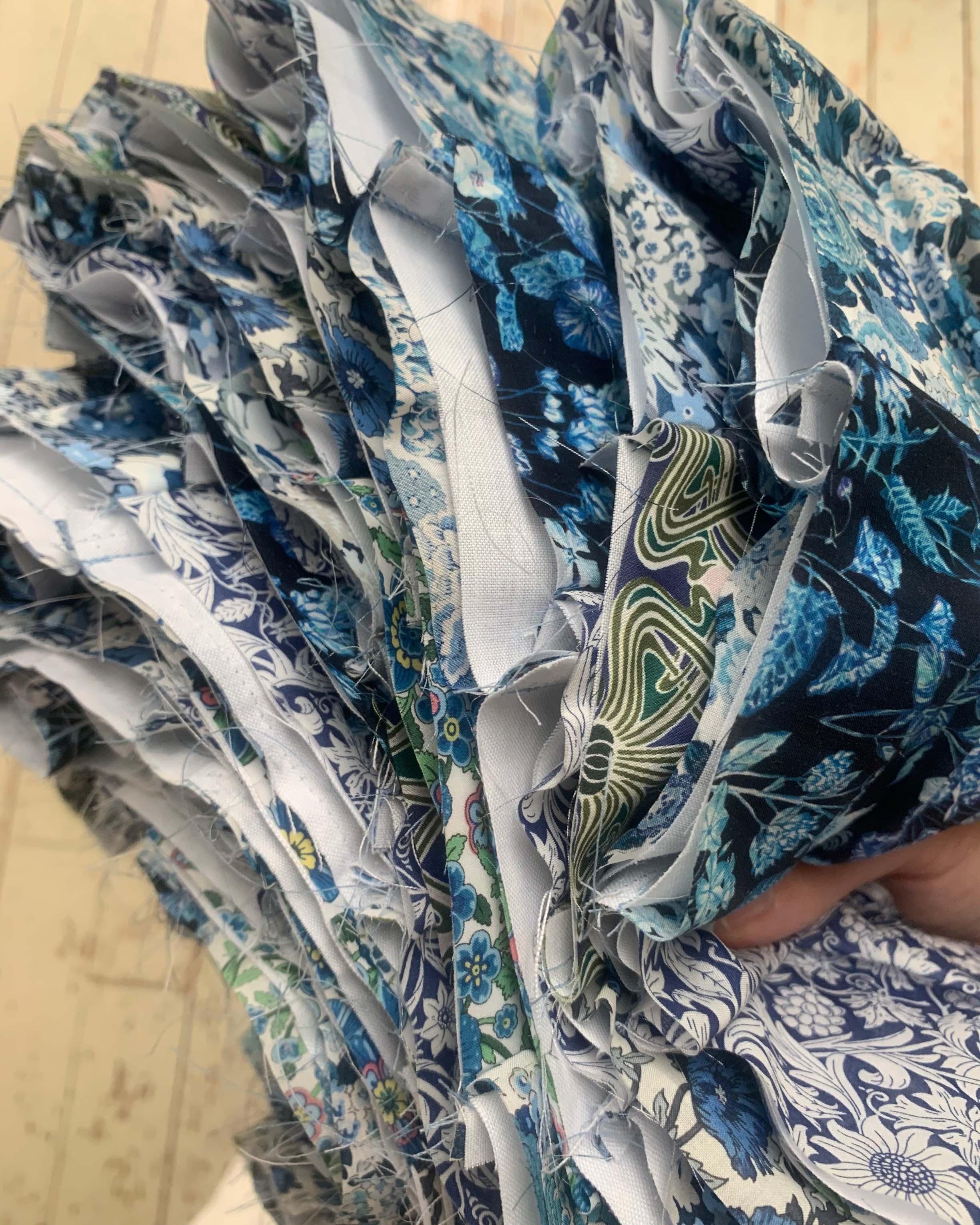 Stitch It
Sew around three sides, leaving one side open to form the pouch, making sure to leave your ¼ inch seam. Do this for all your squares (this may take you a while).
Join Together
Now you need to sew all your pouch squares you've made into long lines. We pieced together 26 squares for each line, making sure all of the open sides are along the same side.
4.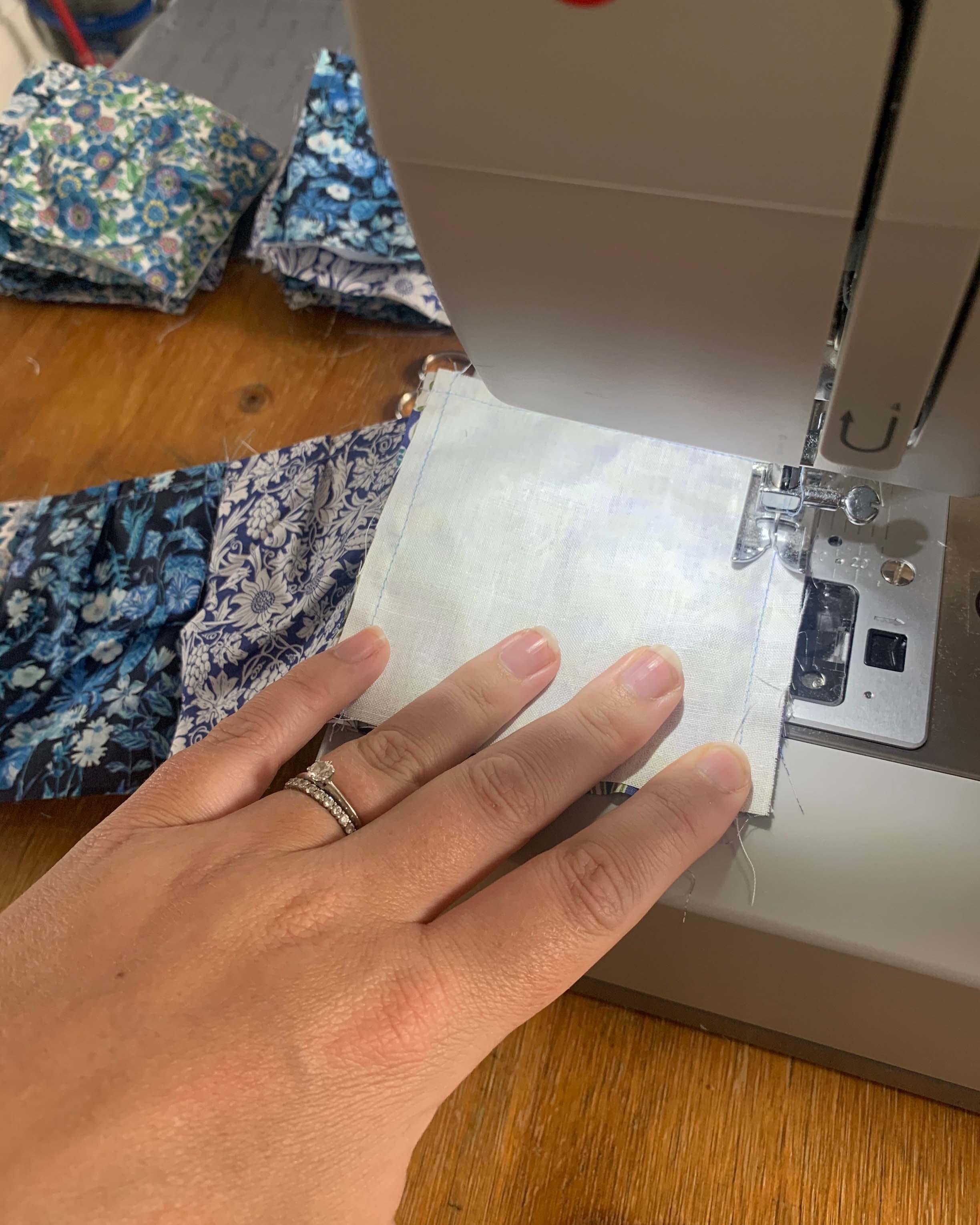 5.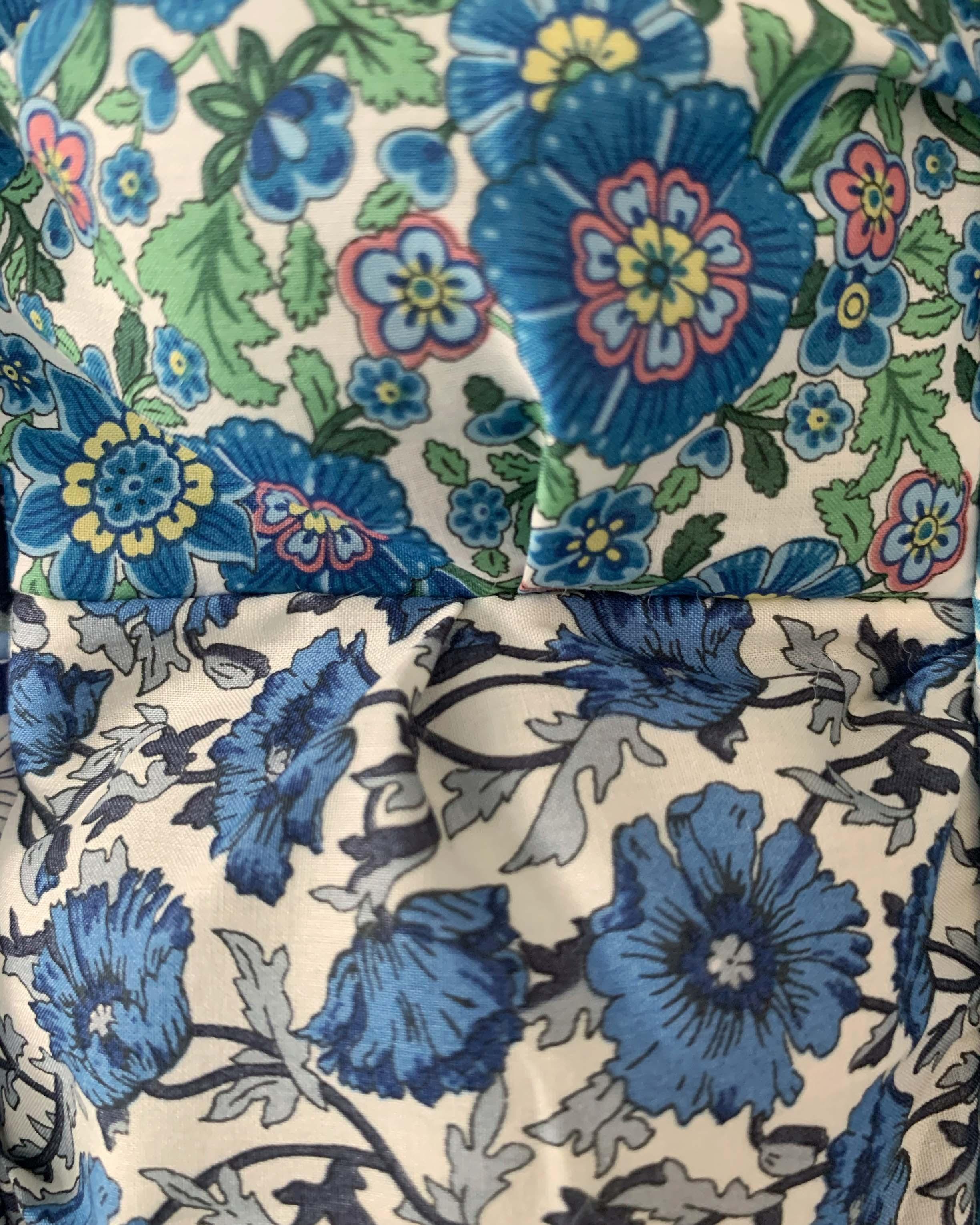 Add Stuffing
Take your stuffing and fill each pouch. We used hollow fibre for our quilt as it's a lighter, more breathable filling. Ensure you don't overstuff your pouches or it'll make the quilt too firm to work with (and less cosy).
Close Your Pouches
Sew a ¼ inch seam along the open edges, being careful not to trap your stuffing into your stitch as you go. These will form your final quilt squares so take care to stitch as straight as possible along the seam edge to help you when you match everything up.
6.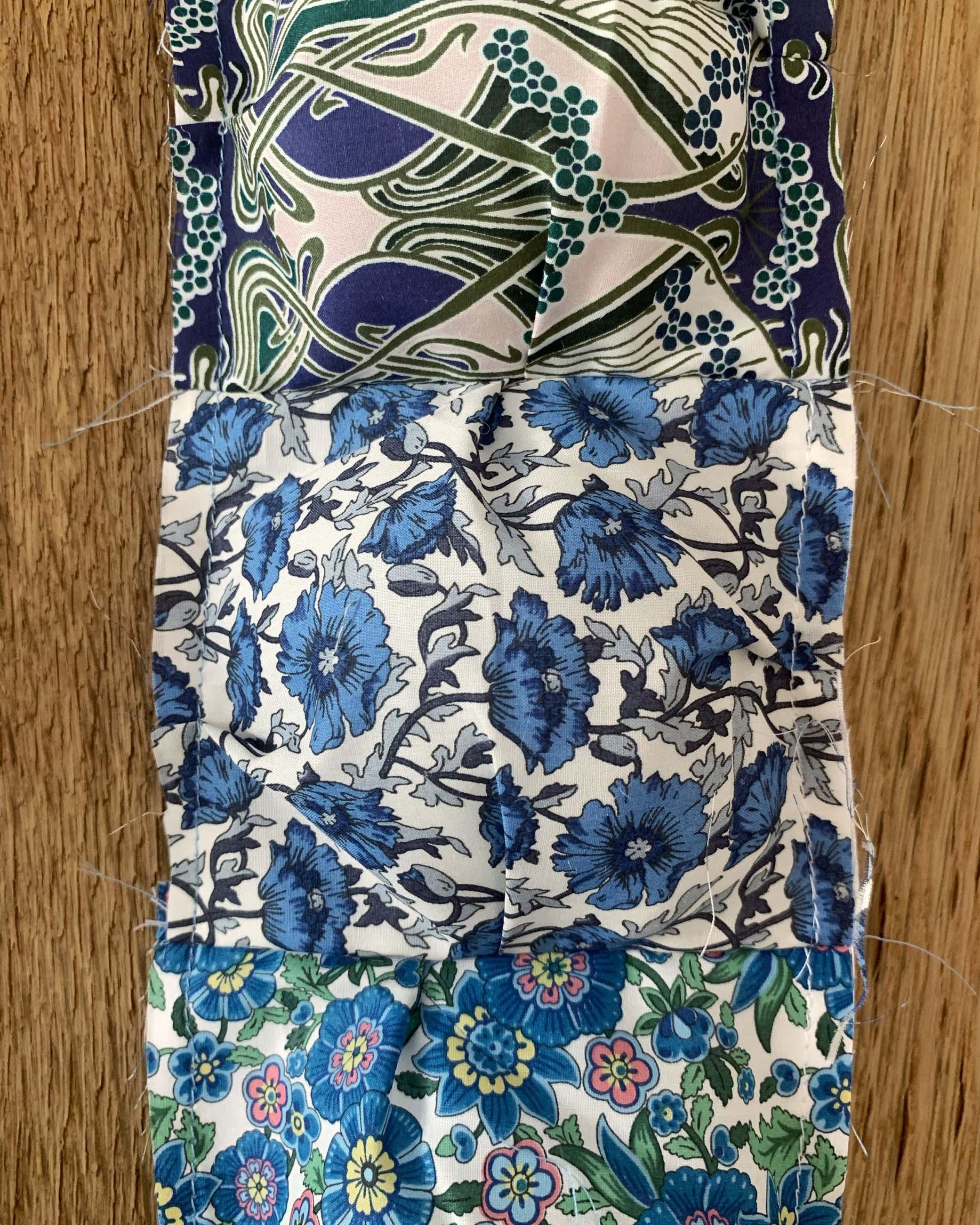 7.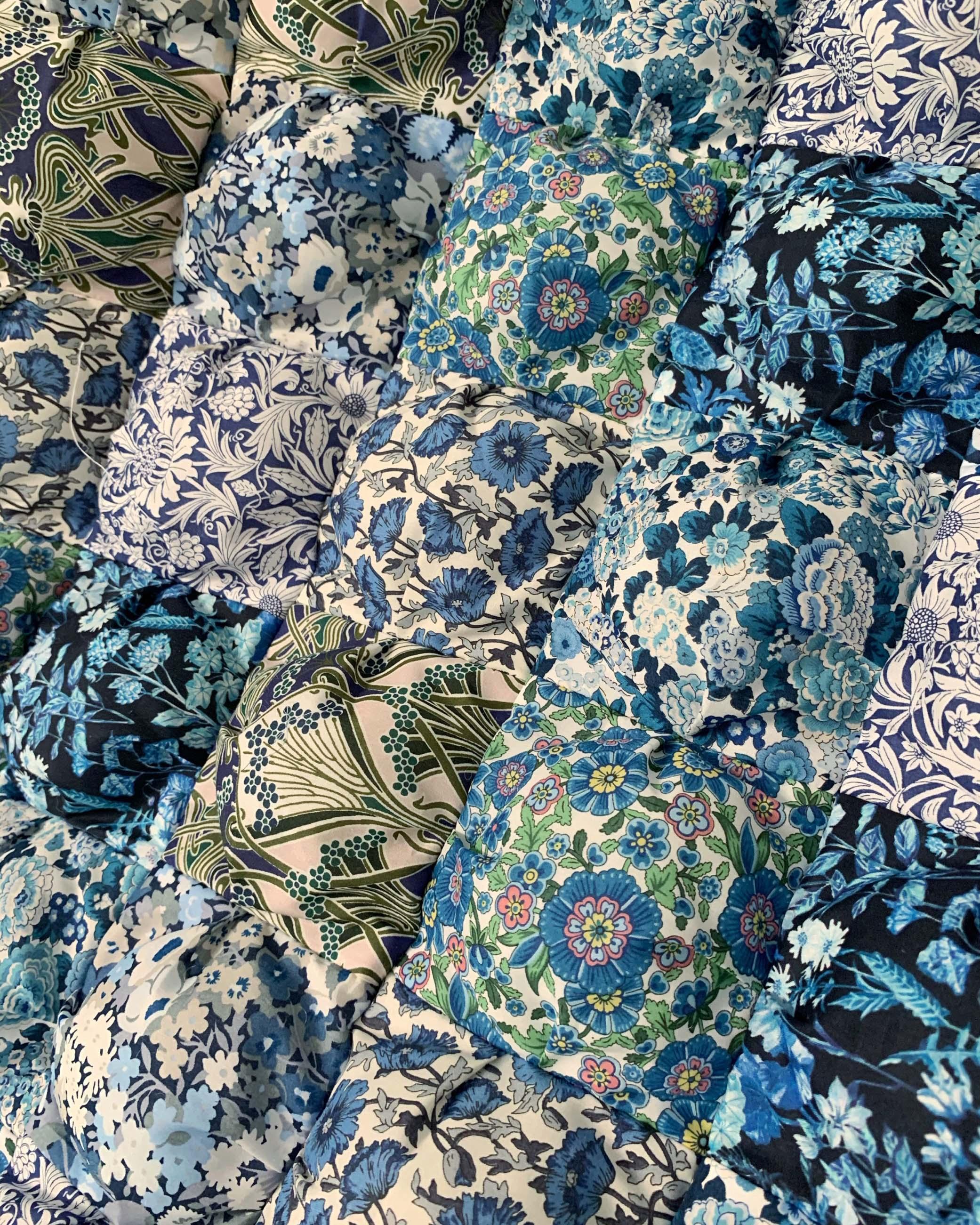 One Big Square
Now for the fun part! Join all of your long strips of stuffed squares together to form your quilt making sure that your squares line up both vertically and horizontally.
TIP: Don't try this in summer, the quilt is very warm and you'll be buried underneath it as you sew!
Back It Up
You will now need to back your entire quilt with fabric to hide the back of your squares and give you an extra layer of warmth. You can stick to a plain fabric here or double-down on Liberty Tana Lawn™ with a contrasting print.
8.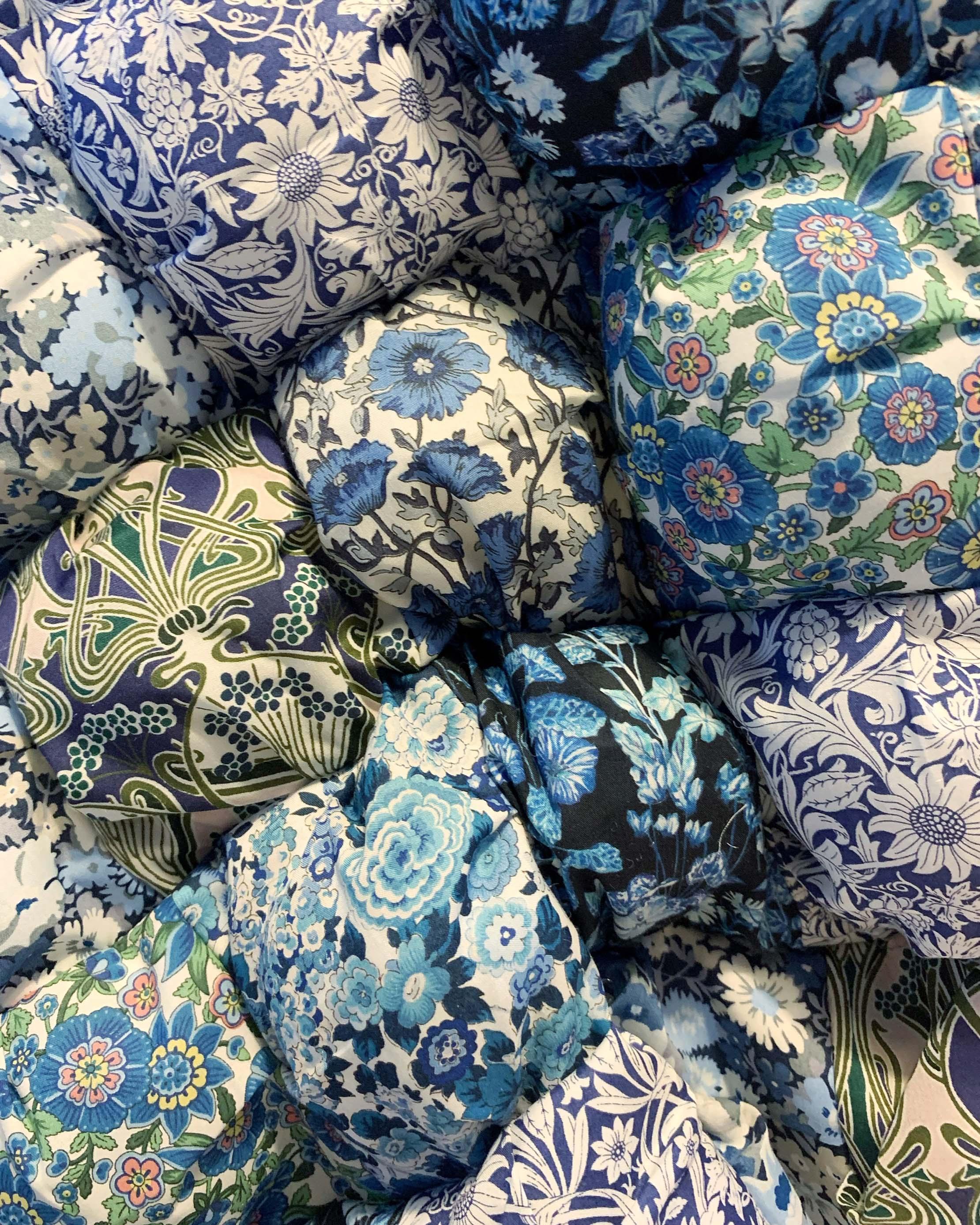 9.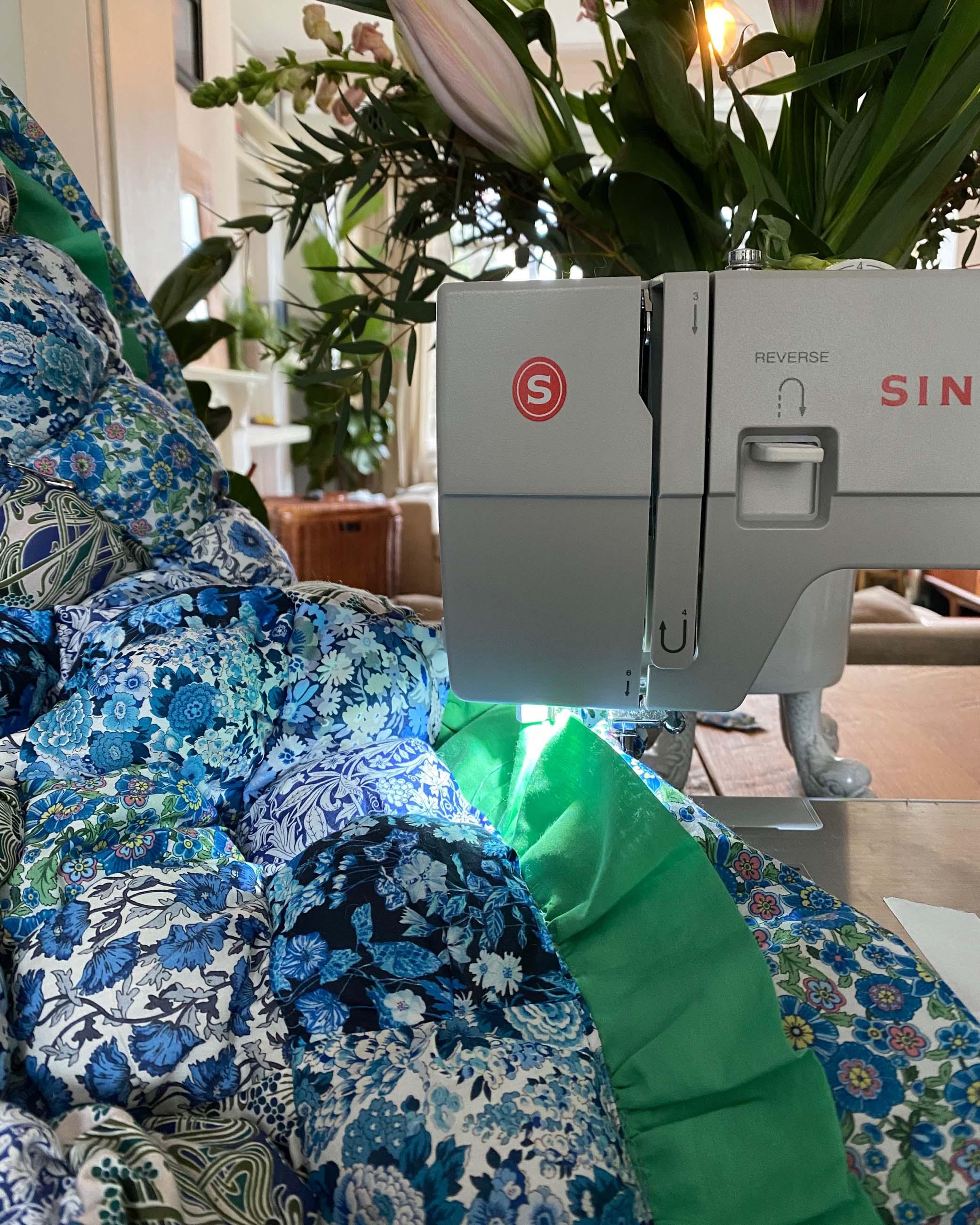 Hide Your Edges
To edge your quilt, a double frill is just the thing to tidy up edges and add some drama. We went for a 2.5 inch plain green ruffle, followed by a 5 inch Liberty print ruffle. You will need to cut full lengths of your ruffle strips to the circumference of the quilt.
The Final Touch
Pin and sew your inner ruffle first using the gathering foot on your sewing machine. Stitch along the raw edge of your strip by holding your finger behind the foot while pressing the fabric to create a ruffle. Repeat the step with your bigger ruffle and attach to your quilt.
10.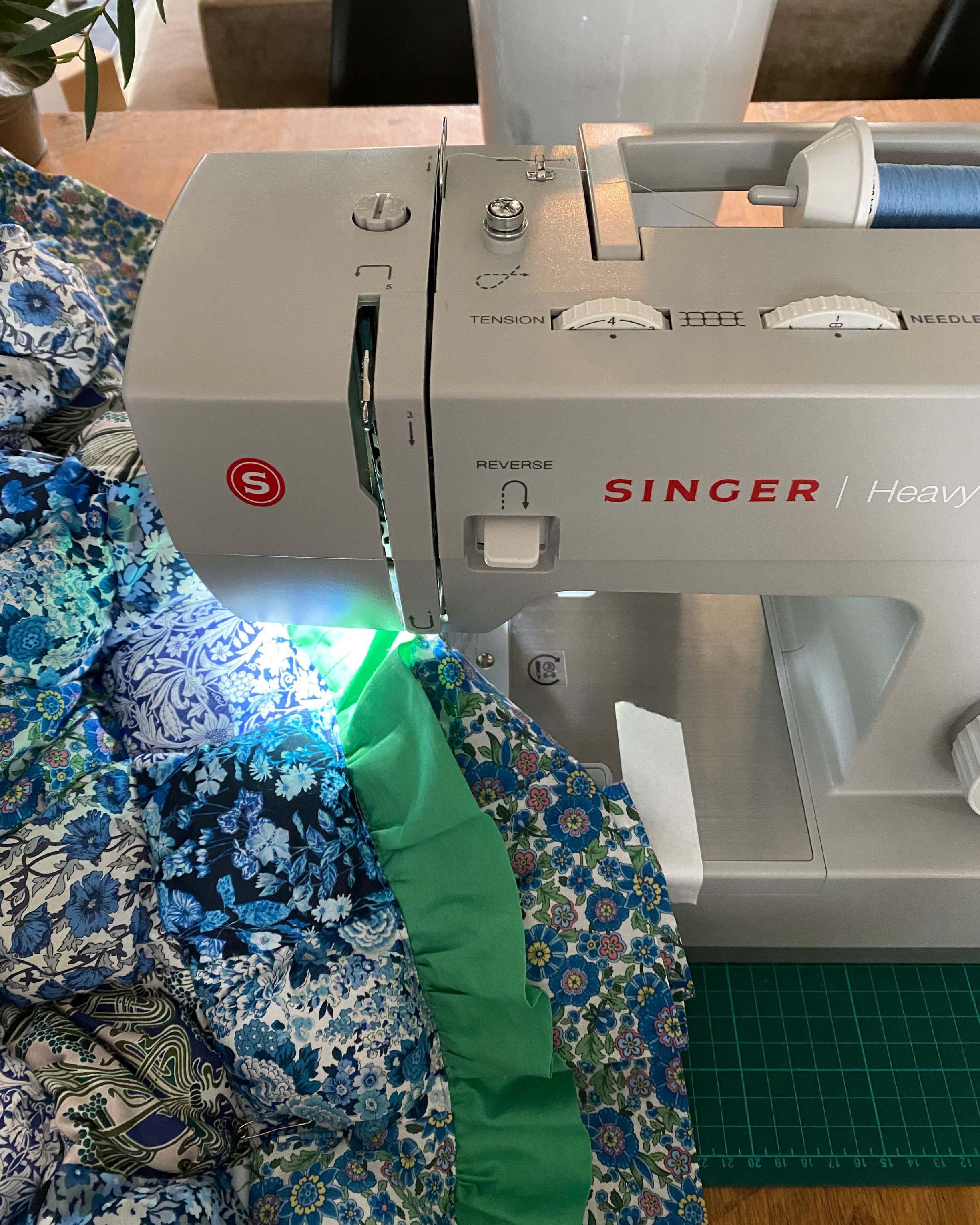 11.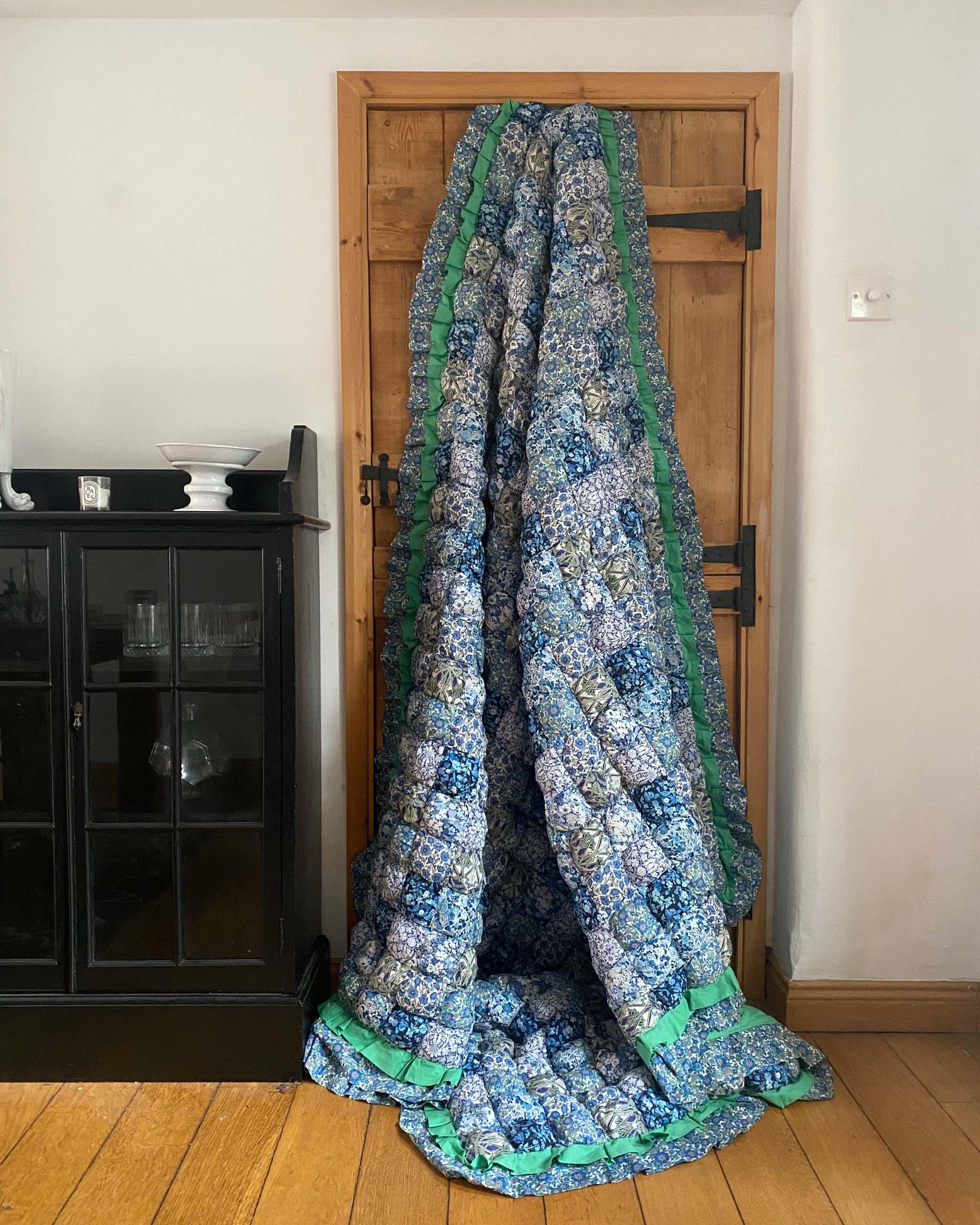 Fin
Et voila! You're ready to dress your bed or drape over the sofa to inject some Liberty comfort to your home - well deserved after those 700 squares...