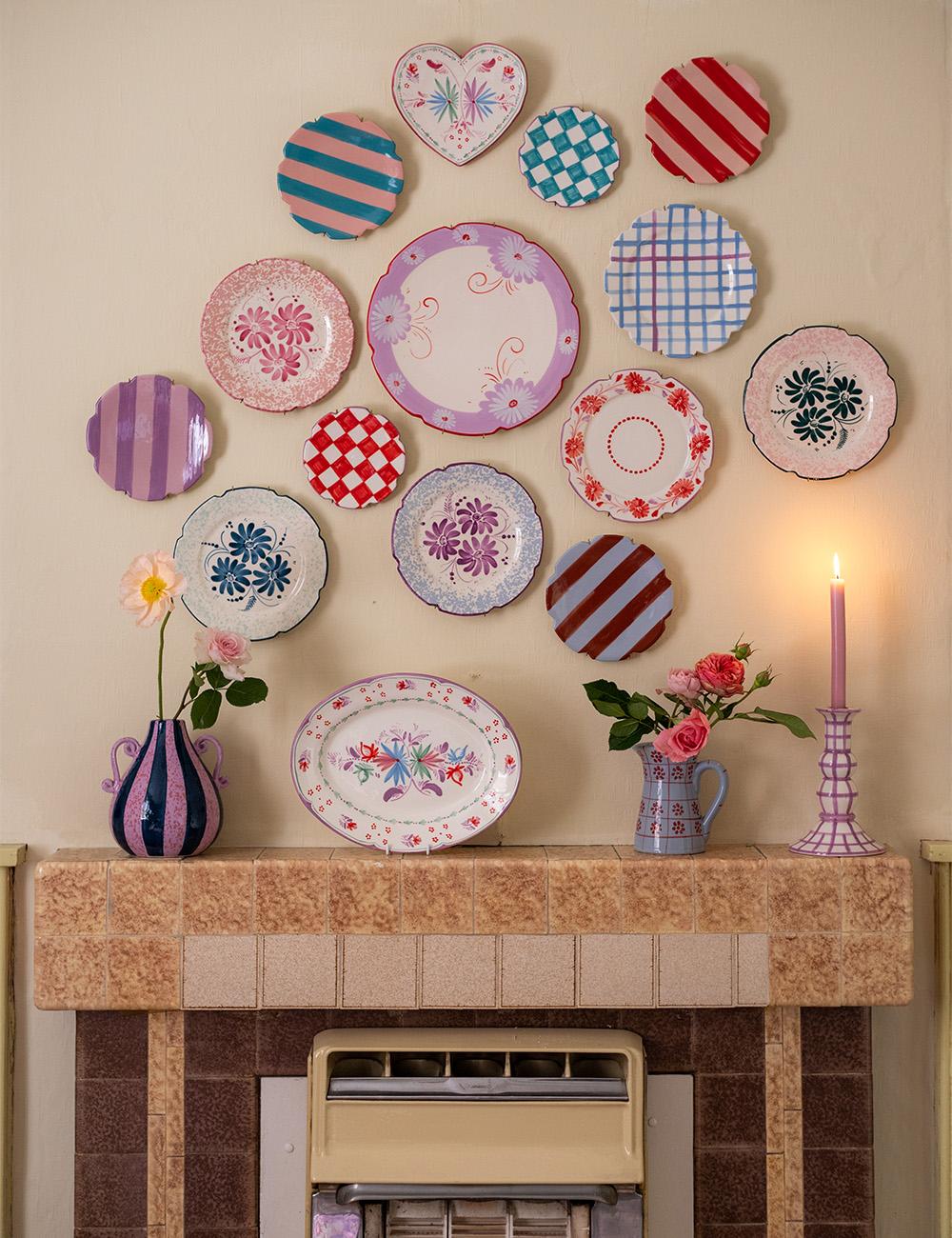 Build A Home
DIY Decor Ideas From a Serial Renovator
Liberty's resident home renovator takes us through the DIY decor tips and tricks she has learnt the hard way
By: Charlotte Olby
DIY, and home renovating for that matter, is something that has always been in my DNA. My grandad, who is a property developer, instilled the skill in all of his children and grandchildren, constantly waxing lyrical that "the best money to be made is in your home". Having observed my parents taking on various projects within our various homes (we moved a lot) you could say I am sufficiently educated in all matters of the toolkit. Now, with the keys to our own (second) renovation, my husband and I have found ourselves yet again at the mercy of TikTok tutorials and Pinterest boards aplenty - trying desperately to see the wood for the trees amongst the endlessly expensive electrical, plumbing and structural works. Enter: decor - something I can finally get excited about.

Sometimes all you may need is a simple declutter to give a room a new lease of life, making the most of your existing pieces and moving things around to feel fresh - but there's always something more you can do. With a little creative flair, a bit of time and (usually) a lot of paint, you can take something from gloomy to great - all while keeping it budget-friendly. While I might be far from the finishing touches stage in my own home, here are a few DIY home decor ideas that I've picked up along the way that will perhaps spark a creative project of your own. This is #LibertyCraftClub: the reno edition.
A beautiful picture or piece of art has the power to transform a room and even your mood, whether it's your living room, bedroom or that unloved corner by your front door. A gallery wall adds personality and the creative possibilities are endless, and rather uncomplicated too. Change your mind often? Try the quick-swap method with shelving or picture ledges to house your artwork. Feel intimidated by the art world? Art isn't just confined to paintings and drawings. To inject some fresh new colour and print, consider framing wallpaper offcuts in a similar colour palette or paint your own piece on canvas using sample paint pots. Besides being budget-friendly, this is a great way of dipping your toes into a colour scheme or print without jumping head first into a full-blown mural.

If your best china isn't getting enough air time, make a display with it all. Select a few pieces of varying shape, size and pattern and ensure you pre-measure your placement before you go all-in with the hammer. Attach to plate hangers (Google it) to hang without damage. Ceramics wall sconces are seeing a huge revival and are one of my favourite forms of wall decor as they act as a versatile way to introduce beloved found and foraged items.TIP: Use masking tape to create a guide first and make sure you have the spacing right.
Reuse, Recycle, Reupholster
Rediscover the magic in your existing pieces with small but mighty transformations. Seating, window treatments, beds and sofas can all be upcycled into your new favourite item or space with just a few hours of hard work. You could start simple by adding new handles and knobs to furniture to give them a zhuzh, painting old (or new) pieces that would benefit from a pop of colour or inspire your next Liberty Craft Club project by reimagining furnishings in our range of signature prints.

While the term 'upholstery' may sound rather daunting, this is something you can achieve with just the simplest of kit lists and a good tutorial to follow. Cushionscan be recovered in new prints by making your own envelope-style closures (aka: zip free) to make them interchangeable - follow our tutorial here - and larger scale items like headboards and seat pads can be switched out for a new design with just a staple gun. Got a redundant kitchen corner that requires seating without the privilege of space? Build in your own banquette seating out of box shelving or additional kitchen units and cover a simple foam bench pad in a href="https://www.libertylondon.com/us/features/craft/how-to-choose-fabric-for-your-project.html" title="Read: The Best Fabric for The Job">hard-wearing bases like velvet or cotton sateen. This also works really well outdoors; when using our Liberty Garden fabrics of course. For the more savvier sewers than I, cafe-style or full length curtains can help to add a softness to a living room or joy-inducing roman blinds will help you to wake up happy.
Giving something a refresh with paint or wallpaper can seem like a rather obvious recommendation. But I'd like to suggest looking at it with a different approach, thinking about a lick of paint in small, unexpected doses. When working with colour, you can easily overdo it. And while at Liberty we're big fans of maximalism, too many clashing tones can overwhelm a space. One of my favourite ways to subtly commit to a colour scheme without splashing across entire walls is by painting woodwork: skirting, architrave, the back of a bedroom door - nothing is safe from my brush. To ensure a perfect finish, make sure you clean down the surface, followed by filling any cracks or dents with wood filler and sanding down to smooth before going in with your paint.

Let nothing be superfluous and make every corner count by creating a space for living rather than just looking at. That statement really comes to life in the kitchen, where we tend to favour substance over style - but it needn't be so. In 2023 we're moving away from bold kitchen unit colours in favour of more mellow shades, rather than an entire kitchen makeover try introducing a new colourway by painting just a kitchen island or a vintage standalone unit to house your crockery. Wallpaper is another great case study in a-little-goes-a-long-way. Feature walls are out and instead wallpapered ceilings, alcoves and nooks are in. Match your walls to your cushions, clash them with an armchair or elevate minimal furnishings with one, two or even three of our Liberty-printed wallpaper.
Small Transformations:
Hang open shelving to house your favourite home accessories for a quick and easy display opportunity

Make an entrance. Paint your front door a happy colour that you'll find joy to come back to everyday and create calm out of clutter in your entry hall

Add a large rug to make a large, open room feel snug. The one rule? All furniture items should have at least their front legs on the rug

A mirror will provide more light and make any room feel bigger and brighter, reflecting colour and pattern on all sides of the space

Add more lighting to change the mood in an instant. Lamps in all their forms are welcome: wall, standing and table

Hardware makes all the difference. Switch out on kitchen doors, wardrobes and drawers to uplift existing furniture

Don't save anything for best, elevate everyday by making your bed, bringing home fresh flowers and burning your most luxurious candles