How to Choose the Right Fabric for Upholstery
Does your well-loved furniture need a refresh? Our expert guide covers all the basics – from thread count to pattern repeat – to help you choose the best upholstery fabric
By: Charlotte Olby
If you are searching for a new sofa, headboard, window dressings or chair – or are looking to revive a well-loved existing piece in your home – it's important to do your research in order to find the right fabric for the job. For one, it's a big purchase and two it's a big commitment to a print, particularly if your project is a large piece of furniture. Naturally, you'll be tempted to gravitate towards your favourite colour and designs but there are other (more sensible) factors to consider when learning how to choose upholstery fabric, such as lighting, abrasion and function. We've put together our top tips, with a little help from Genevieve Bennett, Liberty's Head of Design - Interiors, to make sure you're happy with your new Liberty upholstery fabric

Read More: How to Choose Fabric for Your Craft Project
Choosing the Right Fabric for Your Upholstery Project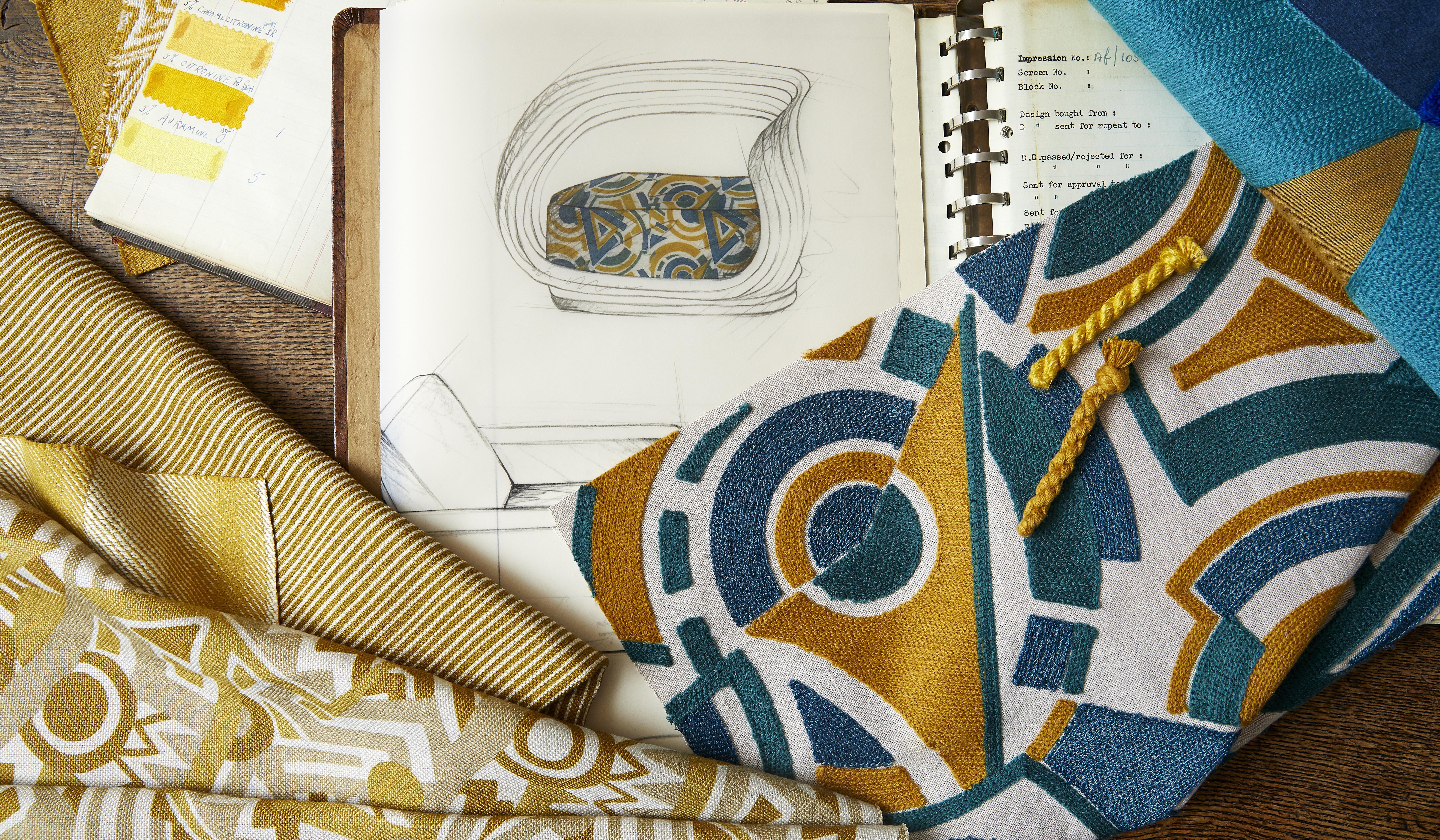 What Is Upholstery Fabric, Anyway?
Upholstery fabric is a material made for covering furniture and is generally heavier and more durable than most fabrics typically used for clothing or bedding. Liberty's Interiors fabrics showcase designs from across our vast textile archive, reimagined and recoloured for modern homes to channel a boldly maximal aesthetic. Choose from our new FuturLiberty collection, plain Art Colours, The Liberty Garden outdoor fabrics and botanical print stories in The Modern Collector and The Modern Archive collections.

Read More: FuturLiberty Interiors Fabric: Every Print in our New Fabric Collection
What Is the Most Durable Fabric for Upholstery?
That depends on what you're upholstering – and what the furniture will be used for. Here in the UK, we use an industry standard test for measuring appropriateness and durability of upholstery fabric - otherwise known as the Martindale Abrasion Test. This works differently to thread count, which gives an indication of softness and compactness, and is typically used for bedlinen.

When fabrics are taken through the Martindale Test a metal pedal is used to mechanically rub the fabric until the fibres break. The results for each fabric are then rated as follows:

10,000 rubs or less – Best for decorative accessories, cushions and curtains
10,000-20,000 rubs – Best for light domestic upholstery such as occasional chairs and accessories like cushions and curtains
20,000-25,000 – Best for general domestic use such as every day household furniture, but not suitable for items of extremely heavy use
25,000-30,000 - Best for heavy domestic use such as and general contract areas in hotels and restaurants
35,000 – 40,000 - Best for heavy domestic use and severe contract such as above high traffic areas in hotels

Read More: The Best Fabric for Your Next Embroidery Project
How Do I Choose a Fabric for Upholstery?
Think About Function
The amount of upholstery fabric to choose from is extensive so it's easy to feel bamboozled. Let us break it down for you. The most important two things to consider when kickstarting your search is: where the piece of furniture will live and what function it will have. Your furniture needs to withstand the rigours of everyday life so it's important to think practically when making your decision.

Think about how, by who and where your furniture will be used. For instance, if its a headboard in the guest bedroom, it's not going to be getting too much air time so can afford to be less hardwearing, but a sofa in your living room that's going to be used by the entire family (kids, pets and wine-spillers included) will need to be upholstered in a really durable, robust fabric. Cushions and dining chair seat pads can afford to be less structured and when it comes to window dressings, weight is everything – a pair of fully interlined curtains will last forever and hang with a beautiful drape.

There are pros and cons to every fabric, but a good place to start is to consider what qualities you want your piece of furniture to have. Canvas and cotton are both remarkably strong – resistant to pilling, fading, wrinkly and easy to clean. Liberty work with cotton mainly in our velvets and usually as blends in order to make them more durable. Linen is one of our most popular upholstery fabrics and provides a beautiful lived-in, relaxed look. Generally very good for upholstery (if the fibres are processed in the right way), linen is actually incredibly versatile.

Our current furnishings linens are:
Chiltern
Marlowe
Ladbroke (dual purpose)
Landsdowne (dual purpose)
Amersham (dual purpose)
Emberton (dual purpose)
Gino (dual purpose)
Guro (dual purpose)
Emberton (9% nylon added for increased abrasion performance)

Dual purpose refers to fabrics at a higher abrasion meaning they're suitable for upholstery and drapery/curtains.

Read More: Trend-Led Decor Ideas to Upgrade Your Living Room
Consider Colour
Oftentimes, upholstery fabric can be seen as an afterthought or a 'finishing touch' but at Liberty, we (of course) consider fabric an integral part of the overall design scheme – make a mistake on print or pattern and the whole room can suffer. To avoid making the wrong decision, start by taking inspiration from the rest of the room, assessing your colour palette and identifying any standout tones and isolating secondary shades that already exist in the space. Then you want to follow the 60/30/10 rule: 60% of the room should be a dominant colour, 30% will be your secondary shade and the last 10% should be an accent. This will ensure any new fabrics you're introducing will make an impactful statement without looking out of place. The more contrasting the colour, the bolder the look, so if you don't want your chair or sofa to stand out, opt for a more neutral tone with a focus on texture instead.

Read More: A Guide to Mixing Pattern and Colour in Every Room of Your Home
Try the Texture
Fabric can look entirely different depending on where it is positioned in a room, so you want to make sure you have a variety of swatches to test out in a variety of locations. If your intended furniture will be positioned by a window or door, have a look at that swatch in the morning and evening light, as this can have a drastic effect on the tone. Testing fabric swatches at home is essential when deciding if they have the right feel and quality for your chosen piece.

Our FuturLiberty Zig Zag print, for example, comes in a velvet and linen iterations which greatly impacts the feel of the pattern – the Jacquard velvet cleverly combines cut and uncut velvet to create additional tones and textures, making it a great choice for cushions, while the linen version is breathable and comfortable, it can also wrinkle and stain easily making it more suitable for drapery and less frequented furniture. Luxurious, textured blends with wool, for instance, are best suited to seldom-used rooms while durable fabrics such as corduroys or microfibre blends will work especially well in a living room, unlike demanding fabrics such as velvet or chenilles. Woven patterns as a general rule hold up longer than printed ones as they tend to have a higher thread count and tight weave.

Read More: New For AW23: A Liberty Odyssey Fabric Collection
Pattern Repeat
The final thing you need to take into consideration when choosing upholstery fabric is the shape of the furniture. If you're upholstering a piece of furniture with curves; patterns or heavily textured fabrics with a distinct direction are harder – such as stripes – to work with so sticking to a solid colour might be beneficial here (and your upholsterer will thank you).

Pattern repeat or pattern match refers to the amount of space (usually in cm) from where a pattern begins, and then begins again. The repeat must be matched up at corners, curves, and edges, in order for visual alignment and flow – for example, stripes, plaids, paisleys, floral bouquets and geometrics will all require pattern matching. It is worth noting that a fabric on a roll may look great but once it has been chopped up to cover the twists and turns of a sofa, it may not look so lovely. A large repeat can mean buying a lot of access fabric for pattern matching – consider this if the repeat is larger than 20cm. Large patterns look dramatic but you will need to take into account the size and shape of the furniture. You don't want to just see half the pattern throughout. Small patterns are great to hide stains which gives them longevity and they work well on awkwardly shaped or sized pieces as they don't distort as much as a larger pattern repeats.

Read More: A Beginners Guide to Understanding Sewing Terms