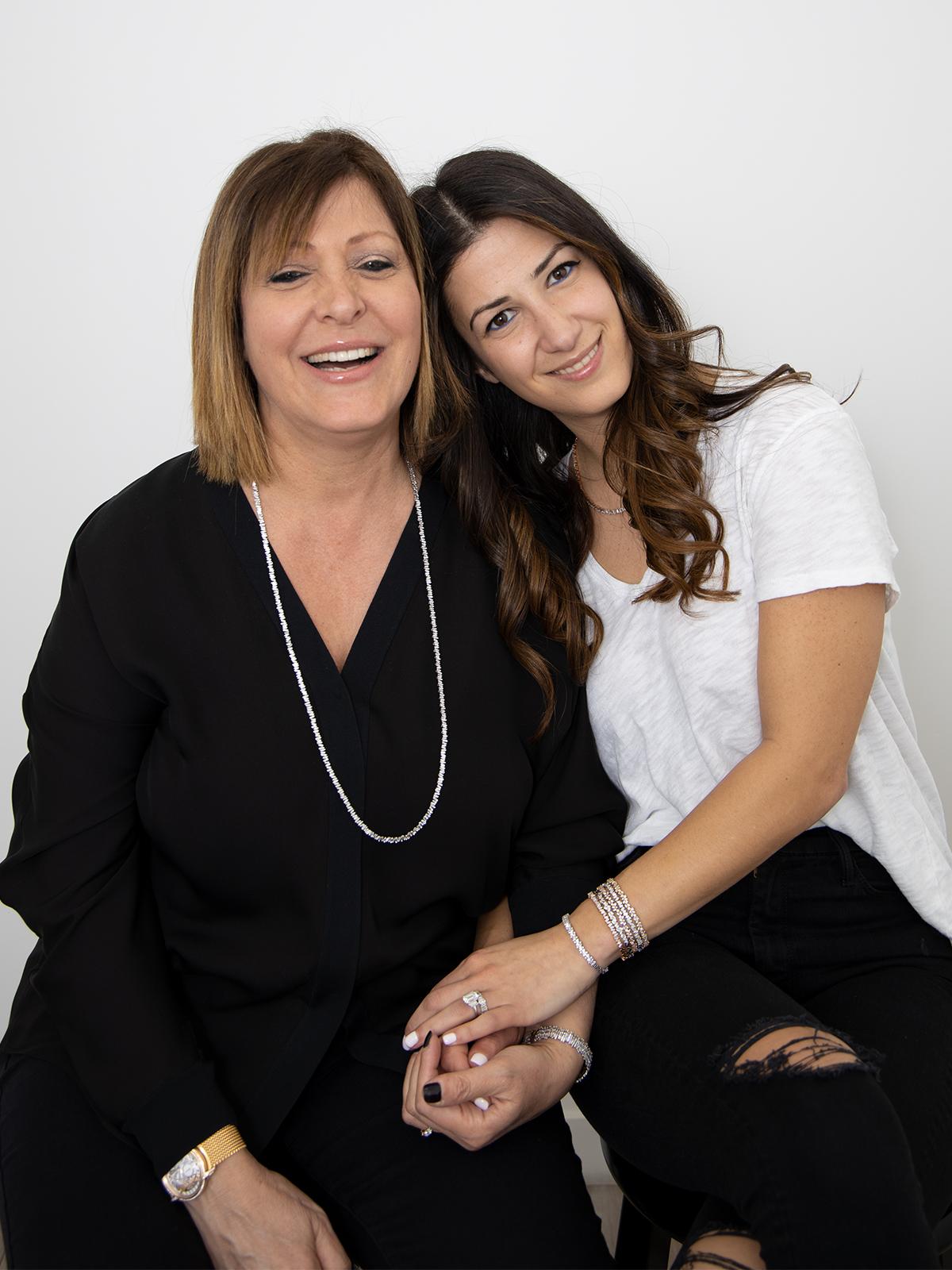 A New Generation
Suzanne Kalan
Patile Gemayel reflects on the beginnings of her mother's stone-studded jewellery designs and sheds light on her own role in shaping the brand today
Shop Suzanne Kalan
By: Team Liberty
Thirty-two years ago, Suzanne Kalandjian was a new mother, making jewellery for herself and her sister as a hobby in her spare time. Today, her hobby has evolved from a small business into a global jewellery brand, with her daughter now taking on the role of designer for the brand's 14-carat collection, KALAN. We spoke to Patile Gemayel about the importance of family and how she came to share her mother's passion for jewellery and candy-coloured gems.
How did Suzanne Kalan become a brand?
My mother used to work for my grandfather at his jewellery store until she married my father and had me 32 years ago. She says I was very well-behaved as a baby, so she decided to fill her spare time by crafting jewellery for herself and my aunt. As time went by, it seemed that whenever they wore the pieces they received continuous compliments.

One particular day, my mother was wearing her designs while out shopping and a store owner asked where her jewellery was from. He then asked if she would make a small collection for him to sell at his shop. That was her very first order and in essence where it all began.

The next order was for a large department store and this took Suzanne Kalan from the original $300 order to a $25,000 order. My father was a diamond setter and when orders picked up for my mother, he joined her full time and they started building the business together.
When did you discover your passion for jewellery?
I've always loved it. I think it's in my blood. I'm of Armenian heritage and jewellery is very much part of our culture. I grew up with my mother designing and my father creating and my grandfathers, on either side, also worked in the industry. It's something that's always been part of my life.
What made you decide to join your family's business?
I think without realising I've been in training since I was born. Growing up, I would help my mother prepare orders after school and we would go through all the steps of manufacturing together.

But like most children, I still wanted to create my own path, so I went on to study biochemistry at university. Whilst going to school, I would still go to the office to help my mother when I didn't have class. I became so involved in the company and I realised that my true passion, like the rest of the family, was in design and gemstones. This is when I decided to join the business full time. I became my mother's business partner, started my own 14-carat line, KALAN, and I have never looked back!
My mother developed

the

'Vitrine' concept which involves custom-cutting gemstones

so

they're flat

on the

top

and

bottom in order to reveal a classic diamond panel behind

the

stone.
Do you ever find it challenging working as a family?
No, I think we're actually incredibly lucky. We constantly have the opportunity to bounce ideas off each other and work to each other's strengths. We discuss everything. Every idea I have I run past my mother, and likewise my mother runs hers past me. We might work independently on the designs but we always communicate at every single stage to make sure we're both aligned. My mother also has the business experience which is invaluable.
How does being based in LA influence your designs?
LA is the global hub for the arts, be it film, fashion, music, it attracts an international set. It's also constantly changing with inspiration and differing cultures everywhere you go.
Can you tell us about your studio?
Our headquarters is a two-story building. Upstairs is clean, modern, and simple. We have mostly white walls with some accent walls covered in inspiration boards and jewellery collages. The rooms are all divided with glass. This way, we are always aware of what everyone else is doing. We feel like a family and the sense of togetherness is really wonderful. My mother sits on one side of the studio and I sit on the other. My brother, Kami, is our Graphics Director and he also has an office between us. Downstairs is production which my father looks after. We all work far enough away that we can get on with our own work, but close enough that we can consistently bounce ideas off one another.
Where do you find inspiration for your work?
My inspiration comes from so many different places. Colour is a big factor. Whether it is from fruit and vegetables or the skyline, colour highly impacts my designs. I'm also extremely inspired by my mother and her designs, as well as mine and my customer's personal tastes.
Can you talk us through your creative process?
I always ask myself what would I like to add to my wardrobe, and will my customers love it as much as I do. That plays a big part in my design process. Once the foundation for a collection is there, I tend to lay out the stones in front of me and see how they fall and what colours work best together. This is largely how my mother's inspiration for the Fireworks collection came about.
How would you describe your aesthetic?
Elegant, contemporary, and playful. My pieces are often described as candy.
My inspiration comes from

so

many different places. Colour

is a

big factor. Whether it is from fruit

and

vegetables

or the

skyline, colour highly impacts my designs.
Do you design with a particular wearer in mind?
My pieces attract all sorts of ages and backgrounds, from granddaughters to grandmothers. They're timeless yet fun and can be passed through generations.
Can you talk us through the 'Vitrine' stone-cutting concept and how it influences your designs?
My mother developed the 'Vitrine' concept which involves custom-cutting gemstones so they're flat on the top and bottom in order to reveal a classic diamond panel behind the stone. Even today, Vitrine continues to be an important design signature for us, and largely what makes us stand out in the industry. Since I work with a lot of semi-precious stones, some lighter shades tend to be somewhat transparent. With this in mind, we always make sure the setting behind the stone is beautiful as well.
How do you source your gemstones?
We have them cut specifically for us. We also visit some gem shows where we like to find different cuts and special stones to create one-of-a-kind pieces.
What has been the proudest moment of your career?
Designing my very own collection, followed by the simple pleasure of seeing my pieces being worn by strangers.
Why did you choose to stock your designs at Liberty?
Liberty is quintessentially British and known around the world for its close connection to art and culture, attracting the international fashion crowd. KALAN, my 14-carat collection, is young yet elegant and sits perfectly within the walls of such a fashion and art house.