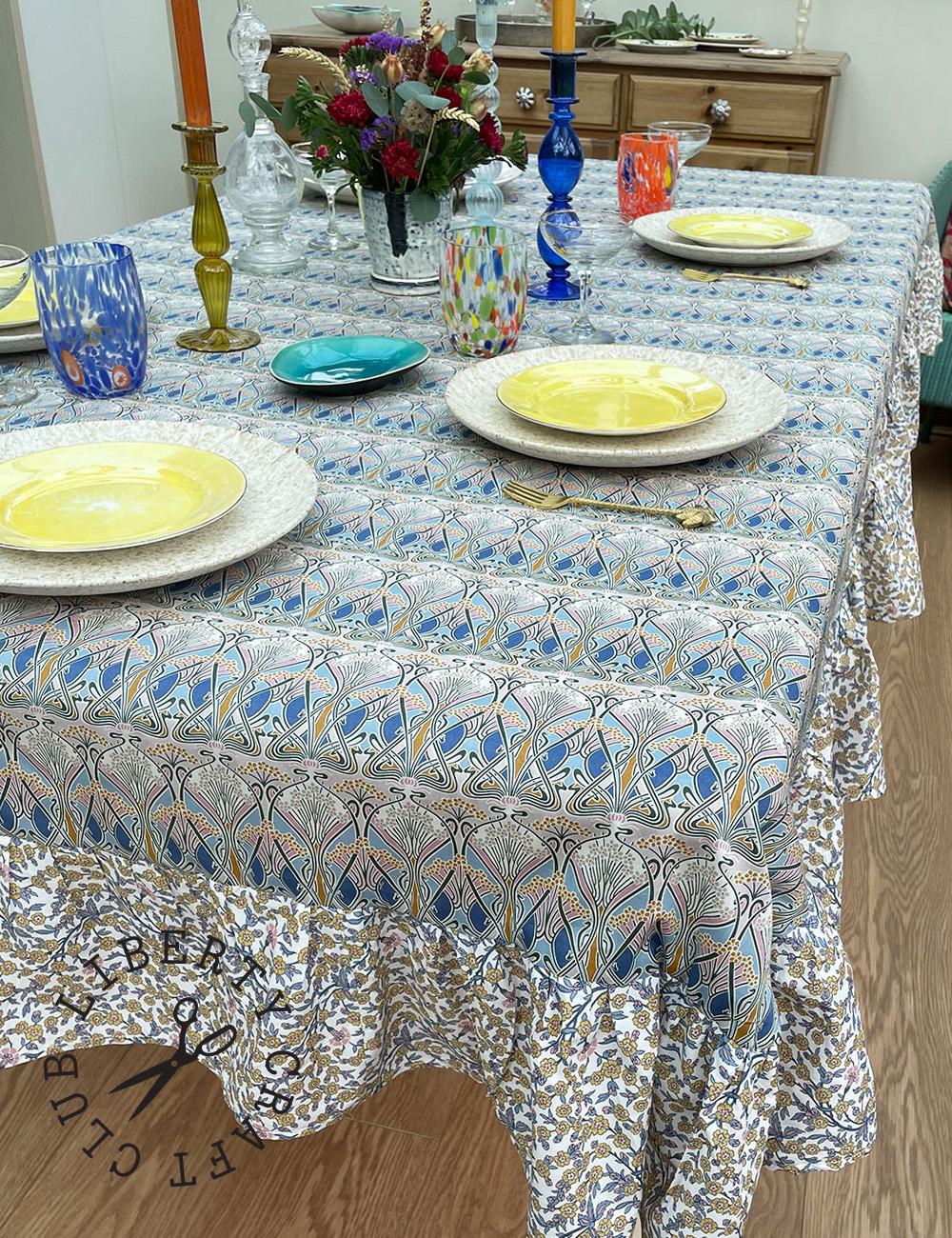 Craft Club
How To… Make a Tablecloth with a Ruffle Trim
Cottagecore is here to stay, and your entry point to the trend couldn't be easier with our step-by-step guide to handcrafting your own Liberty ruffle-trimmed tablecloth
By: Emma Fowler
The best and most direct way to take your table to the next level is with a mood, scene and style-setting tablecloth. Whether you're planning an intimate date night in or an all-out party with family and friends, a whimsical frilled border and bold print clash does all of the above. This joyful #LibertyCraftClub tablecloth with ruffle trim project will add shape and texture to your dining space in just a few easy steps, complete with picture illustrations and sewing kit essentials.

Read More: Liberty's DIY Party Decoration Ideas

NOTE: This tutorial creates a standard size tablecloth measuring 202cm x 119cm total - but do measure your own table ahead of time and size up or down accordingly.
You Will Need:
---
2 Liberty Tana Lawn™ fabrics
Sewing Thread
Sewing Machine
Pins
Scissors
Iron
Tape Measure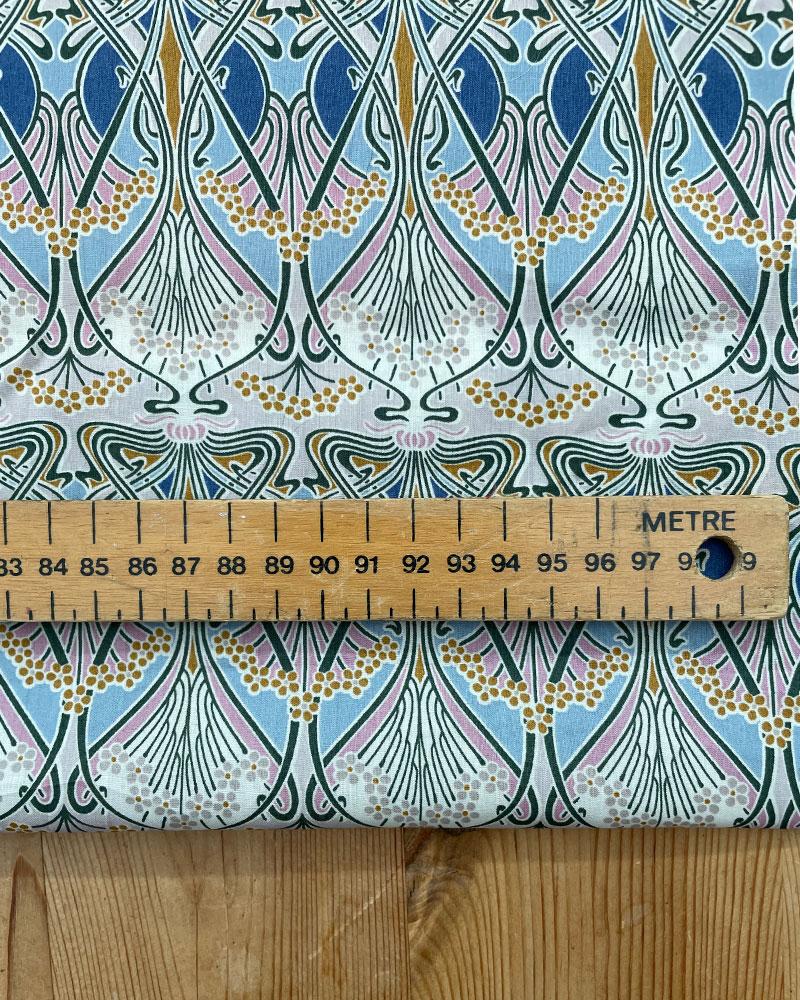 1. Choose Wisely
Measure the length and width of your table, and choose two coordinating Liberty Tana Lawn™ fabrics. We chose recoloured interpretations of two of our most iconic Liberty heritage designs: Ianthe Tana Lawn™ Cotton, £25 per metre for the main bulk of the tablecloth with Empress Tana Lawn™ Cotton, £25 per metre to create the ruffle trim.

TIP: select fabrics that have a matching tone that runs throughout both prints to ensure they work in harmony.
2. Size Up
Cut one piece of fabric to match the size of the table, allowing an additional 11cm drop along all 4 sides for overhang. The overhang is important to ensure your tablecloth hangs elegantly over the table and doesn't fall short. This table is a standard 180cm x 97cm so we made the tablecloth 202cm x 119cm to include a 11cm drop.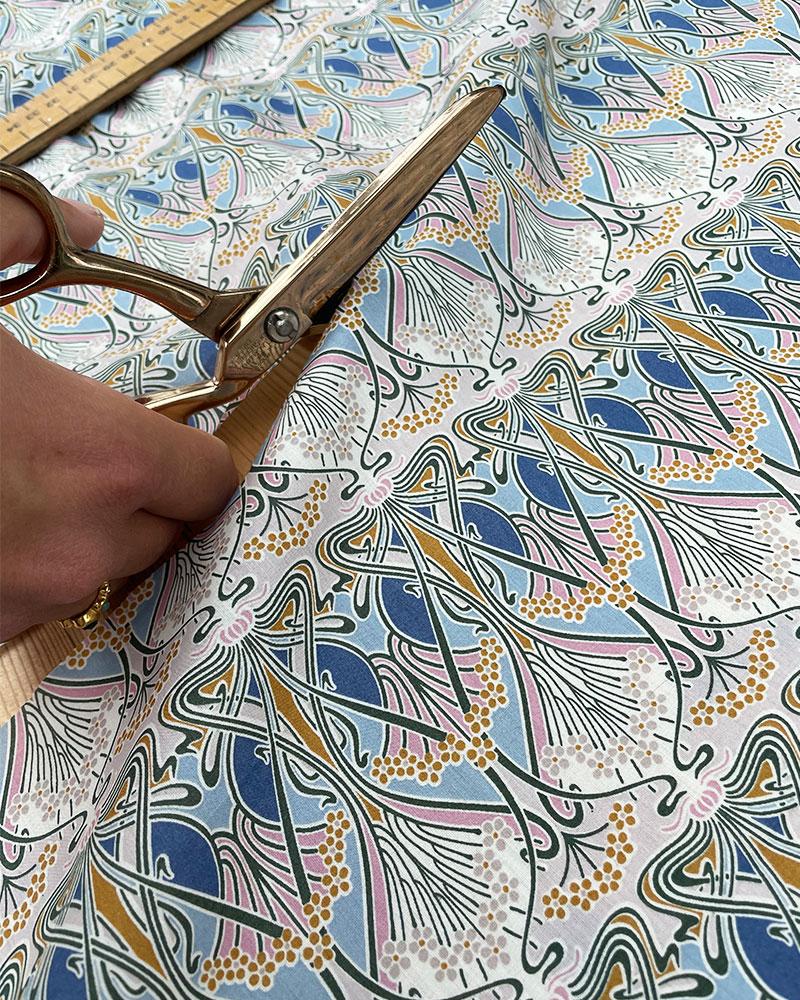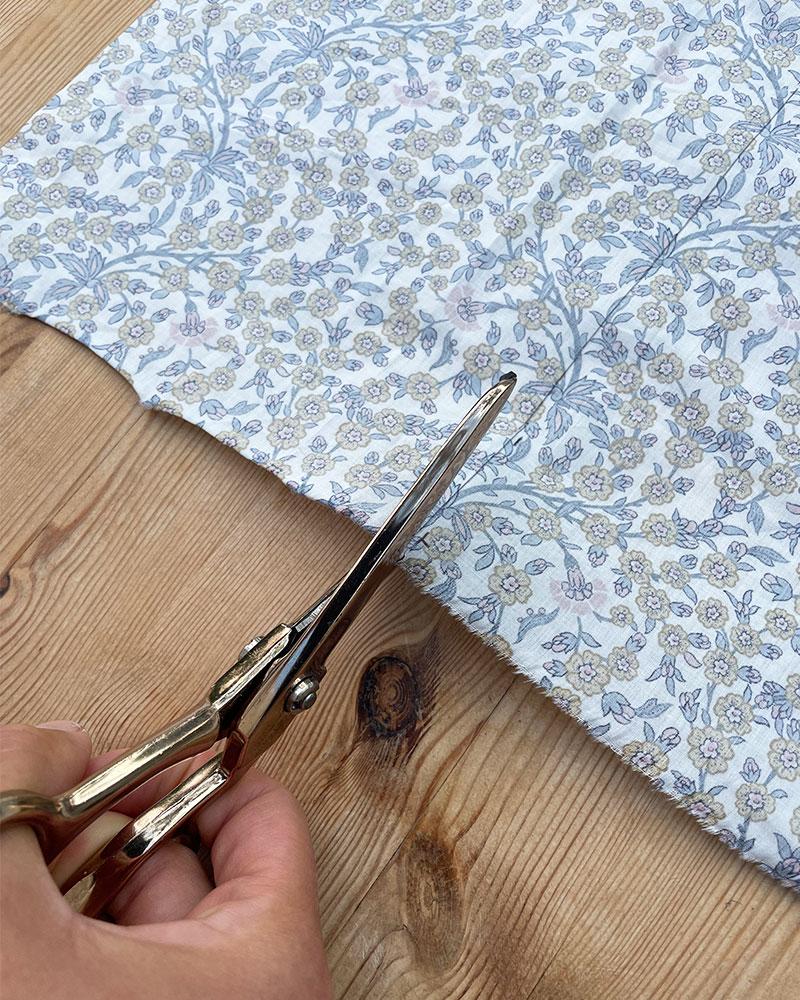 3. Close the Loop
To create the ruffle trim, cut 20cm wide strips of the full length of the fabric and sew together end-to-end (right sides together) so you end up with a continuous looped piece at 963cm in total circumference. Press your seams open with an iron.

NOTE: 963cm = 1.5x the total circumference of the table (width and length). As a general rule, you'll need 1.5 to 2 times your table length in fabric to make a full ruffle.
4. Turn Up the Hems
To provide neat edges for your ruffle, turn up a 1.5cm hem on the lower edge of the strip. Press under 6mm on the raw edge, and stitch in place close to the inner edge of the hem.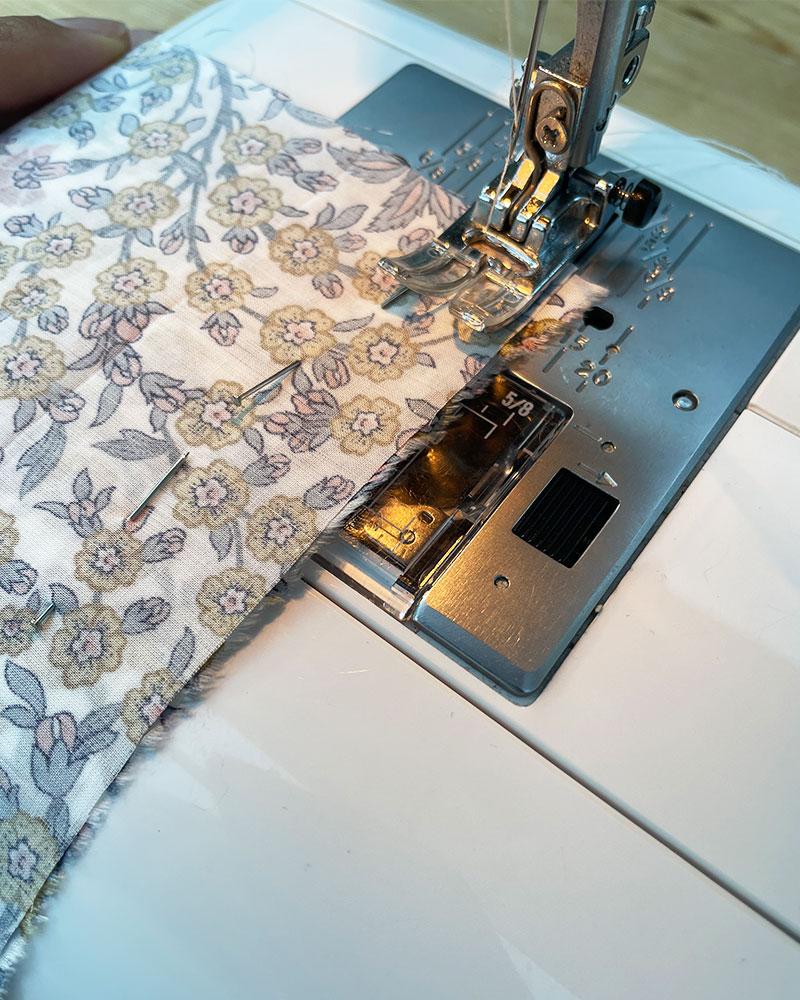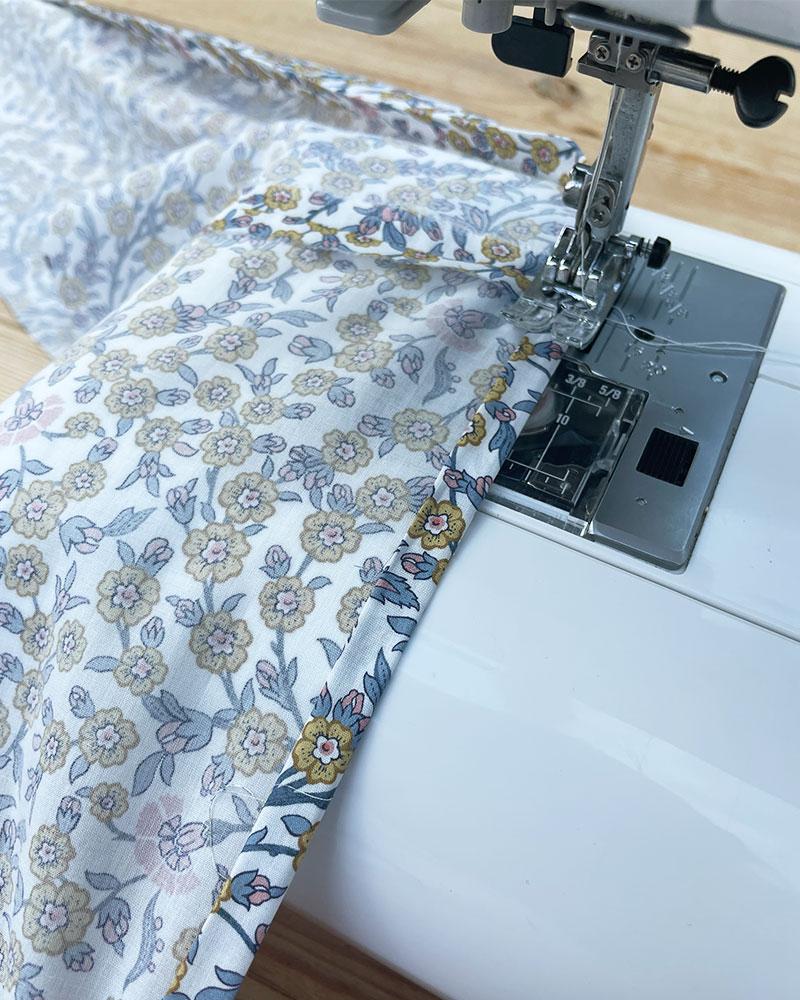 5. Get Gathering
Gather the upper edge of the strip using the longest stitch on your sewing machine and run a straight stitch all the way along the top of each ruffle strip. Stitch 1.5cm and then again, 1.3cm from the edge, so you have 2 rows of long stitches to gather into your ruffle.

TIP: If you have a gathering foot for your sewing machine, you can speed up the ruffle process. Stitch along the raw edge of your folded strip by holding your finger behind the foot while pressing the fabric.
6. Attach Your Ruffle
With the right sides of your ruffle and tablecloth together, pin the ruffle to the edge of the tablecloth. Secure one end of gathering threads. Adjust threads, pulling the threads gently to gather (being careful not to snap them) and evenly to fit around the edge of the tablecloth.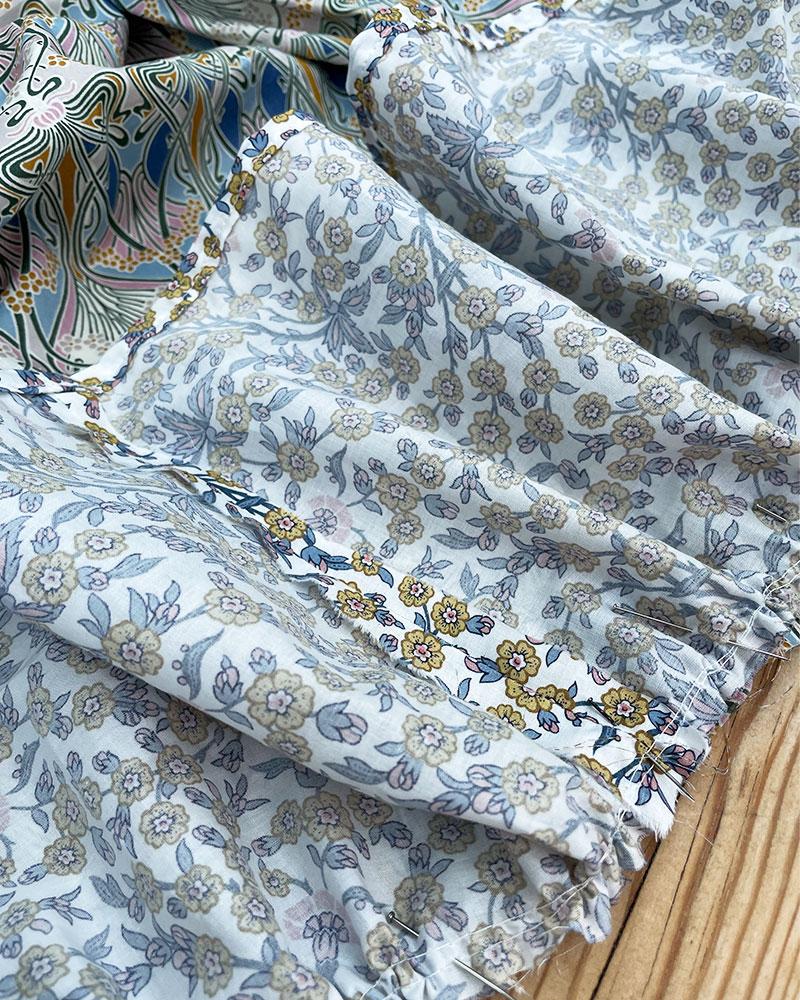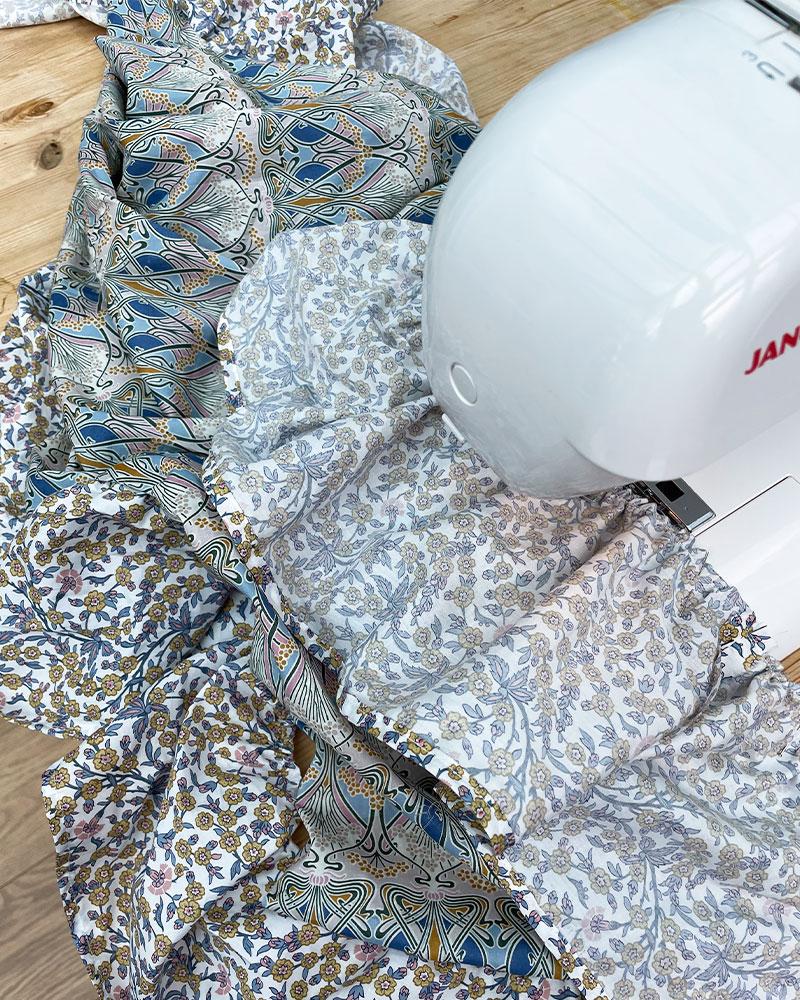 7. Fin
Secure your gathers with pins, and stitch in place - be careful to ensure that you don't get your ruffle caught up when stitching. Continue sewing along the whole length. Press seams up, and give the tablecloth a good iron before dressing for dinner.