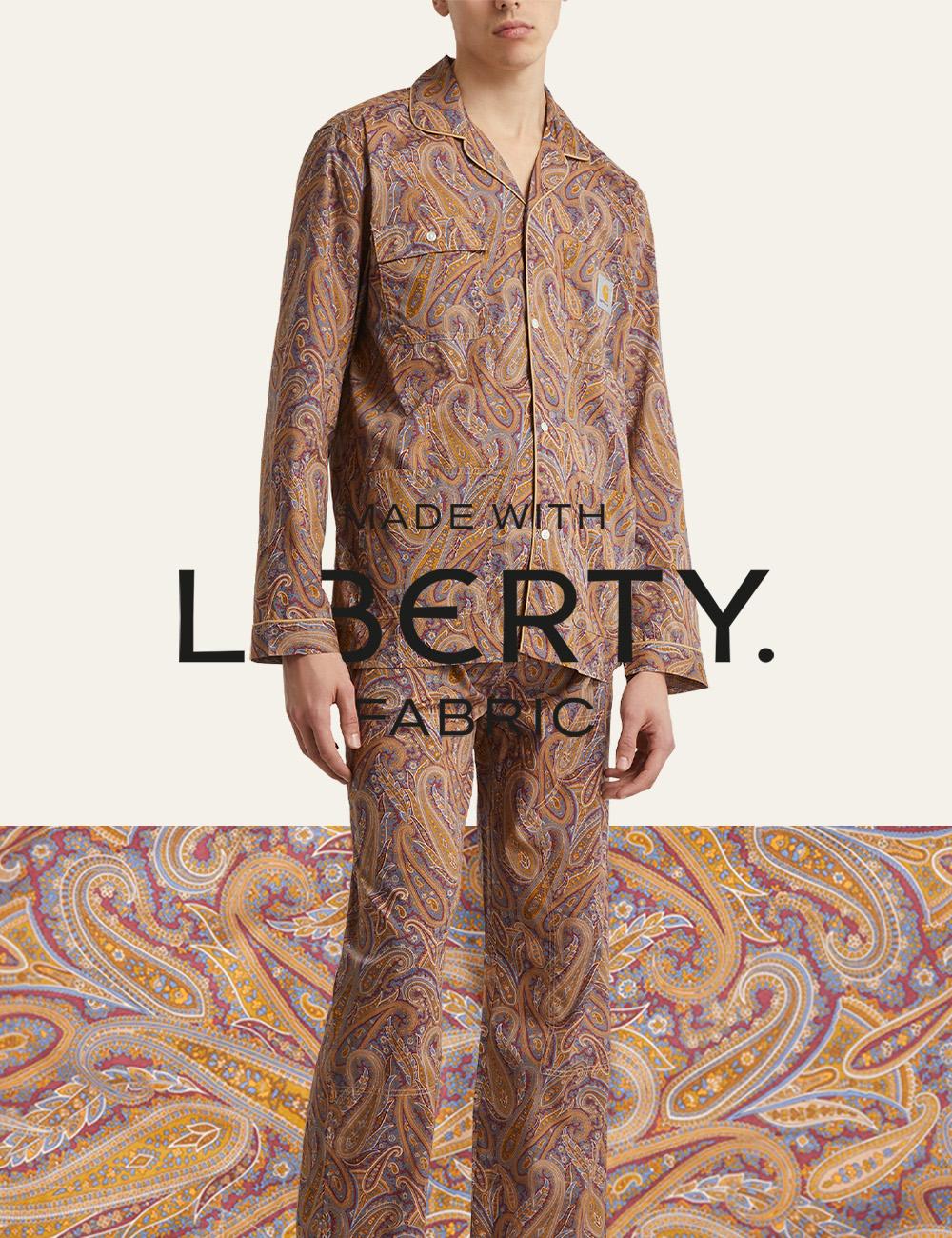 Ask any fashion hype-hunter, and they'll tell you the same: Carhartt WIP is (or at least should be) the cornerstone of any modern dresser's wardrobe. But if you've yet to invest in its fusion of classic-American-workwear-meets-streetwear (think: cargo pants, boxy utility jackets and checked overshirts all patched with the brand's instantly recognisable logo), or if you're looking to upgrade your current collection, the ultimate opportunity has just arisen: the release of Carhartt WIP's 'Made with Liberty Fabrics' collection.

Drawing on Liberty Fabrics' legendary design archive and Carhartt WIP's signature style, the collection comprises five key pieces, from a printed sleeping mask that'll have you drifting off in style to a series of Liberty exclusives, including a graphic t-shirt, a set of two collectable Christmas tree ornaments and a logo-emblazoned suitcase made by British luggage brand Globe-Trotter. And then there's the piece everyone will be scrambling for: a set of pretty incredible pyjamas.
Cut from cotton and printed all-over in a rich purple, tan and gold paisley designed by Liberty's in-house artists, this two-piece pyjama set is undoubtedly the hero of the collection. Complete with patch pockets (a nod to Carhartt WIP's iconic Chore Coat) and finished off with knee panels and a hammer loop (two design details lifted from the brand's much-loved Double Knee Pant), these pyjamas bring together the worlds of Liberty Fabrics and Carhartt WIP like never before. If you're looking to get your hands on them, take our advice: don't sleep on it.
Name: Paisley Park

Est: Circa 1975

Original Designer: Like many of the treasures housed in our print archive, Paisley Park's origin is a mystery yet to be solved.
- This print is a reworking of a mid-70s artwork discovered in our 50,000-strong archive.

- Made into a fresh interpretation, this print was redrawn and recoloured by the Liberty Fabrics studio in 2020.

- "An exquisite arrangement of botanical motifs, this beautifully coloured and carefully constructed paisley features a dense, multi-layered trail layout," says Liberty archivist Eleonora Yerolemou. "Reminiscent of traditional Kashmir scarves and block printed Indian textiles, its intricate details reveal a floating arrangement, adorned with luxurious flowers, ornate leaves and feathery fronds."