mute/unmute
More Than a Store
Your Sewing FAQs Answered by Liberty's In-Store Experts
Our resident in-store sewing experts share – and answer – their most frequently asked dressmaking questions to kickstart your next #LibertyCraftClub project
By: Charlotte Olby
Liberty is a movement dedicated to discovery, animated by the arts, culture, design and the pursuit of beauty – and at our heart lies a true design institution: Liberty Fabrics. Found on our third floor, Liberty Fabrics has been at the cutting-edge of design since 1875. World-renowned for our 50,000-strong print archive, from ornate silks to classic 1930s ditsy florals, our luxury fabrics offer a colourful canvas for bespoke craft creations of all kinds. But it isn't just fabric you can source from Liberty, you can unlock a wealth of advice, too as we work to serve our craft community in any way we can. In other words, you have sewing questions, and our in-store experts have answers. Meet Alison, Andreea and Eleanora…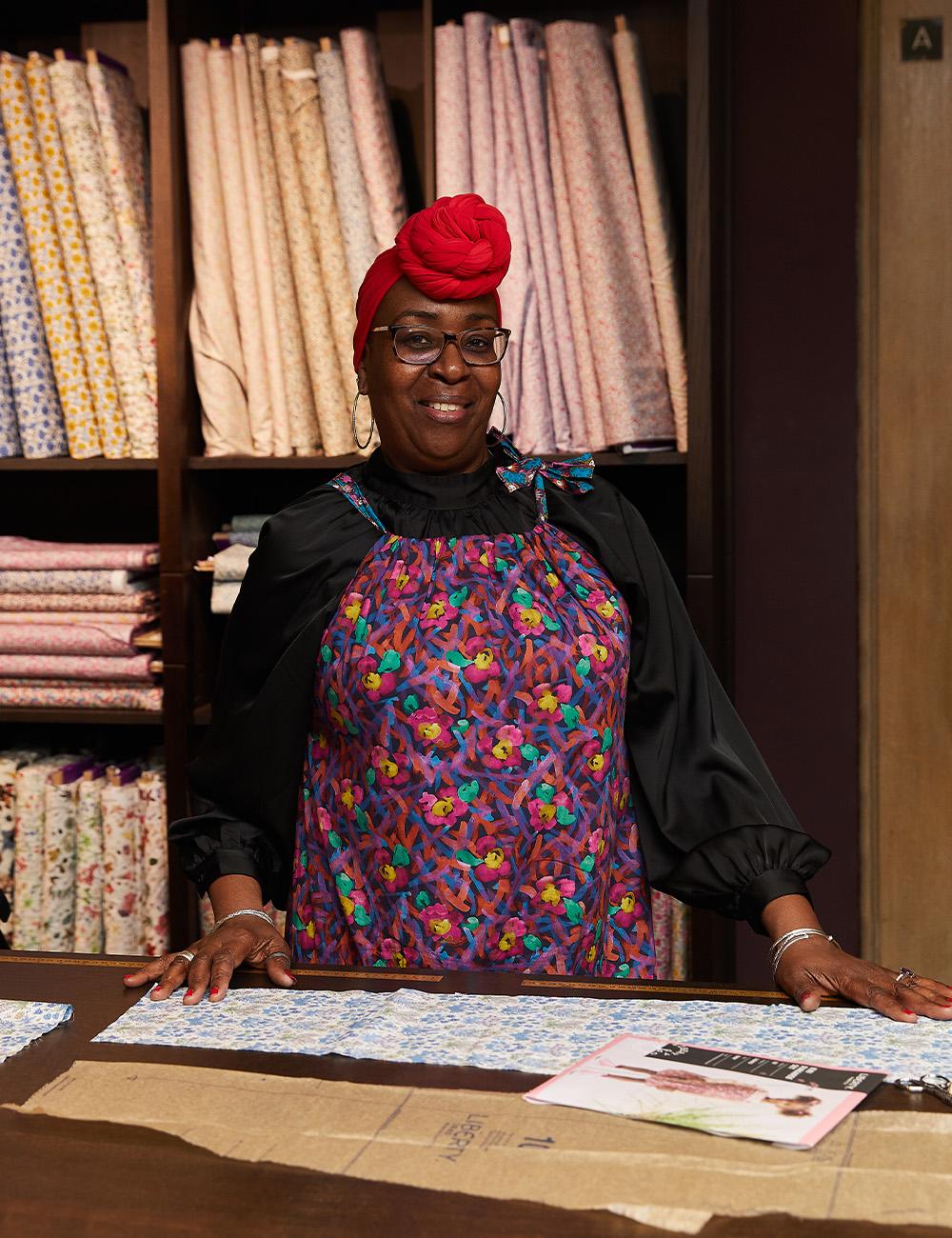 Alison Lewis
I have worked at Liberty for about 34 Years, in various departments throughout the store, but Fabrics and Textiles is where I am happiest, working with the luxurious Tana Lawn cottons and silks. I love meeting both old and new clients everyday and seeing them smile, knowing I have accomplished my job. My mantra is: anyone can sew once they are shown how. We all need a dose of inspiration and a little encouragement when starting a sewing project. My goal is to inspire as many people as I can to create and sew their own clothes.
Tana Lawn™ Cotton can be used to make clothing from blouses and dresses to skirts and even for quilting.
Is There a Pattern for Your Famed 'Apron Dress'? (as seen on Alison above)
I always respond with "how much time have you got?" and if they're able to, I sit down with my clients and show them my own method for creating a pattern for the dress.
Andreea Coseraru
I started my career in Liberty just five months ago, so I am a new member of the Liberty family. I was a complete newbie to dress fabrics and had to learn very quickly, but within a month, I had already treated myself to my very first sewing machine as a Christmas present. I have been so inspired by all the prints in the Liberty Fabrics room, and of course, by my fantastic colleagues and their handmade outfits. I couldn't resist trying to make my own. Now, sewing is my hobby. I love making hair accessories to match all my outfits.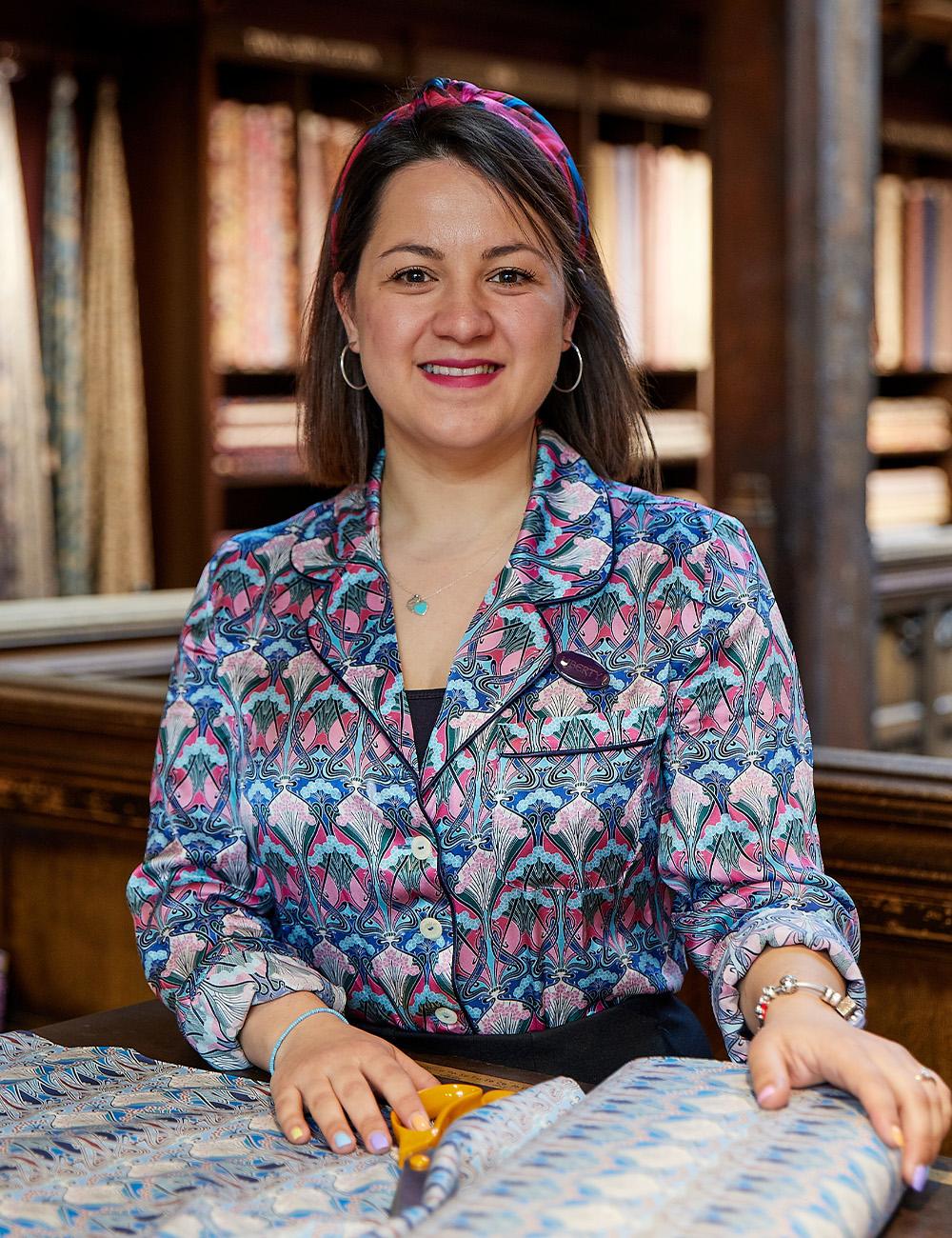 How Much Fabric Do I Need for a Liberty Sewing Pattern?
Usually the pattern itself helps you with the quantity of the fabrics, but you'll need to work out your dress size so ensure to take your measurement accurately because every brand can be different. What I do is help clients to take their correct measurements and then advise you on the exact size you should make, and the quantity of fabric to buy.
My Top Tip
Don't rush and take your time to understand what you're doing. This is coming from my own experience, as I get so excited and want to finish every project quickly, but sometimes you just need a little patience.
Eleonora Tata
After packing my suitcase (filled with Italian stubbornness and bravery) I moved to London to pursue my acting career. While dreaming of performing at the National Theatre, I found a way to express my artistry through discovering a passion for millinery – finally starting my own brand @eleanoramillinerylondon – collaborating with different theatres on a freelance basis. Since I was a child I have always been fascinated by historical costumes, inheriting my love (and ability) for handcrafting from my great grandfather and grandmother who were both tailors.
What Are the Most Exclusive Liberty Fabric Designs?
The latest collections are always displayed right at the front of the shop floor in Dress Fabrics on the third floor, just waiting to be discovered.
How Many Metres Will I Need?
This depends on what you're making, of course. For a long skirt you will need twice the desired length of your skirt – you should have enough fabric to wrap around and to drape. Sometimes I can advise clients on how to get away with using the width of the fabric (if the repetition of the print allows) rather than the length, which could save material and cost.
Did You Make that Yourself?
This is the question I get asked the most because customers often recognise a Liberty print I'm wearing. I recently made a dress that extended the pattern of a blouse I had previously made using the Picnic Parade Silk Satin by simply tracing my pattern from an old blouse I had.
My Top Tip
Everything is do-able, and might not require big sewing skills! Make the best out of the fabric you're purchasing by starting with simple projects you can be really proud of.