mute/unmute
How to Decorate a Christmas Tablescape
Tablescape aficionado and Liberty's contributing Christmas Editor Eleanor Cording-Booth, aka @aconsideredspace, shares her very best table laying tips
By: Eleanor Cording-Booth
No one does Christmas quite like Eleanor Cording-Booth. An arbiter of taste, interior editor, stylist and founder of the achingly stylish Instagram @aconsideredspace - she is quite the authority on getting your home ready for the festive season. So it makes sense that Liberty has drafted Eleanor up for a series of Christmas How-To's and appointed her (elf hat and all) as our contributing Christmas Editor.
A tablescape isn't just for Christmas Day. You don't need to squirrel your best linen away until the 25th December, ready for a raucous lunch. If you are hosting a 12-person banquet then joy to the world – let the merriment commence, but you could also set a cosy festive table for two and bung a lasagne in the oven. After all, the size of your guest list doesn't matter, it's what you do with the napkins that counts (as the saying goes).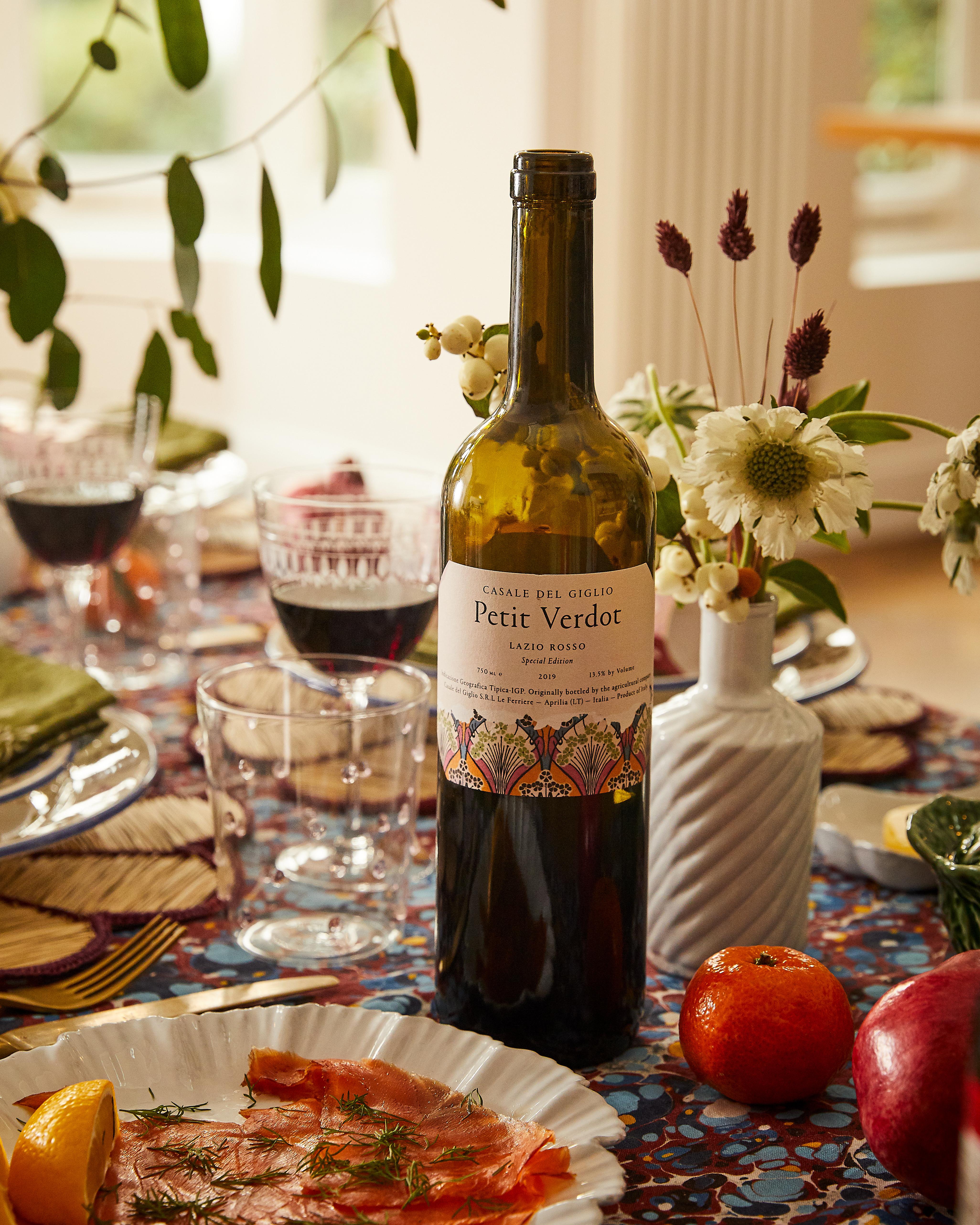 Before you start, consider choosing a theme, this way you'll stay focused when choosing what to add and it will feel cohesive, even if it's eclectic. Your theme doesn't need to be a blindingly obvious 'under the sea' or 'outer space' showcase. Either of those would be fun, but it could be a common thread or styling decision such as a single colour that appears throughout, a print or motif that you repeat in subtle ways, making the decision to go bold with the tablecloth and pared-back with accessories, or harking back to retro-themed food and drink (surely everyone loves a prawn cocktail washed down with eggnog?).

If you don't know how to begin to choose a theme, think about the guests you've invited and the mood you want to create for them. How do the lighting, music, food and look of the table lend themselves to that? Is it going to be glamorous? Minimalistic? Bonkers all-out colour and print? Romantic? Start there and the right pieces will be easier to identify.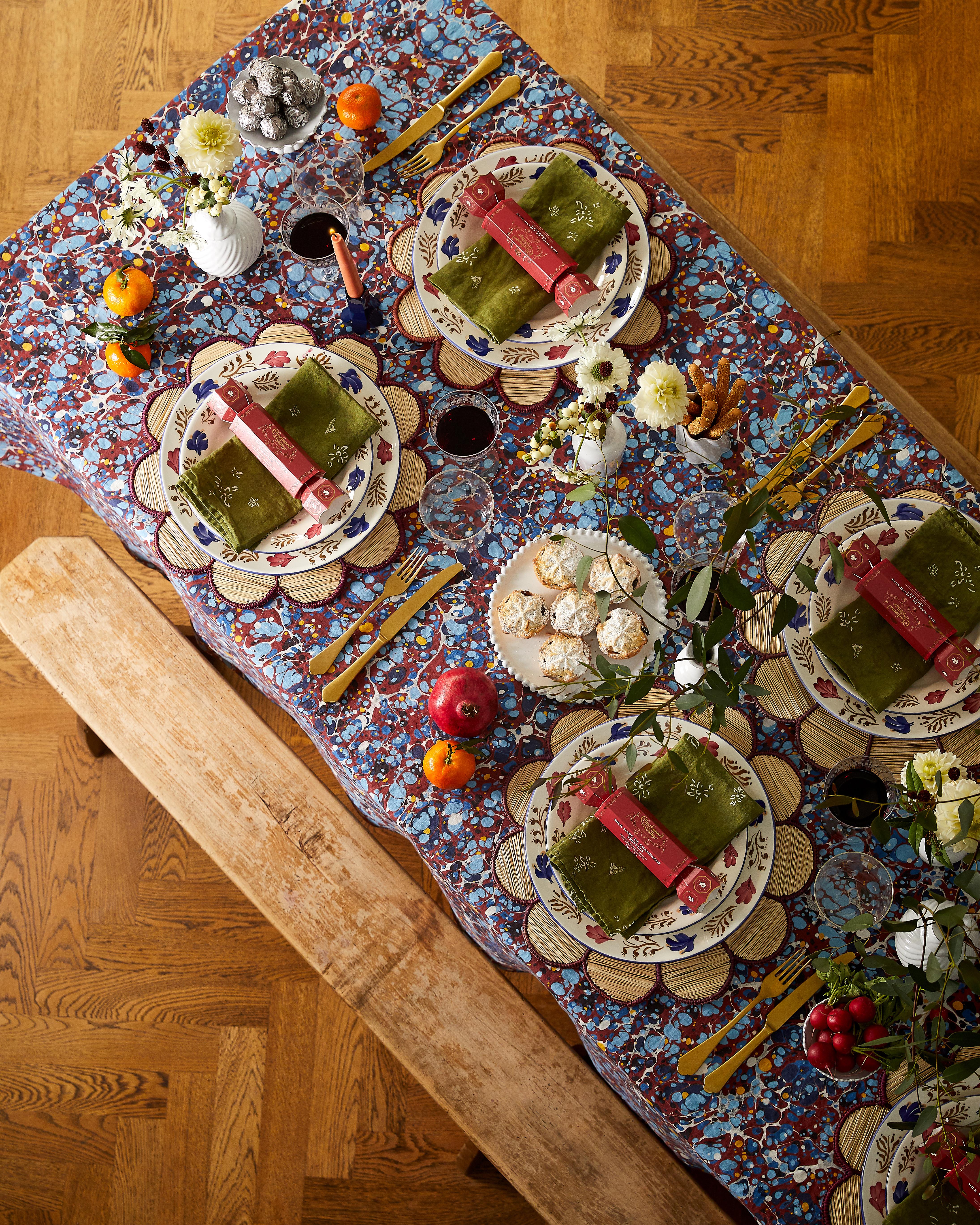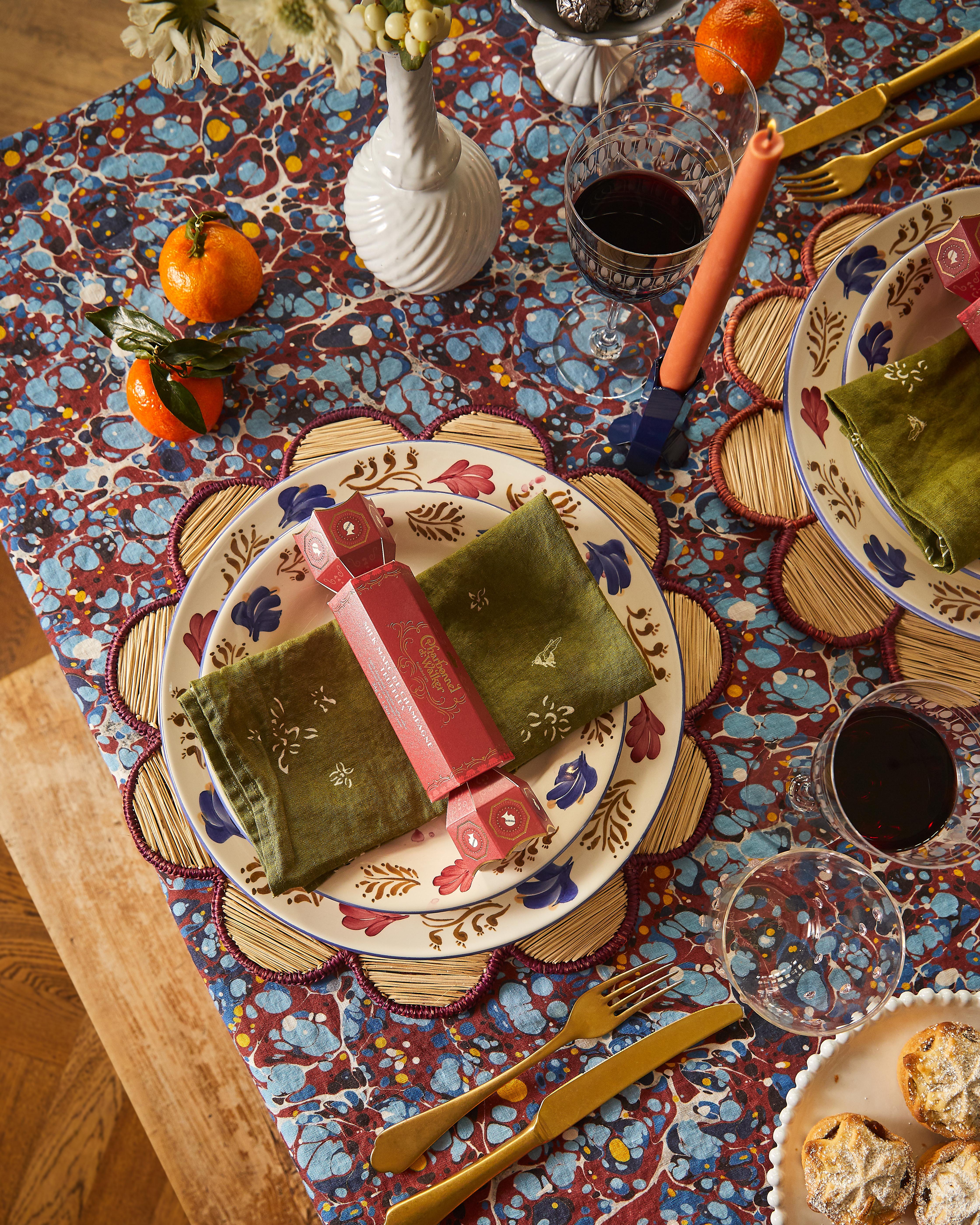 You can make a table feel Christmassy and seasonal without restricting yourself to red and green. When I styled a Christmas tablescape for Liberty, I chose a versatile berry palette that could be used again throughout the year, rather than obvious festive colours and prints. A burgundy and blue marbled linen tablecloth from Summerill & Bishop was the strong background that would steer the rest of my scheme, then I added complementary crockery with blue and raspberry pink floral accents. Since the tablecloth was my 'hero' piece, I didn't want other busy patterns to feel distracting, so I layered the plates atop scalloped The Columbia Collective raffia placemats, chose classic glassware and added contrasting olive green napkins and white ceramic bud vases from Astier de Villatte.

The napkins and vases stop the table from feeling too matchy-matchy and they don't compete with the marbled background. If I had chosen a plain tablecloth (or no cloth at all), I would have been bolder with patterned plates, mix-and-match napkins and colourful Murano glassware. It doesn't matter which piece shouts the loudest (it doesn't have to be the linen), so long as the balance is right – it all needs to look intentional.
As a rule of thumb, stick to a palette of two or three main colours and you'll find it much easier to create a pulled-together scheme that avoids the jumble sale look. In terms of pattern, ideally you wouldn't mix too many prints as your eye won't know where to focus, though you could comfortably combine two as long as they're not too similar and the colour palette feels harmonious. Try a large-scale printed tablecloth with a tiny, small-scale print on the napkins, or a striped tablecloth with floral napkins – when two prints are very different, it stops them from visually blurring into one another. The main thing is to decorate to please yourself; rules don't matter if you like the look of it.
A round table looks striking with one centrepiece vase filled with festive foliage or branches whereas a rectangular table lends itself really well to alternating bud vases and candlesticks along the centre. You could create impact by grouping lots of tapered candles in tonal colours and mismatched candle holders, which will look magical when lit. Choose seasonal flowers in colours that complement your scheme and consider keeping the arrangements quite short, then people across the table can still see one another.

One of my favourite ways to fill a festive table is with food – display your dishes buffet-style on a medley of decorative platters, scatter gold chocolate coins or dot seasonal fruits down the table as if they were jewels – try clementines with their leaves on, homemade pomanders or vibrant pink pomegranates. I also love tall footed bowls filled with colourful wrapped chocolates and amaretti biscuits. You could even channel garden designer Sean Pritchard and combine flowers and food by displaying edible leaves and vegetables in vases as if they were grand bouquets.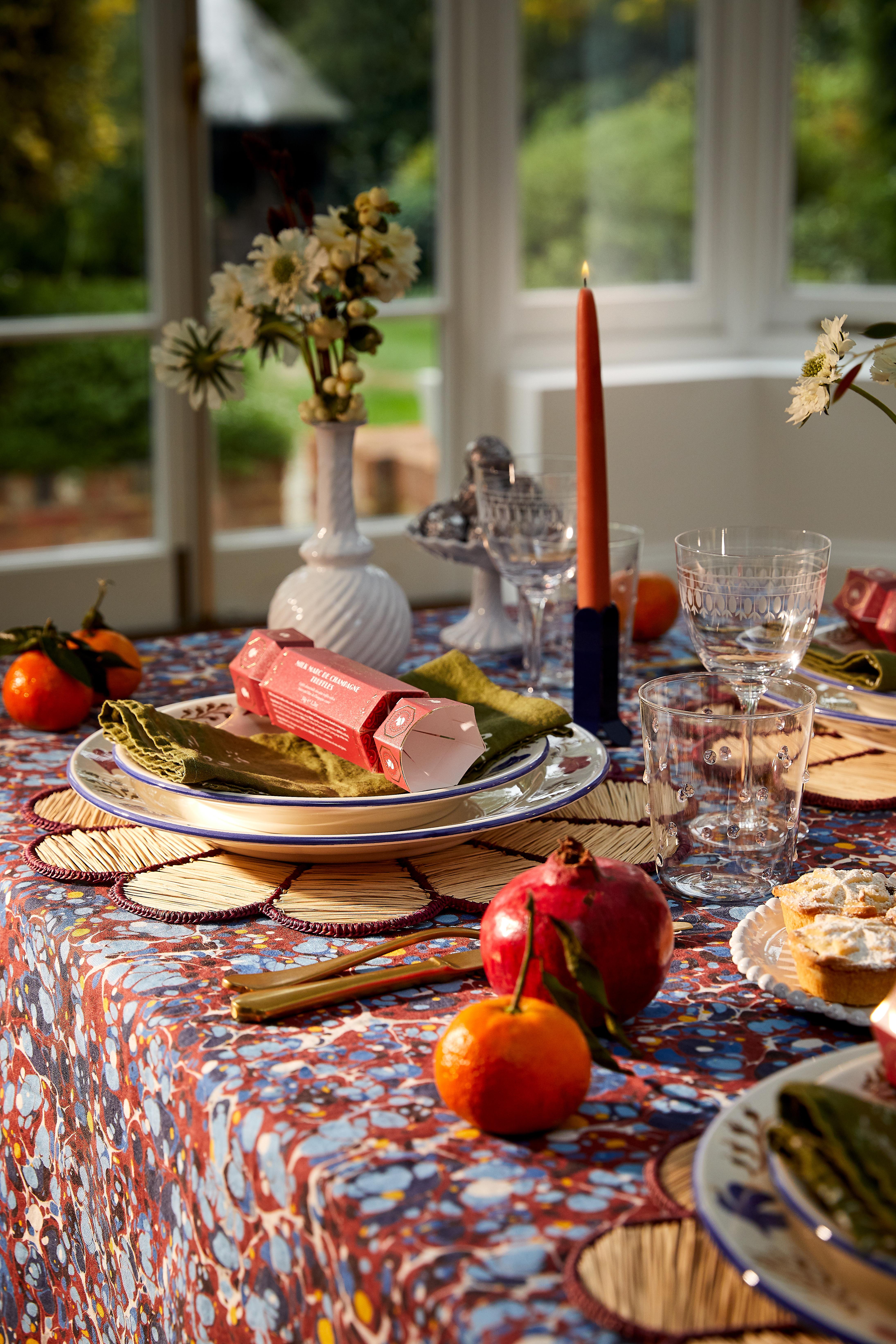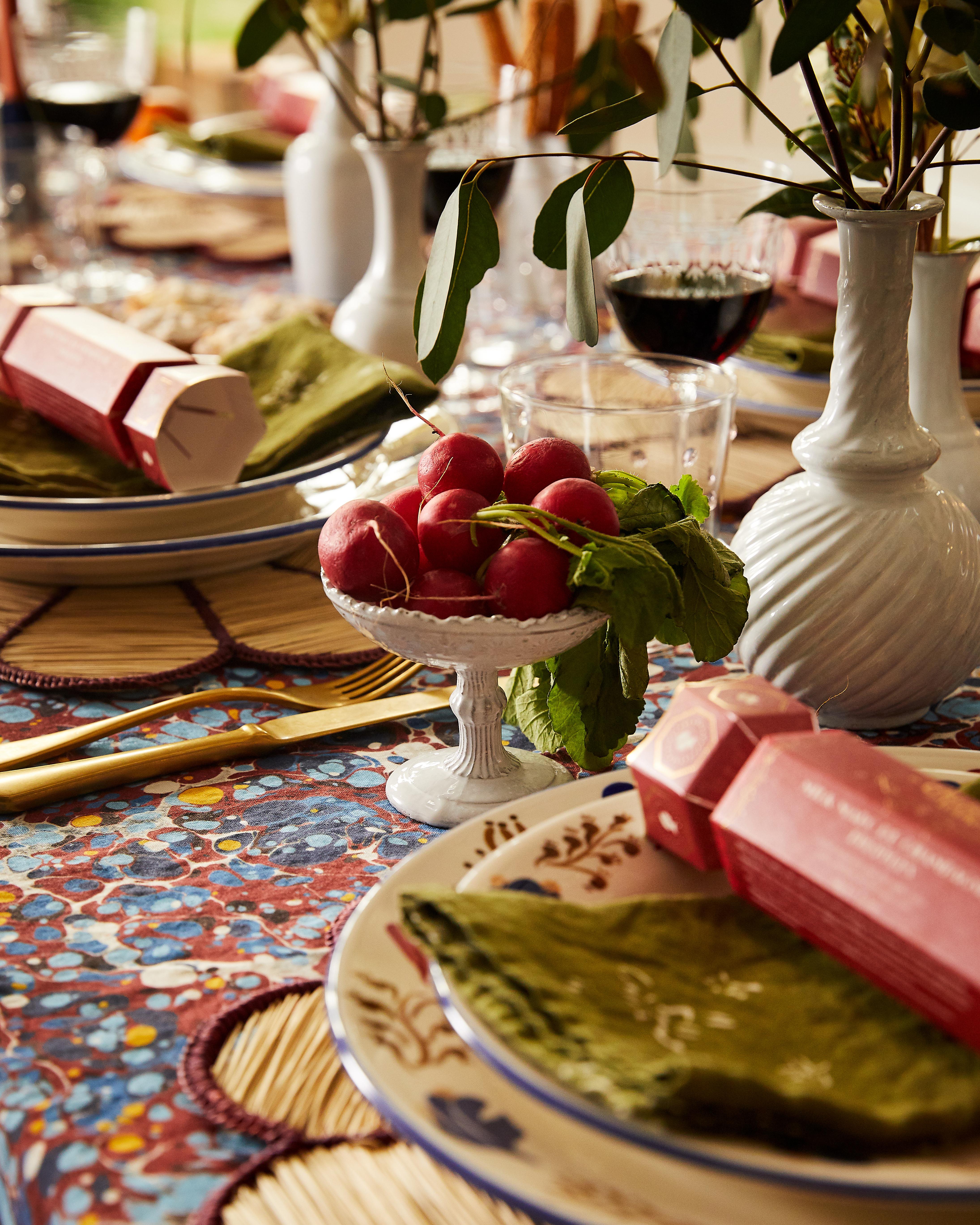 The Perfect Place Setting
It's your choice whether you arrange your cutlery set together on top of the napkin or either side of the plate – there's no right or wrong. Napkins could be knotted loosely and draped across the plate, or neatly folded and placed on the right hand side. If the meal you're hosting is a special one, go the extra mile and put a small gift on each place setting. This could be a cracker full of truffles, a bag of fudge tied with a ribbon, a jar of homemade chutney or a bauble for your guests to keep. With the latter, it's fun to pick different decorations for each guest, then make them guess which one is theirs.
Choosing the finishing touches is the most transformative part of tablescape styling. These are the elements that will tie your scheme together and you can add as much or as little drama as you prefer, depending on the mood you're setting. I like to go all-out with a Christmas tablescape and really pack the surface full of little details to notice but a minimal table with just a scattering of candlesticks can look equally beautiful as it allows you to showcase particularly special pieces without distraction.

Remember the importance of height variation – the pieces on your table should have an interesting, undulating flow – it can look quite flat (literally) otherwise. When using candles and flowers together, pair taller vases with short tea light holders or elevate traditional candlesticks well above your bud vases. Another way to vary your heights is to include some smaller bowls and plates on pedestals – then your serveware isn't all on the same level.
Shop Eleanor's Christmas Tablescape