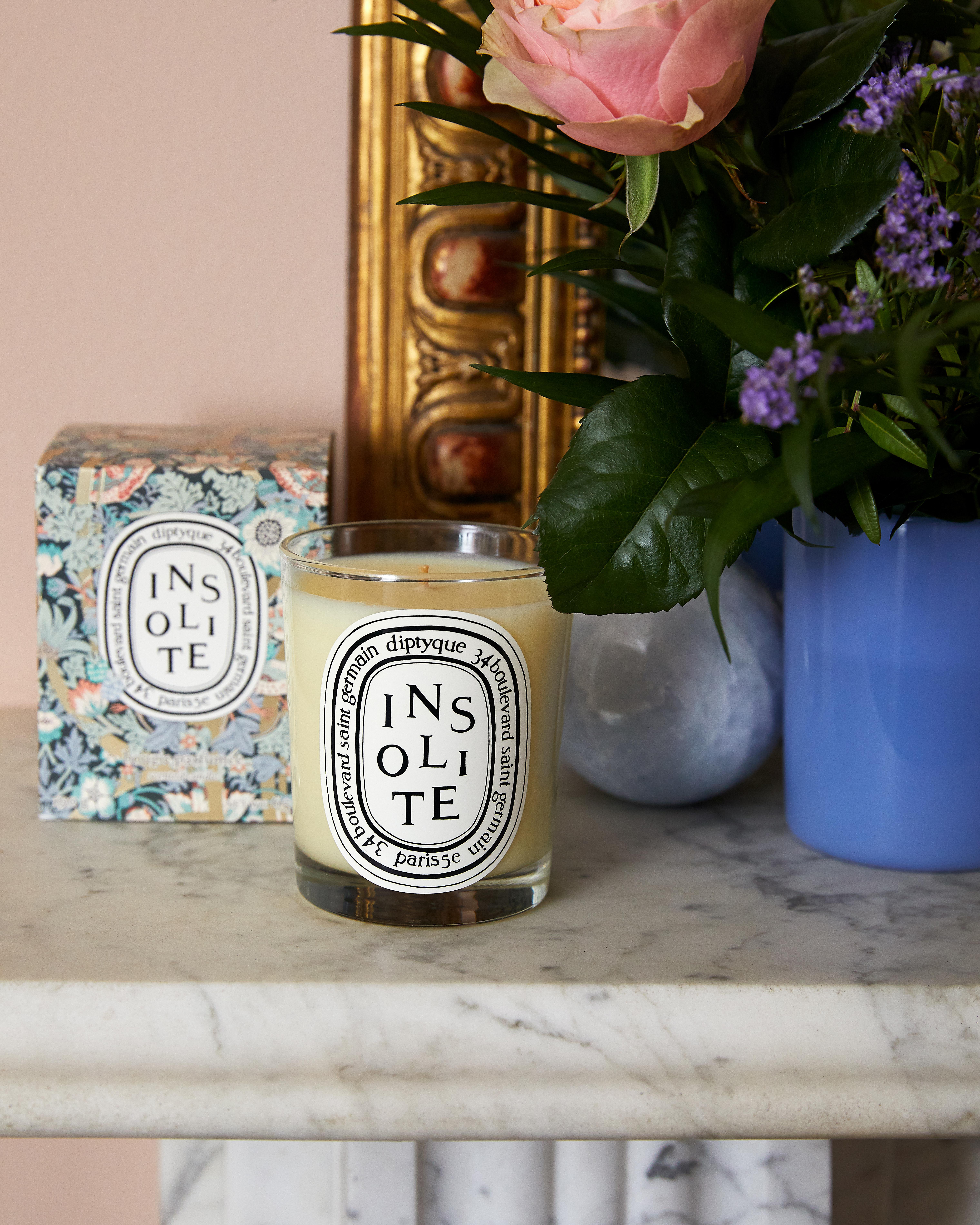 Look Who's Back: Diptyque Limited Edition Insolite Candle
The extraordinary candle, made in collaboration with Liberty London, makes its triumphant return to the beauty hall. Here's the story behind the partnership…
Shop Diptyque
By: Team Liberty
The very best scented candles transport you to other times, places and moods. They move you, make you feel comforted and calm, and bring balance to the overall atmosphere of the room. But they're also beautiful objects of design in their own right. And that becomes abundantly clear the moment you peel back the box, strike a match and light the wick of Diptyque's Limited Edition Insolite Candle, £60.

A scented candle collaboration between diptyque Paris and Liberty London, the creative partnership is first evidenced in the packaging, which intertwines a print fashioned out of Liberty's iconic Strawberry Thief pattern with diptyque's Pretorial oval motif.

But what's inside the box – or more specifically, the wax – feels just as considered. The fragrance blends warm and cold spices, with delicate leaves and petals and invigorating zests. The top notes (the layer to first hit your nostrils) combine citrus scents of orange and lime, while the heart of the blend features ginger, clove and flowers, softly harmonised with woody cypress and thyme.
A design partnership just waiting to happen, Liberty's own story has more in common with Diptyque's than you might think. With beginnings as the rive-gauche's answer to Liberty, the boutique at 34 Boulevard Saint-Germain was one dedicated to printed textiles and eclectic objects, bringing a piece of the world to 1960s Paris. "Like the Diptyque of old, Liberty is one of the last great emporiums for innovative and eclectic design," explains global communication director, Olivia Grimaux. "A rich heritage known for combining the cutting edge and avant-garde, makes each visit a voyage of discovery and excitement."

The iconic fragrance house found its niche in candles – yet never left its past behind, and our histories became entwined with the creation of Insolite. "It is Liberty's heritage of mixing and layering motifs alongside Diptyque's historic passion for print that culminated in this bespoke and stylish home scent," says Grimaux. She extends that, "Diptyque only collaborates with sensory friends. Those artists who animate our products by their creative and artistic spirit, but also by their imagination, are embedded in the world of Diptyque." Dressed in William Morris' unmistakable Strawberry Thief, the limited edition collaborative candle drove our connection even deeper.
A kindred spirit from another era, William Morris' legacy has long been core to Diptyque. "The pattern testifies to the aesthetic quest of Desmond Knox-Leet, a great admirer of personality and the work of the British artist," says Grimaux. "William Morris is above all the artist who gave pride of place to craft. The Arts & Crafts movement praises the beauty of an object by the pleasure experienced in producing it, and Morris shared this celebration of craftsmanship with the Diptyque founders." While achieved through different means, their ethos is mutual. "Just as William Morris, we give priority to craftsmanship," Grimaux explains. "Above all, the house's ambition is to offer fragrances with a distinctive signature, worked with very beautiful raw materials, whose production is confined to artisanal savoir-faire."

A collaboration fuelled by parallel beginnings and admiration for Morris' work, it is clear that the creation of Insolite resonated beyond the end result. As Grimaux explains, "Art and fragrance both deliver intimate emotions, souvenirs and reminiscences. The olfactive universe mixes the symphony of the senses and the artist's palette, which praise rare and fine raw materials." Never has this sentiment rung truer.

Diptyque Limited Edition Insolite Candle 190g costs £60 as is available in store and online.