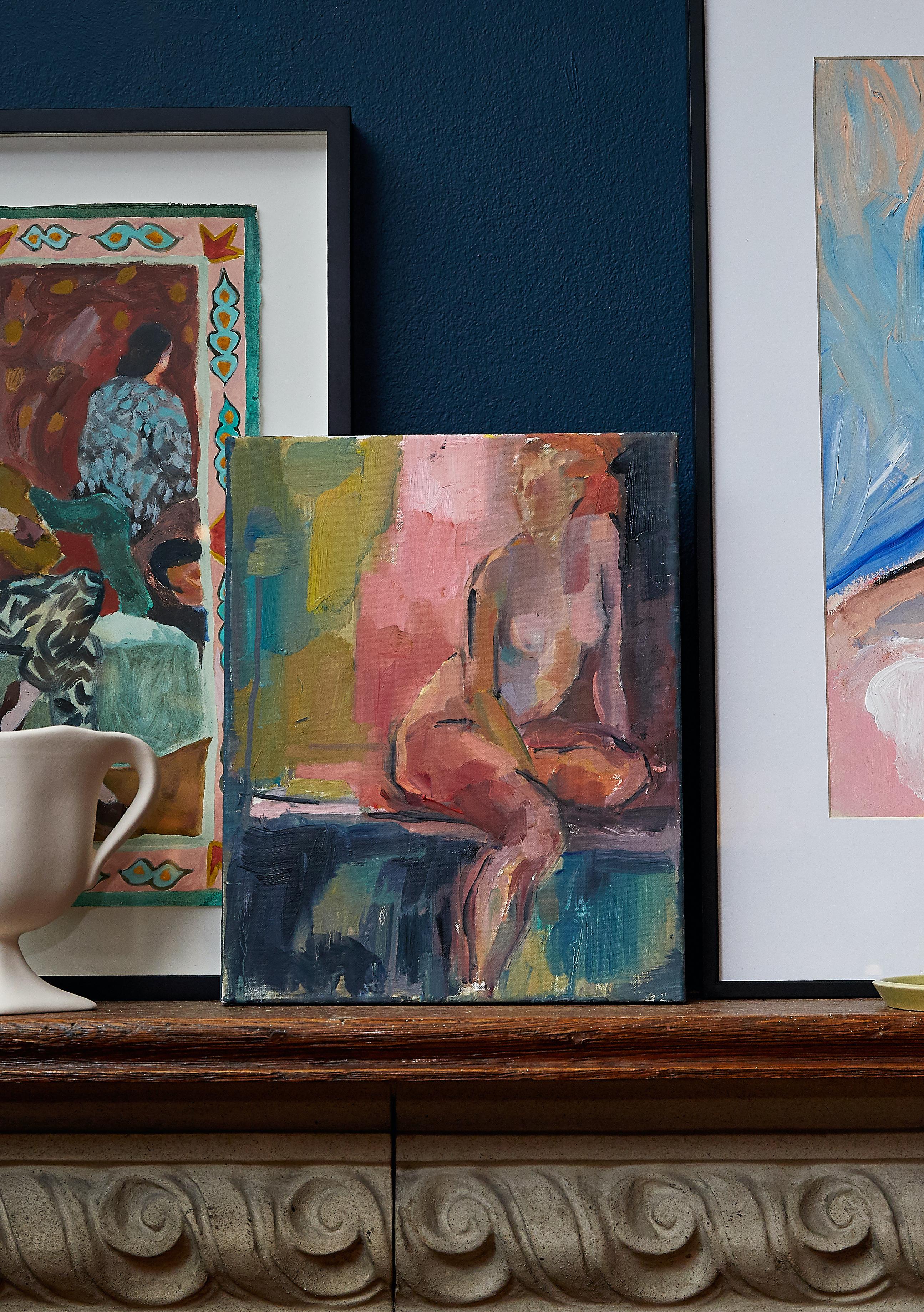 Artist in Residence
Brenda Sakoui
We meet the London artist bringing expressive colour to the female nude
Shop Brenda Sakoui
Born and raised in Hammersmith, London artist Brenda Sakoui knows her strokes. Her expressive nudes bring together idiosyncratic colour and the dynamism of the female form, with compositions that are at once emotive and reflect a refined state of chaos. Here, she opens up her evolving pool of inspirations, telling us how a sense of freedom comes naturally when you trust your artistic instinct.
How did you get into art?
I went to art college when I was younger. In those days, you had to have two A Levels and a portfolio of drawings in order to get in, so that was my goal throughout my school years.
How would you describe your style in your own words?
My simple answer would be colourful and bold and chaotic – that falls under the category of 'figurative expressionism'. I have a very strong emotion towards colour. I can almost smell it. As a child, I clearly remember the buckets and spades we had on trips to the seaside. The blue enamel in particular; I see colour as very pure, there is nothing but truth in them. If I see a car in the rain, the wet metal reminds me of those enamel buckets. Strange but true.
I

have a

very strong emotion

towards

colour. I

can almost

smell

it

. I see colour

as

very pure,

there is

nothing

but

truth

in them

.
What do you hope to convey through your work?
I don't always set out with a particular intention or mean to convey a message of any sort. Mostly all I want to do is to express an emotion, a mood and a feeling. I always hope that the subject matter will appeal to others, but mostly it has to be something that pleases me.
What are your main sources of inspiration?
My inspiration comes from anywhere and everywhere, but also from other artists, in particular, my contemporaries. One of my greatest influences has been the work of Thomas Newbolt, who I actually discovered online. I saw that he was teaching at the Royal School of Drawings, so I signed myself up for his course.
Can you tell us about your materials and how you use them?
I work in oil and pastels primarily. I use pastels when I have a model, as they are quick and easy to use, when trying to capture the image. Then from those drawings, I go onto the canvas and paint. I normally start with three blues, two reds, three yellows and white titanium.
Where do you begin when starting on a new piece?
I don't have a formulated approach to start any new work. Sometimes I start applying paint directly to the canvas. A relaxed approach works for me, and I work until something emerges.
Which artists or movements have been your biggest influence?
Kirchner, Velasquez, Klimt, Gaugin and Manet are incredibly inspiring. Most movements normally have some kind of statement behind them, so I don't particularly prescribe to, or am inspired by, any per se.
What's your earliest memory of the art world?
I was about five, going to my local library with my mother and there was this huge painting hanging on the wall. I was told it was Samson and Delilah, and it terrified me; I couldn't look at it. It really stuck with me, and perhaps influenced me.
M

y

studio

is the

most inspiring place

for me to

be. I

t has

all

my

books

and

images, all

my

materials

and

things

that

I love.
Where do you go to feel inspired?
To be honest, my studio is the most inspiring place for me to be. It has all my books and images, all my materials and things that I love. Picasso said, "Inspiration exists, but it has to find you working", and for me, living so close to the V&A museum, inspiration is very easy to find! As an adolescent, I would often draw at the V&A, trying to build my portfolio for art school. It's as fantastic now as it was then.
Do you have any other creative outlets outside of your art?
Absolutely – cooking!
How do you manage the pressures of creating art on demand?
With anticipation and some trepidation. I always enjoy a new project; but anything on demand is a little nerve wracking – the way of dealing with it, mostly, is just not overthinking things. Just doing it, get on with it, listening to music, will get me past any pressures.