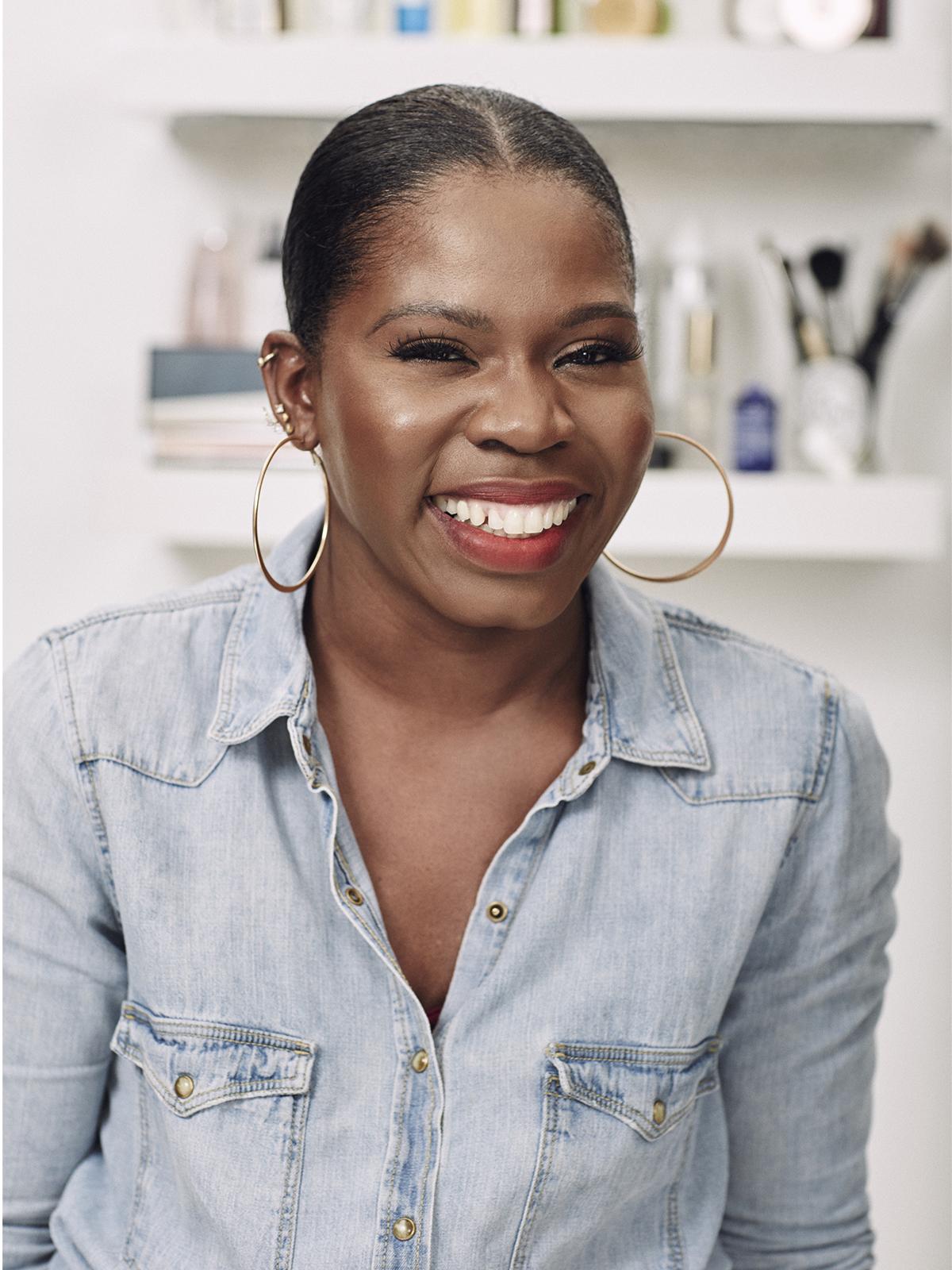 Glow-Getter
Funmi Fetto
The beauty authority shares notes on radiance and how to maximise the products she uses and loves
Shop Beauty
As Vogue Contributing Editor, Observer Beauty Director and author of Palette: The Beauty Bible for Women of Colour, Funmi Fetto knows her salt. Sharing tips, tricks and highlights from her own routine, here, she celebrates the all-important elements that get her up and glowing; and the products she'd be hard-pushed to go a day without.
On Davines LOVE Curl…
I'm obsessed with Davines LOVE Curl Shampoo and Conditioner - the whole range just amazing. It's really rare to find mainstream hair care brands that work for afro hair as well, so I recommend it to so many people. When it comes to glow, the same thing goes for hair as it does for skin - who doesn't want hair that radiates light? What I find with Davines is that it doesn't strip your hair - it gives your curls definition and shine, as if light is bouncing off it.
On Charlotte Mensah…
Charlotte understands afro hair and all hair types so well - visiting her salon on Portobello Road is more like going to therapy. It's such a calming environment, where she gives you good conversation and great cakes - she loves to bake! And as for her Manketti Hair Oil, the smell is intoxicating. That's the thing about beauty - it's not just about what product does, it's also very much about how it feels, what it reminds you of and all of those other sensorial aspects. It's not greasy, it's not heavy but it hydrates the hair - and it's great for men too, used as a beard oil or post-shaving treatment.
Tip: On a wash day, I'll usually use products to detangle my hair before I even start to wash it. A lot of people with afro hair have learned to be their own alchemist - I'll mix some conditioner and hair oil with water in a spray bottle, spray it all over my hair and let it soak in and absorb the goodness, then comb through before washing.
On liquid exfoliators…
I'm so big on liquid exfoliators - once you get rid of dead skin cells, light just bounces off your skin much better. The other great thing about them is that they work for everyone, helping the skin to function much better and allowing better absorption of the products that follow. REN Clean Skincare Ready Steady Glow Daily AHA Tonic isn't drying at all and leaves skin bright with a glowy texture, allowing makeup to go on much more easily.
Tip: The key here is to take a personalised approach. You can use this tonic every day, almost like a toner, but I use it three times a week. If you're not used to using a liquid exfoliator or your skin is more sensitive, start by using once or twice a week, and let your skin build up a tolerance to it.
Cotton pads just drink up your product. I prefer

to

take

the

product

in

my palms

and

gently press

it into

my skin
On hydration…
Hydration is something that all skin needs, but finding the right kind of hydrating mask is not as straightforward as one would think. Epara founder Ozohu Adoh was a beauty outsider who saw a need for products geared towards darker skin tones - the physiology of dark skin is actually very different from that of paler skin, and it needs to be treated accordingly. For those of us with African heritage, there are a lot of incredible African ingredients that we've maybe taken for granted - and Ozohu has reimagined them in an amazing way. I've got oily skin, but it also gets really dehydrated, so I need something that doesn't add oil, but moisturises - and her Intense Hydrating Mask does exactly that. I'm not someone who can sit down with a mask on, have a glass of wine and read a book - I utilise time while I'm writing, sending an email, or doing something around the house.
A moisturiser seems like a really basic thing, but it's incredible to me how difficult it is to find one that hydrates your skin properly and doesn't just sit on top. ACE Vitamin Day & Night Cream from QMS Medicosmetics is really quite clever - it delivers lots of different nutrients which has a long-term effect on the skin's quality, as well as moisturising it in the here and now. My first experience with the brand was one of their facials - one of the best I've ever had!
Tip: I always moisturise my face and my neck. Something my mother instilled in me many years ago is that it's so important to also use your skin care on your neck - and ideally your décolletage - to achieve an even tone and texture.
I love

an

old-school mask

that

you can just slather over your face - I'm not so big

on

sheet masks
lixirskin founder Colette Haydon is intentional and intelligent about the products she releases - she thinks about what people actually need. Vitamin C Paste is a wonderful ongoing treatment to deal with hyperpigmentation and discolouration - you don't need to leave it on for very long before seeing brighter skin. It's a lusciously gooey and clever formulation that isn't uncomfortable on your skin, and you get to see results pretty quickly. Also, it's not opaque, so when you put it on and walk around the house, you won't scare anyone!
On the humble bar soap…
Me and my children just love bar soaps. There's something so comforting and nostalgic about them - they remind me of my childhood. I'm a Londoner through and through, so I love that the brand is steeped in this theme, and that the soaps are all named after different hotspots. Bar soaps have a bad rap for being drying and stripping, but this one really isn't - and it lasts a long time, too.
Drinking lots

of

water makes

a

huge difference - I find even my lipstick goes

on

better when I'm really hydrated
On a statement lip…
I've always loved a bright lip, and I love a good liquid lipstick - but to find a good matte one is tough. NARS Powermatte Lip Pigment is an epic formulation. It isn't drying at all and the pigments are incredibly rich - the colour you see in the tube is the colour that appears on your lips. My lips are naturally quite dark, so often when I get to applying a lipstick, the colour isn't quite what I expect. This lipstick definitely delivers on that count, and it lasts throughout the day. You don't have to keep on reapplying or checking it in the mirror - you can just trust that it'll still be there.
Tip: The age-old trick of brushing your lips gently with a soft toothbrush is still a favourite of mine. Follow up with a simple balm a few hours before you apply your lipstick to ensure that your lips are ready to take the colour.