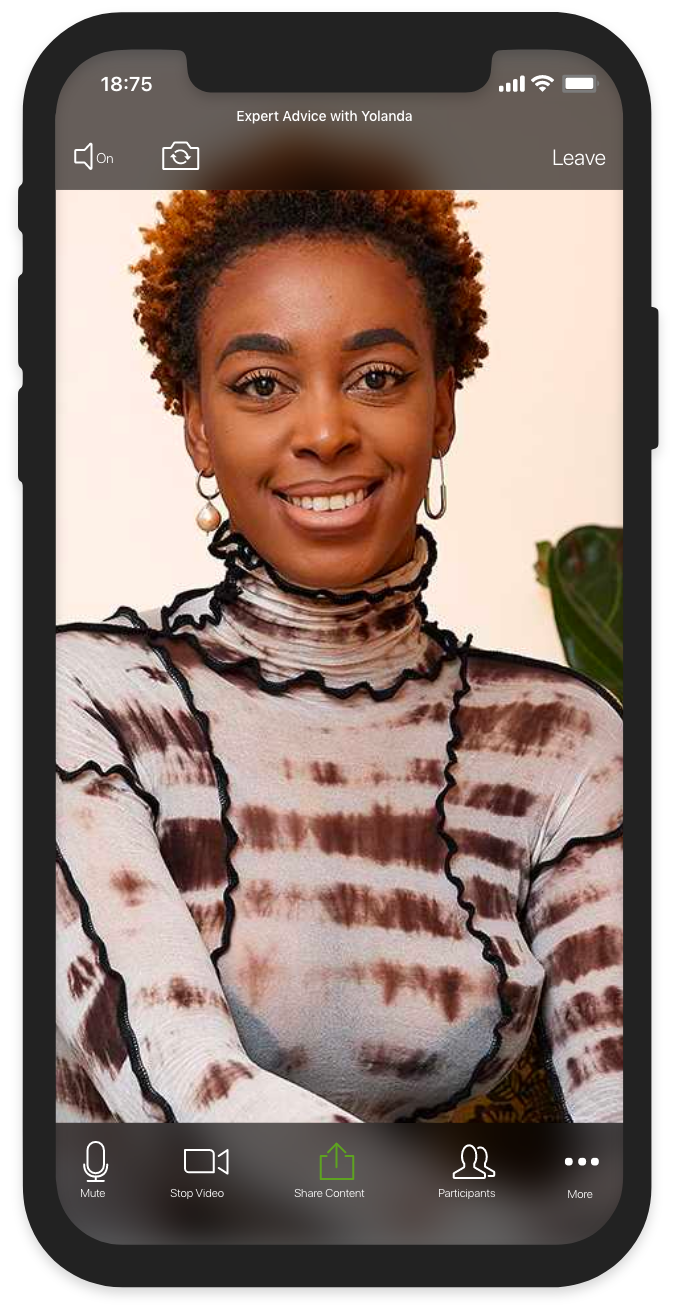 Ask a Liberty Expert
Complimentary Virtual Advice
Chat to Liberty experts from the comfort of your own home with our complimentary virtual appointments, which you can enjoy one-to-one, or with the company of a friend. Your friendly advisors are on hand for bespoke advice and inspiration, offering a tailor-made shopping experience that connects with your unique requirements.
Book a virtual appointment
Meet your experts
Booking FAQs
How can we help?
Whether you're in need of an interiors overhaul, personally-tailored beauty advice, a wardrobe refresh or inspirational gift ideas - your Liberty experts are on hand to help in a shopping session that suits.
Can't find what you're looking for?
Our experts are on hand to offer some extra advice when you're not quite sure what you're looking for. Whoever you're buying for and whatever the occasion, we've got all the gifting inspiration you need to get on track for a present with impact.
Duration: 30 minutes
1
Make a booking
Please book your virtual appointment by choosing one of the services above. When booking, we'll ask you to share some details so we can contact you – please also let us know what advice you need so our expert can prepare for your consultation.
If you would like to join an appointment virtually with your friend, simply enter the number of guests when booking. Once you receive the confirmation email, you can forward this to your friends so they can access the link.
2
Enjoy your experience
Once your booking is confirmed, we'll send you a link to your virtual meeting. Just join the meeting at the confirmed time (via a computer or mobile phone) to enjoy one-to-one recommendations from your expert.
3
Seen something you like?
If you like the look of anything we show you, just let your expert know or one of our team and we will be happy to help you with your purchase and arrange delivery for you.
Meet our experts

Yolanda Dombo
My name is Yolanda and I currently work as a Sales Manager for the Womenswear International designers department. With 7+ years within luxury retail, I am well versed and experienced at providing a customised styling and shopping experience. So whether you are looking for those key summer pieces for your vacation, or perhaps a specific event such as a birthday Brunch or a Gala - I aim to provide each Individual customer with a service specifically tailored with products that align with their needs and wants.

Roy Clark
Meet our in-house, self-confessed beauty fanatic! Ingredients lists are his morning newspapers; with an insatiable appetite for what's new and, years of experience within the industry he's the best fit to give you a head-to-toe Beauty MOT. Whether it's targeting a specific concern, preparing for a special occasion or, myth busting unbiased advice, he is on hand to help you navigate all things beauty.

Sophie Finney
I am one of the Furniture Sales Consultants at Liberty and am happy to help with your interior design queries. Whether you are looking for a brand new sofa, a spectacular one-off antique, interesting artwork or tableware that dares to be different, I can help you find that perfect piece from our eclectic range of brands and breathe new life into your home.

Elie Antonberg
My name is Elie and I oversee Liberty's personal shopping department. With over a decade of experience in the luxury industry, it will be my pleasure to advise you on bespoke gifting - be it to mark a significant wedding anniversary with a fine piece of jewellery or to create a sumptuous day of shopping and luxury beauty treatments for your loved one.

Barbara Covington
I have worked for Liberty since 1966 - holding the title of Liberty's longest serving member of staff! I have worked both in Head Office and shop floor and have roamed the halls of Interiors for 7 years. I would describe my style as traditional and classic and my brands to watch are Anissa Kermiche and Sophia, through whom we are seeing a resurgence in the appreciation of the classical human.

Emily Wheeldon
I am a lead Personal Shopping Stylist providing the highest standard of client advice, with expertise developed over 10 years. Able to completely understand my clients, I develop a tailored solution to match their fashion needs and personal profile, with a bold eye for the new and different, Confident, enthusiastic and highly personable have been used by clients to describe my approach.

Oliver Stickland
I'm a trained pattern cutter and designer and I love pieces that ooze stealth luxury and minimalist ease. I don't believe fashion should be difficult or complex. Clothes should be fluid with your life - what you are doing and where you are going. I vow to help you discover an elevated wardrobe you love.

Giacomo Marcolin
I have been dressing clients at Liberty since 2016. Throughout the years, I have become familiar with how impactful an outfit can be, whether you're looking for black tie attire or a day to day ensemble. I believe an outfit is only good if you feel comfortable wearing it. Fashion is here to make people feel beautiful and confident, and that is what I want to help you achieve.

Deborah Carolan
I'm a multi-brand beauty advisor at Liberty and work as part of the Beauty Must Haves team, who deliver impartial advice, from complete beauty regimes to proven tips and tricks. For me, beauty should be a mantra, promoting health, wellbeing and self-care. I am constantly trying out new products from supplements to super serums and would love to share my knowledge with you.

Ioan Pop
Ioan is our Divisional Manager within our Home and Interior Department who drives his ideas, style and taste from a broad and diverse range of sources. Over the last decade he has been supporting and advising customers around the world in making successful choices to best suit their personal lifestyle needs. He has a particular flare and great passion within the unique fabric department.

Katerina Strosova
My name is Katerina, I am a sales manager for Beauty. Having worked for Liberty for over 3 years I discovered many new beauty tips and tricks which I would love to share with you. Since I've had the privilege to test out most of our stunning products from our Beauty Hall I have become a fan of mixing up the hero products from various brands perfectly tailored to your skin or hair based on your main concerns or preferences. If you are looking for your new hero product be it a serum, hair oil or lipstick I'm here to make sure you make the right choice!
Useful information
How much is it to attend an appointment?
All styling appointments at Liberty are free and at no cost.
Can I join a virtual appointment with a friend?
Yes, you can. Simply enter the number of guests when booking. Once you receive the confirmation email, you can forward this onto your friend to access the link.
If I can't find my preferred service in the options listed above, can I still book an appointment
Yes, please email us at libertyexperts@libertylondon.com and we will happily discuss your requirements for an appointment that suits.
How to start a Zoom meeting?
If you have booked a virtual appointment, you will receive a zoom link in your confirmation email. To start the meeting, simply click the link. If you don't have zoom installed, you will be prompted to download it. Once you do, you will be asked for a display name of your choice. You will then join the meeting.
What if the link doesn't work?
If your Zoom link does not work, please call us on +44 (0)20 7573 9944 or email us at libertyexperts@libertylondon.com and we will help you.
Do I need to download Zoom to start a meeting?
Yes. You will need to download the zoom app to join a Zoom meeting. If you'd like to download this in advance of your appointment, please click here. However, your appointment will not start/your stylist will not be available until the specified time of your booking.
If I already have a Zoom account, can I use that?
Yes. When you click on the zoom link to start your meeting, if you are already signed in, it will take you straight through to the meeting. If you are not signed in, Zoom will ask you to input your credentials to sign in before taking you to the meeting.
My expert hasn't turned up, what do I do?
If your Zoom meeting does not start, please call us on +44 (0)20 7573 9944 or email us at libertyexperts@libertylondon.com and we will be able to help you.
If I'm inviting a friend, how do they join the appointment?
Simply enter the number of guests when booking and once you receive the confirmation email, you can forward this to your friend so they can access the link.
What do I do if I want to purchase something after my appointment?
If you'd like to purchase anything that we show you, please make your stylist aware and we will be able to help you with your transaction.
How can I book another appointment with the same expert?
If you'd like to book another appointment with the same expert, please call us on +44 (0)20 7573 9944 or email us at libertyexperts@libertylondon.com and we will be able to help you.
Who should I contact if I have any more questions?
Please call us on +44 (0)20 7573 9944 or email us at libertyexperts@libertylondon.com and we will be able to help you.