An Expert's Guide to Ear-Piercing Curation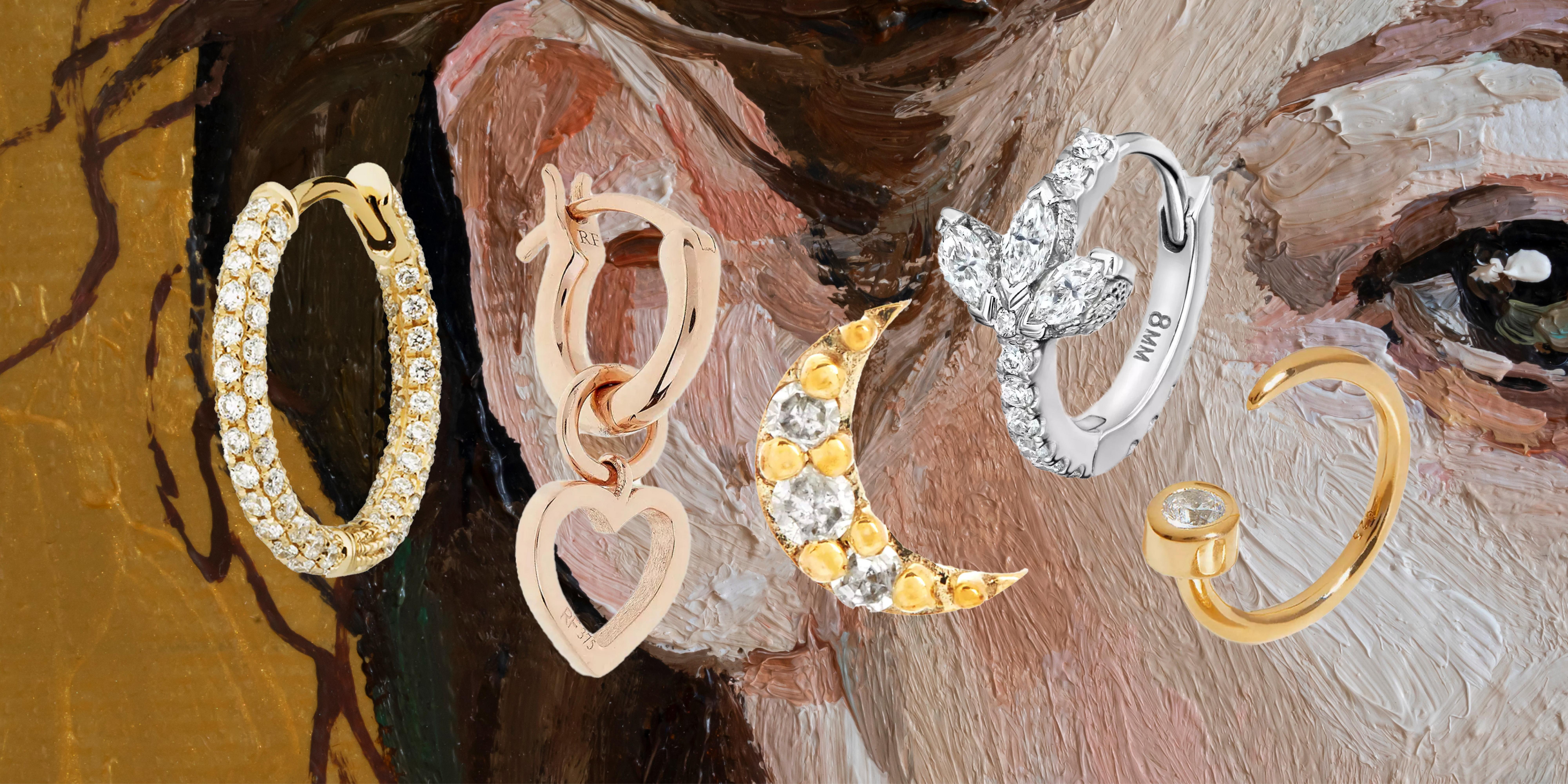 The curated ear looks beautiful on everyone from Rihanna to Margot Robbie, but it's challenging to know where to start. We share the ultimate guide for anyone asking, 'What piercing should I get?'
By: Laura Kennedy
If you've found yourself asking which ear piercing should I get? thankfully, you've come to the right place. Since globally renowned New York-based piercer Maria Tash made her London home at Liberty, it has been the undisputed hub of the Curated Ear. You've seen them on Beyoncé and Bella Hadid – ears perfectly peppered with tastefully placed pieces, each working together in harmony to produce a unique constellation of jewels, from dainty studs to pavé hoops, pearls to precious metals, elaborate statements to intricate details.

Read More: The ultimate jewellery care guide

Remember the days when getting your earlobes pierced was the pinnacle of sophisticated dressing? Sure, we were twelve back then, but now things are slightly different. Yes, earlobe piercings remain as timeless as ever, but these days, they are best complemented by a profusion of other ear adornments ranging from minimalist chic to maximalist impact, like a pair of oversized earrings. "A curated ear is the combination of multiple pieces of jewellery styled in different piercings throughout the ear for a unique look," says Tash. "I think of curating an ear like choosing the perfect outfit; every component works together for a combination that is all the wearer's own."

While we've never been as intimately acquainted with our own ears or as confused by the vast options for individualised ear curation, answers are (thankfully) close by. Read on for Liberty's comprehensive guide to ear piercing, as well as the best earrings to wear from tragus to snug and back again.

Read More: Trend alert: the return of pearlcore jewellery
How to Style Your Curated Ear
While figuring out where to start with your curated ear can feel challenging, there are some helpful guiding principles to keep in mind. According to Tash, "Great curation is imaginative and memorable, and there are several ways to achieve it. I suggest balancing three forces: skin tone, personal aesthetic, and the weight and style of the pieces that are placed next to each other. Choose metals that look best with your complexion. Try holding white, yellow, and rose gold up to your face to help you decide what resonates best." Ultimately though, she says, the pieces you choose and their placement will work if they feel authentic to your taste. "When it comes to styling, be intentional about composition. You can play with symmetry, patterns, or themes. The choices are endless. Then, balance your anatomy with the shape and size of the jewellery, considering the way different designs can emphasise or obscure parts of your ear. Be true to your style, trust your instincts, and have fun as you go."

Read More: The jewellery trends set to define the season
Beyond the standard-issue lobe piercing, there are two other types to consider. Firstly, there's the vertical lobe piercing which consists of two small studs stacked one over the other – an interesting alternative to the traditional single stud piercing. Then there's upper lobe piercings. These go in the area just below where the lobe meets the ridge (helix) and curves around your outer ear.
These sit on the cartilage which surrounds the outside of your ear from the top of the ear lobe round to where the ear joins the face. Multiple helix piercings are common since it's a large area of the outer ear and there is a lot of scope for customisation. Tucked away inside the area where the helix meets the face, the forward helix tends to look best adorned with smaller studs or hoops. And then there's the snug (or anti-helix) which pierces through the ridge of thick cartilage surrounding your inner ear. It is a slightly less comfortable area of the ear to pierce but looks particularly striking with an aptly snug-fitting hoop.
This is a customisable inner or outer piercing located in the middle of the ear. Opt for a stud which sits in the dip of your ear just above the top of your ear lobe, or a hoop that wraps round to hug the outside of the ear.
The Daith is another slightly less comfortable piercing to opt for as it sits at the innermost part of your ear's cartilage. This is, however, the perfect position for a statement piece or embellished hoop. Some regard it as faster to heal than other cartilage piercings as it's tucked away inside the ear, making it less likely to be slept on or accidentally jostled.

Then there's the rook, the ridge of your inner ear directly above a Daith piercing which is generally fitted with a hoop or barbell. The Maria Tash rook, on the other hand, is set further back from the traditional rook and sits closer to the face. Its location at the centre of the upper ear makes it particularly ideal for showcasing a unique stud.
Tragus and Anti-Tragus Piercings
The Tragus piercings sits in the small space just above your ear canal – it's the little triangular part of the ear that juts out slightly where the ear and face meet. Because it is so small, it looks best with a tiny stud or minimal hoop. The Anti-Tragus lies directly underneath the Tragus – that other small triangle of cartilage which corresponds to the one above it, like stalagmites and stalactites in a cave. Like the tragus, it usually offers space for just one piercing and looks best with a minimal stud or hoop.