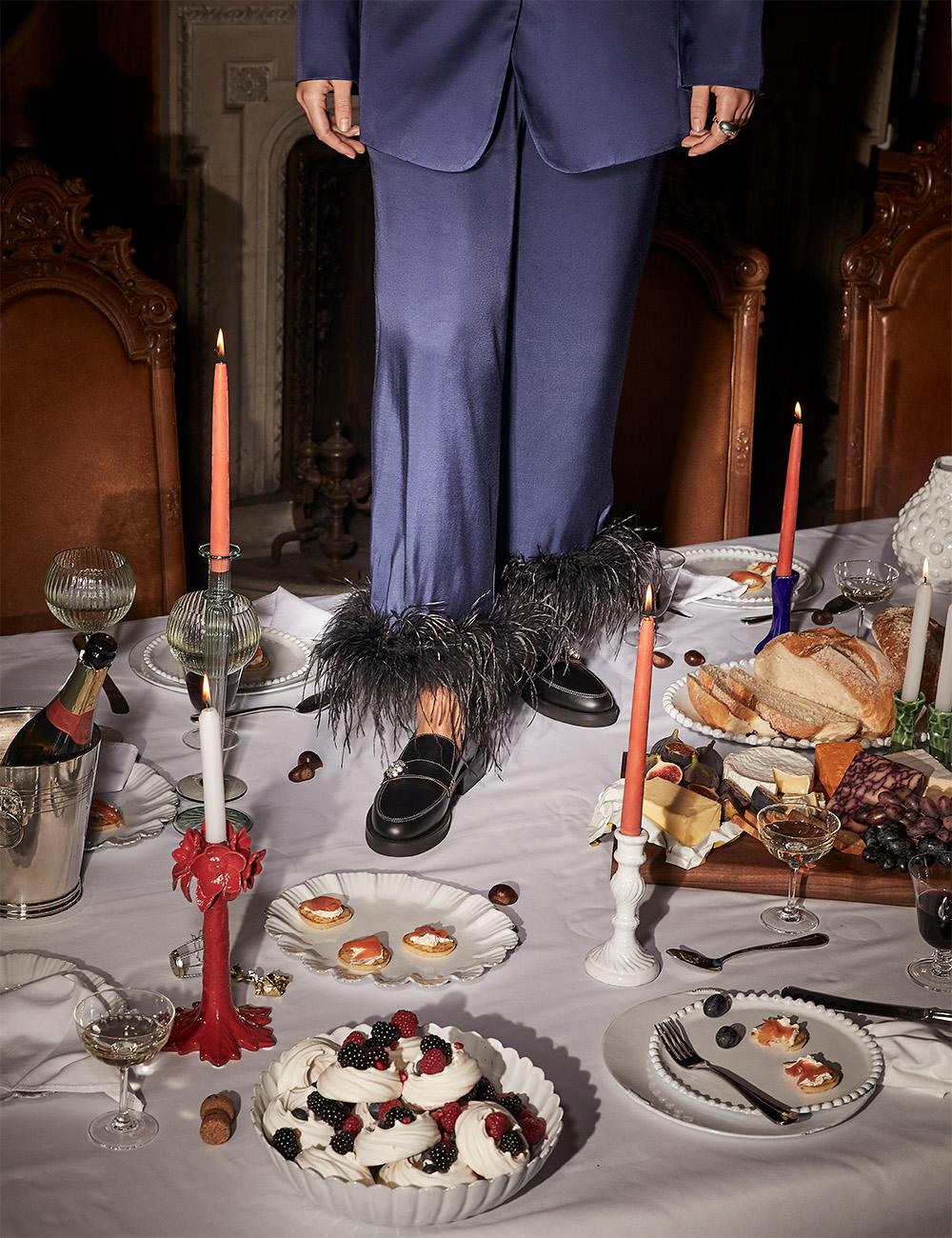 See You at Seven
How to Host a Superior New Year's Eve
Whether it's a small gathering or an all-out bash, Liberty shares all of our best-kept secrets for hosting your favourite people this New Year's Eve
By: Charlotte Pavitt
There are countless ways to ring in the New Year: you can get dressed up and go out-out, you could book an enviable dinner spot or you could host your own New Years Eve party for all your nearest and dearest to eat, drink and be merry all under one roof. While the night-in option may have once brought on feelings of FOMO, there are five key pillars to hosting a successful (and triumphant) New Year's Eve soiree at home to rival even the most raucous of nights out. To help you celebrate the countdown to midnight, starting with the right entertainment for all your guests and ending in the ultimate glassware for every type of cocktail, here's our very best ideas to leave all of your guests in awe.
Let your guests see how much thought you've put into the night by providing fun activities for all to enjoy. Since New Year's Eve plans tend to last a little longer than your traditional at-home entertaining, help to break up the monotony of party-going by setting up games that multiple guests can take part in. If you're planning a fireworks display, consider not all your guests will be well-prepared and keep a basket of hats, gloves and blankets by the back door to keep them cosy throughout the display.

Now, it wouldn't be New Year's without resolution making (and breaking). Provide your guests with notebooks to jot down their 2023 goals, or put out a festive cookie jar filled with blank notecards and encourage everyone to share a New Year's prediction. Don't forget everyone has their own traditions - so ensure Granny has full, uninterrupted access to Jools Holland, and make sure there is room to gather around the TV for watching Big Ben chime. Lastly, failure comes to those who forget the playlist; plan ahead by asking attendees to share their favourite songs pre-party.
When hosting a gathering, be it a celebratory event or a humble get-together, you always want to create a home-from-home for your guests. Sitting around the table together over the holidays is certainly special but can feel a little formal for New Year's - save that for your Christmas Table. In our opinion, there's no need to reinvent the wheel. Present your guests with a dinner party menu that's easy to rustle up, like a cheese or charcuterie board, platters of canapes and bowls laden with nuts, olives, fruits and sweet treats will satisfy and cater to all. This way guests can help themselves without airs and graces and you, the host, are free to work the room.

This time of year calls for a stylised table, without the fuss. Hunks of bread displayed on a Soho Home Wooden Board, £55 will work for all dietary requirements, and for those who indulge, goes down a treat when paired with soft cheese aplenty. Mismatch all your favourite platters like Cabana's Blossom Dinner Plate, £85 and Late Afternoon's Orange Chain Serving Plate, £48 for a festive feast that doesn't disappoint on style. For dessert, pre-prepared meringues in a fetching bowl with heaped Cabana Speckled Bowls of whipped cream and fruit will create a DIY Eton Mess station for elevated eating.
Opening up your home to family and friends is made all the more better with something fizzy. Keep the party going by ensuring the bar is well-stocked, or if you want to be a little more formal, place a hefty champagne coupe at every place setting ready for toasting. For any littlies at the party, drinking chocolate and a great mug works wonders.

A bar cart or all-out at-home bar is the centrepiece to any good New Year's Eve party. In order to stock it correctly there are three golden rules:
The Bottom Shelf
For your spirits: vodka, gin, rum, tequila and whisky are all good staples to stock-up on. Add your mixers such as tonic and soda waters with a few of your guest's favourite liqueurs like Campari, Aperol or Baileys.
The Top Shelf
For your accessories: cocktail shakers, muddler, spoons and jigger (a measuring cup). Small bowls housing garnishes such as lemon, blood orange and lime should be accompanied with a small cutting board and knife.
For your overnight guests (planned or unplanned) there are lots of ways to make your guest bedroom feel inviting. Provide a cosy space for slumber with decadent Liberty sheets and accessorise accordingly with extra throws, blankets and cushions to ward off that January chill.

The best sleepover host is the one that premeditates guests needs. A good place to start is offering guests small luxuries such as an eye mask on the pillow, ear plugs and a carafe of water beside the bed. If you know your guest is an avid reader, ensure plenty of lamps and for those who tend to get up in the night, slippers will never go amiss. A welcoming kit of beauty miniatures will help to give your spare room that hotel magic, especially when placed upon plush towels and a robe for the morning.
Set the tone for the whole evening with little moments that make memories. Since the sun sets much earlier in the winter, embrace low lighting and fill your home with extra lamps, candles, fairy lights and even perhaps a cosy fire. This helps to create pockets of light in every corner that feels inviting and cocooning, giving each room its own glow. Help to zone up spaces to your guests party preferences with a dedicated dance area, food station and a relaxation spot for those who want to sit and chat.

By scenting the celebrations with a seasonal home fragrance such as Liberty's Stately Bouquet Scented Candle, £52, that with its base notes of blackberry and cashmere wraps your guests in a warm fruity glow, will not only greet your guests on arrival but leave them with a lasting scent memory. Diall up the ambience by hanging strings of fairy lights and get everyone in the mood for the final countdown with party poppers, streamers and of course: sparklers. One final tip? Hand out mints ahead of midnight for those inevitable New Year's kisses.