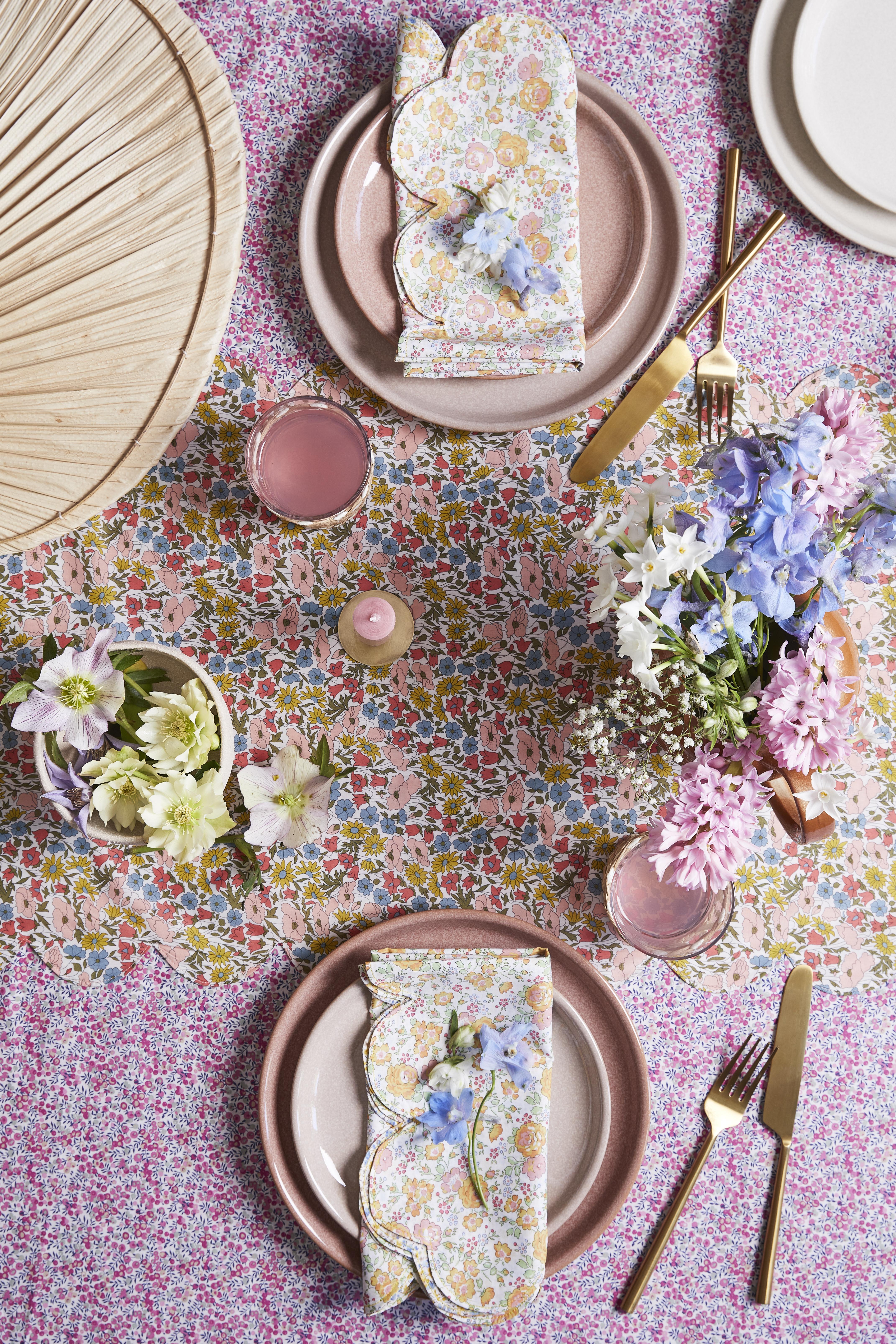 Self-confessed print lover, Amy Hemmings-Batt, ditched city life to pursue her passion for textiles, and set up shop in Somerset. Using the Liberty print archive as her primary source of inspiration, the founder's maximal home textiles label spotlights print-loaded bedding and cushions, trimmed with exaggerated frills, rippled hems and multi-layers. We sat down with Hemmings-Batt to get an insight into the all-new and exclusive collection, created alongside our home buyer, Bryony Sheridan.
You worked as a buyer before starting your own venture. What sparked the need for change?
My career in buying was incredible and there was so much to love about it, but the lure of the countryside eventually became too loud to ignore. I was lucky enough to grow up in Somerset and always knew I wanted the same for my children so we took the plunge and relocated to the countryside in search of new challenges, fresh air and a better work life balance.
How did you learn your craft?
Growing up I was surrounded by talented makers; both my mother and grandmother were sewing enthusiasts and this resulted in me often wearing their home-sewn pieces. Homemade school jumpers were not the height of school playground fashion but I very fondly remember the clothes they made for themselves. Their creativity sparked an appreciation for the skill in me and I began sewing and making at a young age. It is without a doubt that these early experiences paved the way for me going on to study Fashion Studies at university. My time at Bournemouth allowed me to refine my creative process and I learnt everything from pattern-cutting and construction, to the core business skills needed in the industry.
Can you describe Coco & Wolf's aesthetic?
Coco & Wolf's aesthetic is a contemporary celebration of Liberty's quintessentially British prints through heirloom-worthy and aspirational products. As a brand, we're incredibly proud of successfully pairing clean shapes and delicate detailing with modern print mixing and styling, and it's always been really important to me that Coco & Wolf is a brand that encourages customer's creativity.
Is there a link between your designs and your own sense of style?
My own style definitely does influence my designs but Coco & Wolf's inspiring customers are just as influential. The infamous Liberty fabrics we're lucky enough to work with are often seen to be aspirational but I wanted to create products which are accessible for everyone who falls in love with the prints. As a fashion lover the excitement comes from unexpected twists, whether that's a print pairing when styling, or a bohemian frill on what would otherwise be quite a classic piece. I think this is key to creating a contemporary brand.
What does Liberty mean to you and your business?
Liberty is an experience, not just a place. There's something entirely immersive about stepping through the doors of Liberty and receiving the best service whilst being surrounded by such highly covetable things. Like Coco & Wolf, Liberty perfectly combines the most luxe and classic with the trend led and creative so I like to think of our brand as an extension of that Liberty experience. I find it a hugely inspiring experience working with a brand that truly champions artisan quality products and creativity.
L

ike

Coco & Wolf, Liberty perfectly combines

the

most luxe

and

classic

with the

trend-led

and

creative

so

I like

to

think

of our

brand

as an

extension

of that

Liberty experience.
Do you have a favourite print?
Every season I fall in love with a new print, or prints, and each time I look through the Liberty archives I think it seems futile to even try and pick a single favourite. There are just so many incredible prints which have been created over the years by some of the most brilliant creatives. One print which will always have a special place in my heart though, is Lodden. It feels so deeply engrained into my journey, in fact, the first ever Coco & Wolf piece was a pair of Lodden bloomers, sewn for my newborn daughter. Lodden also made an appearance at my wedding!
When and where did you meet our home buyer, Bryony Sheridan?
Bryony and I met through a mutual love of maximalist florals! When we first met in 2018, we clicked immediately and I always knew we would end up working together in some capacity. That opportunity arose in 2019 with Floribunda, a wonderful project Bryony conceptualised in which 12 women-led, floral design businesses came together to create a sell-out collection in Liberty. I was thrilled to be a part of it.
How did you both collaborate on the exclusive designs?
Our relationship naturally lends itself to a simple process as we're absolutely on the same page. Bryony has given me a unique insight into the Liberty customer, which allowed me to tailor our exclusive print collection, utilising different colour palettes and looks to those which I may ordinarily create for Coco & Wolf.
Can you tell us about your creative process?
At Coco & Wolf we work at least 6 months ahead, sometimes more, which means we're designing collections and products and selecting prints as soon as they are released by Liberty. The creative process begins with print selection (my personal favourite thing to do!), before we consider any new products we'd like to bring to the range. We then design and create samples before heading into plans for styling and shooting the collection. One of the most new and exciting stages is creating prints exclusive to Coco & Wolf by recolouring prints from the Liberty archive.
A

s a

fashion lover,

the

excitement

comes from

unexpected twists,

whether that's a

print pairing

when

styling,

or a

bohemian frill

on what would otherwise be

quite

a

classic piece.
What are your primary sources of inspiration?
The thing which has always inspired me most is the Liberty prints, they evoke such feelings that as soon as I see them I am thinking about what we can do with them. At the back of my mind I always have a new idea that I spend my days thinking about and building upon. I spend a lot of time at vintage antique and flea markets at weekends which also prove a huge source of inspiration. I am obsessed with art deco and the 1920s and will often find myself drawn towards how they did things. The way they mixed their colourful interiors inspires me massively.
Can you describe the mood of your studio in Somerset?
Our studio is an inspiring place to be and what could be better than being surrounded by gorgeous Liberty fabric! Our team is fabulous, with everyone bringing different skills and personalities to the studio. It was always incredibly important to me that we created a workplace that was friendly and fun, somewhere people enjoyed spending time. Work is a huge part of our lives so it has to be somewhere which makes you feel positive and encourages you. There's not a day that goes past when I'm not grateful for the studio being located in the beautiful Somerset countryside - it's naturally a very creative place to be and affirms that returning to the countryside was the right thing to do.
How do want people to feel when they have your pieces in their homes?
We pride ourselves on creating heirloom quality products intended to be handed down through generations, so we want people to feel excited that they've invested in something they really love! We appreciate customers may make a single purchase so it's imperative that each piece works triumphantly on its own, as much as it does when teamed with other pieces from the Coco & Wolf range. We want people to feel like they've bought something well made, beautiful and luxe and a little piece of Liberty history.
You are a master at mixing classic prints. Can you reveal any design secrets?
Liberty fabrics are so stunning. They naturally work wonderfully on their own, but having the confidence to pair them is brilliantly bold and not as tricky as is often anticipated. It may feel like unchartered territory for most of us, but there's a reason some of the most triumphant interiors schemes are a confident mix of colour and pattern. My three bits of advice would be…
For something aesthetically balanced, consult a colour wheel to pick complementary colours for print selections by either looking at colours opposite each other (bold!) or next to each other (calm).
Layer prints which make your heart sing and you'll pair prints in a natural way, reflective of your own taste whilst being eclectic and fun.
Creating contrast is easy thanks to the plethora of prints Liberty has created. When using more than one print in a space contrasting sizes and print styles makes for victorious schemes - mixing large and small patterns together creates texture and interest.