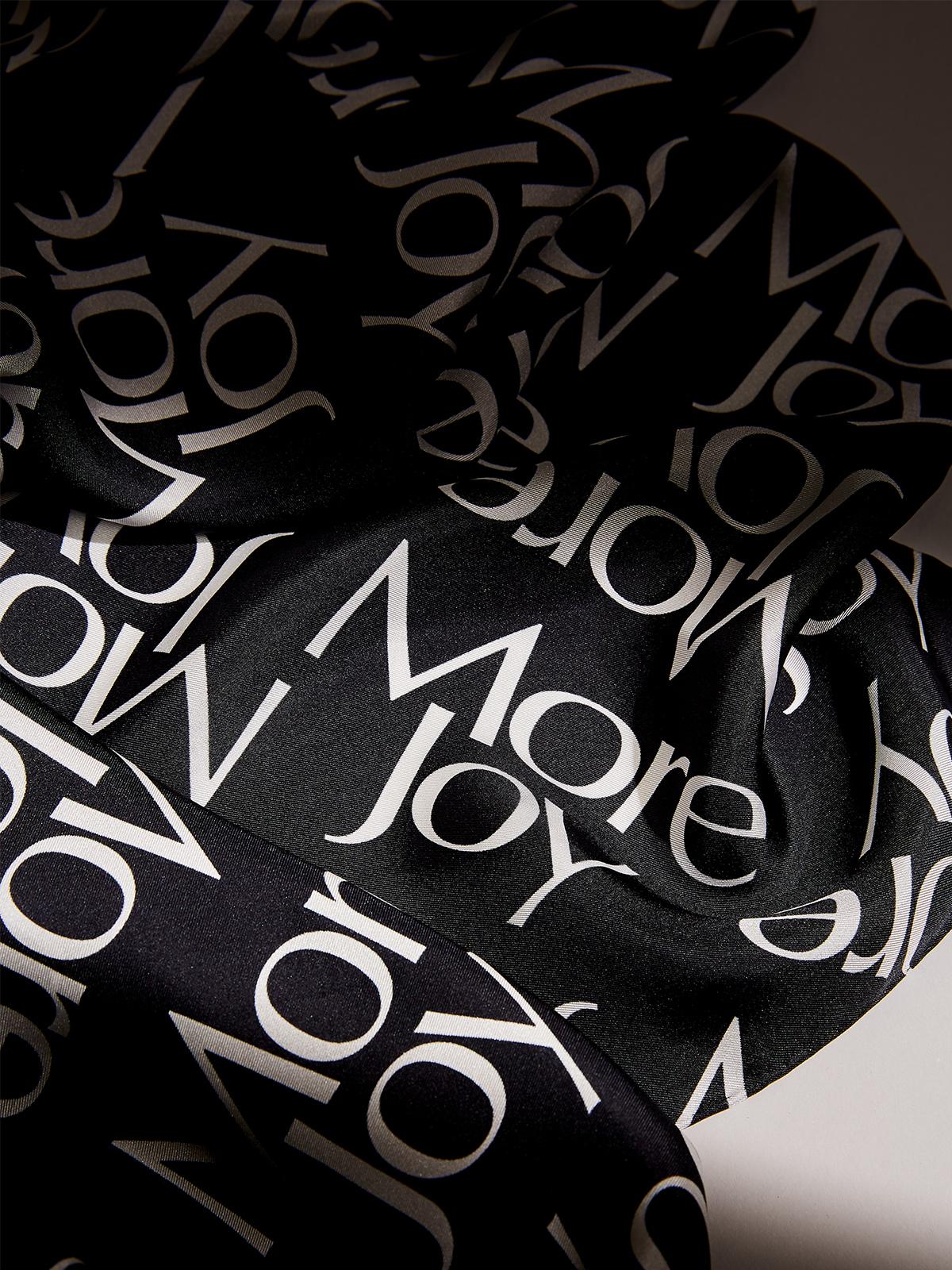 The Mantra of the Moment
More Joy by Christopher Kane
We caught up with Christopher and Tammy Kane about all things More Joy - the coveted capsule collection that has taken over Instagram, and their lives
Shop More Joy by Christopher Kane
Borrowed from the 1972 erotic manual The Joy of Sex, the More Joy slogan first appeared in Christopher Kane's AW18 runway show, where it quickly established its potential as a standalone brand. Unlike the elaborate collections that Christopher Kane is known for, More Joy is stark in its minimalism, with every piece featuring one of three slogans against a plain coloured background. We spoke to design duo Christopher and Tammy Kane about the ways in which More Joy has become a driving force in their lives.
After your AW18 collection, what made you decide to expand More Joy into its own capsule?
Tammy: After our Christopher Kane AW18 collection featuring the More Joy slogan, we knew it couldn't just be a one off seasonal trend. More Joy became our daily mantra during and after the show. It has personal significance for us both.

Christopher: We surrounded ourselves with it. We put our More Joy stickers on our diaries, iPhones, laptops - it became like a reminder to check in with yourself every time you spotted it.

Tammy: It was quite quickly after the show that we realised the potential in More Joy as a standalone brand.

Christopher: With that in mind, we dropped a More Joy Summer essentials capsule collection in July/August 2019. It sold out really fast and exploded on Instagram - it was everywhere.

Tammy: It proved to us what we already knew, More Joy was here to stay.
What does the More Joy mantra mean to you?
Christopher: This is the beauty of More Joy, it means something different to everyone. It can be biblical, it can be hopeful - a reminder to concentrate on yourself, or to fight for something you feel passionate about, or just to have fun.

Tammy: Like Christopher said, the power of it lies in how multi-meaningful More Joy is. For me it is a daily reminder to believe in myself and to never give up hope despite the challenges life throws at you.
How would you describe the collection's aesthetic?
Christopher: The More Joy aesthetic is deliberately minimalist with a stripped-back red, black and white colour palette. It is very different from Christopher Kane.

Tammy: We are designing clothes and lifestyle pieces that are useful and functional for modern life, and carry our three brand placards: Special, More Joy and Sex. They're all ambiguous and carry positive messaging.
Can you talk us through your creative process?
Tammy: More Joy is a team effort and we start each collection by asking ourselves: what are our personal needs? Where would More Joy be useful?

Christopher: The first meeting ends up with a long list, then meeting by meeting we edit down and finally get our range.
More Joy means something different

to

everyone. It can be biblical, it can be hopeful -

a

reminder

to

concentrate

on

yourself,

or to

fight for something you feel passionate about,

or

just

to

have fun.
How do you decide what to add next?
Christopher: We look at what is going on in the world, we draw inspiration from events, people and places, but ultimately we add what we want in our homes and what we want to carry around with us.

Tammy: I have so many More Joy objects dotted around my house. One of my favourites is my doormat - every time I walk in or out of my home and see More Joy it gives me that jolt to be conscious of what is going on, or to take a breath.

That really is what we are trying to do with More Joy - each piece is designed to function but also to remind you to be open to More Joy and the power of believing in yourself. Especially in this current pandemic landscape where we've all had lots of stress and our homes have become even more of a sanctuary, it is important to surround ourselves with things that inspire or enlighten.
Do you collaborate on every decision?
Christopher: Yes that's the way we have always worked.

Tammy: We don't always agree but we never fall out, not really. Also, we have a great team behind us who are forthcoming with their opinions. It is important not to have yes people around you.
When or where do you feel at your most creative?
Christopher: I think you can find inspiration anywhere - I often find my best ideas in the strangest of places. Since the first lockdown I have rediscovered painting and it has been liberating. I have no inhibitions when I paint which has been a positive influence on my design work.

Tammy: I love being at the studio with Christopher - when you get into that creative zone you lose all concept of time. Christopher is always inspiring and pushing me to see things differently.
Would you say the More Joy Instagram community has played an important role in the collection's success?
Christopher: Most definitely. Social media opens up a whole new world of amazing and creative people and ideas. It allows us to engage with our community and share their More Joy experience. For example, our More Joy Creatives campaign produces amazing content and allows us to build a relationship with so many young creatives and spread the More Joy message.
What have you loved most about creating More Joy?
Tammy: Our customer base is varied but 18-34-year-olds are the segment that connect most with us digitally. We wanted to do something for them. Something authentic that reflected our shared values. Pleasure. Connection. Fun. We want to make the objects they need in that moment.
Do you have a favourite design from the collection?
Christopher: The collection has been carefully curated and there is no excess or frills. It delivers things that are essentials for every day. I'm particularly pleased with the More Joy pool slides but equally I am in love with the swimwear and all the day-to-day useful pieces like water bottles and caps.

Tammy: Oh god, that is like asking me to choose which daughter I like best! I lived in my More Joy and Special swimsuits this summer despite the weather and my card holder is so handy - honestly there are just so many things. I have to be careful when I go out that I am not overloaded with More Joy! My favourite thing to sleep in is my silk PJs. But if I had to choose one thing it would be my More Joy black tee which is simple and goes with everything. I love seeing people's reaction to it, especially non-fashion people.
Do you have any ideas about where to take it from here?
Christopher: Yes we have so many plans. There's so much more to do with More Joy beyond the ready-to-wear market. Our recent Le Specs collaboration was very successful and it was so much fun to collaborate with another category.

Tammy: One thing is certain we are not short of ideas for More Joy! We have recently dipped our toes into lifestyle and home markets and it has been well received. You will have to wait and see…
Where are you finding joy in your own lives right now?
Christopher: Always the unconditional love and loyalty from my partner Mao, family, close friends and my dog Bruce. Knowing that I always have their support and love no matter what is the most precious thing.

Tammy: So many places. I am so lucky to have a loving family and friends and have a job I love to do. My kids give me the most joy - they drive me mad but they are so unpredictable, funny and cheeky. They are like bubbles of More Joy.