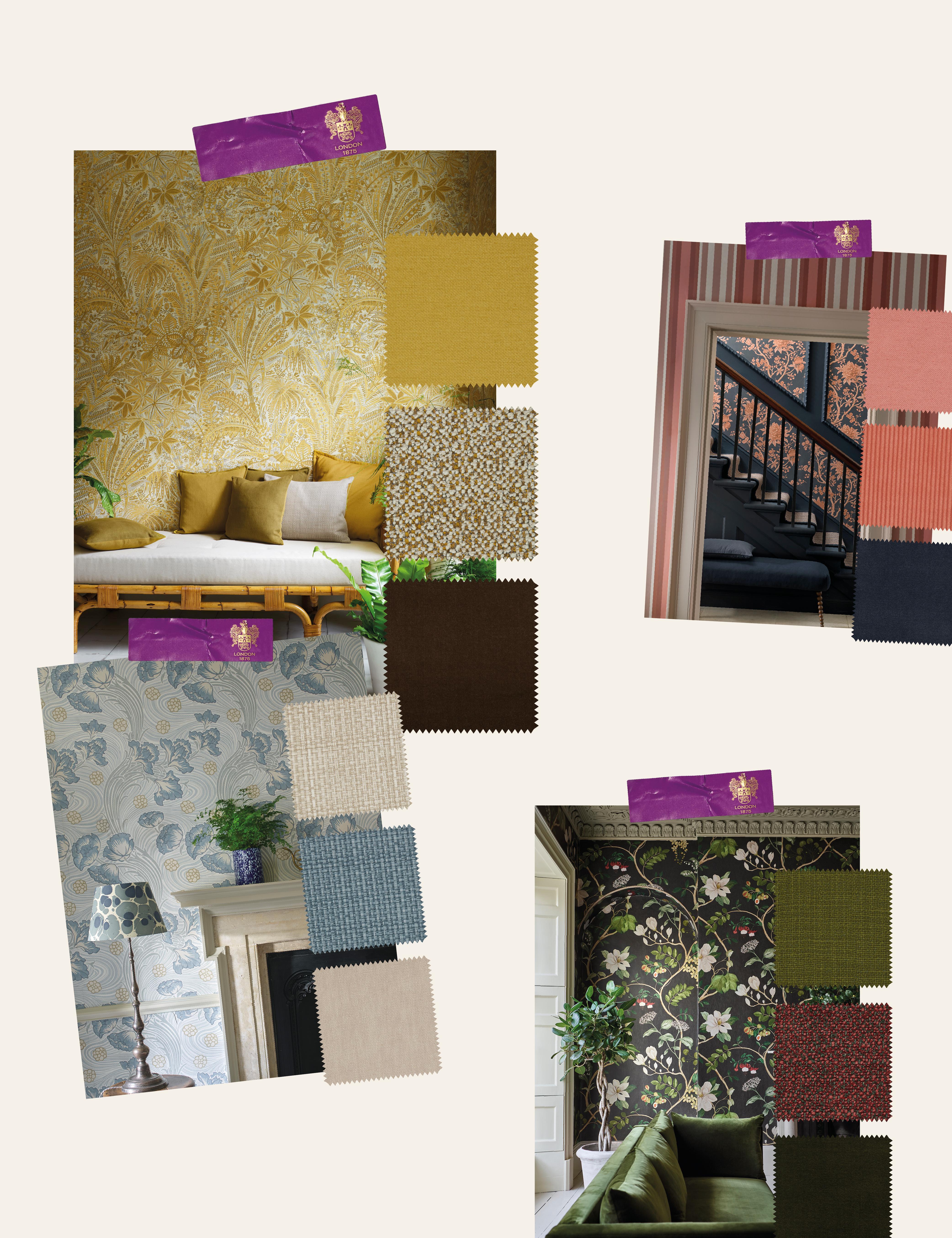 A Guide to Mixing Pattern and Colour
Learn how to mix and match pattern with colour in every room of your home with these Liberty-curated schemes
By: Charlotte Olby
Walk into any enviably decorated home and you'll usually find it filled with striking patterns and textures, all of which are layered to expert effect. Colourful wallpaper and rich textures not only give a room character and life, but by learning how to mix pattern with colour like a pro, you're able to give space to prints and allow them to sing. Step forward: the Art Colours fabric collection, a series of complementary fabrics to pair with our latest wallpaper designs in The Botanical Atlas Collection.

Celebrating our heritage (when Arthur Liberty first opened the doors in 1875, our stock consisted solely of coloured, plain silks from the East) in this new collection, Liberty heroes a love of colour with a contemporary palette of plains in a collection of 110 interiors fabrics - from plush velvets to dry linens. "Liberty has always appealed to the heart and spirit of the collector – those with a passion for unique pieces that transcend the generations. Art Colours is dedicated to those enthusiasts, past and present." says Genevieve Bennett, Head of Design Liberty Interiors.

Whether you choose to decorate your walls with bold stripes or dancing florals, we have fabrics to accompany them in abundance. While big bold prints might seem scary, if you follow our advice, it won't seem so daunting - here is some room-by-room inspiration to get you started…
The Hallway
The real secret to combining a number of richly patterned wallpapers and textiles successfully is to create beauty and harmony through a cohesive colour palette that flows through into each room. When starting any scheme, one of the most important things to consider is both new and existing colours - and how each pattern in the space is going to tie into your overall look. Pick out tones that you want to accent or repeat; looking at the floors, doors, windows and any existing prints to draw from. Here, we have layered Obi Stripe with the inky tones in Porcelain Trail and carried through the scheme with new soft furnishing additions in plush velvet and corduroy.
The Office
A general rule is to always choose your hero print first, then once you have your showstopper design, you can source other prints and fabrics to combine with your choice. Art Colour fabrics are the perfect complement to the curated palettes in the Botanical Atlas wallpaper collection, providing easily coordinating looks in any room. This beautifully elaborate Hana design has been reinvented straight out of the archive, layered in mellow neutral hues that can be seamlessly paired with muted furnishing fabrics in Lapis, Down and Willow. Consider the mood you want to inject into your chosen space, a lighter and brighter design will give an office or writing space a more energetic feel - providing both motivation and inspiration.
The Bathroom
Embracing colour is a wonderful means of expressing individuality. When done correctly it can provide a sophisticated look where the design flows around the room (and home), tying everything together into a single harmonious scheme. If you're considering a bathroom makeover try to think outside of the realms of white-on-white. Here at Liberty, we're strong advocates for making magic out of even the most mundane of rooms, so if you're feeling decadent - consider matching a delicate wallcovering, like Sakura, with opulent lampshades or perhaps a corduroy-covered ottoman. Placed in the centre of a master bathroom, an ottoman or stool can act as a hub for movement, a natural place to lay out towels and sit to dress, undress or to lather on lotion.
The Living Room
One way to guarantee a space you'll be proud of is by placing your favourite colour at the heart of the scheme. By picking out the Jade, Moss and Amaranth shades in the trailing garden of our Magical Plants wallpaper - filled with magnolias, wisteria, lily of the valley - this soul soothing green living room feels welcoming. By varying the intensity of the shades across your soft furnishings and using key pieces like cushions, curtains and even indoor plants, you're able to build a palette that will complement your chosen tone without overshadowing. Try to incorporate different textures such as weaves, boucle, velvets and additional print layering to build upon your design.
The Kid's Room
There is no better room of the home to embrace maximalism and playfulness than a children's bedroom or playroom - pairing print-on-print with plains through the use of colour. Patterns needn't feel daunting when tones are of the same family and allows you to create depth and interest. It is calmer on the eye to sit big patterns - like the Obi Stripe wallpaper - with little florals, varying the sizes of your prints in the mix and giving pause with plain colour to ensure a tight colour palette.
The Conservatory
Cypress Voyage features a botanical paisley of tropical palms, feathery fronds and graceful ferns printed on a lustrous grass-cloth base providing tactility and richness of colour. It's the perfect kick-off point for designing a sun-drenched room. When looking to layer in fabrics, place swatches side by side and move them around the space to experiment with shades you want at the front and centre of the room, and those you want in the background. Remember, your rooms are meant to be used, to be lived in, so it's important to seek fabrics that can withstand the rigours of everyday life. Consider upholstery fabric options like Benmore linen-cotton or Macdonald boucle for longevity on heavy-contact areas.