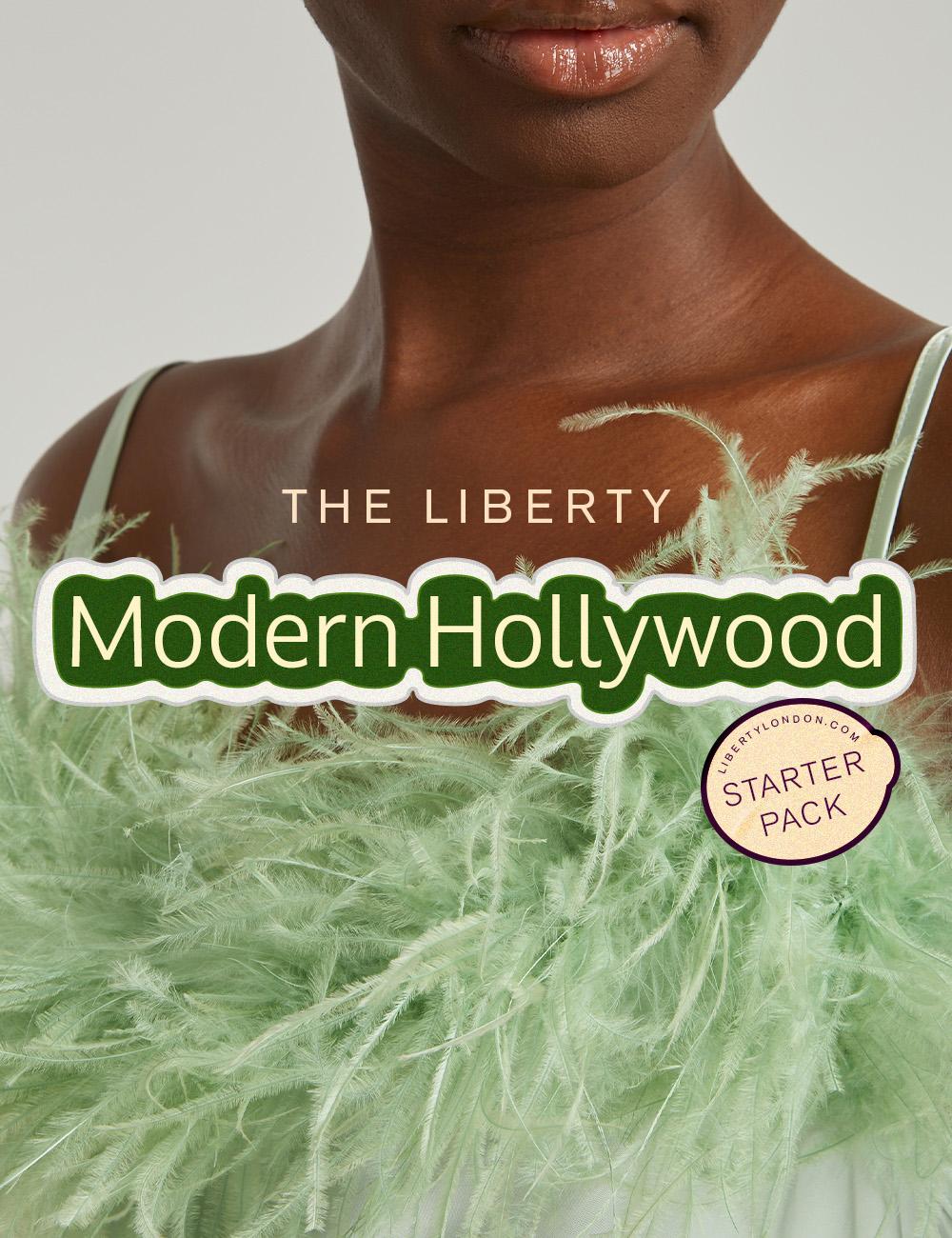 Liberty Starter Pack
The New Age of Old Hollywood Glamour
Rooted in the Hollywood's past but reimagined for today, get in on the rise of modern glamour with this Liberty Starter Pack
By: George Elliot
Remember lockdown dressing when we lived in loungewear, and Zoomed into meetings dressed in pyjamas from the waist down? It seems our days of under-dressing might be behind us, as a new wave of glamour has inspired many a red-carpet-walking celebrity this awards season. Inspired by old Hollywood film stars from the 1920s through to the 60s, the idea is to channel your inner Elizabeth Taylor at every occasion, while adding in a few distinctly modern touches for a contemporary edge. From new-age evening dresses to eye-accentuating makeup, this Liberty Starter Pack maps out all the essentials you'll need to translate old-school glamour for the modern world.
The Ultimate Evening Dress
Aside from being old Hollywood royalty, stars like Audrey Hepburn and Greta Garbo were known for wearing elegant evening dresses. From graceful pleated columns to diamante-studded gowns that shimmered with movement, they were decidedly over-the-top, but for the here and now? Try Sleeper's Boheme Dress, £235. Mini in length and trimmed with ostrich feathers, it casts a new spin on old-school glam.
Shop now
Shop More Evening Dresses
A Spellbinding Gem
Look into the word's 18th century Scottish origins and you'll find that glamour is all about a sense of magic, enchantment and illusion, something that a few select pieces of jewellery can help create. In the here and now, 18ct Gold Plated Pave Link Necklace, £450 from CZ by Kenneth Jay Lane and Liberty's 9ct Gold Aragon Pink Opal Ring, £760 should do the trick; their stone-encrusted finishes create that all-important feeling of opulence and fantasy.
Shop now
A Compact Party Bag
You'll need an equally impressive plus one by your side: a party-ready bag. Studded with pear-shaped crystal drops, Stella McCartney's Falabella Crystal Clutch Bag, £995 is deceptively roomy, big enough for all your essentials (coming up), or you could opt for a little black bag. Sculptural and crafted from quilted leather, JW Anderson's Bumper-15 Leather Shoulder Bag, £750 will go with pretty much anything.
Shop now
An Eye-Catching Eye
When it comes to makeup, old Hollywood Glamour relied on one feature: flicked eyeliner. Featuring a fine nib for sharp, precise application, Surratt's Auto-Graphique Liner, £40 will provide a long-lasting, larger-than-life look. Next, coat your lashes in Bobbi Brown's Eye-Opening Mascara, £28. Carbon black and complete with a jumbo brush, it'll fan and lift your lashes for added drama.
Shop now