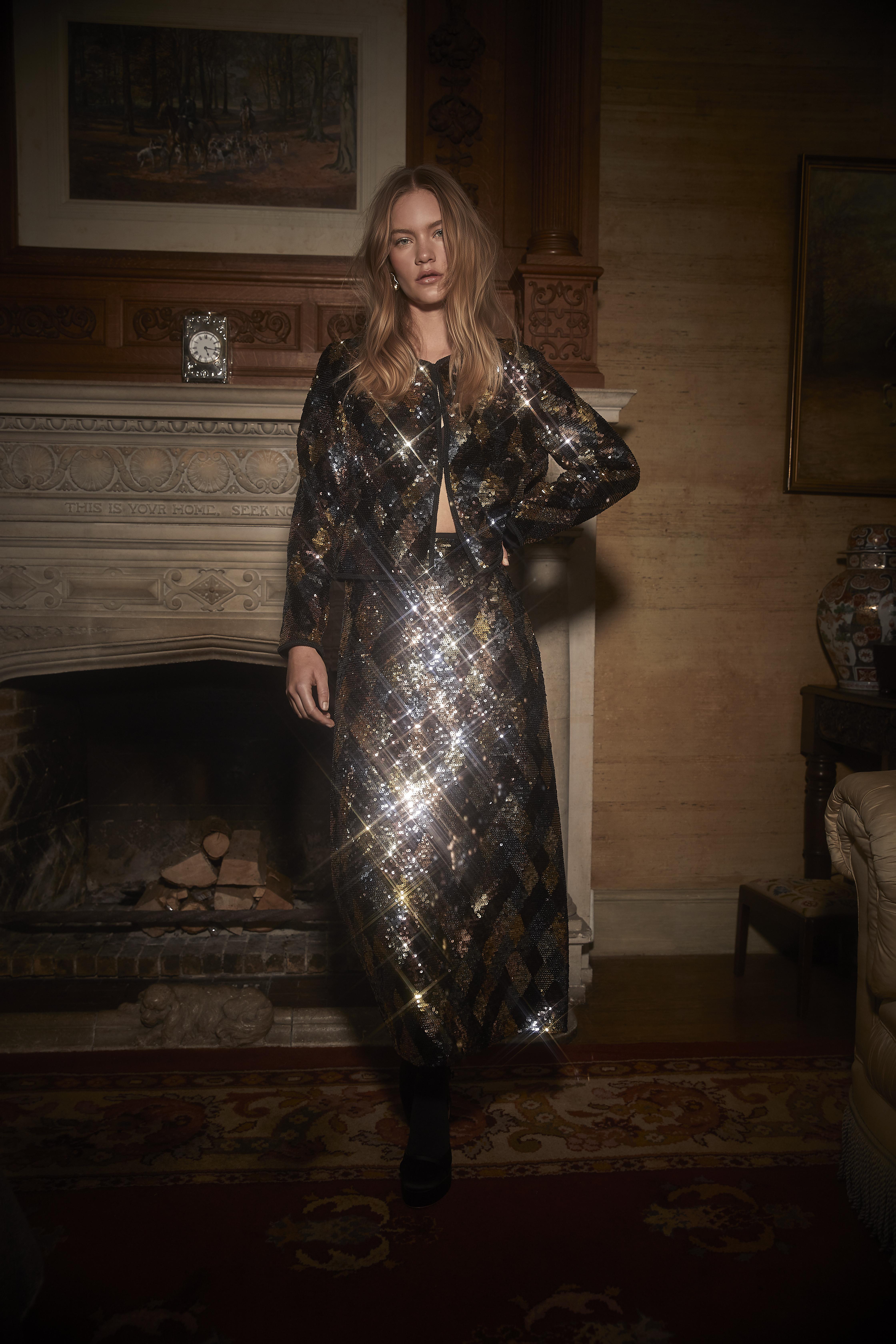 Turn Back Time: The Return of 70s Fashion
Whoever said glamour is dead didn't anticipate this: the return of 70s fashion. Here are the decade's best and brightest trends finding their way back into fashion's favour
By: George Elliot
For better or worse, the 1970s brought us many things: punk, questionable decor decisions (Google '70s bathroom suites' to see for yourself) and the rise of music legend Kate Bush, to name just a few. But the decade will also go down in history as one of the best dressed of all. It was the golden age of glamour, extravagance and self-expression - all characteristics that, if you fast forward five decades or so feel timelier than ever, so is it any wonder why 70s fashion trends are back in their full, flared glory? From opulent evening wear and floor-sweeping maxi-dresses to glam rock glitter and the all-important flares, learn how to turn back your own sartorial clock with a little help from Liberty.
All-Out Opulence
Jerry Hall, Bianca Jagger, Grace Jones; women in the 70s in-crowd did two things: they all frequented the legendary nightclub Studio 54 (the place to see and be seen) and they all dressed for all-out opulence. Tailoring for women was on the rise and rise back then, so Dries van Noten's Blest Blazer, £795 should be your first port of call; cut from a lustrous, emerald green silk-blend, it's the last word in refined extravagance. Why did women dress for excess? To put it simply, it was about self-creation and conjuring a feeling of fantasy. Crafted from luxuriously soft faux fur and featuring the brand's signature oversized collar, Shrimps' Judy Coat, £650 does just that.
Shop now
Shop Liberty's Opulence Edit
Length to the Max
While the mini dress dominated the 1960s, the 70s saw hemlines fall dramatically, so an elegant maxi dress that cascades right down to the floor should be high up on your shopping list. Adorned all-over in lace and featuring seventies-style svelte lines that contour the body, RIXO's Fleur Dress, £650 is the decade to a tee. But because maximalism also reigned supreme back then, going for one that's as long as it is bold is equally advised. One for flamboyant dressers, La DoubleJ's Sablé Long-Sleeve Swing Dress, £500 comes decorated in the brand's richly-hued, larger-than-life gerbera print, so embodies the age's more-is-more motto.
Shop now
Shop Liberty's Maxi-Length Edit
Flares with Flair
Dresses aside, it's impossible to nail the 70s look if you're not wearing a figure-flattering pair of flares - they are the emblem of the decade. Chocolate brown (one of the period's favourite tones) and velvety-smooth to the touch, Acne Studios' Corduroy Jeans, £280 widen in cut the further down the leg you go, so are the first pair to try on for size - especially if you're after some that can be worn anytime, anywhere. But because the decade also saw disco's meteoric rise, make some extra space in your wardrobe for a pair that's perfect for partying in. Playful and brimming with vibrant, discotheque-like colours, House of Sunny's Groove Is In the Heart Party Trousers, £100 are the ones to slip into before hitting the dancefloor.
Shop now
Shop Liberty's Flared-Leg Edit
Retromania
During this eclectic, "anything goes" era, standing proud from the crowd in clothes nobody else had was the objective, meaning antique fairs and thrift shops became the places to shop. In other words, retro fashion was huge. To follow suit this season, there's no need to go on the hunt for vintage finds yourself; just look to Liberty's Eva Belle Shirt, £225; ruffled and cut from floral printed silk, it exudes the kind of period charm seventies style seekers hunted for. Inspired by nightwear from bygone centuries, the kind decked with theatrical thrills and flounce, Horror Vacui's Defensia Lilibet Patchwork Tana Lawn™ Cotton Blouse, £910 is another piece that embodies the 70's love of making old fashions new.
Shop now
Shop Liberty's Retromania Edit
Go Glam Rock
Decked in sequins, lurex, feather bowers, leopard print and glitter, stars of glam rock were among the decade's most influential and extravagant tastemakers (think: David Bowie, Marc Bolan and Bryan Ferry). This means that your 70s-inspired capsule should dazzle with flamboyance too. Thankfully, we've got just the thing: RIXO's Daisy Dress, £375. An occasion dress that's embellished from shoulder to hem in technicolour sequins, it'll glisten with every slight movement you make. But going glam isn't just for after-hours; designed with max wearability in mind, Ganni's Leopard Printed Mesh Top, £110 deserves a spot in your workwear rotation.
Shop now
Shop Liberty's Glam Rock Edit