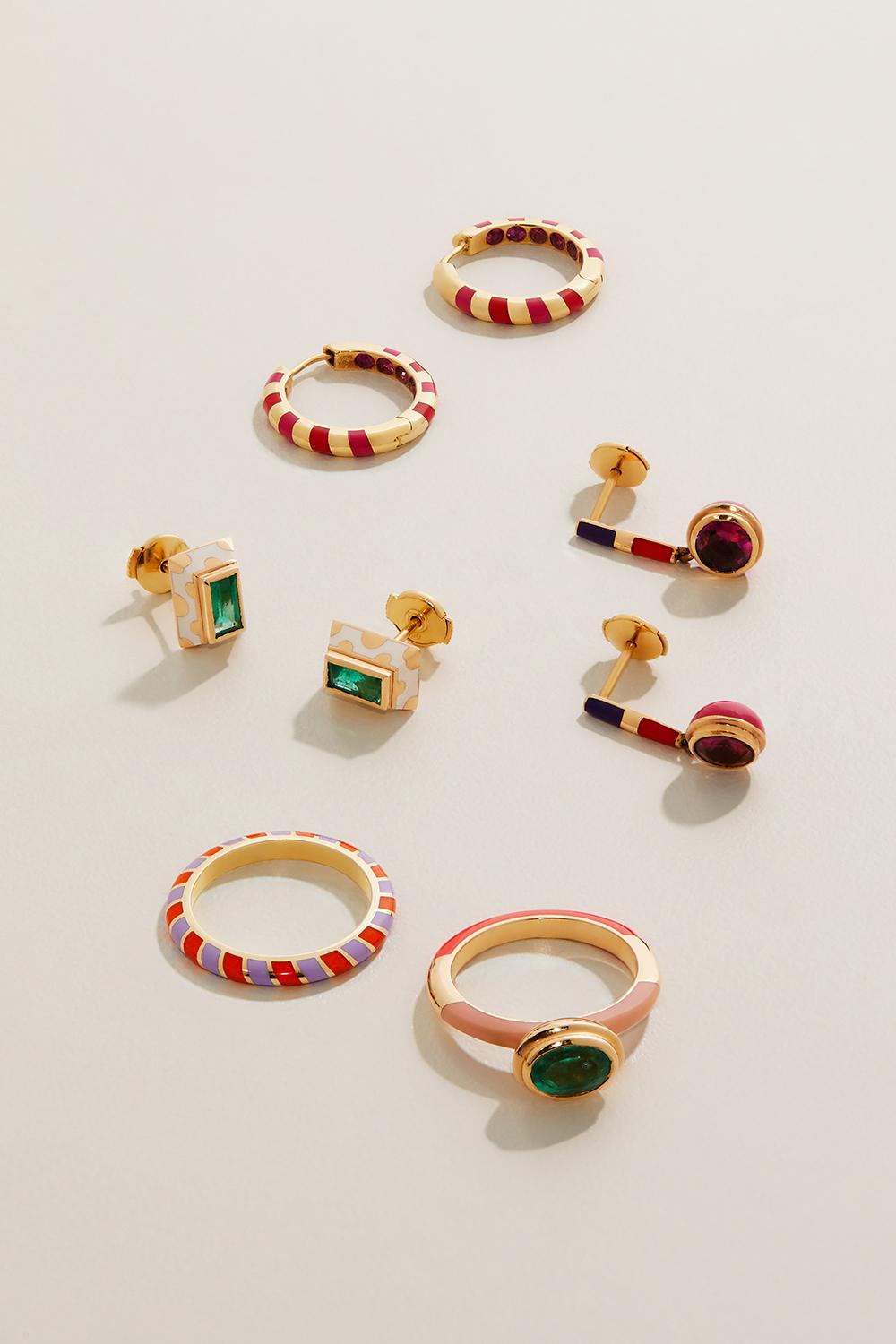 Alice Cicolini
Memphis Blues
With an appetite for the postmodern design of the Memphis Group, London-based designer Alice Cicolini is here to prove that colour and pioneering craft have as much of a role to play in the jewellery world
Shop Alice Cicolini
Alice Cicolini knows colour. Her vibrant stones and coils of enamel carry a wealth of influences, an "eclectic mix of mid-century British ceramic, ancient Indian miniatures, textiles and jewellery, Art Deco, Bauhaus, Arts & Crafts". And yet, it is Ettore Sottsass' Memphis Group, "his totemic, colourful and geometric forms" and the principles that underpin it, that have become a constant presence in her life, in her craft, and in her way around a palette.
"Colour is a really important part of my life and always has been", Cicolini says. "It is this love of the finer subtleties of colour that drew me towards Memphis. Having deeper knowledge of the Memphis philosophy encouraged me to make bold, instinctive choices, rather than take a more conservative approach for fear of longevity." Itself a fleeting movement, Memphis' lasting impact is fed by rooted influences that drove famed Italian designer Sottsass, and now Cicolini herself, notably in her lacquered Memphis collection: "The Candy Band was first inspired by Venetian gondola poles, but Ettore Sottsass spoke to me on so many levels – from his approach to design, his love and exploration of India and his passionate belief that colour had an important place in the home – which gave me courage to argue it also has an important place on the body."

This fearlessness has filtered into Cicolini's design and her understanding of how to survive the trials of her industry, describing Memphis as "a high-water mark in bravery, of its founder and designers, as well as in the taste and bravery of their consumer. It requires the support of well-informed customers to create the space for these confident visions to emerge and thrive". But this doesn't mean taking herself too seriously, and she credits the movement's free-spiritedness for her will to "invest my work with soul, with poetry, but also with humour, not to be afraid to bring intellect and joy to the pieces that I design".
Of course, jewellery and furniture have stark differences, not only in scale and material. But their similarities grow from a mutual ability to turn abstract ideas into functional or wearable forms. "Sottsass writing about his Ceramics of Darkness series is a powerful testament of the potential for creative practice to reflect some of a practitioner's most profound thoughts about the nature of life and death," Cicolini notes. "We tend to think of design as a commercial practice, but in his hands, it is taken back into the realm of artistic expression."

In her connection to designers past and deep passion for the craft that sustains her, Cicolini finds her glue: "What I hoped to do was to remind customers that the craftsmanship and design in the jewel was of as high if not higher value – economically but also culturally – than its component parts." She describes the treasure found in her own team of collaborators as the answer to the obstacles she encounters. "The challenge is always not to give up on an idea because it hasn't been done and people tell you it can't be," she shares. "Then to find the master craftsman who is prepared to push their expertise and practice into new territories." Perhaps it is this, and her boundless approach to translating art world inspiration into jewellery that has her own longevity secured.
- Too many artists inspire me to have a favourite, but I love Art Deco, Bauhaus, Arts & Crafts, as well as Memphis of course.

- The Museum Rietberg in Zurich is a hugely inspiring place for me, built on the private collection of Eduard von der Heydt, objects from Asia, Africa, the Americas, and Oceania. Most inspiring for me is the Archive room: it places objects from different cultures and centuries together, where the only unifying quality is their material. In doing so, the Museum has revealed the extraordinary way in which ideas, motifs and forms are a shared language across these vast geographies.