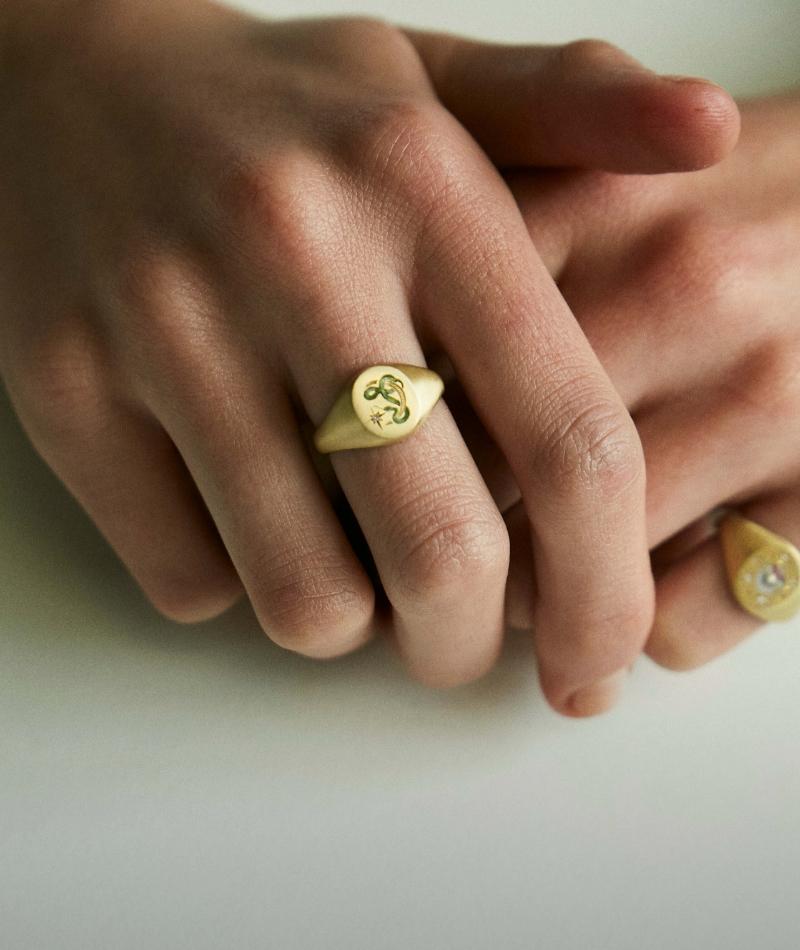 Mark Your Memories with the Best Charm Jewellery
Whatever you're celebrating or commemorating, make it unforgettable with Liberty's edit of the most sentimental charm jewellery
By: George Elliot
There is a unique significance to jewellery. If you choose it with intention, if you're looking to anchor life's most meaningful moments with something special, something you can wear as a talisman, or a marker of your past or future accomplishments, the best charm jewellery will do it for you. From handmade pendants and necklaces said to bring the best of luck to a sentimental charm bracelet you can build upon year after year, this is Liberty's pick of the most exquisite milestone-marking jewellery.
The Charm Necklace
Imbued with spiritual meaning and believed to hold mystical powers, pendants, medallions and lockets have been worn as talisman since the dawn of man (no exaggeration). Today, many still believe in their reputed ability to ward off bad energy and bring luck, meaning necklaces make ideal contemporary charms. Designed to guide the wearer through life's highs and lows, Alighieri's necklaces are particularly prized. Inspired by the Moon's orbit of Earth and sold exclusively at Liberty, wear the Gold-Plated The Night Pendant Necklace, £210 to connect with celestial powers or to commemorate a cherished memory of your own. But as pearls are said to bring wealth and wisdom, the Gold-Plated the Water Bearer Baroque Pearl Pendant Necklace, £225 is another that you might want to clasp around your neck.
Shop Alighieri Charm Necklaces
The Charm Ring
Whether gem-encrusted or elaborately engraved with something meaningful – perhaps your initials or a very special date – signet rings have been worn as treasured mementos for centuries. Crafted from 18 carat gold and decorated with hand-painted enamel motifs, those by coveted brand Cece Jewellery make particularly precious memory-marking charms. Each inspired by the art of storytelling, mark the most special chapters in your own life, perhaps by gifting the Love Me Forever Diamond Signet Ring, £2,860 to your most beloved (maybe as an alternative engagement ring). Or, as palm trees are considered to be the symbol of triumph, why not place the Palm and Moon Diamond Signet Ring, £2,860 on your own finger to celebrate a personal victory?
Shop Cece Jewellery Charm Rings
Shop Grainne Morton Charm Earrings
The Classic Charms
Like a photo album or diary, classic charm bracelets chronicle our life stories from childhood through to adulthood, with each trinket symbolising a moment to remember - be it a birth or trip of a lifetime. Whether you're building your own from scratch or want to personalise one that's been handed from generation to generation, those handmade by Annoushka are among the finest in our legendary jewellery hall. For newlyweds, the Annoushka x The Vampire's Wife 18ct Gold 'God Is In The House' Charm, £2,500 is an intricately crafted emblem of lifelong love, one that opens like a locket to reveal a miniature bride and groom. Perhaps you're taking a new direction in life, like making a career change? If so, 'The Ship Song' Charm, £1,900 from the same collaboration perfectly captures a sense of adventure for new beginnings. Whichever you choose, let your charms speak volumes about you.
The Alternative Charm Bracelet
If you appreciate charms for the properties they might symbolise - be it health, joy or luck - but you also like to break with traditions rather than follow them, crystal chains make perfect alternative charm bracelets. Passionate about the potential powers that stones hold, TBalance Crystals makes a technicoloured array of these modern day amulets. Looking for tranquility? Wearing their Aventurine Crystal Healing Bracelet, £49 is thought to bring a sense of wellbeing and calm. In need of strength, look to their Amethyst Crystal Healing Bracelet, £49, one that's thought to increase motivation and have mood-boosting capabilities.
Shop TBalance Crystals Alternative Charm Bracelet