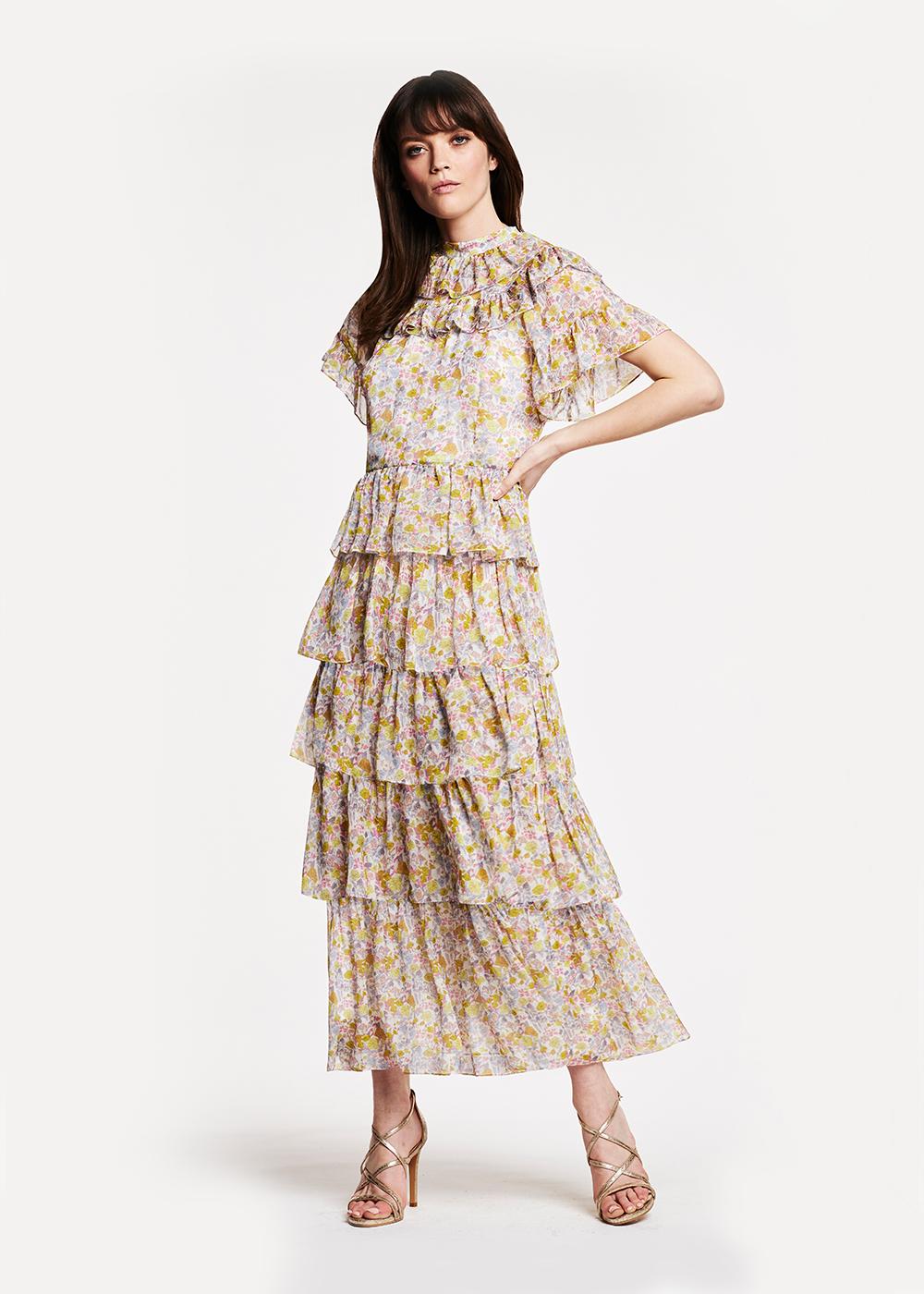 Our Liberty Fabrics Makers
A Chat With… Ridley London
A series celebrating the creatives who make our worldwide Liberty Fabrics community unique
Shop Liberty Fabrics
Across the globe @LibertyFabrics lovers are hard at work, creating a wide range of incredible designs that use our studio-painted prints as a canvas – here at Liberty HQ, we love to look at everything you've been making. In this instalment of the series we chat to Camilla Ridley about her Ridley London label, a bespoke womenswear brand based in Barnes, south-west London.
Can you tell us a bit about yourself and your brand?
I'm the founder and designer of Ridley London, a womenswear label specialising in creating semi-bespoke dresses, tops, skirts and blouses, all made to order here in the UK by our talented team of seamstresses. We use the most exquisite materials, working with traditional techniques as we believe this produces better garments which last longer. I set up Ridley in 2015 with the idea of making customised, individually-made clothing for women.

Because Ridley clothing is individually made to order, customers can choose any of our styles in their preferred print or colour and can have it tailored for their most flattering fit. This keeps our waste levels and carbon footprint to a minimum. Our dresses have been worn by a number of high-profile individuals, including HRH The Duchess of Cambridge.
What made you want to be a designer?
I've always had a passion for fabrics and fashion – in fact childhood trips to the Liberty store in London, and learning to sew and make clothing with my mother from the fabrics we bought there, were very formative experiences in my creative development! I was always fascinated by the impact clothes can make, and how they can transform or express something about the wearer.
Do you have a brand philosophy that informs your designs?
Individuality is at the heart of everything we do – at Ridley, we believe that everyone is unique and to look and feel their very best they need clothing that really flatters their unique body shapes, colouring and expresses their personalities and aspirations. I also believe that quality, craftsmanship and sustainability are fundamental to making clothing that people really love, that they want to wear time and time again and that lasts. We're all now aware of the true costs of fast fashion – and how important it is that as consumers, we adapt our buying habits to preserve our collective futures.
What does the Ridley team look like?
We have a small team of Ridley stylists, as well as a team of seamstresses all based in or near London. This enables Ridley orders to be turned around fast – we've been known to make VIP dresses for special events within a matter of hours. There is a small in-house marketing and design team, supported by brilliant freelancers and experts who we've worked with for years. I oversee all aspects of the design and development of the collections, managing the commercial side of the business with my husband Mark.
Why do you like working with Liberty Fabrics?
Liberty Fabrics are synonymous with the very best of British creativity and craftsmanship, and fit seamlessly with our philosophy and approach. The quality of Liberty silks and the unique prints are utterly exquisite and really help to make our dresses, tops and skirts feel very special.

I have so many favourite Liberty prints, but I do love Floral Symphony. I love the boldness and fluidity of the design and the exquisite colour combinations of the different colourways.
What inspires you creatively?
I'm hugely inspired by flowers and nature, which is probably partly why I love Liberty Fabrics so much. Above all I am enormously inspired by our customers, their individual stories and their often fascinating lives – creating made-to-measure garments sometimes feels a bit like being a hairdresser, in that you're providing a discreet personal service and over time you get to know and understand each person, and sometimes even become good friends. It's such a privilege to spend time with such lovely people, and to get to do something I really enjoy. I feel incredibly lucky.
Do you have a special Liberty memory you can share with us?
My mother used to take me up to Regent Street to visit Liberty, we would pore through all the fabrics and I could choose a couple for her to bring home. She would make me the most beautiful hand-smocked and hand-appliqued dresses from them.
@LibertyFabrics lovers – we always want to see your creations. Upload and tag us with #LibertyCraftClub, so we can see what you've been making – and maybe we'll feature your work in our next series instalment.