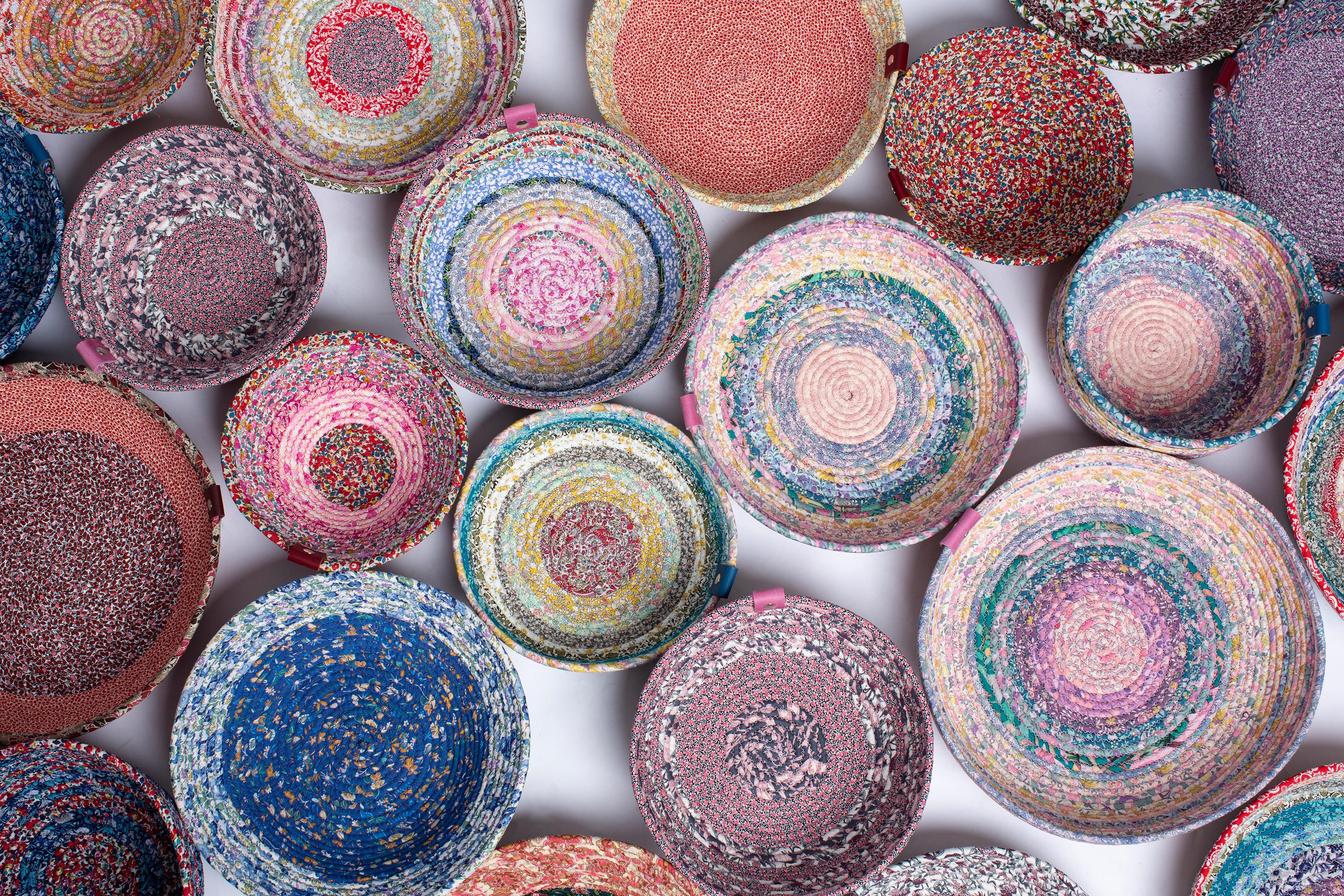 Our Liberty Fabrics Makers
A Chat With…
Betsy & Maude
Celebrating the global creative community of Liberty Fabrics Makers, united by a shared love of print
Shop Liberty Fabrics
The worldwide network of @LibertyFabrics lovers is a constant source of inspiration, combining imagination with unique talent and skill in their use of our iconic prints – and here at Liberty HQ, we always love to see what you've been making. In this instalment of the Liberty Fabrics Makers series, we chat to Vivien Hamilton of Betsy & Maude, a small independent British company based in the Pennines, producing Liberty print fabric bowls by hand.
Could you tell us a little bit about yourself?
I'm Vivien Hamilton, the creator of Betsy & Maude – a contemporary, design-led company with a nod of nostalgia. It has only been running for a few months, and my website has only just gone live. I can't believe the response – there are a lot of Liberty lovers out there!
I'm based in a remote 1840s barn in the beautiful Brontë countryside. I'm

so

lucky to be surrounded by all this stunning nature to inspire my work – the only disadvantage is when I run out of milk

or

tea, it's rather a trek!
What do you make?
I make handmade Liberty rope bowls. The first step is to entwine the natural, undyed, responsibly-sourced cotton rope with gorgeous fabrics – this process is very time consuming but quite cathartic, like I imagine knitting would be. It is then coiled and sewn on a sewing machine. This is very rewarding, as it grows right in front of your eyes.

There are a lot of similarities with mosaic work, in the lovely juxtaposition of colours and texture and pattern. I'm inspired by the wonderful patterns and colours of Niki de Saint Phalle, as well as adoring Kaffe Fassett.
Where does the name Betsy & Maude come from?
Liberty's Betsy print is so attractive, it's fun and serious at the same time. And my first friend to wear Liberty print was called Maude – she wore it from head to toe, I remember looking at her in complete awe as a child. It's also a very traditional name which fits beautifully with my brand. It reminds me of cream teas and floral dresses. I have always liked the poem Maud by Alfred Lord Tennyson too, with the famous line: "Come into the garden, Maud."
Do you work alone, or do you have a team?
I never work alone in the studio – Harris my Weimaraner is always there too. He loves the off-cuts of rope to play with, and I make him indoor frisbees out of any leftovers. Remarkably, his favourite is the Betsy one.

I also partner with other local artists who work in the studio (also with their dogs!) and they use my offcuts in their work so literally nothing is wasted. We will definitely need to take on some more help soon.
Is making by hand important to you?
I love handmade goods, and find it poetic that the artist is part of the finished product. Often so much of their style and personality go into their products – like looking at a painting and seeing the actual brushstrokes, or a stone carving and seeing the chisel marks. It can send a tingle down your spine.
Do you have a favourite Liberty print?
Obviously Betsy is one of my favourites, but I love the Chive B Green design on Tana Lawn™ too. It is so fresh yet at the same time timeless, and makes me dream of log fires and flower meadows simultaneously – because it's both winter and summer neatly in one print.
What's next for your brand?
Next for Betsy & Maude is the Spring collection, which will include a sensational Mother's Day bowl which I can't wait to launch. I'm going to be trying out some more shapes with handles too.

I would very much like to sell my bowls in some retail outlets as they are crying out to be touched and twirled, and they're so lovely to see in real life. Of course, the pièce de résistance would to see them on the shelves of Liberty!
@LibertyFabrics lovers – we always want to see your creations. Upload and tag us with #LibertyCraftClub, so we can see what you've been making, and maybe we'll feature your work in our next series instalment.