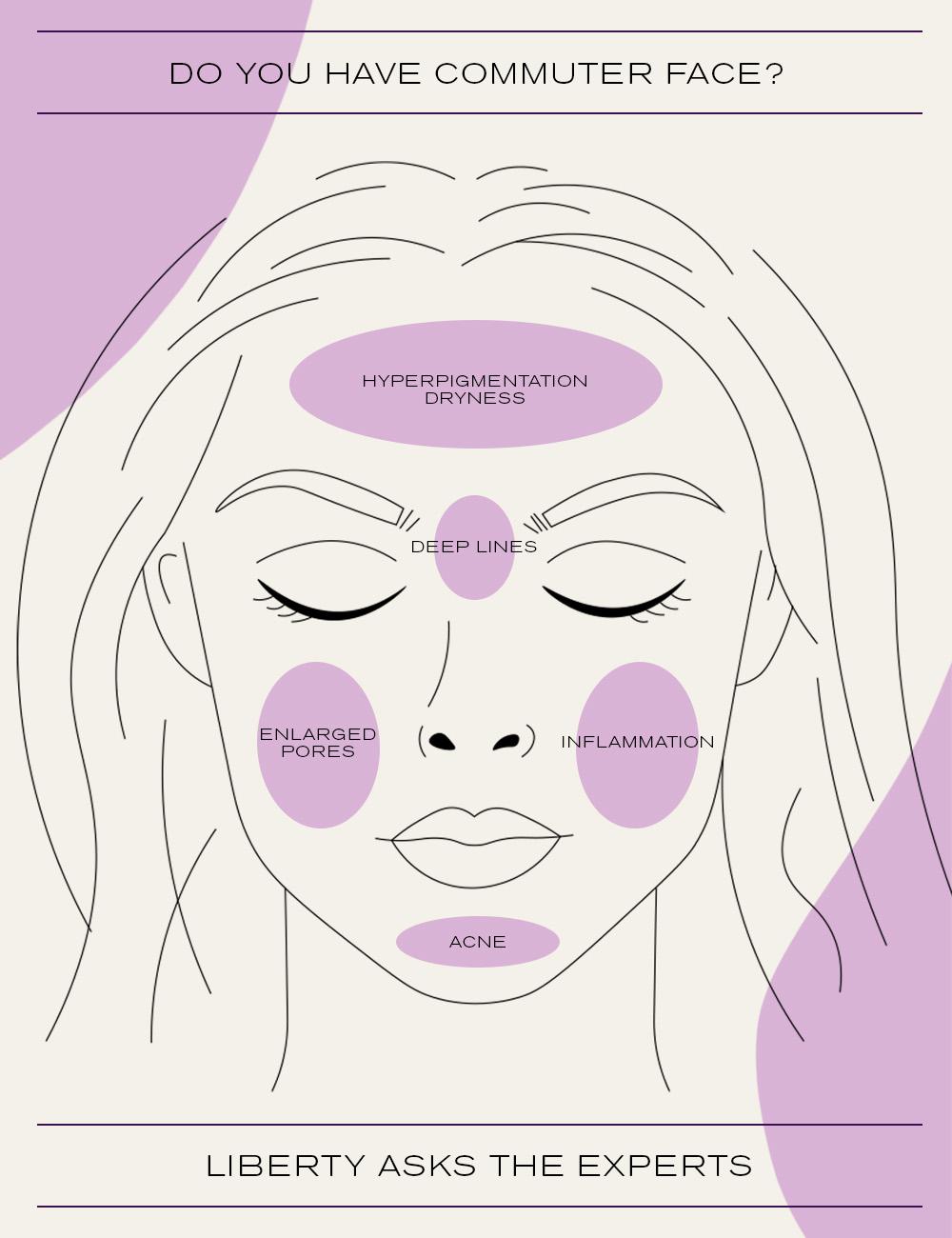 The Return of Commuter Face
No matter how you're travelling to and from work, it impacts your skin. Liberty asks the experts how to protect our skin during the daily commute
By: Laura Kennedy
The stress and humdrum of commuting are officially no fun at all. That doesn't even include taking the trouble of packing that salad you'll almost certainly end up rejecting in favour of a cheese toastie from the cafe round the corner anyway, but we should apparently also be worrying about how the daily commute impacts our skin. We know what Particulate Matter – tiny particles of pollution – and nitrogen dioxide in the air are bad for our general health, but pollution is also impacting our skin. In London alone, pollution concentration is up to 20% greater during the working week than it is during the weekend. Is commuting making us look older and more tired? Liberty asks the experts how we can best protect our skin during that unavoidable commute.
Dermatologist Dr. Dennis Gross, founder of <Dr. Dennis Gross Skincare, says that on the average tube commute "pollution exposes our skin to free radical activity." We're all familiar with this term, but what are free radicals? Gross describes them as "compounds that destroy skin by poking darts in collagen and elastin structures, which are the building blocks of skin and the key to keeping it healthy and vibrant looking. Eventually, free radicals corrode these building blocks." London-based dermatologist and skin expert Dr. Beibei Du-Harpur says studies indicated that "being in underground tunnels, in carriages with open windows (exposing the interior to the heavily polluted tunnels) was worse than being above ground", as anyone who has washed their face after a Victoria line commute might have guessed.
Your Train and Tube Commute Skin Kit
If you're debating whether to travel by bus or car, Dr. Gross says it doesn't really make much difference to your skin. "While choosing to take a bus versus driving yourself may have overall benefits for the environment, there isn't too much of a difference in congestion and UV exposure. UV rays can penetrate windows", he suggests, so a good sunscreen is crucial either way. Dr. Gross does have one handy hack for bus commuters on sunnier days, though – "try to sit on the opposite side of where the sun's rays are strongest to avoid direct sunlight exposure. This is an option you don't have if you are driving a car." Dr. Du Harpur says studies attest that "those in cars experienced less particulate matter exposure because they were generally less exposed to the polluted air outside compared to buses", but that sitting in traffic congestion isn't good for our general health either way.
Your Bus and Car Commute Skin Kit
The Short- and Long-Term Skin Effects of Commuting
"The short-term effects are nearly invisible ", says Dr. Gross. "You may see a loss of radiance, inflammation and dryness as a result of damage to the moisture barrier." It's only over time that skin shows the effects. "Long-term free radicals exacerbate skin ageing resulting in deep lines, chronic dryness, hyperpigmentation, enlarged pores and skin cells under oxidative stress." Dr. Du-Harpur advises that inflammation is key to damage over time – "pollutants have been shown to activate inflammatory pathways in the skin… leading to oxidative stress. It is thought they could contribute to chronic inflammatory skin diseases such as acne and eczema and is associated with accelerated skin ageing. It may also trigger pigmentation."
There is an upside –we can take steps to protect our skin from the stressors we face on the way to and from work. Dr. Gross advises that "Antioxidants and sunscreen should be part of your daily routine to protect your skin from your everyday encounters with free radicals. The best part is antioxidants like vitamin c not only protect you from collagen and elastin degradation, but they also help stimulate your own production of collagen. Vitamin C specifically prevents and corrects fine lines and wrinkles and discoloration which are all exacerbated by free radical exposure." It's essential to fight the war on two fronts, though, he says. Antioxidants are key, but SPF is no less important.

Dr. Du-Harpur says that keeping your skin barrier strong to minimise absorption of particulate matter through the skin is advisable too. "Using a gentle cleanser and barrier-supporting moisturiser, and minimising irritation are key. A rinse-off cleanser is also recommended to help remove pollutants from the skin at the end of the day", so washing your face when you get home in the evening is a good idea.
The Other Ingredients to Prioritise
"Vitamin C is one of my favourite ingredients and one of the most commonly recognised antioxidants", says Dr. Gross, "but there are other great ones like niacinamide, vitamin A, ferulic acid and green tea." He suggests opting for heavy-hitting formulations which combine multiple antioxidant ingredients to give your skin the best possible protection.