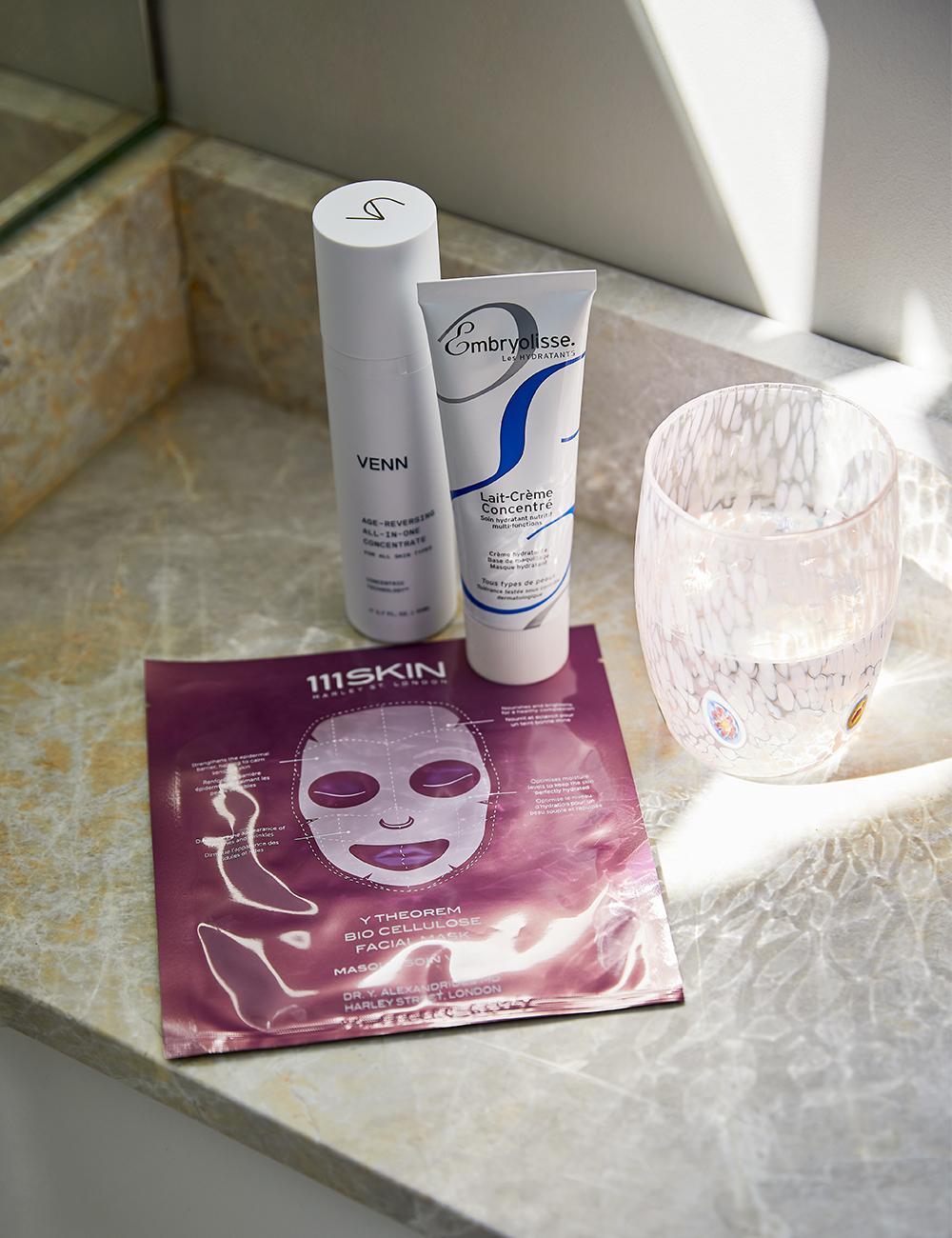 How to Remedy Hungover Skin
Mistakes were made. We didn't drink enough water. Somebody finished all the mince pies. Liberty brings you the essential guide to dealing with morning-after face this party season
By: Laura Kennedy
This year, we have no intention of avoiding party season. We're participating, and joyfully. It's a 'yes' to mince pies, seconds of stuffing and that glass of champagne, please. However, 'hangover face' is very much a real phenomenon. We've all been there. You awake looking dull, puffy-eyed and every bit as though you did not get the recommended eight hours. You regret nothing, but you'd prefer all the fun you had didn't take the form of a tired face. Never fear! We've asked the experts what we can do to minimise hungover skin and – let's be honest – tackle the effects of the occasional night-before indulgence.
Consultant dermatologist Dr. Emma Wedgeworth, based at Harley Street's Dr. Sam Bunting Clinic, confirms what we feared – that party season indulgence "can play havoc with the skin. The combination of sleep deprivation, alcohol and sugar can be a triple threat, causing dryness, dehydration, blemishes, and inflammation."
According to cosmetic doctors Dr. Wassim Taktouk and Dr. Christine Hall of the Taktouk clinic in Knightsbridge, dehydration is the source of that unwanted puffiness. "You're not only losing water but some essential vitamins and nutrients like vitamin A which are vital to optimal skin health. When you are dehydrated your body works to hold onto water by storing what it can in your vital organs and skin - making you appear bloated and puffy." But are there other manifestations of dehydration in the skin? Yes – "sunken eyes, lines and wrinkles, dry lips and a dull complexion." Welcome to hangover face.
Can You Prevent Hangover Face?
Yes. We're aware that staying home and playing scrabble with a pot of tea before going to bed at ten has a one hundred percent hangover face prevention success rate, but if we are having a seasonal drink or two, what will help mitigate the consequences for our skin? Cut out skincare with active ingredients for a day or two before your night out, advise Drs Taktouk and Hall. "Acids and retinols primarily, as these can sensitise the skin. Maximise hydration and do a sheet mask before you get ready."

Alternating glasses of water with your alcohol is important, but not always sufficient to hydrate the skin, says Dr. Wedgeworth. Once you get home from the festivities, "you also need to make sure you're using the right products. Remove all your make up with a gentle cleanser or micellar water, then for extra hydration try a repairing serum layered underneath rich moisturiser with ingredients like niacinamide, ceramides and shea butter." In other words, the full arsenal of skincare weaponry should be deployed.
The Morning After the Night Before
It's happened. We're awake. We're puffy. We're dehydrated. What now? Rehydrate, advise Drs Taktouk and Hall. "Small sips of water throughout the day make it more tolerable". It's also helpful to "avoid carbonated drinks and chewing gum, which will make bloating worse". The old trick of fridge-cold spoons to soothe puffy eyes may help, and "to avoid worsening broken blood vessels make sure the water you are using to wash your face isn't too hot."

If you awake with sensitised, red or irritated skin, they suggest "focusing on ingredients that are nourishing and comforting", like hyaluronic acid. "Avoid harsher actives like exfoliating acids and retinols for a few days - you don't want anything that is going to aggravate the skin further."

Was it worth it? Yes. Were we the ones who finished all the mince pies? Yes.