More Than a Store
Handmade Stories: Meet the Makers
An ode to our makers: the artisans, crafters and creators behind Liberty's homeware brands set to transform your home into a handworked haven
By: Charlotte Olby
At Liberty, we are dedicated to procuring and sourcing not only the most hot-off-the-press brands, but are devoted pioneers of people, too. Every product has a story to tell, and each brand has its own artisan at its core, ready to be celebrated within our Tudor halls – that is what truly makes Liberty More Than a Store.

Read More: What Makes Liberty More Than a Store

Our tastemakers (the Liberty buyers) discover brands from across the world to curate for you, dear reader, the freshest new talent in interiors, from experimental artisans to courageous changemakers and progressive innovators. This is a space for showcasing artisans and their unique processes – tracing the lifespan of a brand. Whether it's the maker's distinctive style, the inspiration behind its origins, or time-honoured techniques, there is one common thread between the brands that live in our homeware halls: a shared enthusiasm for their craft that produces vastly differing results, offering a wealth of inspiration to excite your own creative instincts. Get ready to meet our makers.

Read More: Meet the Makers: Tiipi Founder, Spandana Gopal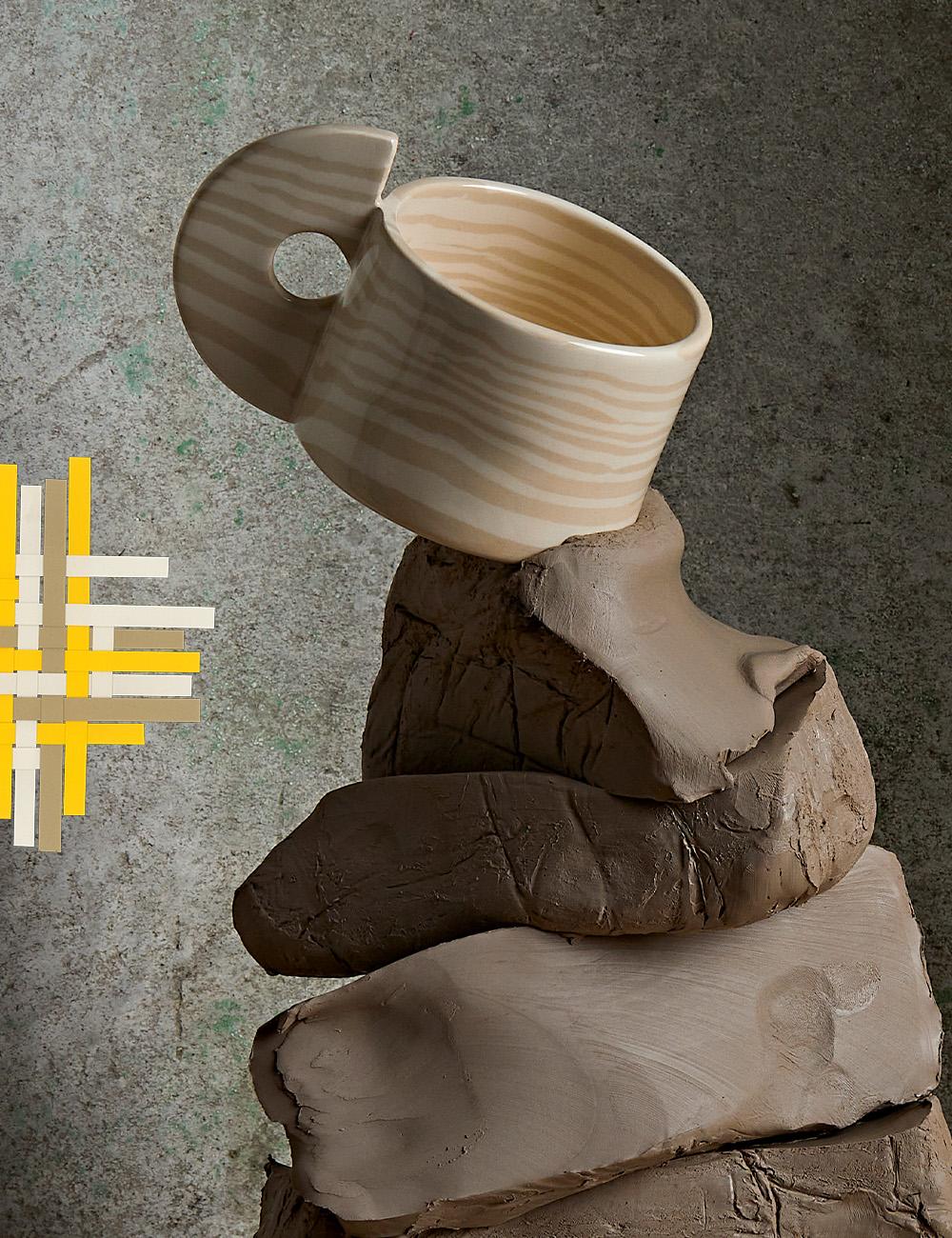 In the Studio with… Henry Holland Studio
Meet the Makers
It was during the early stages of lockdown that Henry Holland, famed designer and former Creative Director of House of Holland, really started to promote his new ceramics via Instagram, sparking the idea to set up his own namesake studio. Originally coming to pottery as a creative outlet after winding down from House of Holland, the calming art of creating continues to be a rewarding form of self-expression for Henry. Launching officially in April 2021 – and with the first collection selling out within 48 hours – Holland made his ceramics debut in Liberty with a bespoke colourway in May 2021, and the rest, as they say, is history.
The Creative Process
Not tending to plan his pieces, what Holland loves most about pottery is that you can experiment as you go, creating different shapes and forms, experimenting with glazes and techniques to find what works and what doesn't. Some of his favourite shapes have been formed from 'free styling', leading to the creation of new vase styles, tableware pieces and expanding into new colourways and patterns, such as his checkerboard design, beloved on Instagram. Collaborating with a range of British brands and artisans, Holland has been able to continue his playful aesthetic into glassware, rugs and lighting, too.
Honing a Craft
Each and every Henry Holland Studio piece is built by hand in the brand's Hackney studio, where regular ceramicists work alongside Holland to keep up with demand. The brand's signature aesthetic is a personal take on the hand-built Nerikomi technique, which uses different coloured clays to create patterns within the body of the piece, rather than hand-painting or glazing. Having stumbled across this technique on YouTube, Nerikomi presented the best solution to taking up ceramics at home, sitting at the kitchen table, without the need for 'throwing' at a wheel. The technique itself involves the slow method of stacking, folding and rolling differently brightly coloured clays into slabs which are then hand-moulded into different forms. Due to the hand-made nature, each piece is completely unique.
In the Studio with… Hadeland Glassverk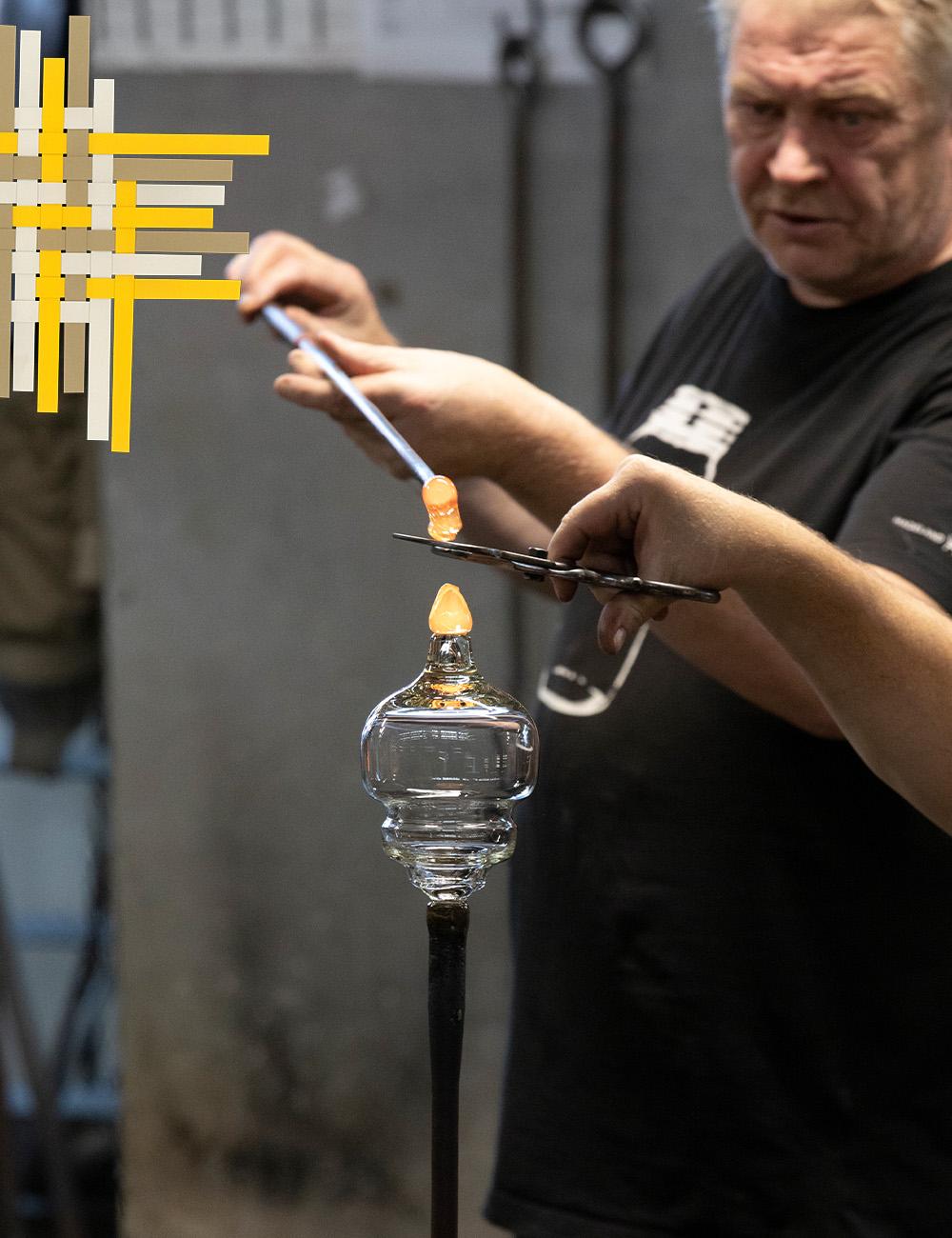 Meet the Makers
Based just outside of Oslo in a beautiful Nordic setting, Hadeland Glassverk have been expertly manufacturing glassware for over 250 years. Hadeland is Norway's oldest industrial company still in operation today and has been producing premium glassware for homes since 1762. Based in Jevnaker, surrounded by the idyllic landscapes of Lake Randsfjord, the factory that once supplied apothecary glass for medicines, has become a maker of beautifully crafted functional designs, fit for the contemporary home. Alongside a strong Norwegian aesthetic, each design is progressive but still respectful of the brand's long history.
The Creative Process
All glass blowing takes place at the brand's home on Lake Randsfjord, where they have maintained production since their founding day – and the furnace is always on. All their pieces, tableware, drinkware and lighting are handmade, mouth-blown by skilled craftsmen and women who lovingly make each piece. Complex techniques are used to grind the crystal by hand, colour glass and form the molten material, which can be viewed first hand in the factory, as they welcome the design community to visit and experience the historic environment via tours of the site.
Honing a Craft
With the brand's rich history embedded into its DNA, each Hadeland piece is made using time honoured techniques to deliver bespoke art glass and tablewares. The 'Finn' pattern is one of their oldest designs, and appears on everything from stemware to crystal globes. It says so much about the detail and handcrafted nature of Hadeland's designs, while speaking to a time when crystal was decadent, and pattern was embraced. It epitomises the sheer skill of our craft and truly is cut glass – created by hand grinding each object to complete an engraved pattern on the crystal.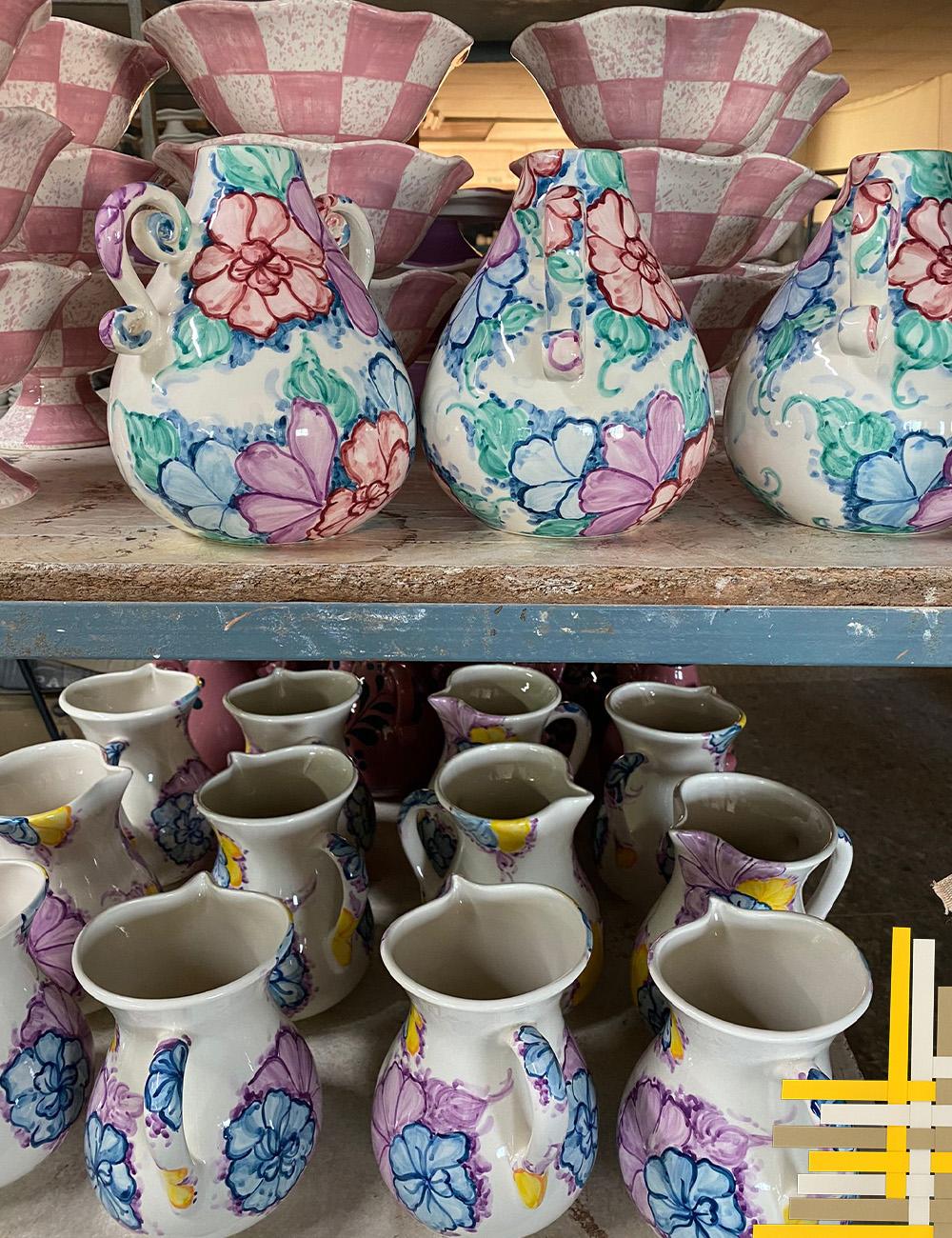 In the Studio with… Vaisselle
Meet the Makers
Dreamt up by fashion-turned-tableware designer Léa Zana, Vaisselle is a tableware brand built from a desire to animate mealtimes during the now-infamous lockdown. Having studied Fine Art in Paris, and inspired by her childhood memories in France, all pieces are designed by hand using watercolour and pens in her home studio in London – sticking to the same rules of working: no computer, no mood boards. After all, you can't 'pin' a memory.
The Creative Process
Zana caught the ceramic bug from her grandmother who loved scouring flea markets for quirky objects, taking her on 'hunts' almost every weekend. Each Vaisselle collection is fuelled by a love for her grandmother and their memories spent together in the South West of France – her attic filled with vintage pieces, her home laden with gingham and ornate striped lounge chairs, and the garden blooming with all varieties of flowers. She grew up during World War II so making the most of small daily moments was her way to escape reality, and this sentiment is very much the essence of Vaisselle.
Honing a Craft
After nailing the inspiration behind each vibrant, mismatched collection, Zana turns to a husband and wife duo in the South of Spain to lovingly hand craft each piece. A small family-run business, the team of two work together in a slow process. The husband shapes the clay while his wife hand paints each design onto the ceramic, never using stencils or decals so that every piece is entirely unique, taking a minimum of eight weeks from sketch to finished product. They work with ancient techniques; using white local clay, lead free paint and natural pigments and drying each piece in the Spanish sun in order to truly respect traditional craftsmanship. Zana wouldn't have it any other way.
In the Studio with… Feldspar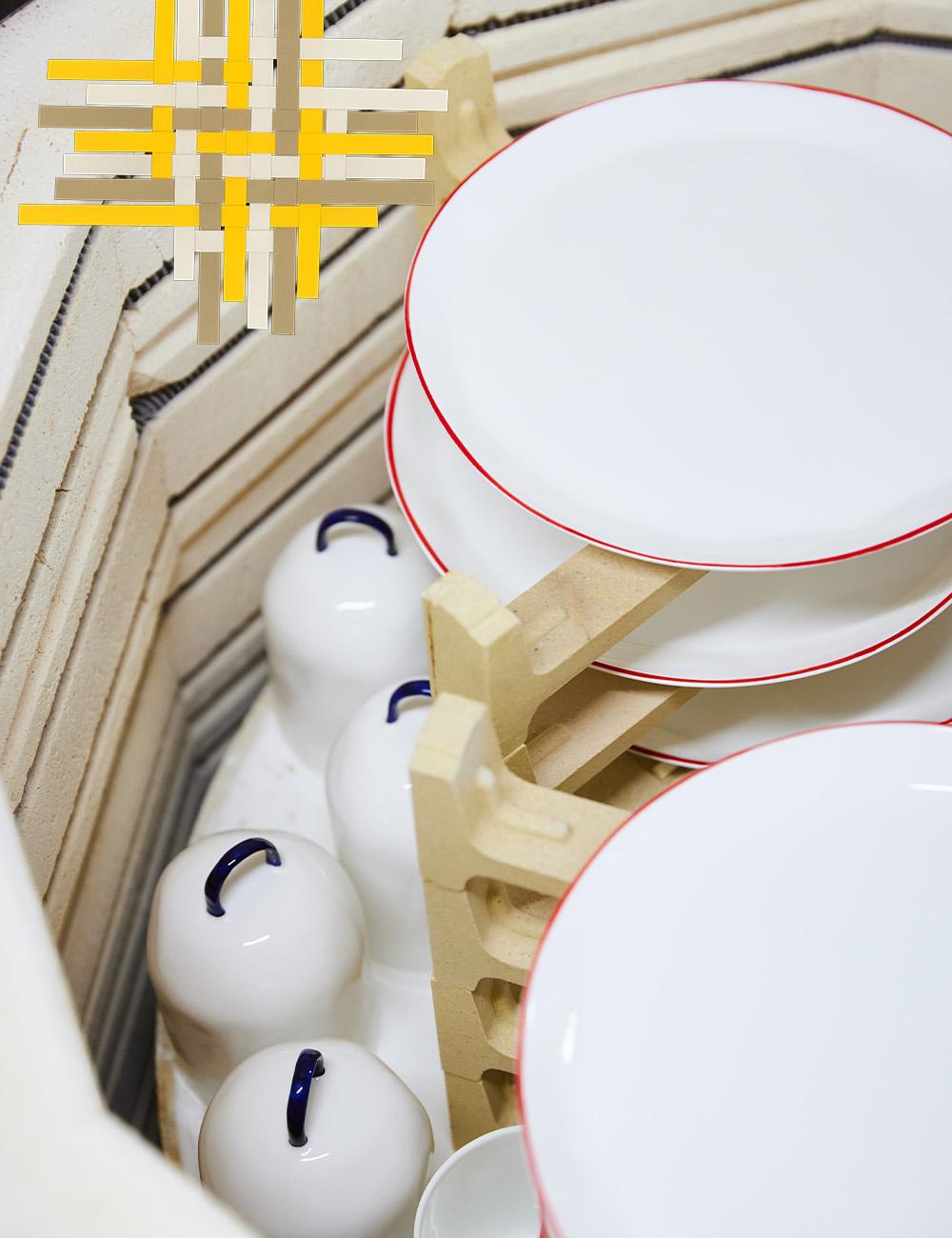 Meet the Makers
At the end of a bumpy track on the north edge of Dartmoor lies the home of Feldspar. A world away from founders Cath and Jeremy Brown's previous lives in London, the couple decided on a whim to up-and-leave their careers and move to Devon in search of space and a slower pace. Set on the idea of making items needed for their new life, they bought a pottery wheel and taught themselves to make ceramics using old books and rather patchy wifi. When the demands to host a family Christmas pushed them into making a 20-piece dinner set (and the table it sat upon), the idea for Feldspar started to form.
The Creative Process
Named after the abundant mineral found in granite that gives ceramics and glass their strength, Feldspar has grown (quite literally) from the ground beneath their feet. Starting with their first make, a 7oz coffee cup in 2016, and since expanding to include standout pieces like the tall and graceful French press-inspired cafetiere and a simple butter dish that pays homage to the couple's grandparents' backgrounds in dairy farming, all pieces are sealed with the same ethos in mind: to make beautiful things properly, by hand, using traditional methods. The starting point for new products always starts at home; from windy walks on the moors, their dog Bernie or an illustration in one of their children's story books. Creating 'objects for life' – to be used, and made to last.
Honing a Craft
At the beginning of their story, Cath and Jeremy worked solely with a family-run pottery in Stoke-on-Trent to imagine their contemporary vision of heritage objects using traditional blue and white china. Nowadays everything is made in England, with clay sourced from Cornwall, and paper for packaging milled in the Lake District. They make their tactile ceramics using the age-old method of slip casting in a process that takes time and patience. In 2018, they set up a workshop close to home to allow Feldspar to expand their skilled team of craftspeople who, out of two studios, hand paint all their ceramics on site in an old cider farm. Next on their list? Designing and building their own home, surrounded by workshops that champion heritage crafts such as metalwork and glassblowing, creating something of a maker's paradise.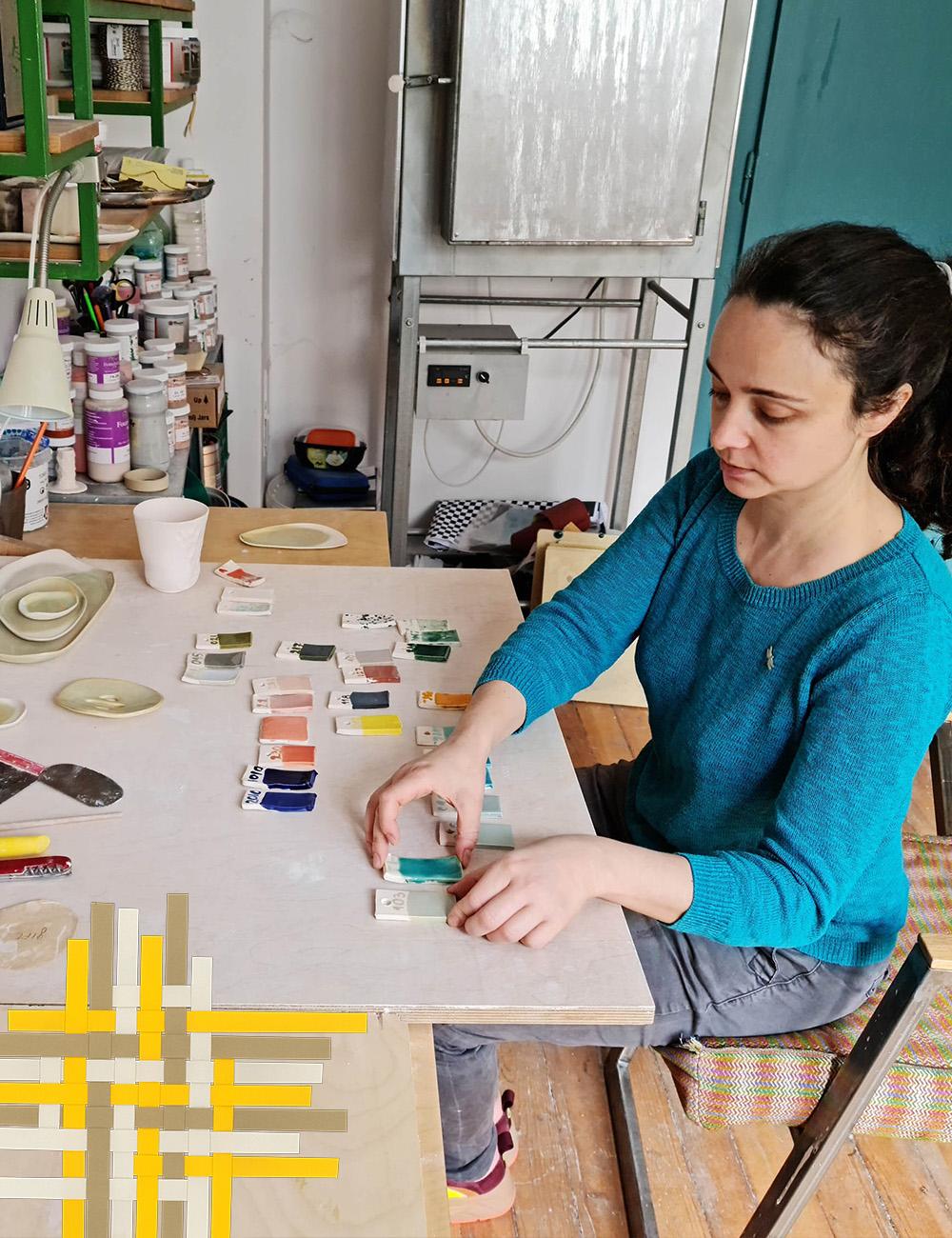 In the Studio with… Pottery & Poetry
Meet the Makers
Bringing their creative passions together, Bulgarian childhood friends Maria Baleva (Mimi) and Zornica Genova (Zory) founded Pottery & Poetry in 2020 – two friends who took their passion for pottery, sat down over dinner and turned it into a business. Mimi, the 'maker', started her career as an architect and embarked on this journey with nothing more than a temptation for pottery as a way to escape boredom and complacency. Zory, who writes the poems that complement each ceramic piece, was a lawyer in her previous life but longed to increase her time in "the art zone of life".
The Creative Process
The aim of Pottery & Poetry is to create objects and thoughts that not only inspire their team of creators, but others, too. Finding the perfect balance between form and function, their ceramics are hand-made with free shaping, working closely with talented artisans to expertly craft pieces that are destined to celebrate imperfections - sneaking some art into our everyday routines. Considering themselves modern and imaginative, the pair are not afraid to draw inspiration from the abundance of ceramic legacy inherited from traditional Bulgarian artisans. Old patterns are reinvented, ancient techniques rediscovered and all materials chosen are rooted in customs and culture, sourced locally in Bulgaria.
Honing a Craft
Using white porcelain and food safe glazes, they burn the ceramics at 1200 degrees celsius to create a clay that is durable enough for everyday use. Each Pottery & Poetry item travels through multiple sets of hands before the clay is transformed into a piece of art – their team hand-build, dry and retouch each item ready to be bisque fired in the kiln. From there, it is sanded, smoothed, hand-glazed and fired once again. Aiming to 'make the boring beautiful', the duo work closely with local artisans who form organic shapes by reinventing historial Bulgarian techniques.
In the Studio with… 1882 Ltd.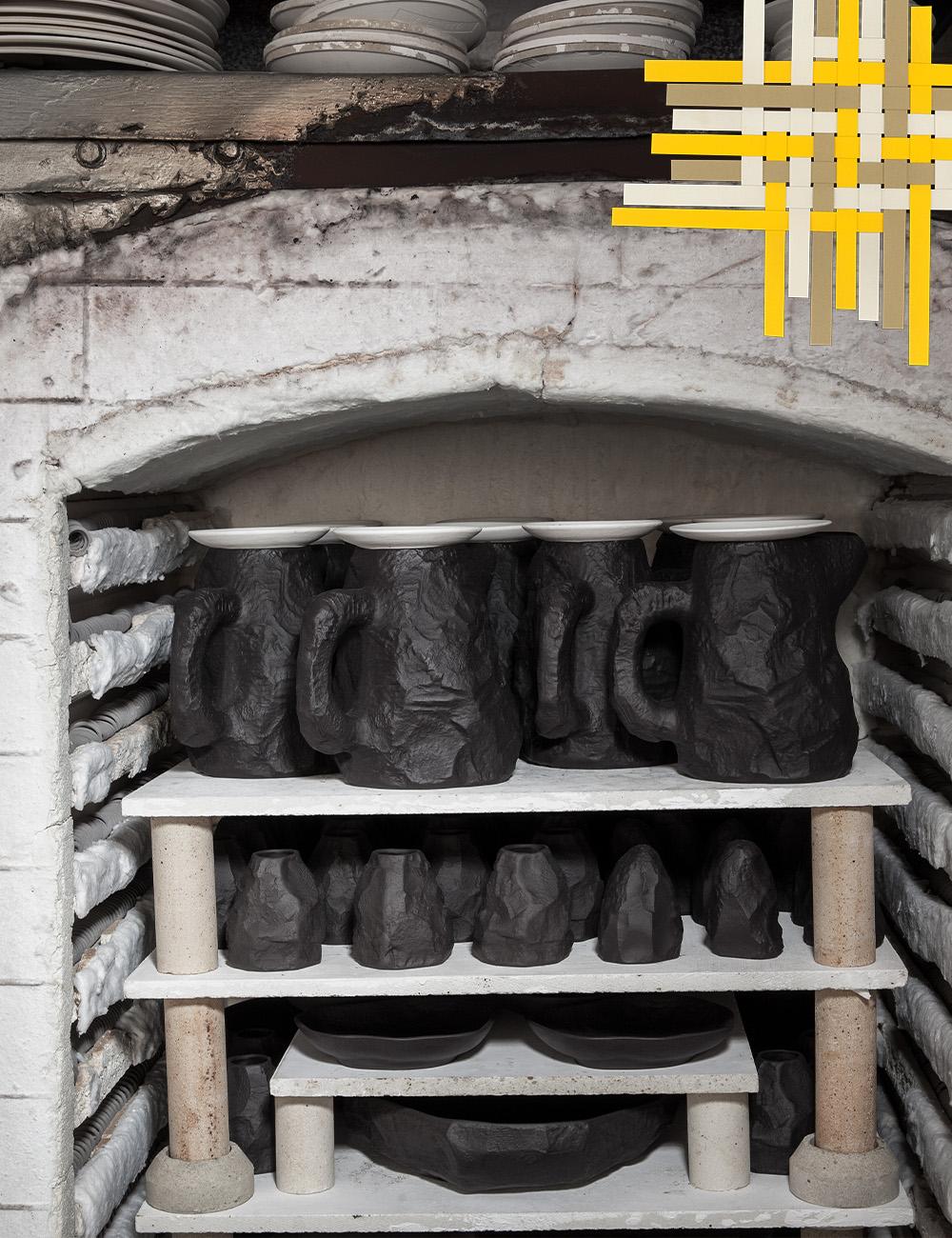 Meet the Makers
Focussing on progressive design, industrial craftsmanship and the beauty of ceramics, 1882 Ltd. founder, Emily Johnson, is a fifth-generation ceramic producer who works to champion up-and-coming designers. At the core of 1882 is the desire to celebrate the rich heritage of the British ceramics industry and the brand's home in Stoke-on-Trent. Their latest collections include pieces developed in partnership with designers Bethan Gray, Max Lamb, Deborah M Allen, Peter Pilotto and Bethan Laura Wood, all available to shop at Liberty.
The Creative Process
With the help of her father Chris Johnson, who has a lifetime of experience in pottery, Emily works tirelessly to create ceramics made to be used, loved and desired, collaborating with pioneering artists and designers to create works of art, as well as tableware. The key to these partnerships is the quality of communication and collaboration between the artisans. Now approaching their tenth anniversary, 1882 Ltd can be credited with giving the British ceramics industry a much needed reboot, flying the flag for British pottery.
Honing a Craft
Each collaborative collection is made using centuries-old traditions in Stoke-on-Trent, better known as one of the "Five Towns" that make up Staffordshire Potteries, the heartland of the country's fine china industry. There is incredible skill in everything they produce, with no less than ten steps required to make a mug. Blurring the line between designer and craftsman, London-based designer Max Lamb uses the tools of a stonemason to carve each piece from solid blocks of plaster, while Bethan Laura Wood invites us into the world of hyper realistic ceramic replicas where decorative figures have been crafted using a slip lining technique. Each designer's process is as unique as the objects they produce.