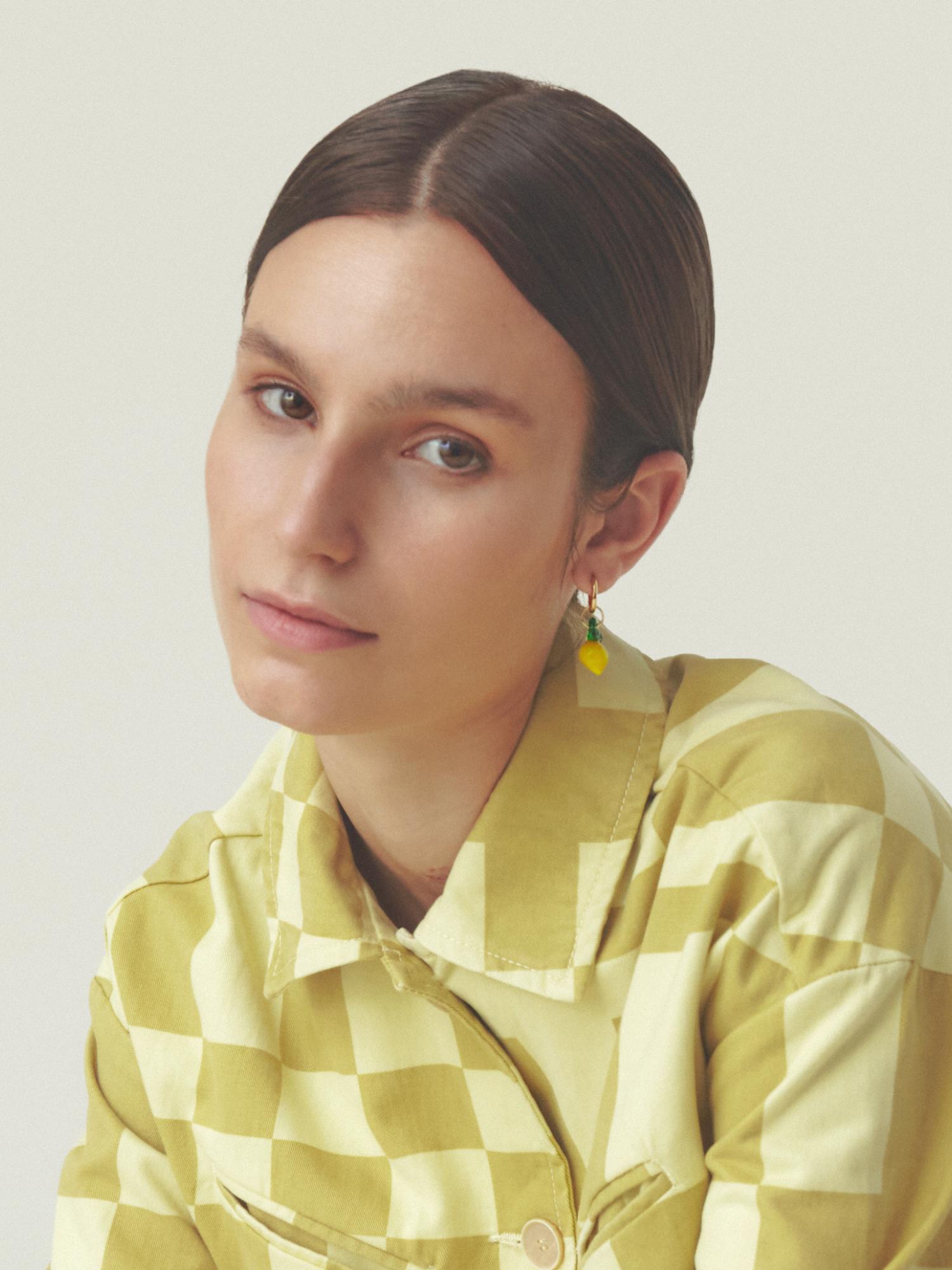 Latin Charms
Sandralexandra
London-based designer Sandra Barrio Gonzalez on how her honeymoon in Japan planted the seed for her eponymous jewellery brand
Shop Sandralexandra
After stumbling across some glass chilli beads at a pearl shop in Japan, Sandra Barrio Gonzalez started mocking up designs for a creative jewellery collection that draws on her everyday life. Handcrafted by local artisans near her family home in Spain, Sandralexandra's necklaces and hoop earrings are embellished with playful lampwork glass charms, inspired by everything from fruit and veg to beach pebbles and sea glass. We spoke to the London-based designer about how her passion for jewellery evolved from a hobby into a career, and then her own fully fledged business.
Have you always had an interest in jewellery?
When I was 14 , I started making very simple beaded necklaces for my mother and my aunts. Then I just kept on making pieces for myself. I never thought I would have the courage to have my own brand so I have always worked for other jewellers. I was working as a business developer for fashion and fine jewellery brands and in my spare time I took courses in different jewellery techniques at Hatton Garden. After my trip to Japan I made a couple of pearl and glass earrings for myself. Then a few friends asked me to make some for them, then friends of friends and it all started snowballing from there.
What was it about your trip to Japan that inspired you to start Sandralexandra?
I went to Japan on my honeymoon at the end of 2018 and I really wanted to buy some freshwater pearls as I knew that Japan had a big market for them. My husband and I were sitting in a bar in Tokyo and ended up chatting to this amazing woman whose mother happened to make jewellery and knew exactly where I had to go. She put a pin on my Google Maps and I managed to convince my husband to go the next day. After one hour of walking, thinking we had been tricked and a very despaired husband, we arrived at this hidden gem full of freshwater and amazing colour-dyed pearls. While rummaging through all sorts of beads, I also found incredible glass red chillies. That night in our hotel room I started drawing and mocking up earrings with the beads I had bought and that was it - the start of Sandralexandra.
How did you get the brand started?
Through wearing my designs, supportive family, friends and acquaintances and by opening an Instagram account. The first year I was solely selling via Instagram! But of course my background in jewellery and business development helped massively.
How would you describe your aesthetic?
Playful yet elegant, spicy and fruity, timeless. My Instagram handle reads 'Sandralexandra is your Latin side coming out to play'.
Sandralexandra

is my

creative project

where

I capture nature

and

everyday life

by

working

with

natural materials.
Can you talk us through your creative process?
It always starts the same - with pencil and paper and lots of colouring in. I transfer the drawings to my laptop and start playing around. Then I send the designs to my suppliers who will reinterpret the drawings and bring them to life. Currently all our communication is via email and WhatsApp. There's a lot of back and forth as many times my designs are not suitable for lampwork glass or the colour that I want may be too difficult to make. But that's part of the process too and helps push me creatively.
Most of your inspiration comes from your daily life – can you give some examples?
I know it sounds like a very vague answer but the truth is that I do just draw inspiration from my everyday life - from what I eat, see, feel, read etc. For example we have this plant at home with seeds shaped like miniature pomegranates. As a joke I hung them from my hoops and loved how they looked! So I sent a pic to my Spanish suppliers and asked them to make one with the same proportions, but with an orange trim to make it more obvious as it's a very teeny tiny piece.
Would you say your designs are influenced by your homes in both London and Spain?
Definitely, a nice mix of both. Although sometimes I don't know whether my jewellery influences our home style or the other way round!
SHOP NOW
Can you tell us about your studio?
My home studio is painted in a very pale yellow as the colour psychology of yellow is uplifting and inspires creative thinking. I'm very into colour psychology so every room at home has a different colour. There's lots of plants to bring a bit of the outside inside and a wall covered in pictures with colourful frames. Another wall has become my mood board where I can pin all my cut-outs and drawings and my latest addition is a two seated sofa. I wanted to create a separate space to welcome meetings in a more relaxed way now that lockdown has come to an end.
How did you build your network of local artisans?
It happened very organically. At the beginning I was working with a small supplier in Japan who I met on my honeymoon trip and with local casters in Hatton Garden, London for my gold-plated pieces. Then I got very lucky - I had a feature on Harper's Bazaar Spain and the day after I got an email from my current suppliers in Barcelona who happened to have their studio just 20 minutes' drive from my parents' home! We work incredibly well together. I always think that it was meant to be.
The Groceries necklace

has been

my favourite since

the

start

as it's the

piece

that

brings together

all

my favourite fruits

and

veggies

in

one.
What made you choose lampwork glass as one of your core materials?
This happened organically too. Sandralexandra is my creative project where I capture nature and everyday life by working with natural materials. I took several courses to learn and understand how to work with different materials such as glass, silver, bronze, wax, resin, clay, and even Perspex. Those courses and my previous experience helped me choose natural materials as my core ingredients.
In what ways does sustainability influence your brand?
By only working with natural materials and local artisans, I am heavily focussed on sustainable practices and supporting small suppliers.
Do you have a favourite design from your collections?
The Groceries necklace has been my favourite since the start as it's the piece that brings together all my favourite fruits and veggies in one.
What's next for the brand?
Next is glass rings. We have been working with a new glass that's more suitable for rings as its stronger and melts at higher temperatures. They will come in many colours and will be a great addition to our earrings and necklaces.