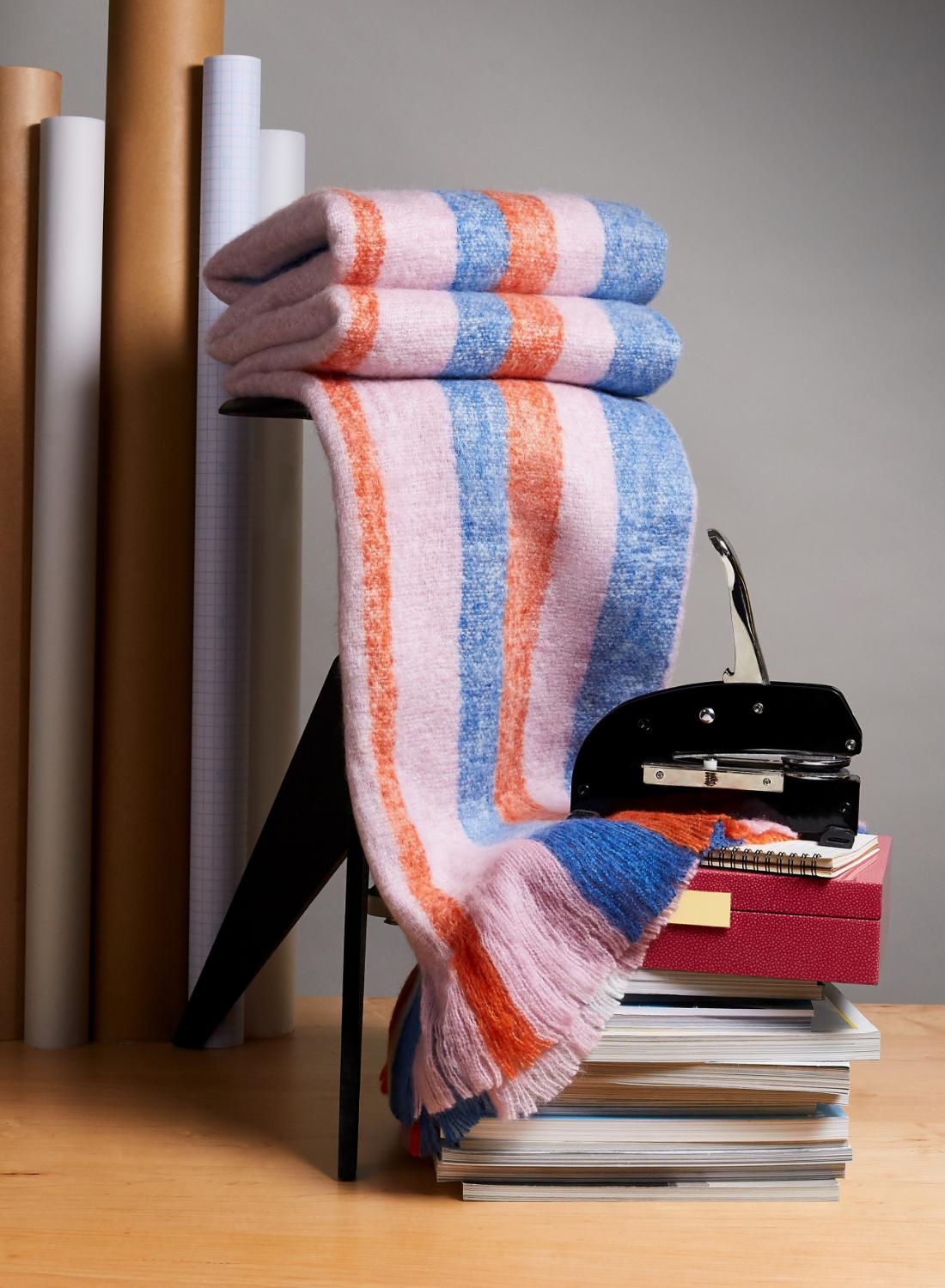 Beauty by Design
Archive New York
We talk to Brooklyn-based founder Amira Marion about giving new life to time-honoured craft techniques
Shop Archive New York
Archive New York founder Amira Marion is centring traditional textiles – and the global artisan communities that keep them alive – with her boldly printed interiors. From Guatemala to India, the Brooklyn brand's inspirations and mission look to protect historic crafts from extinction, working directly with the craft cooperatives that have made them an artform. Here, she takes us inside the longevity-driven process and working relationships that have brought her coveted cushions and throws into being.
How did you get into textile design?
I studied Fashion Design at Parsons in New York and there I became super inspired by indigenous textiles from around the world after doing some research design projects. I have always loved colour and pattern, and found a focus in textiles was really up my alley. After a couple stints in clothing design post-graduating, I found myself doing freelance print design and was very happy with that. When I started my company it felt natural to keep things simple and focus on the textiles, instead of doing a full-on clothing line. The width of the looms the women use in Guatemala also helped dictate that – they only weave fabric as wide as the width of their hips! Perfect for pillows and home textiles.
How would you describe your style?
Maximal, colourful, eclectic and vintage inspired.
What are your main sources of inspiration?
Years ago, I made a binder full of photos of antique and vintage Guatemalan textiles and I always go to that when looking to design new products. It's never-ending inspiration. Especially the 1960s and '70s in Guatemala, when weavers were using bright, colourful palettes, and used the old style of threads that aren't around anymore. Lately, I keep coming back to the art of mid-century Guatemalan artist Carlos Merida and his prints on regional dress in Mexico and Guatemala. The colours, the graphic design, everything about them is perfection.
What is it about Guatemalan textiles that you're most drawn to?
The variety! Each village has its own distinct huipil (shirt) woven with a specific pattern and technique, which is what we base our textiles on. Each village can do their own design and weaving or dyeing technique so well, learned from a young age, and often can't replicate what's being done in the town a mile over. This creates an exciting challenge for me – the more villages we can work with the more designs we could make.
I

f

I don't set aside time

to

design

it

will never happen. I

go to my

binder

of

antique Guatemalan textile images

and

search

for the

village

that we are

working with

and

just feel

it

out.
Can you tell us about your creative process?
If I don't set aside time to design it will never happen, as the boring stuff takes over. So, when it's design time, I go to my aforementioned binder of antique Guatemalan textile images and search for the village that we are working with so we can see if any old patterns pique our interest. I'll pull out our bins of thread colours from different catalogues and let them dictate the direction (as they are often quite limited!). I just feel it out – which pattern, which colours, the scale, what I need to change, and the designs come together. I often peak at images of art or nature which can give me a further boost of inspiration.
How do you source your materials?
There are a few main thread companies in Guatemala that we buy thread from. But whatever is easy is never enough for me, so we are always searching for new threads. In the antique textiles you would often see silk thread, especially in ceremonial pieces. When synthetics became popular in the 1960s, the silk became less in demand and disappeared. Of course, I had to source some in the USA and mule it to Guatemala, replicating the quality to be as identical to the old style as possible. That's just one example of the hoops we've jumped through to find quality materials.
Tell us about the artisan community you work with.
We actually work with many, many artisan communities! About 20 across Guatemala, Mexico and India. We work on super-specific dyeing and weaving techniques native to those places so it's imperative that we work in many different locations. Some are part of Non-Profit Organisations, women's cooperatives or family weaving businesses, and others are just independent artisans that we directly connect with and work with.
Why is ethical craft so important to you?
When you find something so beautiful and then realise it's endangered, or worse yet, already vanished, how could you not be passionate about it?
How does your brand philosophy reflect this?
Resurrecting vanishing patterns and continuing the lineage of specialised weaving and dyeing techniques is our main design mission. This also includes working with plant dyes, like indigo, turmeric and palo de brasil. Paying fair wages and working as sustainably as possible is something we have always had integrated into our business model, and that feels natural and normal.
W

hen you

find something

so

beautiful

and

then realise

it's

endangered,

or

worse yet, already vanished,

how

could

you

not be passionate about

it

?
Where do you go to feel inspired?
The Huntington Garden in Pasadena during the spring. All of the colours of the flowers in bloom! I also love pretty much any modern or contemporary art museum. Permanent collections, rotating exhibits, galleries, I want to see it all. Lastly, not to sound like a cliché, but travel is the most inspiring. The vintage textile markets in Guatemala, the pastel-tiled buildings in Lisbon, just seeing what's happening in other places gives way for new ideas.
What's next for Archive New York?
We recently connected with a group making these gorgeous quilted cotton suzani blankets out of Gujarat, India. There are only three families left making these incredible weavings and they have been so wonderful to work with, letting us choose colours, and make new products with them like pillows which they had never made before. We are anxiously awaiting our 100% silk quilted blanket sample from them and just know it's going to be incredible.