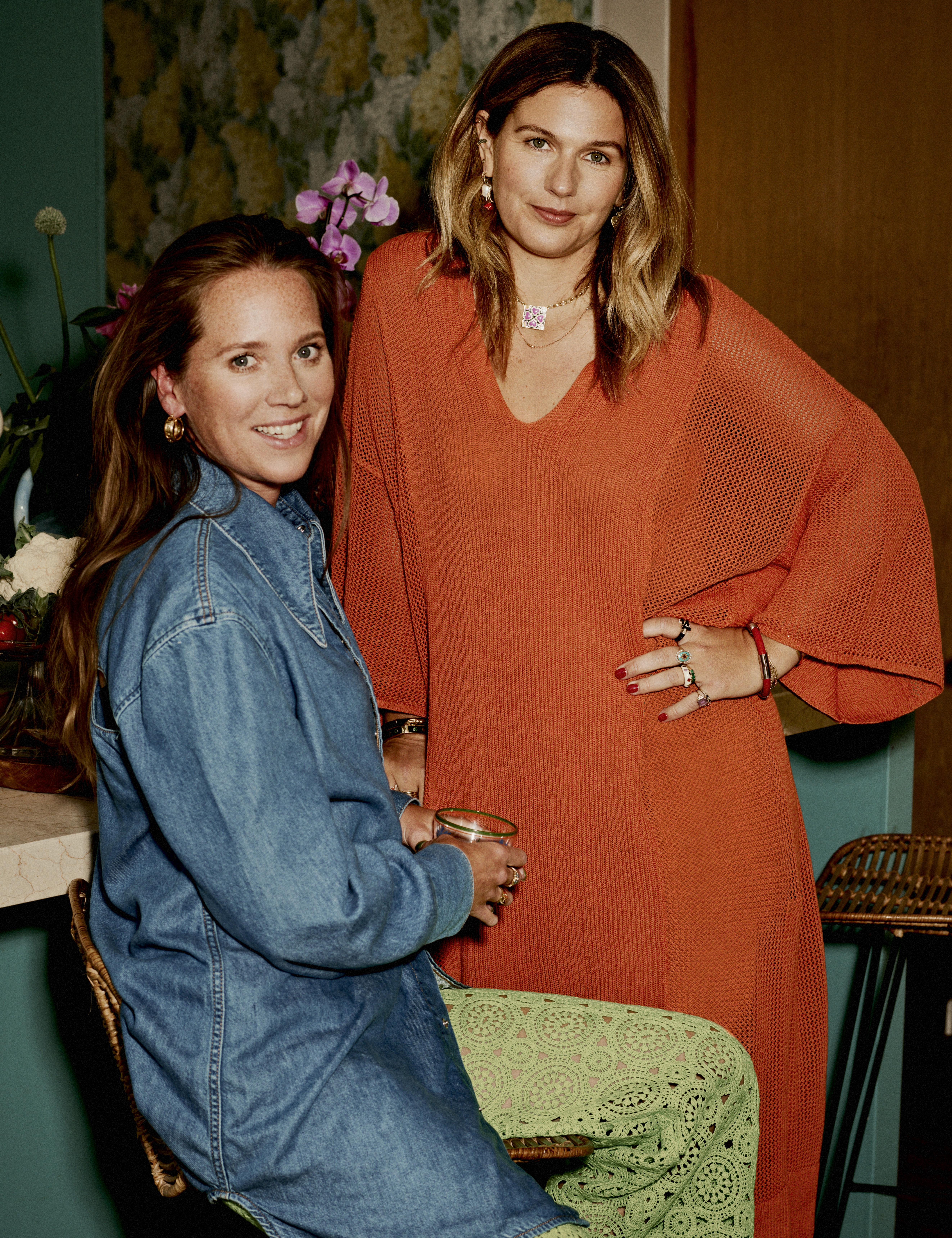 Dinner with Friends: Anna + Nina
Sitting down over dinner, founders Anna de Lanoy Meijer and Nina Poot discuss 10 years of Anna + Nina, getting into business with your friend and how Amsterdam has shaped the brand
By: Charlotte Olby
You may have had similar conversations with your best friend over a few glasses of wine - you know the one that starts with 'should we just start our own business?' and usually ends in 'if only'. For friends and neighbours Anna de Lanoy Meijer and Nina Poot, aka the founders of Amsterdam-based lifestyle brand Anna + Nina, that dream became a reality. Just in time for their AW22 collection to enter the halls of Liberty, Anna and Nina sat down over dinner to discuss 10 years of the brand, getting into business with your friend and their hosting style.
Friends for almost 11 years now, Nina was a bit afraid of Anna at the beginning of their relationship. "She was good friends with my husband's ex, so she didn't want to talk to me… I tried and tried and tried and then she finally saw how kind I am, and our friendship began from there." Thankfully, she persisted and over many dinner parties and wines, the idea of Anna + Nina was born.

"When we started out, I knew a lot about the positioning of brands - I was working at a company representing young designers, and then finally as the Head of PR at the Maison de Bonneterie department store here in Amsterdam" says Anna. While Nina had the sales experience best placed to know how to sell a product and how to position it. "I think we meet in the middle, and the combination of our two practices were really handy in the beginning". Nina agrees, "both of our strengths are that we just do it - from the moment we started Anna + Nina, we never skipped a day and we never gave up. Anna can really think outside of the box and believes that everything is possible - that dreams are there to be made real. And I think my strength is that I pull Anna out of her dreams and make them more commercial".
Founded in 2012, they're celebrating the brand's 10 year anniversary this year. "It was really special to look back to where we began - we're both really proud and really relieved that we made it" Anna recalls. "With us both juggling parenting in the first five years it was a bit of a rollercoaster…but it was nice that we understood each other in that phase" says Nina. "We had to sacrifice home time and children time for something we weren't even sure was going to be worth it - but we had the freedom to structure our own work week, which made it easier than other working mums have it". Plus, they had fun while doing it. "We both lived in Amsterdam [at the time] and we had our entire network there - which is of course a really interesting, inspiring and fashionable city which definitely shaped our brand" says Nina. They attribute Amsterdam as one of the big reasons for the brand's success.

"I think that Amsterdam has a great sense of open-mindedness and freedom - you know, be who you are, come-as-you-are type of mentality. And I think that idea is instilled in our brand - it's not the perfect brand and it's not supposed to be that way. It's supposed to be a mismatch, using different textiles and fabrics and ceramics. A lot of Dutch people are influenced by Scandinavian style and we go exactly the other way - Anna + Nina really encourages you to have a joyful, colourful, free-spirited table and not a perfectly set white tablescape. There's been a huge response to our style so we're really grateful that it is also a success in The Netherlands." says Anna.
Starting out originally focused on charm-like jewellery and fashion accessories, Anna + Nina have grown to be best known for their eclectic homeware collections. "When we opened our first shop we only made jewellery, but because the shop was quite big we had to fill it up so we bought homeware!" reminisces Anna. "The new AW22 collection is inspired by the 60's, Twiggy and block colours and really invites you to mix-and-match". Nina considers the (soon to launch at Liberty) Peacock Candle Holder as their proudest piece - "it has a bit of a vintage feel as it's made of Papier Mache and then hand painted, and makes a statement piece on your table". Anna agrees: "we both really love the Artichoke and Pumpkin Napkins, £17.95 , they're amazing for hosting".
"Anna, I think you are a really good host" says Nina.
"Well, I once got two really good tips that I always think about when hosting parties - one is…
don't focus too much on the main course, go all out with the first impression. A really good first drink and snacks, and great tablescaping with lots of candles so the house looks amazing, a really nice glass of champagne and good hors d'oeuvre - so everyone is impressed from the beginning
Then after that, it doesn't matter so much that you're just serving a simple pasta dish. I also love handwritten invitations and name cards - but what's really key is if one of your friends loves a certain type of wine or if there is a meal they really like, you include something to show them that you care, and that the evening is all about them" advises Anna.
the most important thing is that people feel really welcome in your house, that you impress them with the first drink and snack - and that the table setting looks really great
Shop the New Season Homeware: