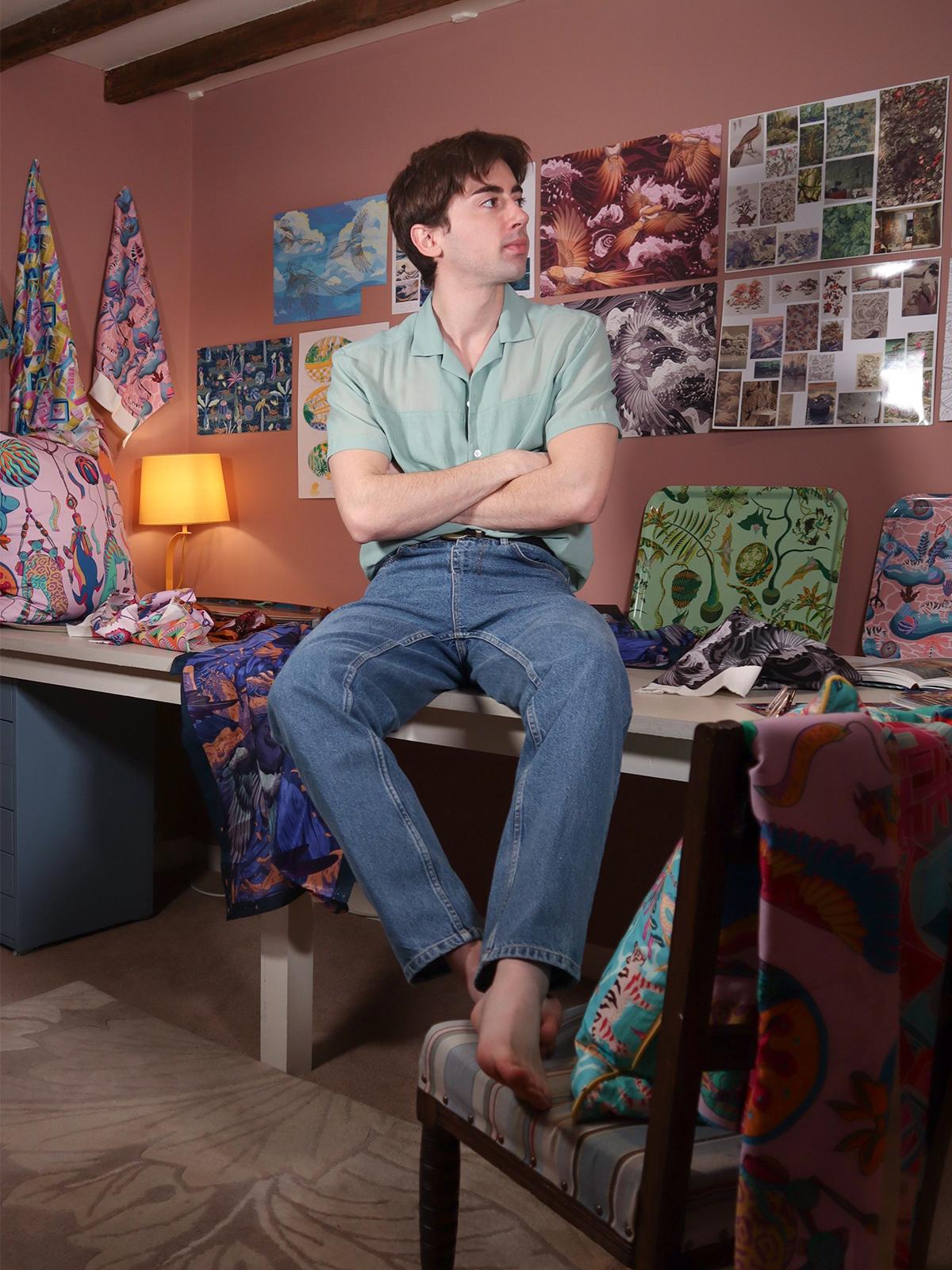 Ocean Roll
Sam Wilde
Textile designer Sam Wilde translates natural phenomena into bold and beautiful print, in collaboration with Liberty Fabrics
Shop the Collection
Committed to championing the designers of the future, Liberty is proud to support emerging creatives. For the Atlas of Dreams collection, our Liberty Fabrics studio worked with up-and-coming textile designer Sam Wilde. Based in Sevenoaks, Kent, Wilde works from his Tuscan-pink home studio surrounded by countryside. Before graduating with a Masters from the Royal College of Art, Wilde studied Natural Sciences with a focus on biology and conservation, which provided a scientific underpinning that continues to inform his work: "The brilliant thing about the natural world is, the more you learn about it, the more you'll marvel at its many wonders."
Revisiting oceanic themes continually through his work, Wilde was invited to contribute to the Liberty Fabrics Atlas of Dreams collection for Spring/Summer 2021 – a whirlwind trip across land and sea, offering a space for dreamers to build a world of their own imagining.
What inspires your textile brand, Vespertine?
Usually we don't give the patterns all around us much more than a second thought – but what if we saw them as windows of opportunity? A feast for the eyes. Fantasy worlds we could escape into. To immerse ourselves within, to learn from, to empower us.

That's what my creative practice and indie brand Vespertine is all about – a space for the patterns I've created to come to life, to bring my worlds into your world. It's my hope the unabashed warmth and personality of these worlds will bring with them a renewed sense of childhood wonderment to whoever discovers them.
How did your collaboration with Liberty Fabrics come about?
I was fortunate enough to be a TexSelect winner in the summer of 2018 when I graduated from the RCA. During the interview stage for the award, I had the privilege to present my work to the talented Mary-Ann Dunkley, the Design Director for Liberty Fabrics – Mary-Ann's light, warmth and love for eccentric repeat patterns meant we instantly connected, and she's kindly taken the time to be a mentor to me ever since.
Through my works, I hope

to

ignite a newfound understanding of the very real magic found throughout the natural kingdom.
How did you create your Vespertine Wave design?
'Vespertine Wave' was derived from another repeat pattern I illustrated called 'Between Sea & Sky' – an homage to an ancient fable known as The Bridge of Magpies, which depicts the moment all the world's magpies are said to have flocked above the ocean's waves, forming a bridge to reunite two star-crossed lovers.

In terms of illustration style, I was influenced by two of the great Edo masters, Hokusai and Kuniyoshi. I thought the movement of water in their iconic woodblock prints would translate effectively into half-drop repeat. And to de-emphasise the sense of menace to cresting waves, I rounded the edges of the seafoam and shaded the swelling water to have a ribbon-like quality.
What is your artistic process like?
I tend to start analogue, with sketches, watercolour, gouache and mad labyrinthine repeat maps. Then I'll translate that work into the digital realm, while trying my best to maintain the hand drawn lucidity from those earlier stages.

The most important part of the process is transforming digital into material – as this is how the viewer will experience and hopefully fall in love with the work, whether that's as a printed textile, wallpaper, moving-image installation or whatever else.
What do Liberty Fabrics mean to you?
Not many people may know this – but before beginning my masters at the RCA I had no formal art qualifications and worked for over three years in raw materials trading. During this time I would more or less spend every waking moment outside of work teaching myself to draw, and doing whatever I could to immerse myself within the creative industry.

For my final job in finance I worked at No.1 the Strand. On lunchtimes I would dash up to the Liberty Fabric Hall and spend those precious minutes getting lost in a whirlwind of bold patterns and vivid colour. I think I stuck out like a sore thumb in my grey suit, but the staff were always very kind and would let me unroll and photograph any fabrics I wanted for creative reference.

If I could go back in time to four years ago and tell the Sam of back then, that he too would one day be part of Liberty Fabrics' iconic legacy, then that honestly would have felt like a dream come true… It's thanks to the support from brands like Liberty Fabrics that I'm now able to live a life that once felt like nothing more than an impossible dream.