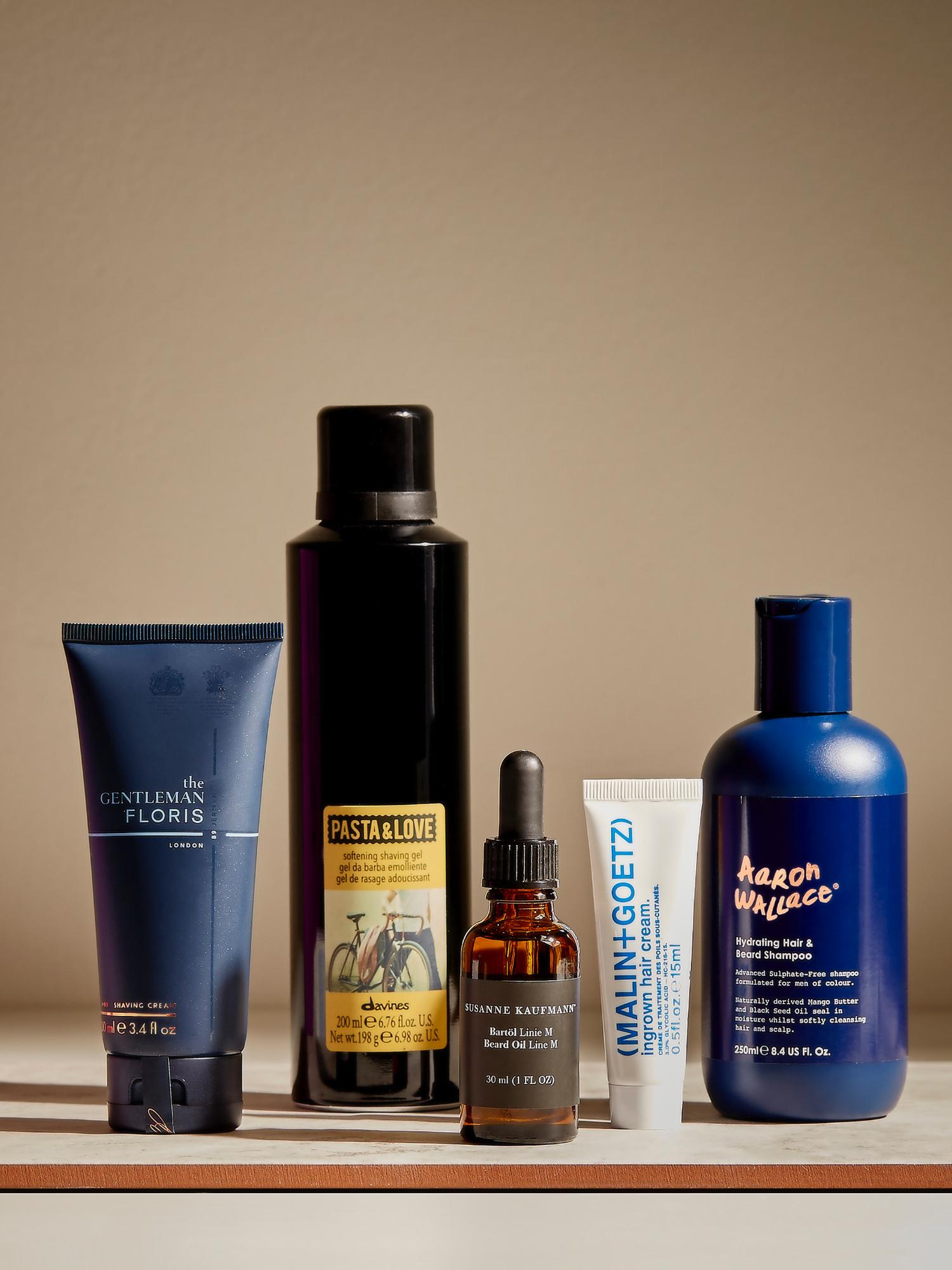 Top 5
Men's Shaving
Hone your grooming repertoire with well-suited solutions for a plain-sailing routine
Shop Shaving
When it comes to shaving, everybody does things differently - and since each individual is armed with their own personal roster of particulars, building a shaving routine that delivers can be somewhat complex. Here, we earmark the stand-outs from our specialist men's grooming edit, making it easy for you to seek out products that suit both your lifestyle and your skin type.
The Low-Maintenance Essential
Whether shaving, trimming or keeping strands in check, consider first things first. The coarseness of Afro hair in particular presents its own challenges with regards to cleansing - so take it from London barber Aaron Wallace, working ultra-hydrating natural ingredients such as mango butter and black seed oil into your repertoire. Not only does this all-in-one shampoo nourish and soften hair and skin to its calm and comfortable best; it also streamlines your daily routine by addressing the hair and beard at once.
Shop now
The Conscious Recipe
This one's for the purists: made with over 85% ingredients of natural origin, this simple, stripped-back shaving gel celebrates the beauty of life, the Italian way. Organic plant extracts soften, hydrate and soothe skin before, during and after you glide - and a vibrant citrus fragrance says "bellezza della vita" all over.
Shop now
The Aromatic Classic
For those who favour a traditional shave, Floris London serves on all counts. Comforting, soothing, cooling and hydrating thanks to extracts of British oats, willow and hops, this aftershave balm from the distinguished perfumer will also scent your skin with its mellow and woody signature fragrance.
Shop now
The Sensitivity Solution
Ingrown hairs happen to the best of us - and luckily, there's an easy way to help prevent them. This gentle cream puts glycolic and salicylic acids to work, effectively exfoliating hair follicles without the need to scrub. Additionally, vitamins and chamomile restore and calm the skin, making it ideal for use anywhere on the face or body.
Shop now
The Beard Groomer
If your grooming routine is less about shaving and more about shaping, bolster your beard with a plant-based oil to enhance softness, shine and skin health. This blend brings together botanical extracts from apricot, jojoba and balloon vine to alleviate itchiness, calm irritation and leave strands with a silk-like sheen.
Shop now