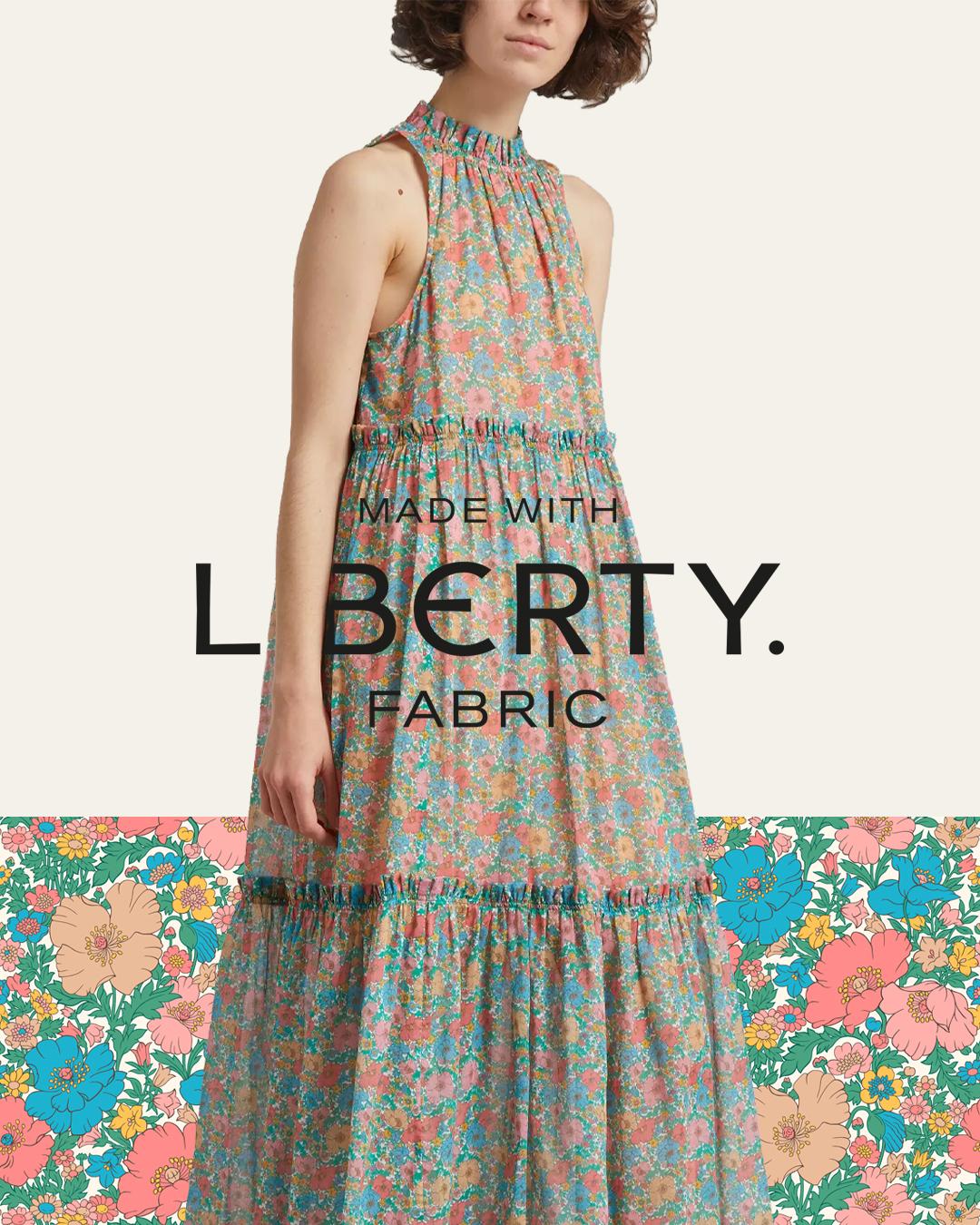 Made With Liberty Fabrics
In Print: Sportscraft & Liberty
Sportscraft's new 'Made with Liberty Fabrics' collection has landed. Here's all you need to know about this must have capsule along with their hero Liberty print.
By: George Elliot
This icon of Australian fashion is dedicated to designing clothes with longevity, the kind that transcend the trends. But Sportscraft is also beloved for it's charming and painterly prints, so it's entirely logical that for the past 40 years or so, they've looked to Liberty to provide some of them. For their latest, 10-piece 'Made with Liberty Fabrics' capsule collection - that spans both men's and womenswear - expect a floral paradise of puff-sleeved crop tops, classic shirting, flowy belted dresses and voluminous maxi-dresses, all exquisitely emblazoned with exclusive Liberty Fabrics prints you won't find anywhere else. A collection you'll want to wear all season and beyond, here's everything you need to know about it.
"The Meadow Song Liberty Dress is our hero piece. Made using a wealth of fabric, this dress is easy to wear, super flattering and feminine," says Michal Aiden, Sportscraft's womenswear designer. "We wanted to create a dress that's perfect for the summer season and this is it."
Sportscraft Meadow Song Liberty Dress
£440
Why Make with Liberty Fabric?
"Since 1976, Sportscraft has partnered with the iconic Liberty Fabrics department to create exclusive styles steeped in quality and personality," Michal Aiden adds. "Built on a common passion for nature, craftsmanship and unique print innovation, our long-standing relationship tells a story of heritage and evolvement, with each season combining the best Liberty fabrics with our beautiful Australian landscape."
Name: Meadow Song

Est: circa 1950

Original Designer: Like some hidden treasures that our print archive houses, Meadow Song's origin is a mystery yet to be solved.
"We happened to come across a swatch of the Meadow song print in the Chloe Cotton chiffon and fell instantly in love - it gave us the idea to create a limited-edition garden party collection" Michal Aiden says. "Made from a soft floral fabric that flows gently and casts voluminous shapes in the breeze, we feel that the Meadow Song Liberty Dress truly encapsulates the dreamy mood we were after."
- This print is a reworking of a mid-century artwork discovered in our 50,000-strong archive, a print that was originally hand-painted using gouache.

- Made into a fresh interpretation, this print was redrawn and recoloured by the Liberty Fabrics studio in 2020.

- "Inspired by Liberty's long-standing love affair of poppies and daisies, this beautifully rendered botanical exhibits a nostalgic floral mood with highly refined outlines," says Eleonora Yerolemou, one of Liberty Fabrics' archivists.