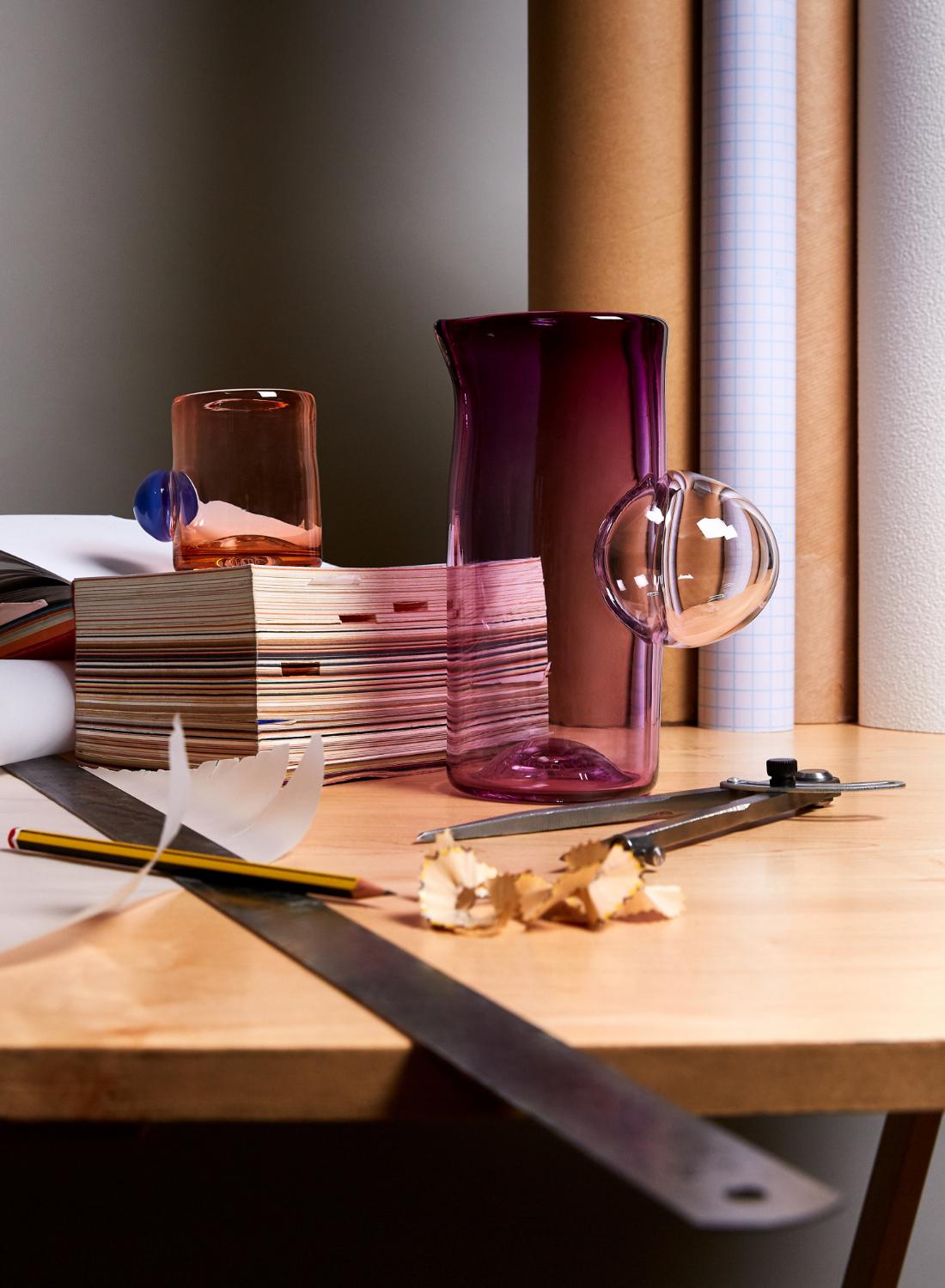 Beauty by Design
Sticky Glass
Founder Grace Whiteside talks playful glass where staying small ensures maximum impact
Shop Sticky Glass
Sticky Glass is the New York-based glass studio where small-scale methods facilitate big ideas. As the brainchild of Grace Whiteside, the vibrant and impactful designs incorporate bulbous, organic forms, each blown by hand from her Brooklyn workshop. Here, she gives us the inside story on her relationship with her craft and the considered practices that push her bold aesthetic forwards.
How did you get into glass design?
I started experimenting with glass in 2014 when I was in college at Virginia Commonwealth University in Richmond, VA. At first, I was just trying to get to know the material and its capabilities. I then started to work with experimental forms for sculptures and performance props. As I grew in my skills set and moved to NYC, I started to think about functionality and how we use glass in our day-to-day.
Describe your aesthetic in your own words?
Queer, bright and humorous.
T

he

way glass moves

is

unlike anything I

have

ever worked with

in my

life. I

t is

neither

a

solid nor

a

liquid,

it is

completely queer

and

enigmatic.
What are your main sources of inspiration?
The way glass moves as a material is the most inspiring thing to me. It is unlike anything I have ever worked with in my life. It is neither a solid nor a liquid, it is completely queer and enigmatic. Visually, I am deeply inspired by Ettore Sottsass's work with Memphis, Dr. Seuss illustrations, as well as NYC dollar store aesthetics.
What is it about organic forms that you're most drawn to?
Glass has a magnetic relationship to gravity and has a really unique ability to mimic the human body. We even use terms such as "shoulder, neck, bottom" to describe areas of the glass when we are in the process of blowing. There is also something really satisfying about holding a seemingly solid object that looks soft and squishy.
Can you tell us about your creative process?
I am constantly thinking about forms and function, but I often have to sketch with the material itself in order to understand and physicalise my design concepts. I am also a performance artist, and so I am often thinking about how glassware is a character in our daily script. There is a dialogue between the things we hold and use every day and our bodily needs and functions. I am often thinking about what could be the most absurd yet pleasurable way to drink out of or hold a glass. Colour is inherent in the work as well – I mean, quite literally so. My mother is an interior designer and I grew up in a house with teal stained floors and bright polka dots on the living room walls. I cannot imagine a world without loads and loads of colours.
How do you source your materials?
I work out of various studios in Brooklyn, NY where I work with hot glass. Glassblowing equipment is very specific and specialised. I will order my colour in condensed bars that are compatible with the studio glass.
What does your team look like?
I work with three to four other glassblowers to produce our work. As the founder of Sticky, I create the designs and am the lead glassblower. My teammates help me facilitate the work in a very tight knit environment as you need at least two people to make hot glass work. It is a sort of dance and involves a lot of choreography. Other glassblowers in our team are Shuhei Fujii, Jessi Moore, Courtney McCloskey, and Mia Sartori.
Why is it so important for you to keep you craft small-scale?
I put a lot of myself into my work which makes my craft extremely personal. If I were to expand to a point where I would lose touch of that intimacy, I don't know if I would be able to stand behind the work as confidently.
How does your brand philosophy reflect sustainable practice?
When starting Sticky Glass, I wanted to go about business in a way that was ethical to my own morals. We aim to use all recycled materials in our packaging. I have worked in the art and design world for some time now and have been repulsed by the amount of waste. So instead of ordering packaging materials, I dumpster dive at our studio and other facilities, collecting scraps here to use for packing. Another important mission of Sticky Glass is to donate 10% of our proceeds from our ecommerce site to a different organisation or individual in need. Our partnerships change every month as we try to donate the funds to where they are needed.
W

hen

starting Sticky Glass, I wanted

to

go about business

in a

way that

was

ethical

to my own

morals. W

e

aim

to

use all recycled materials

in our

packaging.
Where do you go to feel inspired?
I am often inspired by my community. Throwing an extravagant dinner party with my chosen family has really fuelled my desire to make interactive and multifunctional glassware. Watching folks interact with my work is some of the best research out there. Before the pandemic, I would also often go to The MET museum in NYC and look at their European furniture and design collections. As things open back up here in NYC, I find myself returning to see art in person again.
What's next for Sticky Glass?
In the next couple months, we will expand our physical space as we move into a larger studio in Red Hook, Brooklyn. I will be working on some more collaborations with other designers and artists that I really admire which is exciting. I am also aiming to bring in some more of my performance background to Sticky Glass as we take on some larger and more interdisciplinary projects. We also might be dabbling into some smokeware as well! Stay tuned!