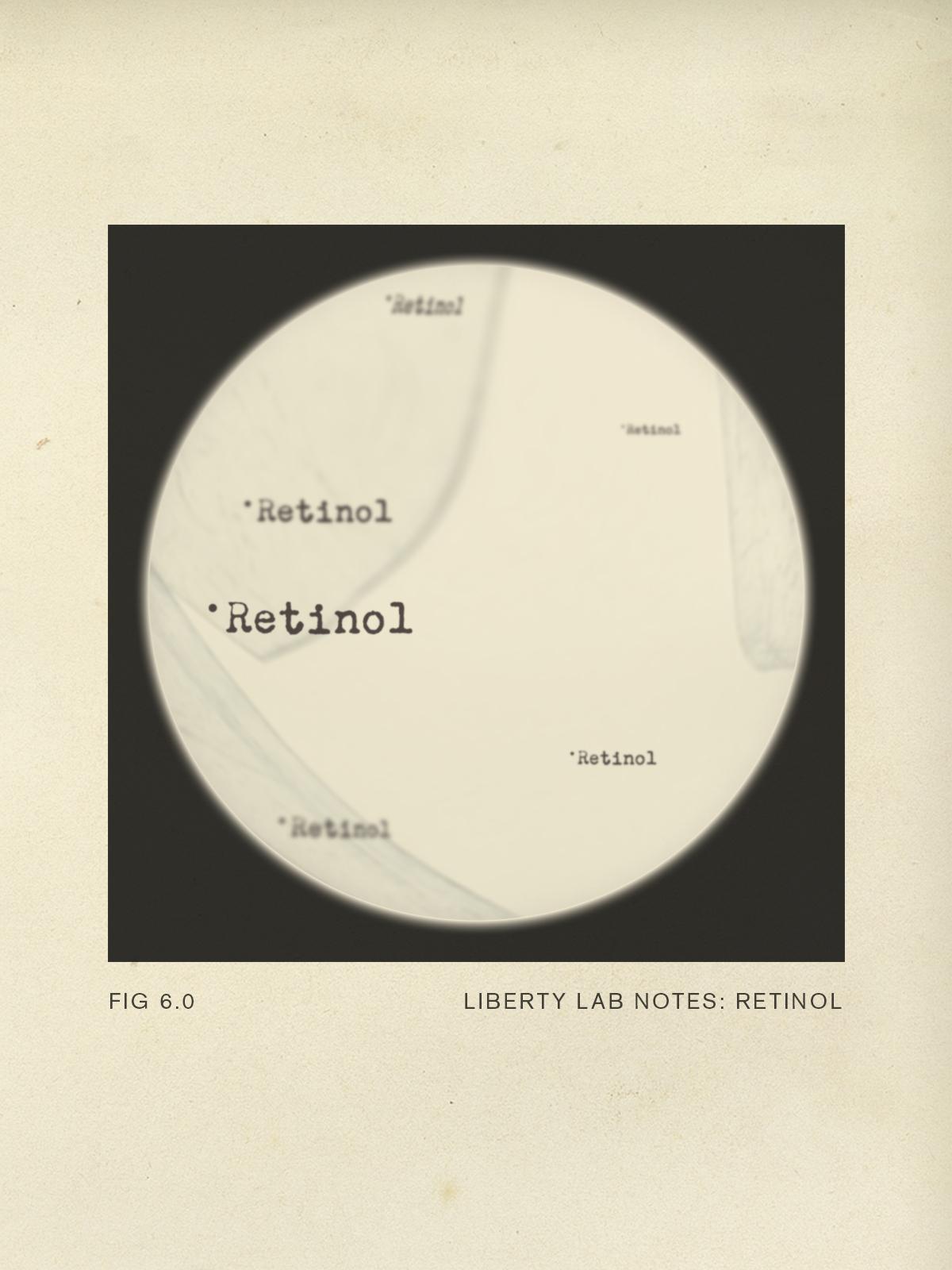 Lab Notes
What Is Retinol?
It's the universal skin solver, but what is retinol and why does it seem so hard to use? Liberty shares the definitive guide
By: Laura Kennedy
As results-based active skincare ingredients go, retinol is queen. Widely used in both over-the-counter and prescription formulas, it's the one ingredient that dermatologists universally recommend for tackling fine lines, texture, troublesome hyperpigmentation, scarring, acne, congestion and even dullness. Retinol is the most celebrated skincare ingredient in the world for transforming the texture and appearance of our skin, so why does it still feel so mysterious and intimidating? It can be challenging to find the right information to enable you to enjoy the skincare benefits of retinol without the less desirable but common side effects. To cut through the noise, we speak to the experts and answer the essential questions to demystify retinol.

Read More: The correct order of skincare products to help curate your routine
Retinol is a component of vitamin A, as are other retinoids like retinyl palmitate and retinoic acid. You'll commonly find these on the ingredients lists of over-the-counter skincare products.

While 'vitamin A' makes this ingredient sound quite gentle and earthy, like a nourishing health food, it can be incredibly potent. According to cosmetic surgeon and founder of 111 Skin, Dr. Yannis Alexandrides, "part of the vitamin A family, retinol works by increasing cell turnover speed to diminish the appearance of fine lines, hyperpigmentation, and uneven skin tone". Retinol boosts cell turnover which can become more sluggish as we age. This boost results in smoother, less congested skin and improvement in fine lines, wrinkles, and pigmentation. After a few months of a properly executed retinol routine, you'll notice a more even, balanced and glowing complexion.

Prescription retinols are the most potent and tend to come in gel or cream forms, but they can irritate the skin. Over-the-counter versions are gentler and available in the form of serums, eye creams, gels and moisturisers so they're easy to incorporate into your skincare routine.

Read More: Rise and shine with the ultimate morning skincare routine
When Should I Start Using Retinol?
Traditionally, thirty has been the benchmark age when experts recommend incorporating retinol, but you can start using it earlier. If you notice the effects of sun damage, struggle with ongoing breakouts, or are unhappy about fine lines or a dullness that won't respond to other skincare, retinol can help at any age from mid-twenties on. Dr. Alexandrides advises that if you're wondering when to start, "now is the right time. As soon as you start using it you will start to notice a gradual improvement in your skin."
How Should I Use Retinol?
The consequences of misusing retinol can often be enough to put a first-timer off. Most of us make the mistake of applying too much or layering retinoids with other active ingredients that don't play well with them, resulting in red, sensitive and even angry skin. Most of us know that the recommended 'pea-sized amount' of moisturiser is rarely enough for our entire face and neck, so we ignore that advice, but when it comes to retinol, pea-sized really means just that. While skincare enthusiasts will know that it's best to apply serums to damp skin to increase their permeability and surface area, retinol should always be applied to clean, dry skin. Overloading the skin or increasing its penetration by applying retinol to damp skin is a recipe for an irritated, blotchy and peeling face.

Be sure to avoid pairing retinol with other active ingredients like glycolic acid or vitamin C – while your skin adjusts, retinol should be the active star of the show. Since it does sensitise your skin to sunlight, SPF during the day is essential.

Read More: AHA vs BHA: the battle of the skincare acids
Does Retinol Cause Irritation?
If you've lunged head-first into a strong retinol product and applied it liberally, you'll be familiar with the condition ominously known as 'retinol burn'. After all, more product on your face means faster results, right? Alas, not according to Dr. Alexandrides. Certain side effects – like mild irritation, the appearance of dryness and sensitivity to the sun are completely normal while your skin is initially adjusting. When retinol is doing its job, you will notice some mild symptoms. It's not ideal, but the reward for tolerating these minor symptoms will be clearer, plumper and more glowing skin.

Be careful to stay consistent with how and when you apply it – retinol can really irritate the skin if applied too often or if the formulation is stronger than your skin can cope with. You'll know that your application or strength is not yet right if you experience a hot, inflamed sensation, redness, peeling or even soreness. If you're new to retinoids or have dry or sensitive skin, it's best to start with a lower concentration of 0.01-0.03%, says Dr. Alexandrides. "Retinol essentially exfoliates the skin. Unlike other exfoliating agents like glycolic acid, retinol can cause peeling and redness in the beginning. It's common for people to be deterred by this, assuming that they are having an allergic reaction, but this affect is normal."
How Often Should I Use Retinol?
The key to minimising the chances of irritation is introducing retinol carefully. To get those glowing results, time and patience are essential (even if they are even more difficult to deal with than a peeling nose). It's best to start by introducing retinol into your bedtime skincare carefully, advises Dr. Alexandrides – "Retinol should be used with caution - build up tolerance by starting off once or twice per week and increasing thereafter and follow up with a good quality moisturiser. Also make sure you use SPF in the daytime as retinol resurfaces the skin making it more sensitive to sun damage."

If you experience sensitivity or peeling, pare it back to once weekly. The aim is to increase usage gently overtime to give the skin time to acclimatise. That way, you can enjoy the benefits of retinol while keeping skin comfortable.

Read More: Liberty has pairing skincare ingredients down to a perfect science