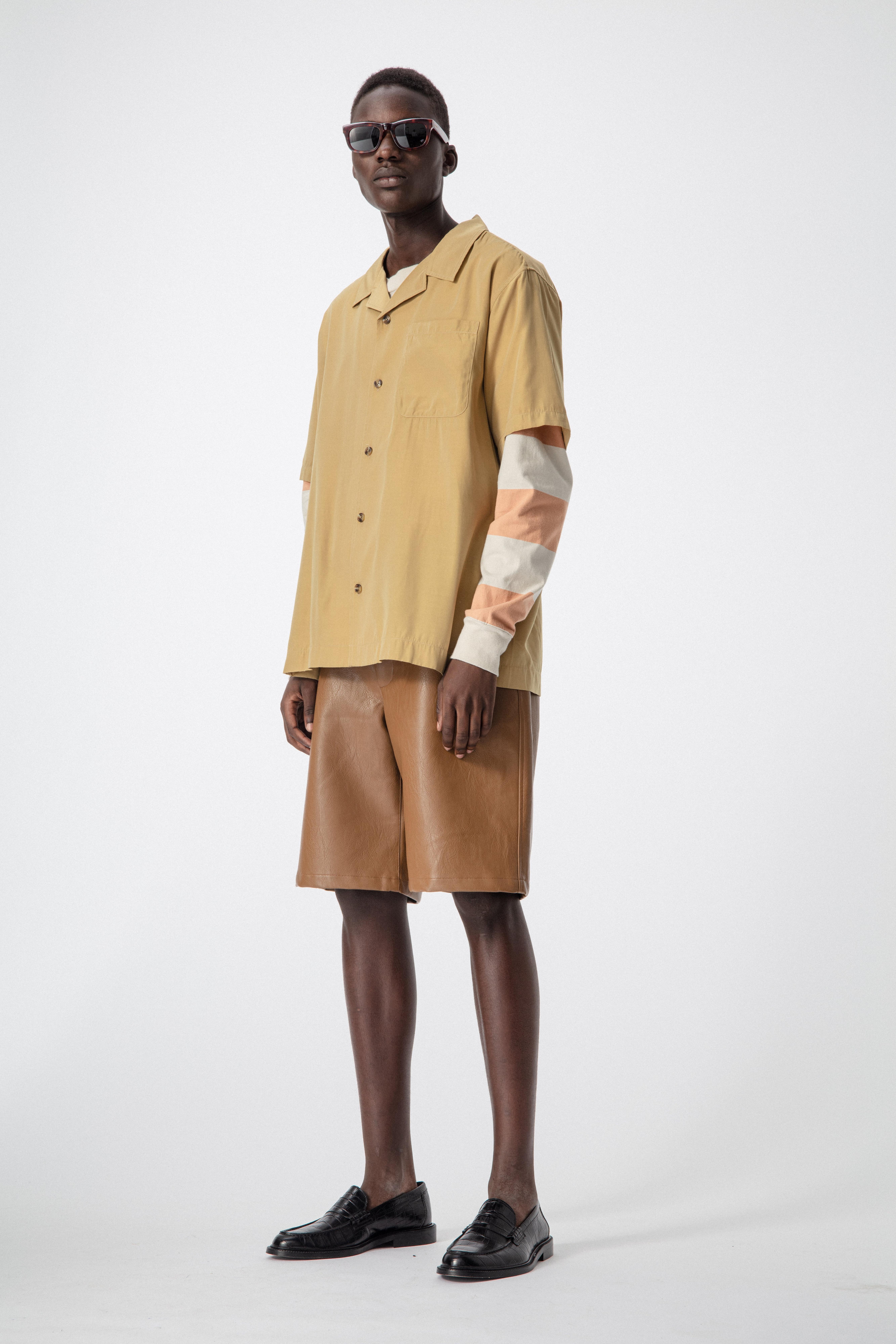 The Uniform
HAN Kjøbenhavn
The Danish label on creating fashion staples where good design runs deep
Shop HAN Kjøbenhavn
From one essential to another, Copenhagen's HAN Kjøbenhavn unveils a new ready-to-wear collection for the lives we lead now. Head-to-toe print and colour-matched sweats fuel the label's staple repertoire, with a detail-driven ethos to match its iconic eyewear. We talked to creative director Jannik Wikkelsø about the search for fulfilment and the creative community that keeps the brand inextricably linked to the Danish capital…
How did HAN Kjøbenhavn begin?
I started with designing eyewear. I think it was my love for art and sculptures that sent me in that direction. There is something about eyewear, the shapes – and how definable it is for the human face – that I found fascinating.
How would you describe the HAN Kjøbenhavn community?
Our community is friends of the house, friends of friends. People we appreciate on a personal level, as well as for their creative nature. It's people who somehow represent our ethos in their own unique way and people we connect with on various creative projects, creating music for our runways, classic collabs, modelling.
What defines the ultimate staple wardrobe for you?
For me, it is the simple pieces that are functional for everyday use. It's well-crafted jersey with the right amount of detail and great quality. It's pieces that you can easily fire up with contrast pieces such as a combat boot or a leather vest to give it an extra layer. That's my stable wardrobe.
O

ur

community

is

friends

of the

house, people

we

appreciate

on a

personal level,

as well as for their

creative nature

who

somehow represent

our

ethos

in their own

unique way
Can you describe your creative process?
We are very story driven. The process always starts with something very personal; it can be a cultural view, an observation or an experience. It must be personal. If it's not personal, I cannot protect and control the creative journey. This story then defines the concept of the collection. The reason I work like this is that creating the concepts from a personal view gives you a unique voice and starting point, it creates a path where you allow yourself to design in a more lateral way and with greater diversity without losing balance in the concept.
How do you source your fabrics?
We of course have a big catalogue built up over the years and have fabric and materials that are key HAN Kjøbenhavn materials, which are used through the seasons. That aside, we source every season from the collection concept's point of view.
Has the last year changed your design approach?
I wouldn't say so – it has fast forwarded some ideas and processes we have had on the board for years. Of course when you can't meet, feel and smell people you have to adapt how you present your work - hence the abundance of 3D and visual effects that are taking over our industry, but as far as pure creating and collection work goes, that has not changed.
What most drives you creatively?
An endless search for creative fulfilment – haha. A feeling of evolution. A passion for creating things that connect on an emotional level as well as visual.
Where do you find inspiration?
In my childhood, upbringing, experiences and well as the world we are existing in right now.
How has Copenhagen shaped the brand?
Copenhagen being part of the brand name, roots and claims the city. Copenhagen is where I was born, where I grew up, it's me. That of course defines the brand in so many ways – it's a headline in each collection.
Do you feel your designs reflect or rebel against Danish aesthetics?
No not at all, I think the perception and communication of what Danish design means is slightly off. Danish design is often portrayed in a very linear way with very pure aesthetics. I mean, I see it differently. Danish design is useful, the furniture created by the likes of Arne Jacobsen and Wegner is furniture build to last. Of course, they are beautiful, but most of all – it's functional. Not many working class families are living like the classic portrayal; it's not an exhibition, they are living real lives, with real problems, where the classic furniture plays its part. That's what HAN Kjøbenhavn is communicating. The truth.
Danish design

is

portrayed

in a

very linear way. N

ot many

families

are

living

the

portrayal;

they are

living real lives, where

the

furniture plays

its

part. T

hat's what

HAN Kjøbenhavn

is

communicating.
What most concerns you about the fashion industry as we know it?
There are the obvious subjects such as sustainability, fair trade, and general human behaviour that concern us all. From a creative point of view, I fear the pandemic creates fear of not earning enough money, which in some cases will force brands to create safer expressions instead of being experimental and pushing the creative boundaries. We need designers and artists to be free in their thinking, to keep pushing, keep challenging everything, we cannot lose that, people need to get inspired. To see and feel creativity makes them dream, it brings them to a parallel world where they can breathe differently.
What's next for HAN Kjøbenhavn?
Next is sharing our work with more people, so we are working on opening new HAN Kjøbenhavn stores internationally. First up is London, where we will open up in Soho. We are really excited about this, London being important to us both on a personal level as well as professional. Other stuff we are working on, is to move our female collection onto the Runway this summer, so we will have both a men's and women's catwalk. We have been showing our men's collection in Milan for the last couple of seasons and feel it's the time for our women's to get its own space and platform. It will be a busy summer, but we are looking forward to it.