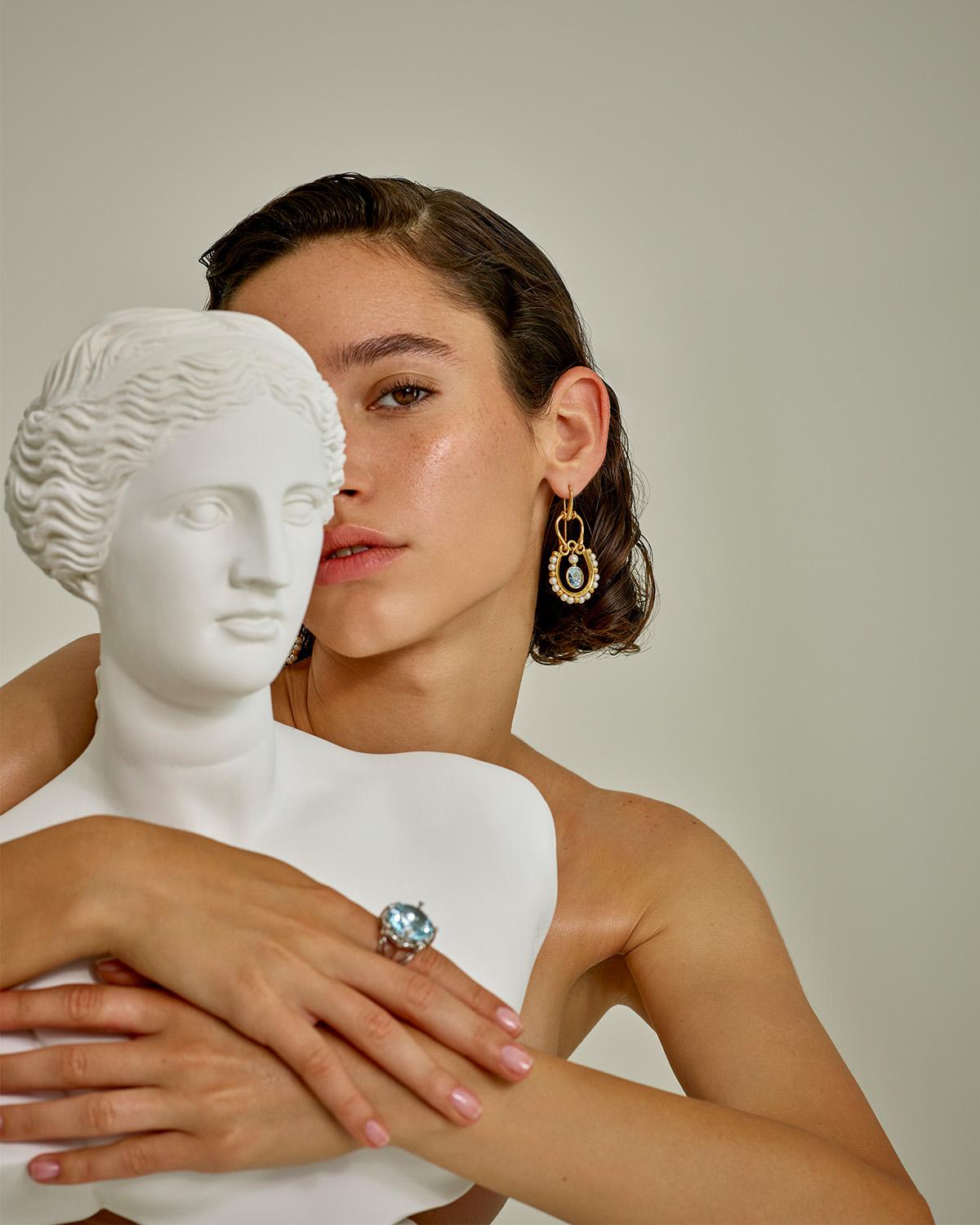 Find Joy Within
Treat Yourself to a Right-Hand Ring
A self-gifted symbol of female independence, Liberty charts the growing popularity of statement rings for the lesser-discussed right hand
By: Laura Kennedy
You've probably never even considered the significance of donning your right hand with a suitably decadent ring. Why would you? All anyone ever talks about is the left-hand, whose fourth finger is already earmarked for an engagement ring pre-loaded with romance, tradition and symbolism. Yet right-hand rings can be equally as symbolic, if we just take a walk back in history.
The History of the Right-Hand Ring


The very concept of right-hand rings dates back to 1920s America – the Prohibition era – when women not only entered the workforce in their droves, they also made their way into the nation's speakeasies to drink alongside their fellow men. The right-hand ring (or cocktail rings as they were also known) became a symbol of a working woman's wealth, an emblem of her new-found independence. But – and this bit is important – right-hand rings are not intended as an alternative to engagement rings, but rather a self-gifted ring to be worn no matter your relationship status.

So it only seems rather fitting that in 2023, amid the post-lockdown era often compared to the Roaring 20s, right-hand rings are making their return. But while there's joy to be found within the right-hand ring, how do you find one that suitably captures all of that symbolism?

Read more: How to buy an Engagement Ring
How to Choose a Right-Hand Ring
Engagement rings tend to be conservative purchases – most people opt for a style that looks at home with everything, is hardwearing, and feels timeless, but we can (and probably should) abandon all sense of practicality when it comes to the right hand. Or at least, not prioritise it. The right hand is the perfect home for more daring, declarative or personalised jewellery. Select statement pieces that enhance what you're wearing or just channel sheer joy.
Ruby Beales, Liberty's Jewellery Buying Manager knows how to choose the perfect piece. "The most important factor for me is whether I want the ring to make a statement on its own or if I intend to wear it alongside pieces that exist in my jewellery box", she says. "I tend to go for bold, colourful and fun when it comes to fashion jewellery and a little more classic for an investment piece. Also, be sure to work out which finger you want to wear the ring on. If I buy something that fits on the middle finger of my right hand, it's the same size as my index finger on my left hand so it's immediately more versatile."

Read more: the Biggest Summer Jewellery Trends
If you're looking for a cocktail ring, Beales suggests leaning into the ring's rich tradition of making a statement. "Cocktail rings first emerged at a time when women were fighting for freedom, the right to vote and equality", she says. "They should be bold, bright and eye-catching but can of course be an investment too. With cocktail rings that have a semi-precious stone and are 'new', I like to play around with colourful stones mixed with contrasting enamel. Look to Adore Adorn for playful and eye-catching combinations."

Read more: the Best Colourful Jewellery Brands
If you're concerned about losing that love for a piece of jewellery over time, Beales advises taking some of the pressure off your purchase. "It's hard to know at the time of purchase what pieces will stand the test of time and what you will tire of. I tend to invest in antique jewellery, which becomes more sought after or valuable in time, in case you decide to sell later on." Crucially, Beales advises, our tastes aren't static. "If, like me, you're someone whose taste changes over the years, I'd advise going with a solid metal rather than plated and a piece with precious stones – the price of gold has risen steeply over the last year and anything precious will hold its value."

Read more: the Liberty Jewellery Care Guide
How to Gift a Right-Hand Ring


Jewellery always makes for a welcome gift for anyone you love, yet gifting a right-hand ring to someone else can be trickier. To help choose the right friendship ring first time round, Beales says, "look at their current jewellery to gauge their style – do they prefer yellow or white gold? Is their look more neutral or are they a colour lover? I think getting the metal colour right is the first step to success as people tend to be loyal to one or the other rather than mixing. Also make sure you are buying the right size! There's nothing more disappointing than a ring that doesn't fit."

Read more: the Return of the Friendship Ring