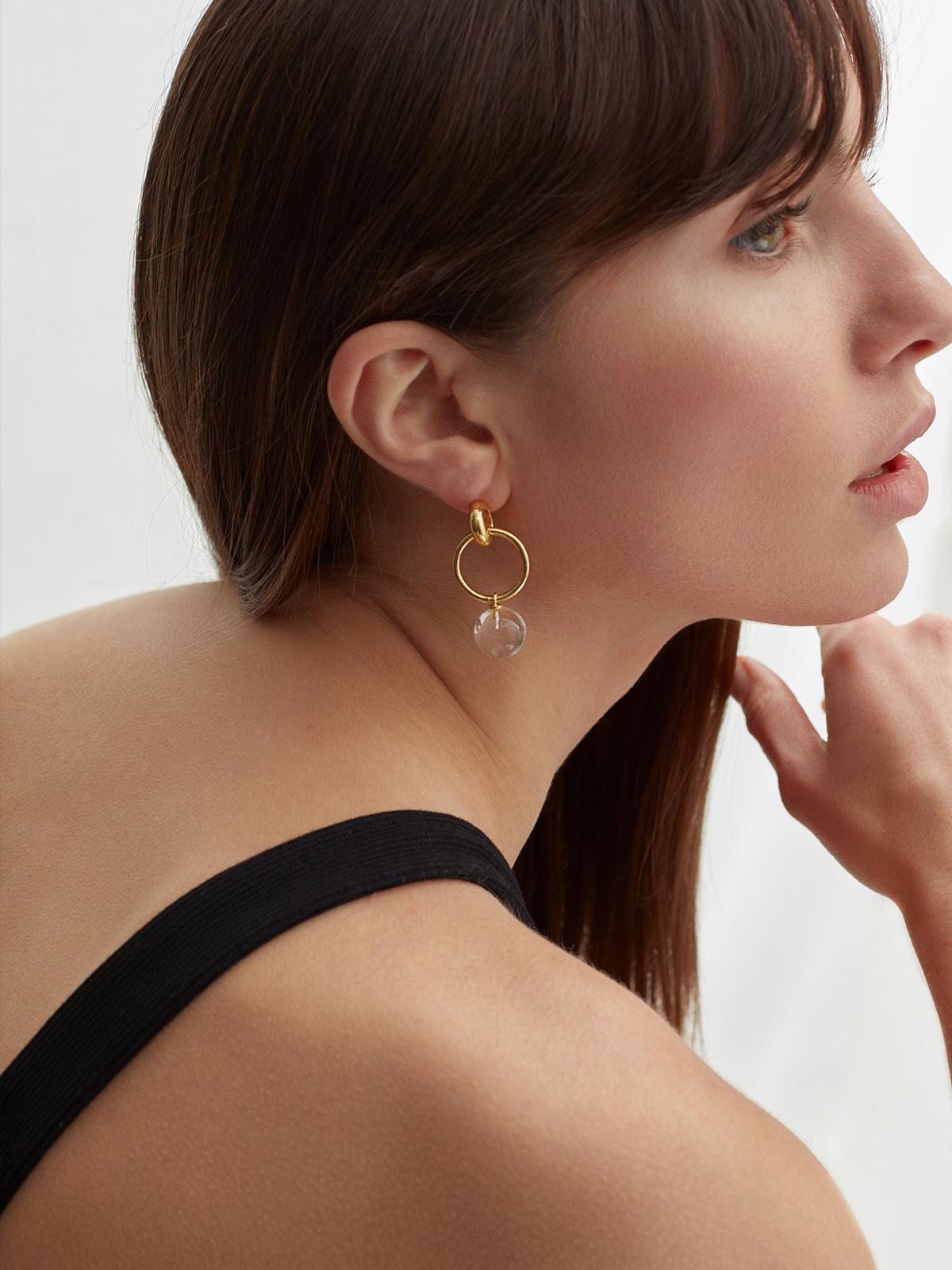 Morally Motivated
Shyla Jewellery
London-based designer Alice Blofeld talks us through the origins of her timeless, affordable and ethically crafted jewellery designs
Shop Shyla
Driven by her love for vintage jewellery, Alice Blofeld launched Shyla after noticing a gap in the market for timeless pieces with an affordable price point and contemporary appeal. Combining coloured hydro glass and recycled metals, every piece of her ethically crafted jewellery is designed to long outlast seasonal trends, creating less long-term waste. Here, the London-based designer talks us through Shyla's distinctive aesthetic and how the female-led brand strives to uplift other women.
How did Shyla become a brand?
Shyla started with my interest in my mother's vintage jewellery. I found it hard to find classic and timeless pieces that were modern and contemporary. I also found it hard to find good quality jewellery that didn't cost the earth. Shyla mixes both - we make high quality, delicate jewellery that will be relevant in years to come.
Have you always had an interest in jewellery?
Yes, since a very early age. I am not so interested in trend-led jewellery. My fascination with jewellery lies more with pieces that stand the test of time. Pieces that my mother, grandmother and I would all wear. I think there is something really special and magical about that.
Why is sustainability so important to you as a brand?
I think sustainability should be important to all brands considering how aware and educated we can be now about what is happening to our planet. Everyone can make a small change. A lot of small changes accounts for a huge change. So I am starting with my company and applying this to every aspect possible.
In what ways are your designs ethically motivated?
Our designs are motivated by longevity and timelessness instead of the trend-led designs which you would easily dispose of. We are ethically motivated in the sense of women empowering women. We work with several small charities educating some of the poorest women in India. Teaching them a craft they can learn to support and sustain their families. We also use recycled gold and silver and all our packaging is recycled. We are a women-led team and I personally believe so strongly in sisterhood and supporting and uplifting other women.
How did you hone your craft?
I would say a lot of time spent making and designing, and also attention to details. Trial and error is always a way you learn quickly too.
Can you tell us about your studio?
Our studio is based in Hackney Downs. Its light and airy is and the building is full of wonderful creative people. It's a happy place and I've made a lot of likeminded friends here. It's a place I spend most of my time designing and I love it.
My fascination

with

jewellery lies more

with

pieces

that

stand

the

test

of

time. Pieces

that

my mother, grandmother

and

I would all wear.
How does being based in London influence your designs?
Well inspiration is everywhere in London! From food to architecture, different cultures, art, music. It is one of the best cities in the world in my opinion. I love going to museums or galleries on my days off. Because our collections are so colourful, I often get a lot of colour inspiration from these trips.
Can you talk us through your creative process?
It's hard to talk about a creative process. Some days ideas are spilling out of you non-stop, then others you feel a creative block. You have to seize the days when creativity is flowing from you.
How do you source your materials?
I went to India twice yearly before the pandemic. I work closely with local silversmiths there who have decades of experience.
How would you describe your aesthetic?
I would say our aesthetic has several faces. I like to think of our pieces as timeless classics blended with a modern and contemporary twist. I want them to be as relevant today as in five or ten years' time. We design both delicate everyday jewellery items as well as large, bold statement pieces, but our speciality is our handcrafted glass jewellery. I really feel this is a unique aesthetic which I haven't seen any other designer do so far. We have a few signature colours which we carry from season to season, including apple greens, soft champagnes, lemon yellows and soft and dark blues.
How is your signature glass jewellery crafted?
The method varies from style to style. First we make a mould once we are happy with a design. Then we pour or blow hot glass into the mould. The most time consuming part is getting the mould perfected and attaching the gold details at the end. A mould can take weeks to perfect.
We work

with

several small charities educating some

of the

poorest women

in

India. Teaching them

a

craft they can learn

to

support

and

sustain their families.
Do you design with a particular wearer in mind?
I would say Shyla appeals to women of 30+ age. An understated and stylish woman who likes a pop of colour in her outfits and something a little bit special and different from the rest.
Do you have a favourite design from your collections?
I love them all of course but I am a big hoop girl. I wear hoops every day so naturally I revert straight to our hoop selection. This actually compromises the largest bit of our collection.
Why did you choose to stock your designs at Liberty?
Liberty is iconic for me. My mother bought her wedding earrings from Liberty. I bought my graduation earrings from here. They champion both established and emerging designers, and I feel they always have the best curated and selected styles and designers of each season. In a way it encapsulates what I am trying to do with jewellery; it is a classic store with a modern eye.