The 'scape artist
How to Create a Magical Easter Tablescape
Create a feast for the eyes – and the belly – out of this year's Easter spread with tablescape ideas guaranteed to impress, no matter who turns up at your table.
Shop Tableware
By: Shannon Peter
If there's one occasion that really allows you to lean into all the fun and theatre of tablescaping, it's Easter. Synonymous with pastel-coloured eggs, fresh cut tulips and bright, floral prints, there are plenty of simple ways to create a spectacularly whimsical backdrop to this year's feast. To spark your imagination, Liberty's Buying Manager for Home, Bryony Sheridan, shares a whole host of Easter table ideas – as approved by the Easter Bunny and her farmyard friends. Sort of.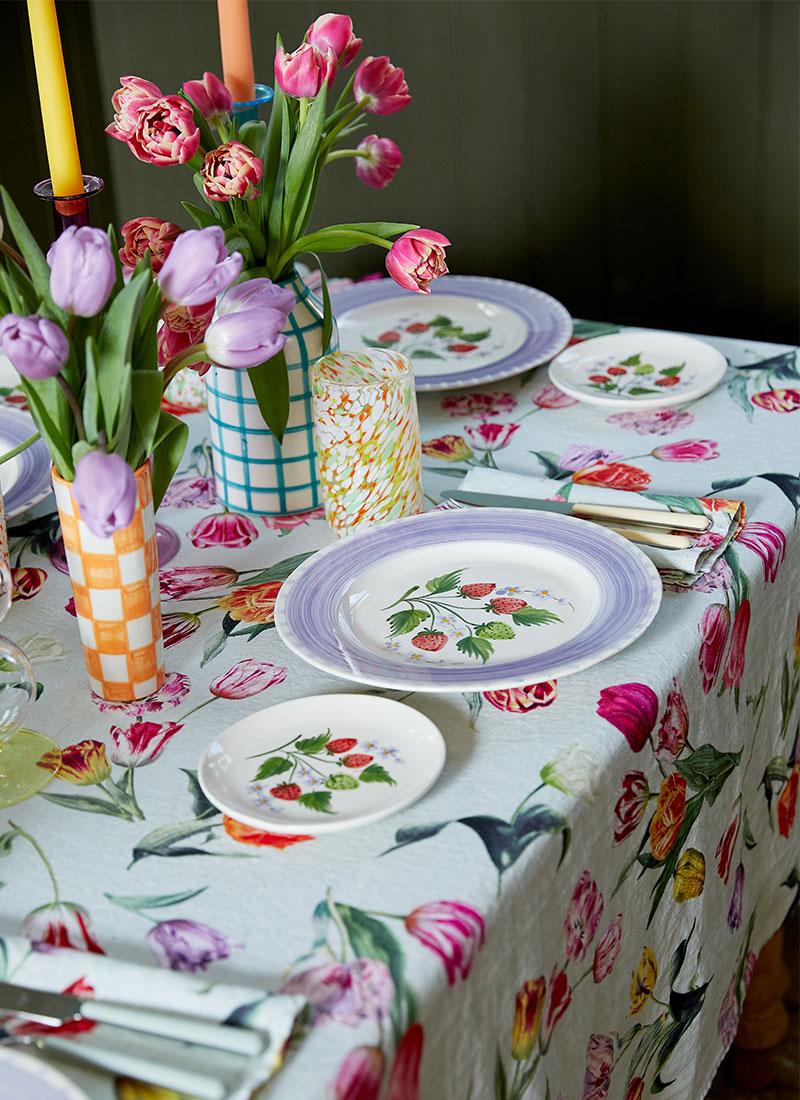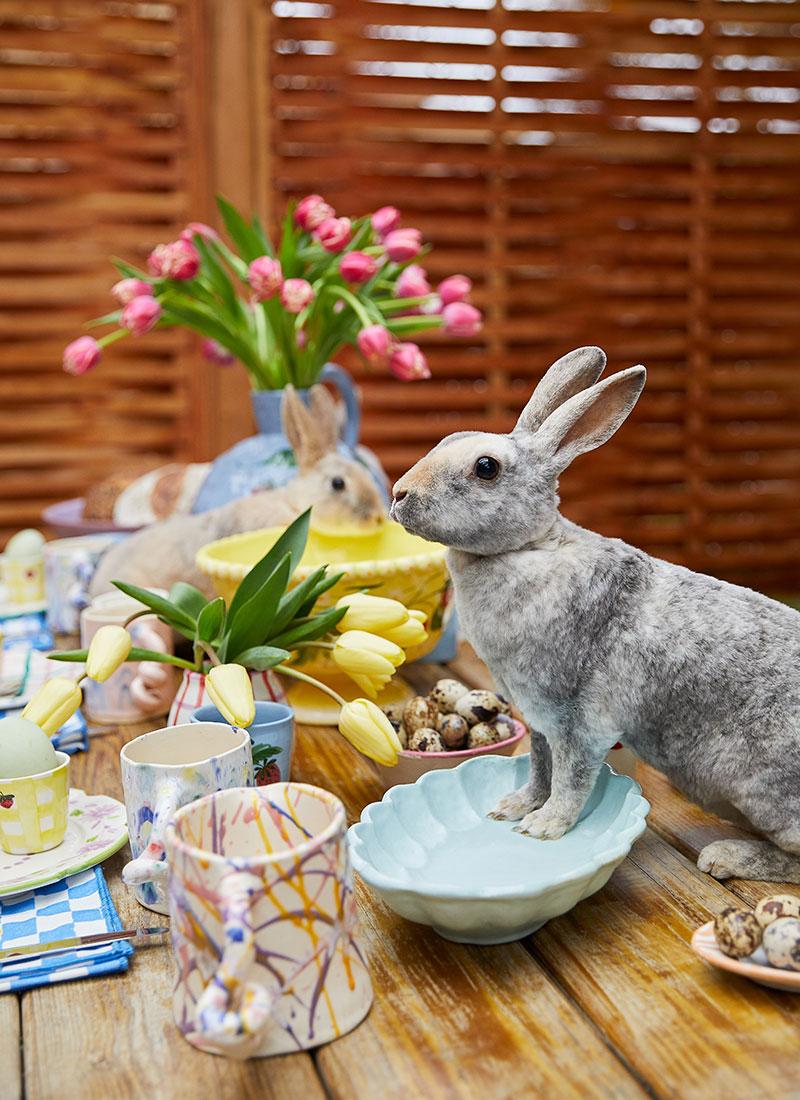 To tablecloth or not to tablecloth, that is the question. While solid wood tabletops create a suitably raw and rustic backdrop for the more whimsical tableware on top, bold printed tablecloths can turn fairly simplistic tablescapes into real spectacles. And note: there's no such thing as 'too busy'. Go big on detailed prints by layering matching napkins on top: after all, it's a time for fun. "The Easter table should have a nostalgic quality, reminiscent of the days when you would find a chocolate egg in place of your golden yolk," adds Sheridan.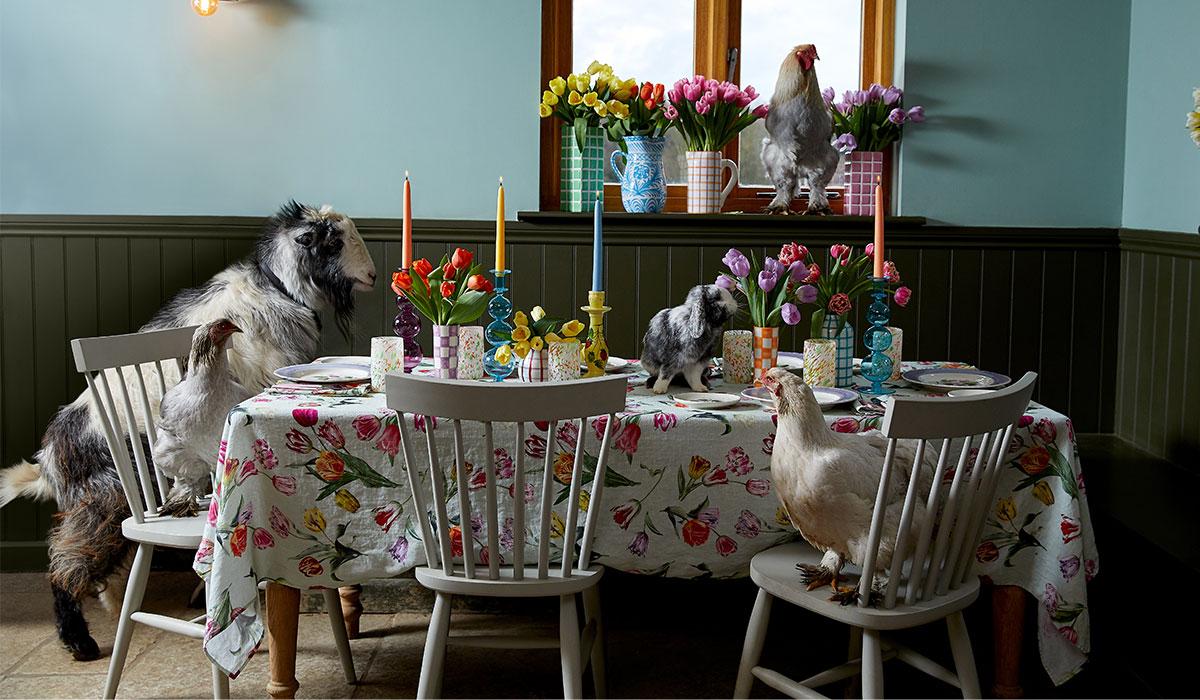 When crafting a tablescape, it makes sense to start at the centre and work outwards. Tall items, like flower-filled vases or colourful dinner candles, make for the perfect Easter table centrepiece. Lining the items along the length of the table, rather than in clusters, will look more considered and elegant, but there's still fun to be had by alternating heights. A mixture of mismatched candle holders will provide higher level interest, while small vessels chock-full of tulips will draw the eye down towards the table – and the soon-to-be-served feast. "Keep them low so you can see your guests and don't be afraid to go maximalist," Sheridan advises.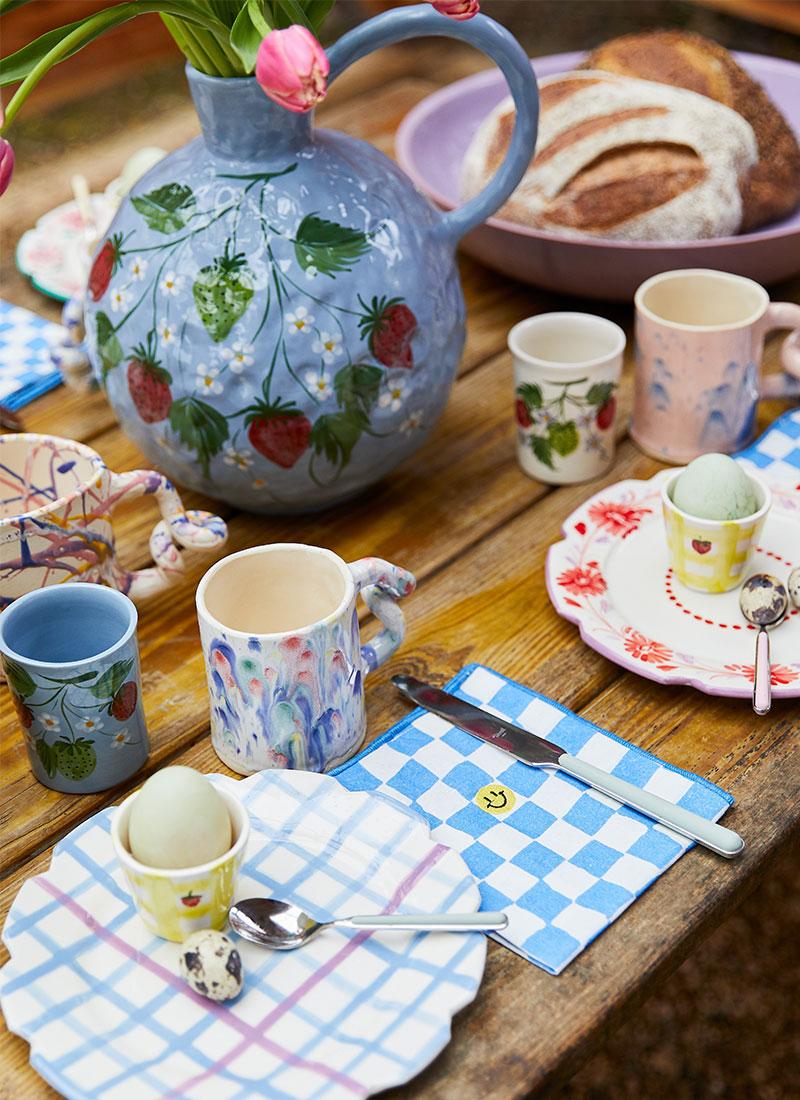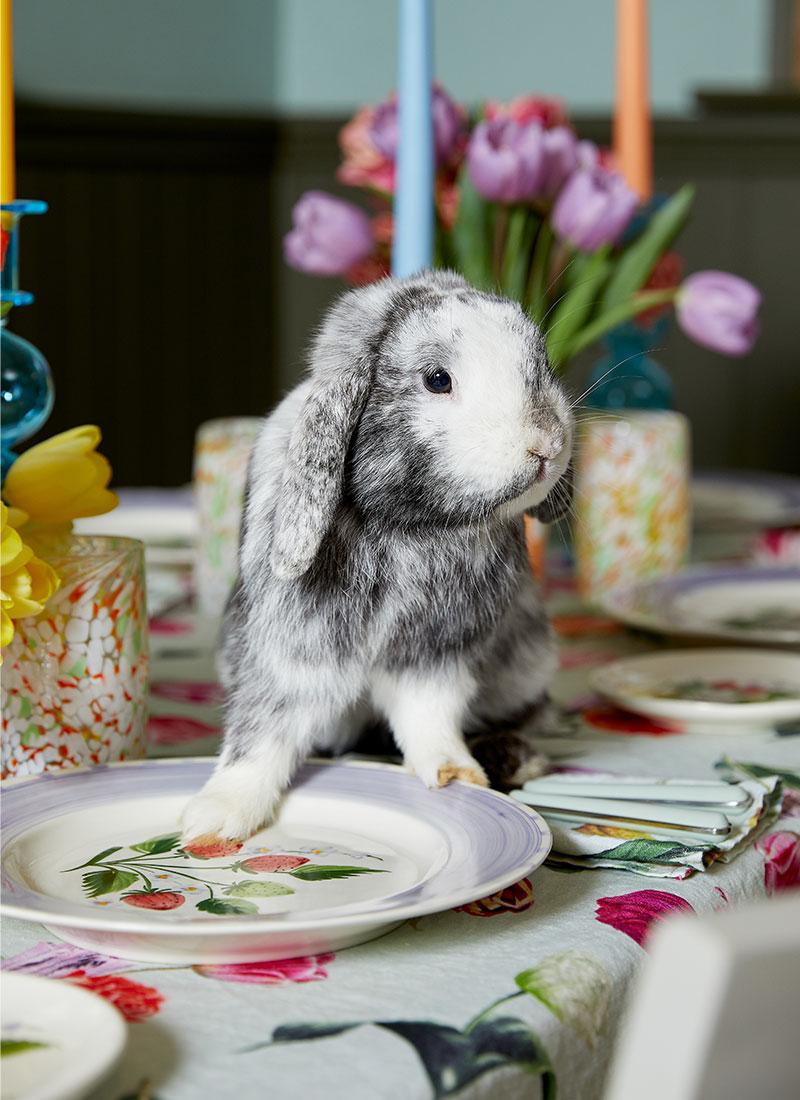 "It's not a time to be precious about matching," urges Sheridan. Creating each table setting using an eclectic mix of tableware provides guests more to look at – and talk about. That's not to say absolutely anything goes; maintaining a common thread throughout your tablescape will make it feel all the more considered, so keep a concise colour scheme in mind (pastels provide some welcome seasonality) and select items with coordinating motifs, like the repeated checkerboard prints and sweet strawberry motifs used here.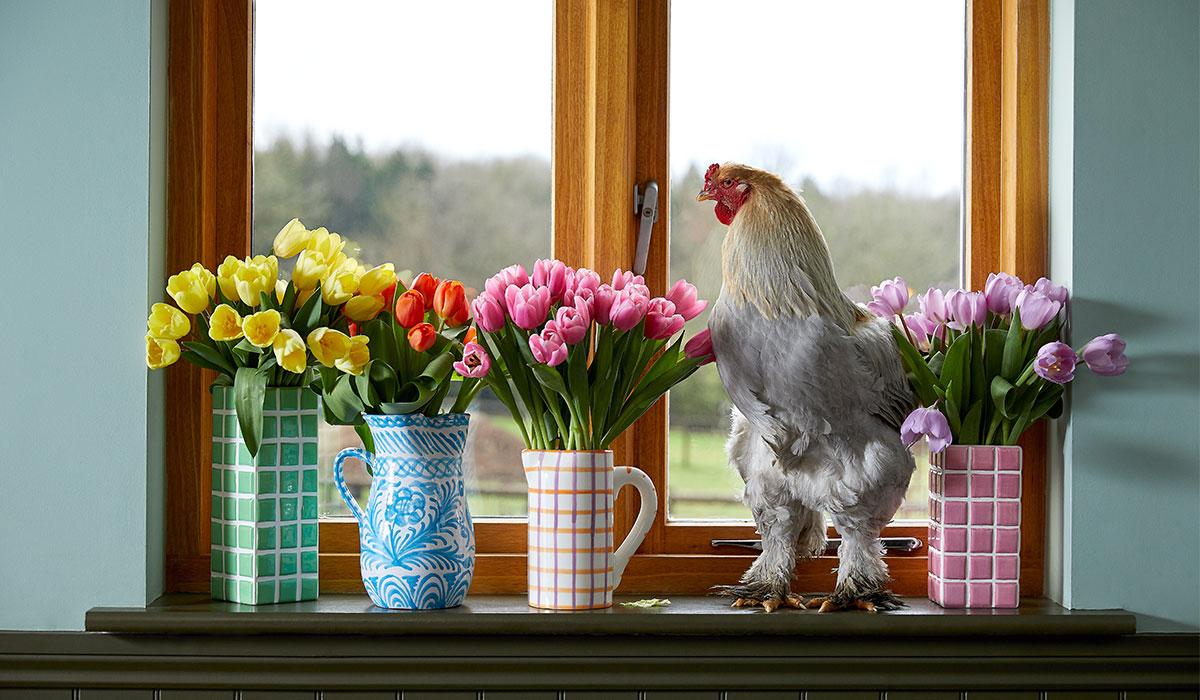 4. Finish with a Flourish
Essentials covered, the real magic is to be found in the finer details. Big gaps are easily filled with oversized bowls, dishes and platters of all different colours, shapes and prints, either for serving food, or simply for added decoration.

"It's a cliché, perhaps, but in addition to a serving bowl full to the brim of beautiful hen and duck laid eggs, I like to include smaller dishes around the table to fill with chocolate treats," says Sheridan. "Treats on the table for all are what Easter is really about. If you're not prepared to gift a real bunny rabbit, make sure there is at least a chocolate one." She's also a fan of ensuring every guest has their own personal egg cup and few are quite as playful as Quail's, with its menagerie of animal-inspired designs.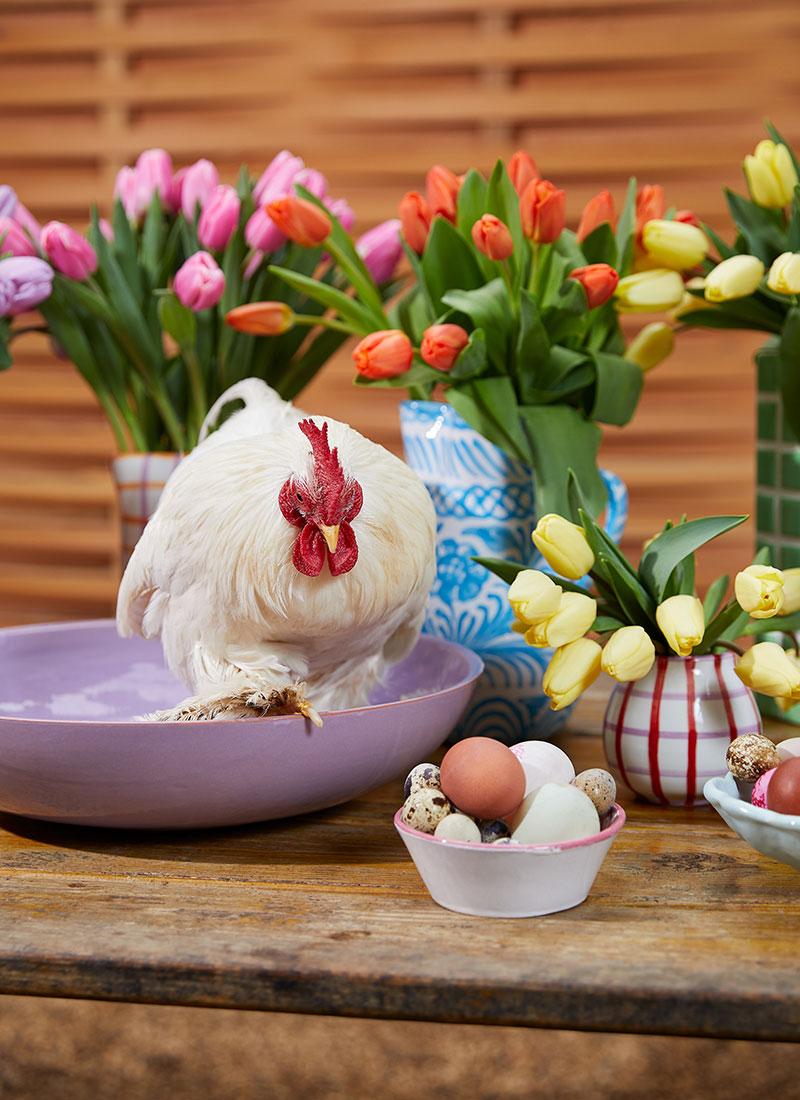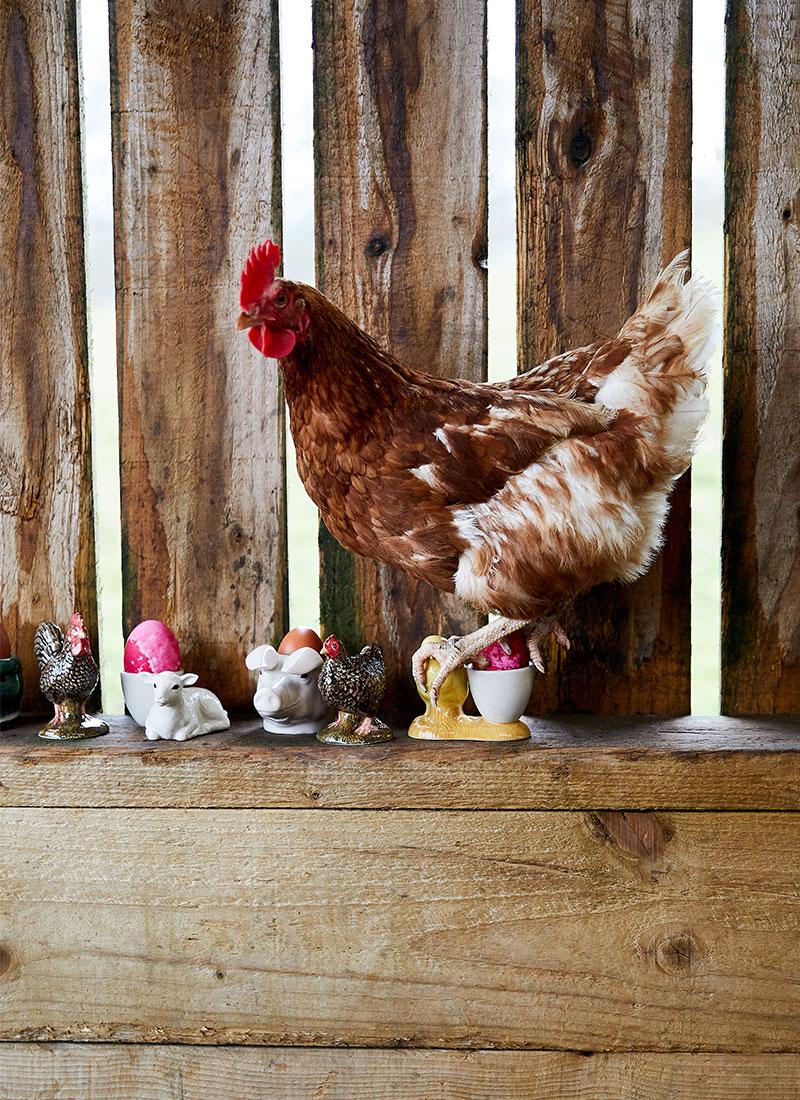 Photography: Jessica Gates
Styling: Bryony Sheridan
Floristry: Smith & Munson
Location: Bucklebury Farm, Reading