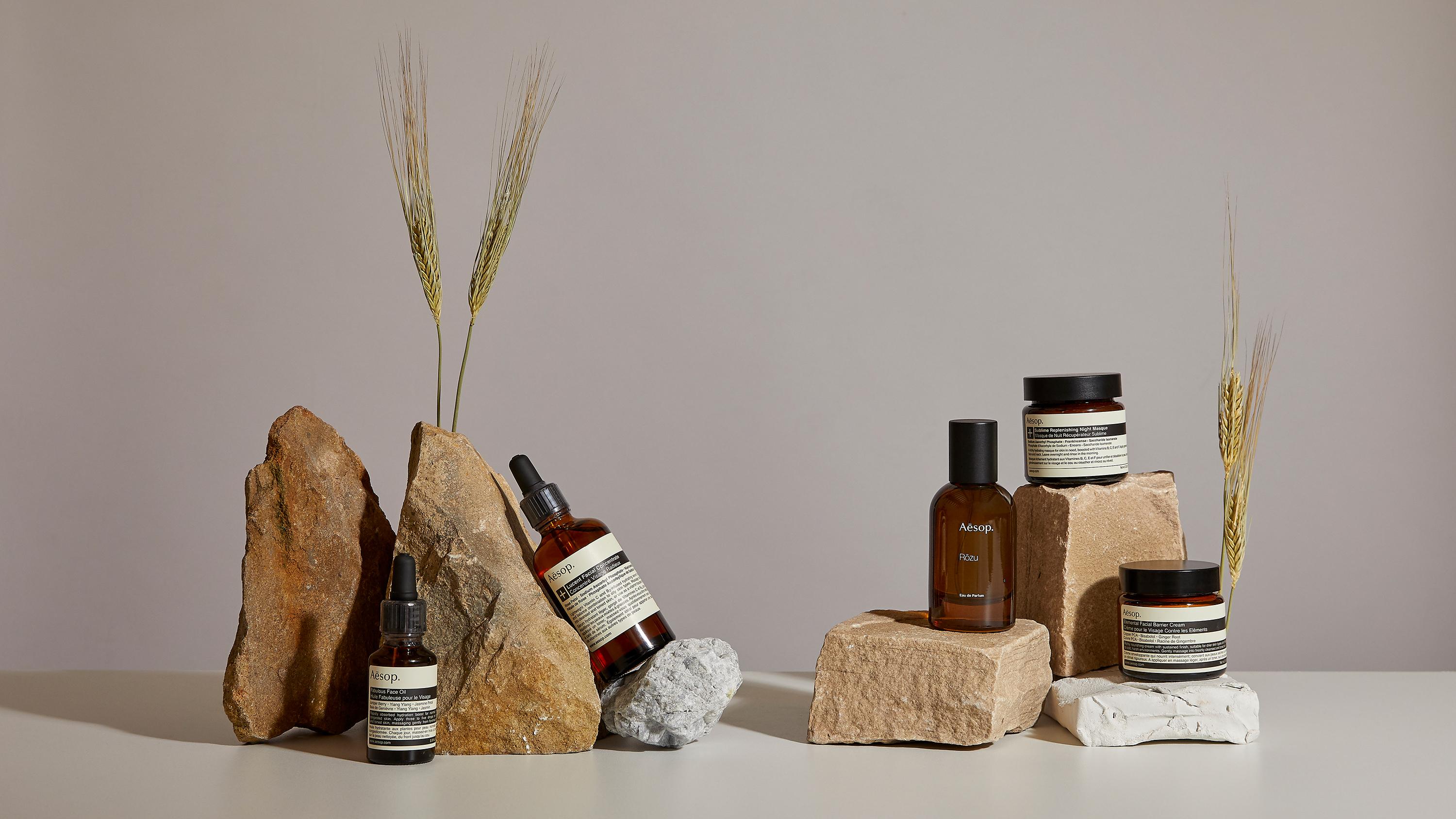 In the Garden
With Aesop
Your favourite Australian apothecary simply wouldn't exist if it weren't for the love of plants – so we're stripping the trusty Aesop product right back to its roots, with brand expert Suzanne Santos
Shop Aesop
Arguably the most mentioned brand in beauty, Aesop became a household name not long after the first store opened in 1987, in an underground nook in the Melbourne bayside suburb of St Kilda. Not only has its clean packaging design become a blueprint for the modern beauty product, its plant-based, scientifically charged formulas are the ultimate signifier of impeccable taste. Harking back to the brand's Australian heritage, Chief Customer Officer Suzanne Santos talks the power of plants, the significance of science and what she adores about being in the wild…
We speak not

to

age

or

gender, but

to

how

your

skin feels

and

behaves

in

response

to

environmental conditions, hormonal fluctuations,

your

diet

and

how well

you

sleep
What is the Aesop philosophy?
Our philosophy regarding skin care is straightforward, based on research and experience spanning 33 years, both of which tell us clearly that all skin types require daily cleansing, toning, moisturising and protection – with the proviso that it is essential to choose the formulations best suited to your individual needs.
We employ both botanical and laboratory-made ingredients to perform specific functions; in our view, this is a harmonious marriage that ensures our products are of the utmost quality and efficacy. I would also mention that none of our products contain animal-derived ingredients.
What are the most prevalent ingredients in the range?
We revere citrus oils first and foremost because of the remarkable and wide-ranging efficacies they deliver.

Whether we consider the vivifying combination of Petitgrain, Grapefruit Rind and Lemon Rind – a trio of oils renowned for their purifying properties – in Citrus Melange Body Cleanser or the Mandarin Rind in Amazing Face Cleanser – used for its well-known ability to bring balance to oily skin – it is clear that citrus oils deliver myriad benefits for skin and hair.
Aesop fragrances famously manifest natural elements and breath-taking landscapes – how do they come to fruition?
At the heart of each fragrance is a poetic, absorbing dialogue around our inspirations and how they might be embodied in scent. It's a captivating thing to witness—as in the conversations I recall from the development of Rōzu Eau de Parfum, which encompassed our collective admiration for French architect Charlotte Perriand – its chief inspiration – her vivacious personality and ground-breaking work, the countries and cultures that stirred her heart and mind, the enchantments of the rose in all its manifestations, and a great deal more. Barnabé Fillon speaks as only a nose of great intellect and vision can speak, and we are honoured to work with him to create exquisitely nuanced fragrances that express our ideas with sophistication and subtlety.
I

n

Australia, eucalypts

are the

lungs

of the

country,

with a

ubiquitous presence throughout diverse landscapes—

a

presence I would describe

as

immensely comforting.
From which plants to you get the most pleasure?
The plant that appeals most to me is the eucalyptus or gum tree, across its hundreds of species—each with its own modest, nuanced beauty. These trees have played a significant role in the lives of thousands of generations of First Nations Australians, the traditional custodians of this land, to whom we owe a great debt and for whom we have the utmost respect. While I see eucalypts in other countries, because of context and history they are never as they are here.
Which product is your personal favourite?
In the midst of the Australian winter, I favour Elemental Facial Barrier Cream for its protective properties and superlative emollience. My day almost always begins with a long, brisk walk, and there is no more effective product for shielding my skin from chill air and blustery winds. In tandem, I am using Seeking Silence Facial Hydrator – a formulation we created specifically to address the visible and non-visible manifestations of sensitive skin, and skin prone to sensitivities.
Which product would you recommend to warm the soul?
Unreservedly, Fabulous Face Oil. The lightweight texture and smooth, near-matte finish make it a pleasure to experience on the skin; and the aromatic impression of this product is like no other – essential oils of Ylang Ylang and Jasmine, particularly, evoke a sense of warm, languid evenings and gardens in full bloom. Only a few drops are needed to effect an elevated mood while delivering multiple benefits to the skin. It's a delightful precursor to sound sleep.
… And to wake up in the morning?
In complement to gentle cleansing, I would suggest Lucent Facial Concentrate. It is light, barely there, but holds potent benefits. Almost all skin types will benefit greatly from the vitamins delivered by just one pipette of this exceptional serum; if your skin is normal, dry or dehydrated, it can function as a vitamin-rich preface to your chosen moisturiser, and significantly boost hydration.