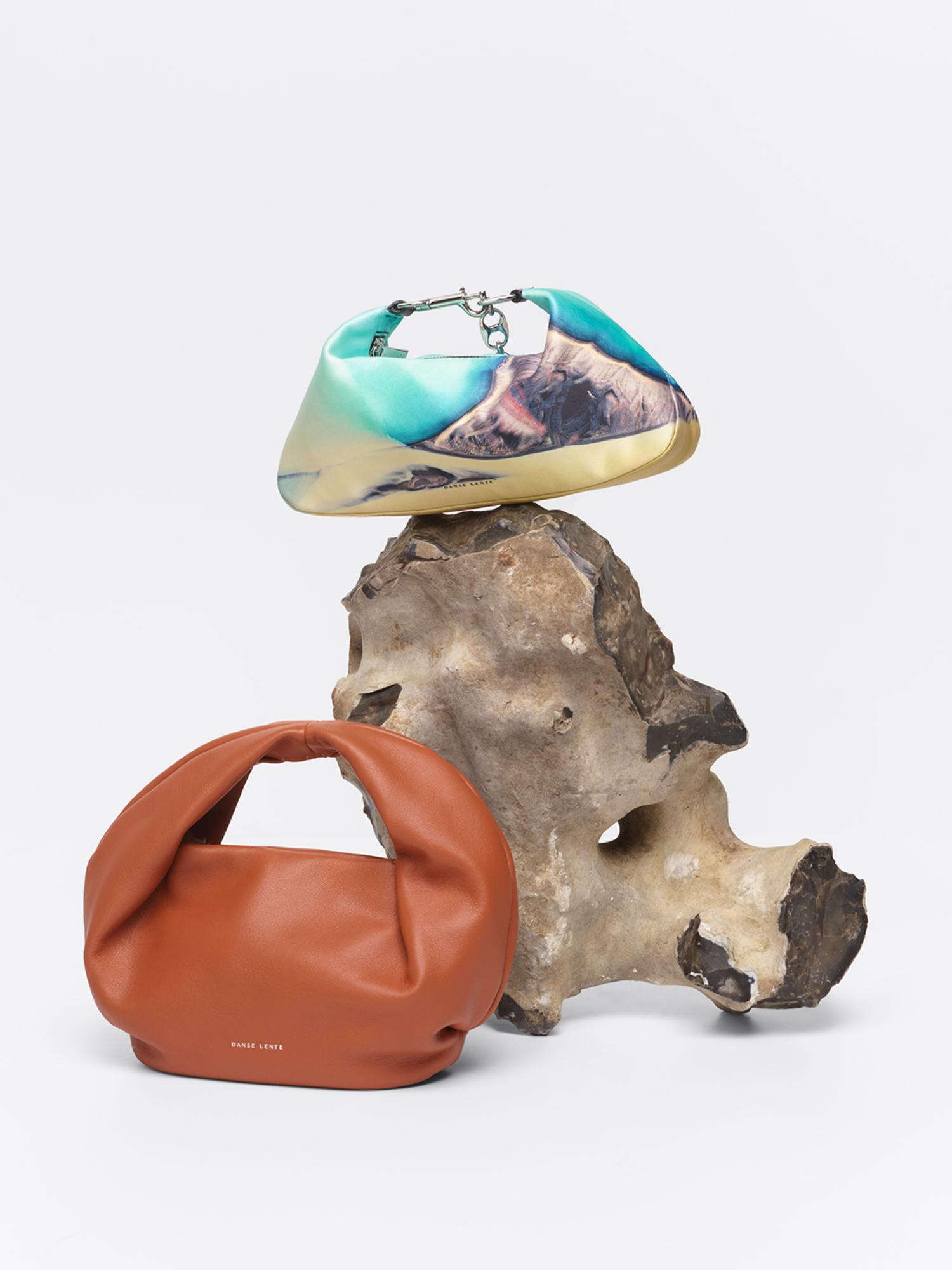 The Art of Leather
Danse Lente
London-based designer Youngwon Kim talks us through the evolution of her sculptural leather handbags
Shop Danse Lente
After studying footwear at the London College of Fashion, Youngwon Kim found herself increasingly drawn to handbag design and the creative freedom of not being bound to a particular shape. She founded Danse Lente in 2017, naming the brand after the French phrase for 'slow dance' to capture the way people carry handbags close to their bodies as they walk through everyday life. Here the London-based designer shares the artistic inspiration and organic creativity behind her architectural yet functional designs.
What inspired you to start Danse Lente?
It was simply a dream to have my own brand and when the opportunity came it was just perfect timing. So I decided to give it a go.
Is there a story behind the French brand name?
I was fascinated by the words 'slow dance' and the meaning of it but I wasn't sure about using that as a brand name. I felt it was too obvious and people would probably imagine the typical slow dance, whereas my interpretation was about bringing that uplifting feeling to daily life with our bags. So I decided on Danse Lente as it sounded more beautiful and slightly less obvious.
Can you tell us a bit about your background in design?
I did a BA and an MA in footwear at the London College of Fashion. After graduating from my MA, I did a few freelancer jobs for London and Paris Fashion Weeks over the next two years - mainly shoes but also bags and eyewear design. Then I decided to start Danse Lente.
Some of your bags take inspiration from modern art - are there any artists you are particularly drawn to?
There are so many artists that I love but sculpture and furniture are my main sources of inspiration. I love Jean Arp and Barbara Hepworth's amazing sculpture work and Le Corbusier and Isamu Noguchi's furniture is always inspiring as well.
I can find inspiration

for

handles

or

fastenings

from

furniture,

or even

garden chains. The colours tend

to

come

from

old paintings

or

nature's earthy tones.
Where else do you look for inspiration?
Often daily life. I can find inspiration for handles or fastenings from furniture, or even garden chains. The colours tend to come from old paintings or nature's earthy tones.

Our SS21 collection is inspired by nature's essence and power so it features traditional weaving techniques and natural Icelandic prints on satin. The colours were carefully selected in earthy tones and we used softer leather to create organic shapes.
Can you tell us about your studio?
Our studio is based in Dalston with big windows and lots of nice cafés surrounding it. The essential components are our pattern table, sewing machine and leathers. I much prefer to make a 3D mock-up in house before we start on the technical drawings.
How has London shaped the brand?
The city is very dynamic and rich in culture. There are so many creatives you can meet or whose work you can see. It is just the best place to be as a brand.
Can you describe your creative process?
It can start with just randomly combining elements in my head - things like shapes, lines or material colours. Then I start to make things with papers or even real leather and clay sometimes too.

There is no plan and then when something comes up as a stronger idea or shape then I will focus more on that to develop it. It is quite an organic way of developing.
What are your favourite materials to work with and why?
Leather is my favourite material. For the past 10 years, that's the one material that I've handled the most so I'm confident and comfortable using it. But these days I'm very interested in using more vegan leather and other sustainable materials that I would love to know more about.
How would you describe your aesthetic?
Geometric and sculptural. And I'm more interested in finding balance from unbalanced shapes and materials.
Do you have a favourite design from your collection?
It's very difficult to choose but I think Mini Johnny was the style that gave life to the brand so I would have to say that one.
Why did you choose to stock your designs at Liberty?
Liberty is one of my favourite places to be in London. From the entrance with the flowers welcoming you to the large ground floor where you can find carefully hand-picked bags. It also has amazing homeware and I personally always stop by Liberty Fabrics and the antique collections. It is a very beautiful and very British store I would say, so I'm glad that we're part of it.
What's next for the brand?
Sustainability is always one of my interests and the pandemic does push me more in that direction. Our vegan shoe collection was the first step and I'm hoping to develop more sustainably in other areas as well.