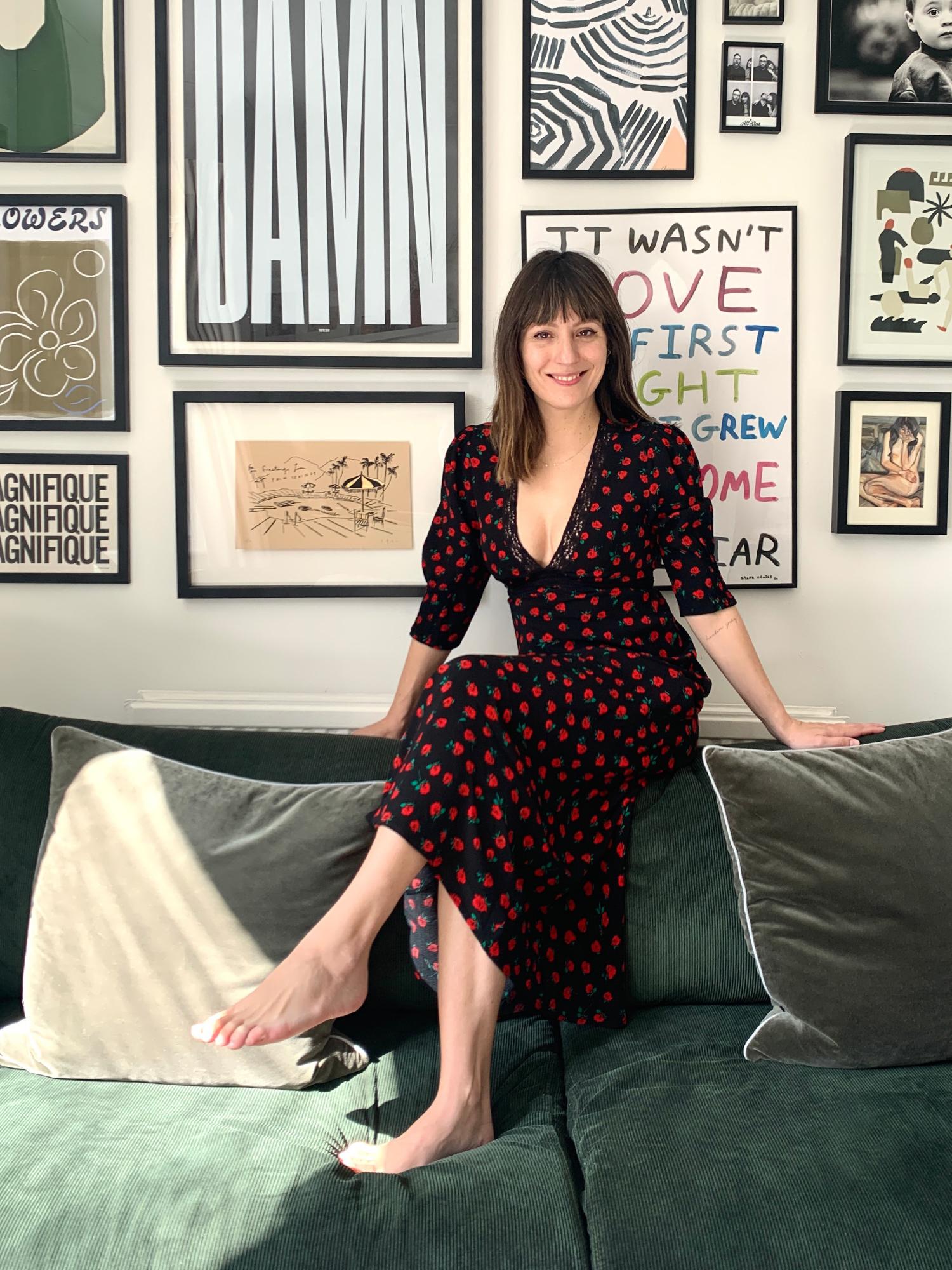 Like many London dwellers, journalist, author and influencer Katherine Ormerod has the challenge of making a rental property feel like her own. Having moved into her West London home – which she shares with her boyfriend, two sons and brother - last October, she's been finding clever ways to decorate around someone else's permanent fixtures. Here, she invites us to look around and shares her top interior tips and tricks.
How would you describe your interior aesthetic?
That's really a tough question because it depends so much on the space. Our old flat was very tranquil and minimal because it had dark, hardwood floors and high ceilings without any character features. Here, I've had to decorate around someone else's taste including silvery carpeting in all the upstairs rooms, so I've used a lot more colour to attempt to integrate it into the rooms - something minimal just wouldn't have worked with the carpets. I would say all my spaces have a lot of artwork and objects - I hate anything bland or cookie cutter and would prefer for my décor to be on the edge of bad taste than for it to lack personality.
Does this sit back to your personal style?
I think I'm more playful with my interiors than I am with my fashion choices - but there's a definitely feminine outlook to both.
In which room do you spend the most time?
At the moment, it's the master bedroom as I have a newborn and am feeding every other hour - but the sitting room usually gets the most footfall.
How did you go about decorating/furnishing each room?
Each room really evolved as I added layers in. I started with an approximate palette for each - the sitting room was to be sage, bottle green, black and white, the guest room was terracotta, duck egg blue and grey, our bedroom was sage, pink and grey. As I invested in pieces - artworks, lighting and soft furnishings, each palette was complemented with a few more shades. For me decorating is all about colour and texture. I also did quite a lot of DIY, from cabinetry to cushion covers, as it's a rental I wanted it to be beautiful and feel like our home, but I couldn't justify spending too much money.
You certainly have

to

come

to a

level of acceptance. The carpets

and

the finish on lots

of the

rooms kill me, but you can definitely train yourself not to see things

and

dwell instead

on the

gorgeous little spots you've created.
What are the challenges that come with decking out a rental property?
The first is the things you can't change. The second is the things you can't fix. The last is the desire to spend money you'd never get back changing and fixing things!
How did you overcome them?
You certainly have to come to a level of acceptance. The carpets and the finish on lots of the rooms kill me, but you can definitely train yourself not to see things and dwell instead on the gorgeous little spots you've created. As mentioned before, doing a lot of things myself, from hanging the blinds and so on, have helped reduce any expenditure. Also, I secured an agreement from our landlord that we were allowed to paint if we returned the walls back to white before we left. While I don't have the appetite (or budget) to paint entire rooms, using tester pots for statement walls, woodwork and picture rails have helped make a big impact in a way that is easy to restore to its previous state.
Do you have any more tips on how to update a space inexpensively?
For five pounds each, I painted two fireplaces, the door trim and picture rail of one room, a statement wall, a chest of drawers and a toy box. Decals are great for kids' rooms and second-hand furniture is always a wonderful way of stretching your budget.
Do you have any go-to interior brands?
I don't have go-tos but I'm resolutely non-snobbish. I truly believe in the power of high-low and think that mixing expensive design classics with charity shop and eBay finds feels more eclectic.
Are there any interior trends you're particularly into right now?
Well this house has turned out very green which is very now. I love our corduroy sofa and armchair and bouclé is a trend which I hope never goes away!
Are you drawn to specific colourways or design styles?
I'm definitely influenced by the Picasso palette - I love shades with an earthiness to them. But I could also be swayed over to the Wes Anderson point of view too. My partner is much more minimal and very into materials and industrial design so we have to find a compromise - generally he's game though and didn't baulk at the pink bedroom.