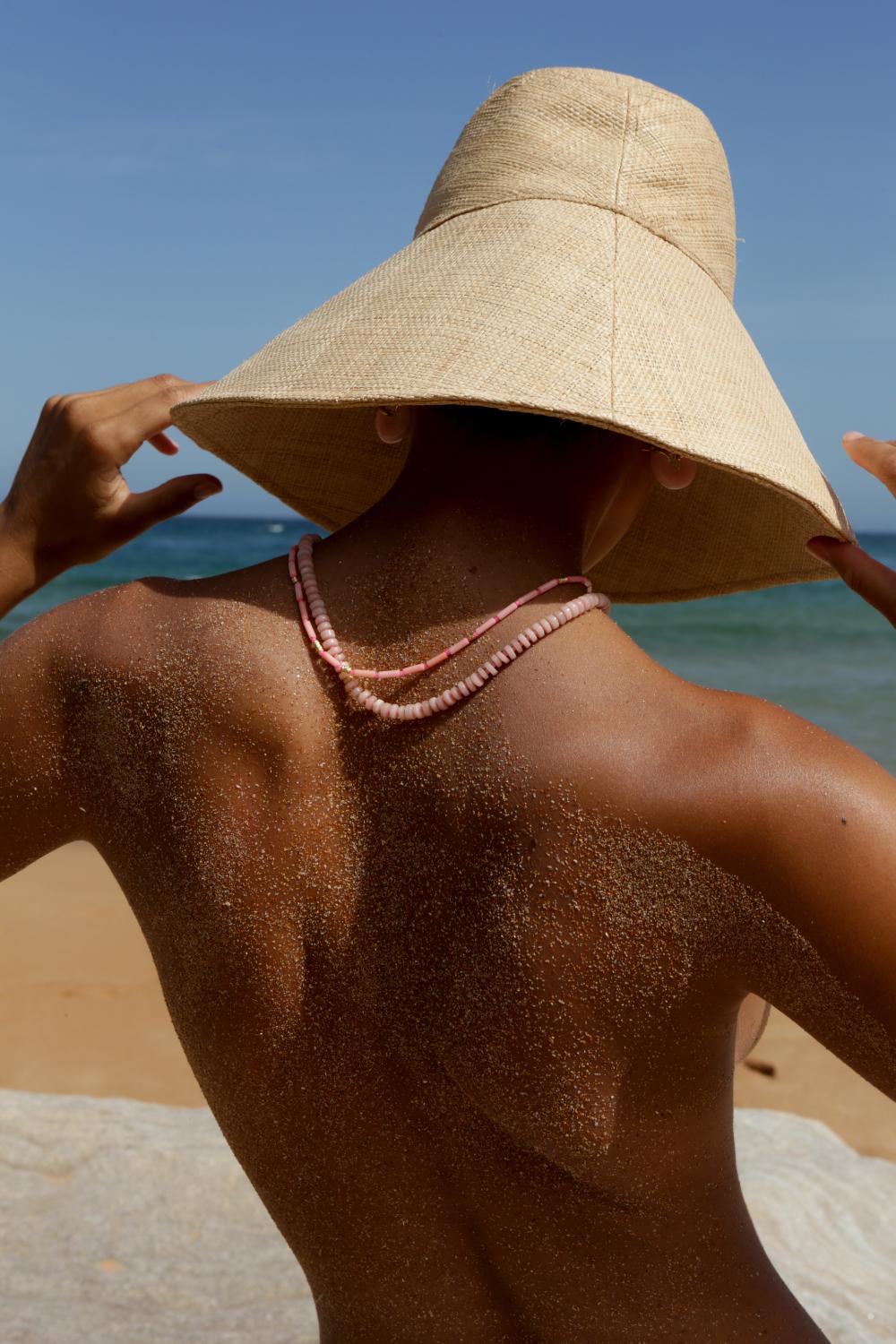 Kaleidoscopic Colour
ANNI LU
Copenhagen-based jewellery designer Helle Vestergaard Poulsen shares the inspiration behind her colourful beaded designs
Shop ANNI LU
Before ANNI LU, Helle Vestergaard Poulsen worked as creative director for a number of Danish fashion magazines, crafting jewellery as a side project in her spare time. In 2013, she took the leap to start her own brand – named after her late mother Anni and her daughter Luella, ANNI LU is a tribute to the two people who inspire her most. We spoke to the Copenhagen-based designer about the playful colour palettes and personal aesthetic that continue to shape her designs.
How did ANNI LU become a brand?
Alongside my normal job I had been making different accessories like knitted bracelets and other items. When I started doing the first beaded bracelets, things sped up and I decided to go all in. And it has been the best decision ever.
Could you tell us a bit about your mother and daughter and why you decided to name the brand after them?
My late mother Anni and my daughter Luella are the two most creative people I have ever met. They both love shaping things and playing with colours, which is what ANNI LU is all about. When ANNI LU was launched in the fall of 2013, my mum was very ill with cancer and for me there were no doubt that I wanted to carry her name on in this brand that she also was very passionate and excited about. My daughter and her name Luella is a great reminder to always keep everything a bit childish and not too serious.
How has your experience working in fashion magazines helped shape your own brand?
I have been working as an Art Director and Creative Director for a number of fashion magazines, so I have been a part of the fashion world for a number of years and have always loved the creativity surrounding it. I became an Art Director because I have always been in love with colours and how you can play with them to create a mood. This is something I also do with ANNI LU.
Where do you find inspiration for your signature beaded designs?
On my travels around the world. Both colours and materials for our beaded designs are found around the world (and quite a headache to source for our production team). It can be small details that inspire me – like the colours in an antique Mexican rug or the texture on a shell found in Bali. The possibilities are endless and so fun to work with.
It can be small details

that

inspire me –

like the

colours

in an

antique Mexican rug

or the

texture

on a

shell found

in

Bali.
Can you describe your creative process?
A lot of fun! It all starts with what I feel I need myself and from then on it is a process with mixing and matching a lot of colours and shapes before we start drawing and moulding the final designs. It is still the most fun part of ANNI LU and I absolutely love the process.
How has Copenhagen shaped the brand?
Fashion is a big part of living in Copenhagen with a number of cool brands and a bold street style scene, so there is a lot of inspiration to be found by just walking the streets.
Can you tell us about your studio?
We are six people working in the studio and we put in a lot of effort to make it feel like home and not an office. It should be a fun place with lots of laughter and inspiration.
Do you find that most of your design inspiration comes from travelling?
I would say that it's more a cultural thing that inspires me and a certain vibe – that person you want to be in that particular place. It's like going to the local market and you hope to find something really unique, but never really do. We try to be that cool, unique brand you always hope to find.
How would you describe your aesthetic?
Fun and playful – and very personal. I think you should always be able to choose the aesthetic that suits you the best.
Where do you source your materials?
From all over the world. If you ask our production team, they would maybe say that we should source fewer materials as they spend a lot of their time treasure hunting for new materials.
Do you design with a particular wearer in mind?
I design for a wearer like myself: interested in fashion and always keen to mix and match to create a personal style. ANNI LU should always feel like it was designed especially for you.
What are your favourite ways to wear and layer your jewellery?
I combine our seasonal styles with both my old jewellery and more expensive styles. For example, I combine my wedding ring with our new affordable Belize turquoise resin rings and our colourful beaded bracelets with my Love bracelet from Cartier. And sometimes I just love to stack up on ANNI LU and wear ten bracelets at a time.
What has been the most exciting moment of your career so far?
Apart from seeing ANNI LU at Liberty, it has to be when we won a prize at ELLE Style Awards.