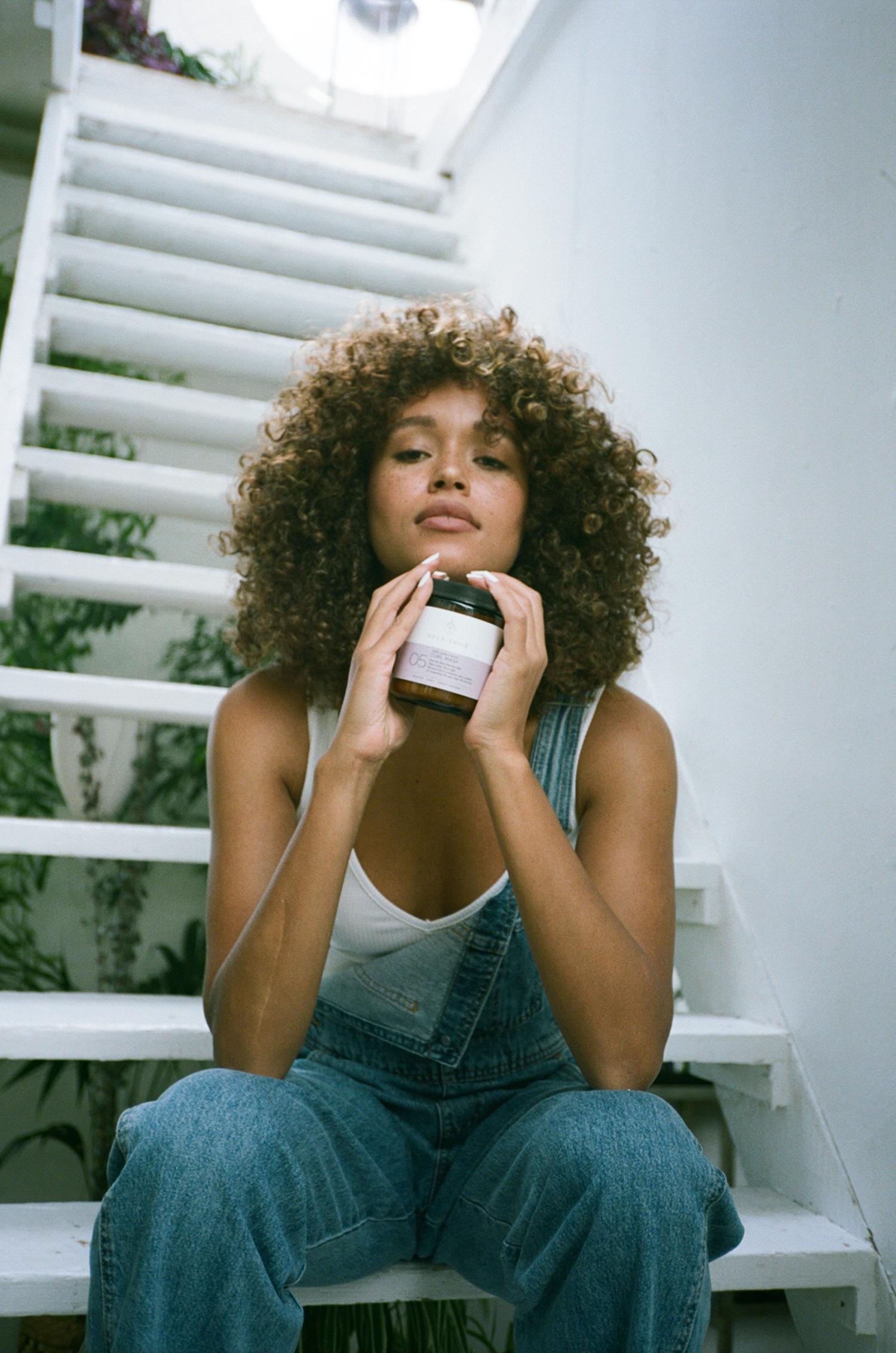 The Experts' Everyday
Afro Hair Care
From braids to beards, our brand founders share their routines for textured hair
Shop Hair Care
With a wealth of different options for building an effective routine, hair care for high-density coils and kinks is an individual journey. Whether you're one to switch up styles regularly or stick to the low-maintenance route, our professionals share their own approaches, inspiring tweaks and upgrades to maximise your natural texture.
For the past two years, I have alternated monthly between braids and natural hair. Aside from switching up my style, braids are extremely low maintenance, so having them saves me time since minimal styling is required. It also protects my hair during harsher weather and controls my habit of constant touching.
I think

of my

hair like

a

plant, always keeping

it

well watered – hydration

is the

absolute key

to

healthy hair
Wash: On braids month, I wash my hair less and keep the product routine light, as I don't want product building up on my scalp – this can stunt growth and cause breakage and dullness. Once or twice a fortnight, I double wash using Dizziak Hydration Wash (I can't ever imagine using anything else), applying light pressure on the scalp so that I don't mess up the braid pattern. I then thoroughly rinse, mist on a homemade Dizziak leave-in treatment and leave to air-dry.

Style: For my Dizziak leave-in, I fill an empty spray bottle with a little Dizziak Deep Conditioner and shake it up with water. I spray this on my scalp and braids daily to refresh, hydrate and nourish.
I have super thick

and

tight curls

that

tend

to

lose moisture quickly
Wash: On wash day (usually every Sunday) I wash my hair with Holy Curls 01 Shampoo and give myself a little scalp massage. I follow up with Holy Curls 05 Curl Mask and detangle my curls in the shower with a wide-tooth comb. I then wrap my hair in a hot microfibre towel to open up the hair follicles and help the product work its magic. If I have no plans, I leave the mask in for a few hours while wearing a shower cap. When rinsing, I dilute the product with water rather than rinsing it out completely. I keep adding water little by little so there's some left in my hair to act as a leave-in. This technique helps keep my curls moisturised for longer.

Style: I use Holy Curls 03 Cream to style; it's oil-based and ultra-moisturising so my curls love it. I also add a little avocado oil to the ends, as they tend to get dry quickly.

Sleep: I always go to bed with my hair in a protective style – mostly twist-outs – on wash day. My hair is short at the moment so twisting is a breeze. Leaving the twists in overnight keeps my curls moisturised for longer and I love the definition I get when I take them out the next day. I always wear a silk head wrap for bed to protect my curls.
Wash: I shampoo my hair once a week with a moisturising product that has extra emollient. I then condition with Charlotte Mensah Conditioner, which is rich, creamy and specifically formulated to fill the porous areas on the hair's surface, keeping it nourished and hydrated.

Regular conditioning treatments help maintain the lustre and moisture of the hair shaft and scalp. I apply my treatment to wet – but towel-dried – hair, focusing on the mid lengths and ends, which tend to get drier than the rest of the hair.

Style: Most afro hair soaks up moisture like a sponge, so the key is to moisturise, moisturise, moisturise with natural oils. I take a few minutes each day to massage my scalp with Charlotte Mensah Manketti Hair Oil. This simple practice stimulates the secretion of sebaceous oils as well as blood circulation. Then I detangle, starting from the bottom up – this helps detangle each knot, rather than yanking through a with a comb or brush, which can cause damage.

Product cocktailing can be helpful in meeting specific styling needs. My favourite cocktail is a curl cream mixed with Charlotte Mensah Pomade, a tiny amount of styling gel and some Charlotte Mensah Manketti Hair Oil. This gives a supreme hold without leaving the hair dry and crunchy.
Cotton scarves

and

pillowcases can cause friction

on

already naturally porous textured hair
Sleep: I take five minutes to pamper my hair before bedtime. That means moisturising if necessary, then securing the ends with a silk scarf. I like to use a silk wrap, because I find that a cotton pillowcase can draw moisture out of the hair. It also helps to promote tangle-free, softer, healthier and shinier hair.

For the ultimate conditioning treatment, I apply nourishing oils the night before I shampoo, evenly distributing the oil throughout either wet or dry hair, then wrapping it in my silk scarf. Leaving on overnight maximises moisture penetration, allowing my hair to retain elasticity and strength.
Wash: I always begin my routine with a cleanse. Using warm water, I wet the hair (and beard) then apply a small amount of Aaron Wallace Hydrating Hair & Beard Shampoo. Using my fingertips, I give my scalp a massage to remove debris and begin to gently detangle the hair and beard. Sometimes if the hair is dirty you will get less lather – on these days I'll go in with a second rinse to remove any left-over dirt. Otherwise, one rinse is fine – but never three!

Next, I condition my hair using Aaron Wallace Hair & Beard Conditioner. This improves the actual physical condition of each strand of hair, smoothing out the surface of the hair which makes it glossier, less prone to tangling and maintains moisture for longer. Without conditioner, the small outer layer of the hair is more likely to become frazzled and frayed, which allows it to lose moisture faster, leading to dryness and breakages. Once applied, I leave the conditioner in for five minutes and then rinse. I don't dry the hair fully – instead I like to pat dry for the most part and let the rest air dry. I avoid using a blow-dryer – especially a heated one.
Conditioner

is

one thing I think many men overlook,

but it's

actually

the

secret

to

healthy hair

and

beard
Style: Next step is to moisturise. Afro hair requires a lot of moisture – especially after a shampoo – so this is when I apply Aaron Wallace Hair & Beard Moisturiser, which keeps the hair soft and healthy. At the same time, I continue to detangle using my fingers, being careful not to tug or yank through any knots, instead gently untwisting them and breaking at the tips if necessary – tugging breaks the hair at the root.

After I've fully detangled with my fingers, I then go in with the comb and style the hair as I wish. I prefer a metal pick comb to a plastic or wooden one, as I feel they are better at preventing tugging. The last step is to apply Aaron Wallace Hair & Beard Oil to the hair and beard – it acts as a sealant to keep all of that moisture locked in for longer. Finally, I run through the comb once more, followed by a brush to evenly distribute the oil. Then I'm good to go!