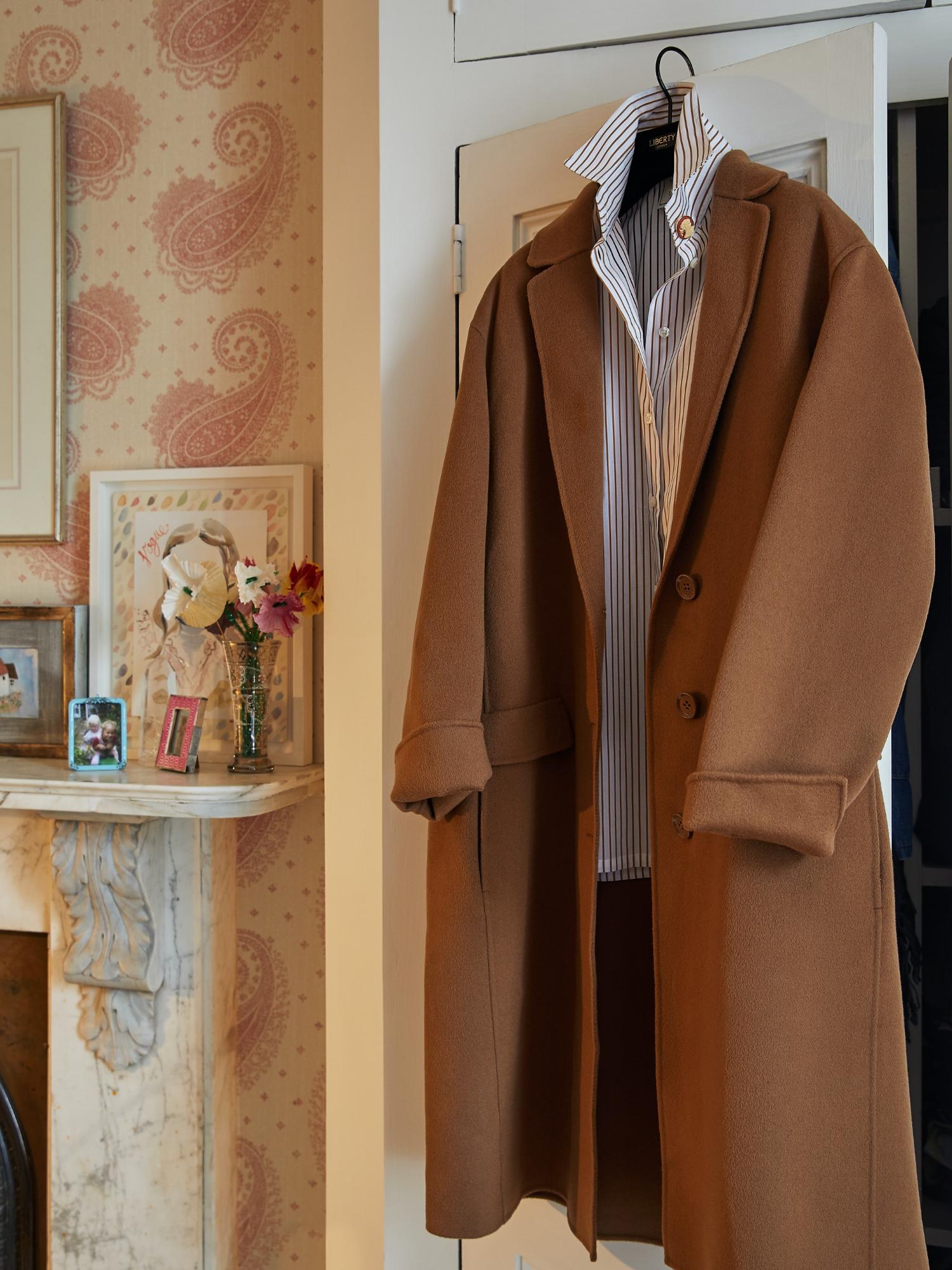 At Home With
Bay Garnett
Fashion stylist Bay Garnett pioneered the idea of using vintage in luxury shoots, and her West London home is an ode to all the thrifted pieces she loves
Shop Bay's Edit
Any friend of Bay Garnett's will tell you that her home and wardrobe are effortlessly intertwined; warm and rich, with lashings of Saint Laurent-inspired animal print and a nod to '70s rock and roll. Having styled for the likes of Vogue and the Evening Standard for over 20 years, fashion is undoubtedly her forte – but the self-confessed "Queen of Thrift" calls upon her signature high-low, mix-and-match approach to create an inviting interior.
Garnett moved into her West London home a decade ago, and has spent the subsequent years lining its walls with images from iconic editorial shoots and dotting each room with vintage finds. "I love everything in here," she beams, showing us around. "I have pictures from work stuff on my walls and things collected from thrift stores, like needlepoint cushions. My favourite is a little Christo painting of the Reichstag that my dad gave me."
Situated in Shepherd's Bush, Garnett's three-story house is shared with her partner – photographer Tom Craig - and their children, Billy and Sylvie. Not forgetting the two beloved dogs she calls to on walking through the door – Paddy, a mountain rescue, and Smudge, a lurcher – who come running for "hugs and cuddles in the hall".
Reflecting her intuitive attitude to fashion, Garnett actively rejects interior trends. "I have no idea what they are," she confides. "I think it would put me off something if I knew it was a trend, so I'd rather not know." Often working from home, Garnett's space is key to her creative output, so it's imperative "things look the way I want". While she's relaxed about aesthetics, there is one hard rule – the overall feel must be "COSY".
Entertaining is an equally warm and easy affair: "I'm the host who's grabbing chairs from the sitting room or laying the extra place I forgot about until the last moment." The kitchen is the "heartbeat and centre of family life", boasting a large and welcoming table, topped with a Heather Taylor Home gingham tablecloth and L'Objet leopard plates.
Upstairs in her bedroom, Garnett's wardrobe acts as a fashion archive, albeit a slightly haphazard one; crammed full of thrifted pieces, from retro pieces used in classic Vogue shoots, to old blazers and denim shirts. Modern classics also have a place, and a new season Max Mara coat proudly hangs on the door. "It's just a real mix of clothes that I love from over the years," she says. "Mainly from charity shops and second-hand stores. It's not curated - just collected."
It is amongst her many thrifted items that Garnett feels able to "work, read, and be content", yet she does have to work at keeping clutter at bay. "I hate clutter," the passionate secondhand shopper admits. "I'm a natural clutterer, so I'm always fighting it!". As with all great loves, thrifting is worth the battle.